Either your workplace may not have a kitchen-like setup, or you are out of time to heat your lunch, we have curated a list of cold lunch ideas for everyone – from work to vegans and kids to construction workers – we have covered all!
Hot lunches surely have their place, but hot days call for cold lunches.
Let's go!
Cold Lunch Ideas for Work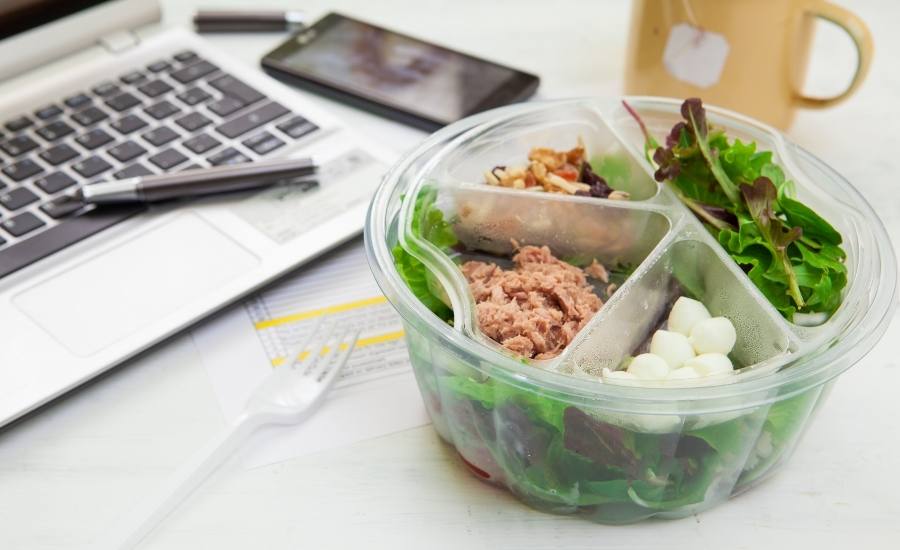 Cold Lunch Ideas for Vegans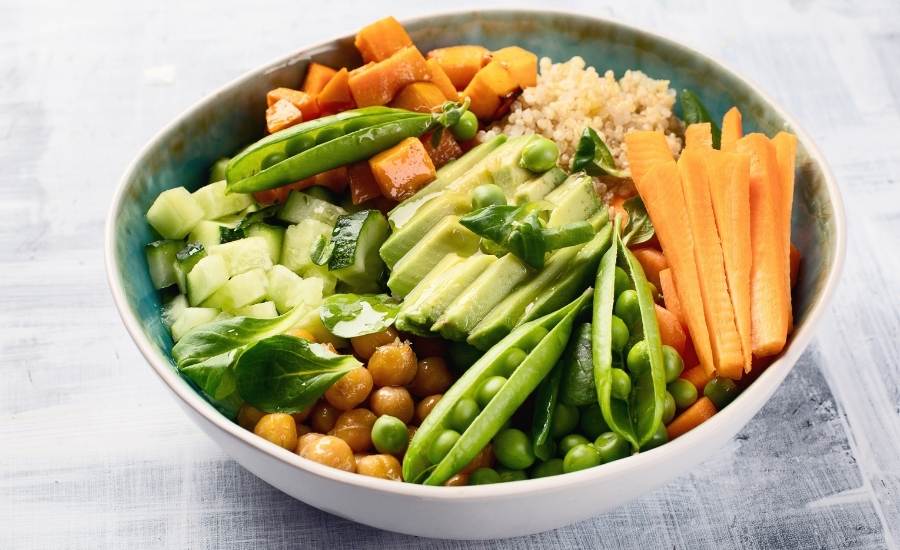 Sabich Sandwich

by My Goodness Kitchen: Instead of using eggs, you can use a white bean mixture to make this delicious sandwich.
Creamy Vegan Tortilla Pinwheel by Carve Your Craving: This super delicious dish is healthy and makes for a perfect lunch.
Quinoa Detox Veggie Salad by Chelsea's Messy Apron: This salad is perfect for serving quinoa with other healthy ingredients that taste really good.
Vegan Lentil Frittata by Vganish: This super yummy dish is light, easy to prepare, and tastes heavenly!

Vegan Sushi Recipe

by Vegan Heaven: Crave sushi but follow a plant-based diet? This is an easy peasy cold lunch recipe anyone can prepare!
Vegan Mexican Chopped Salad by The Harvest Kitchen: This Mexican salad serves as a great side or main dish for vegans since it is filled with veggies.

Baked Potato Fritters

by Veggie Inspired: The recipe for vegetable potato fritters is 100% vegan. Made with zucchini and carrots, this dish is a win-win.
Vegan Tempeh Reubens by Vegetarian Times: this vegan dish will fill your hearts with its sliced tempeh.
Salad Spring Rolls by Pass Me Some Tasty: Feel free to get wild these amazing salad spring rolls. Enjoy these tasty spring rolls with peanut sauce.

Marinated Mushroom Bowl

by Go Dairy Free: this satisfying, healthy bowl is stocked with all the veggies and plant-based proteins from lentils and wild rice.
TTLA Sandwich by Sweet Simple Vegan: It will be your new favorite dish once you try it. It is loaded with tempeh bacon, avocado, tomatoes, and many more tasty ingredients.
Spicy Avocado Cauliflower Toast by Toaster Oven Love: this spicy avocado cauliflower toast will turn up the heat.
Turmeric & Chickpea Salad Sandwich by Karissa's Vegan Kitchen: boost up your body with curcumin with this delicious and creamy chickpea sandwich.
Chickpea & Vegetable Picnic Pie by Tinned Tomatoes: these hand pies are a must-have for lunch.
Hummus & Avocado Wrap Sandwich by The Spruce Eats: hummus and avocado go hand in hand when we talk about wholesome cold lunches.
Vegan Burrito by Loving It Vegan: a vegan's all-time favorite, this burrito is loaded with black beans, rice, and vegan sour cream.
Grilled Corn Salad by Vegan Huggs: You won't want to miss out on this dish with cilantro-lime dressing.
Lunch Ideas for Construction Workers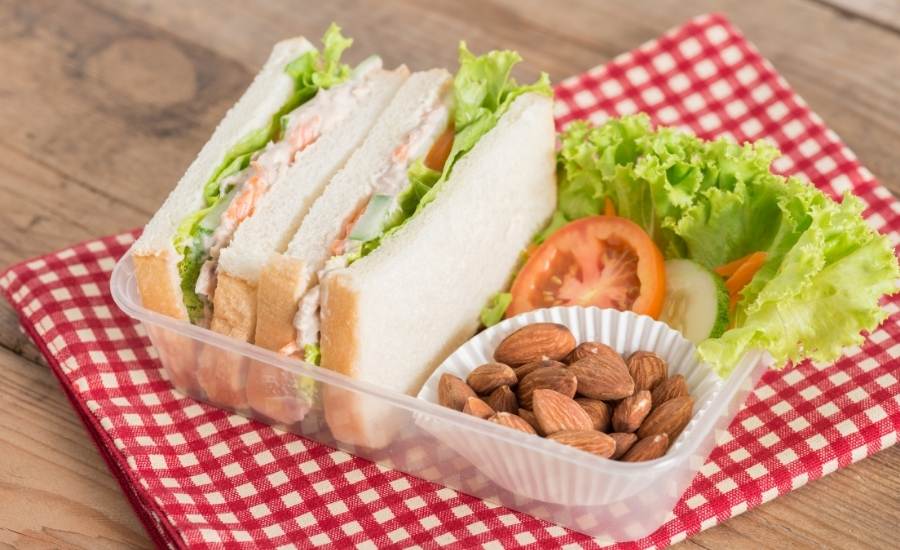 Cold Lunch Ideas for Kids, Toddlers, and Picky Eaters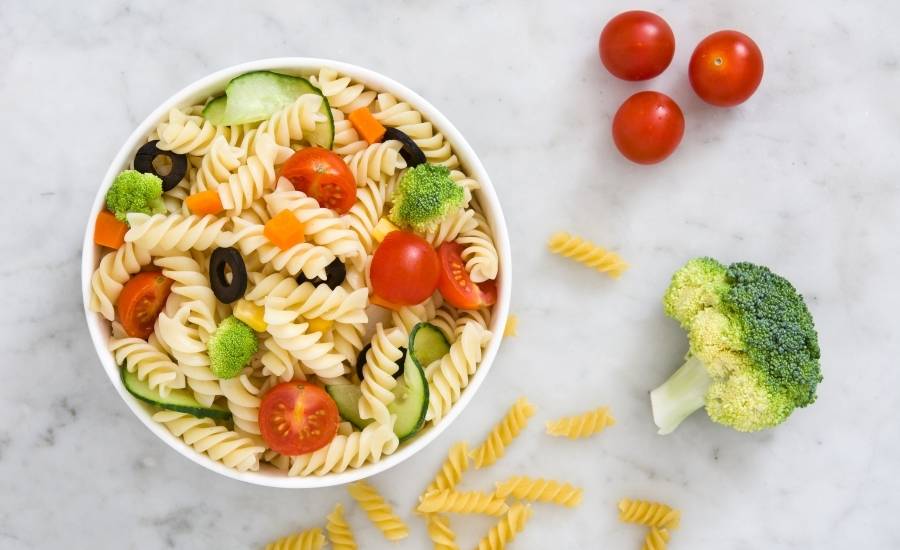 Zucchini Noodles with Pesto by Two Peas and Their Pod: turn your zucchini into noodles and add fresh pesto to it. It will be a healthy and tasty option for your kid's lunch.
Fruit & Veggie Muffins by Super Healthy Kids: your kids will love these delicious and moist muffins!
Ham & Cheese Pinwheel by Ruffles and Rainboots: ham and cheese pinwheel is a kid-friendly lunch recipe and perfect for picky eaters.
Turkey Cheddar Roll-ups by Kathryn's Kitchen: Turkey cheddar roll-ups make for the best and enjoyable lunch for your kids.
Cheese Quesadilla by Isabel Eats: packed with nutritional values, cheese quesadilla can please your kid's taste buds.
Fun Granola Bars by Tarla Dalal: Granola bars are a treat for kids loaded with fibers and proteins.
Easy Pasta Salad by My Fussy Eater: This pasta salad is a healthy, colorful, and delicious dish perfect for kids.
Egg Salad Sandwich by Eggs: egg salad sandwiches are nutrition-filled and will be your kid's favorite meal.
Ham, Egg, and Bagel Sandwich by Spicy Southern Kitchen: convert your child's favorite ham and cheese into a sandwich and give their taste buds a treat.
Quick & Easy Calzones by Six Sister's Stuff: pizza pockets are an absolute favorite of kids and picky eaters, so you can't go wrong with this.
Vegan Mac and Cheese: Kids' ultimate favorite, Mac n Cheese, especially for those who want to introduce their child to a vegan lifestyle, is effortless to make with nourishing ingredients.

Homemade Chicken Nuggets with Sweet Potato

by Yummy Toddler Food: chicken nuggets are an everyday staple in many kid's diets and can be made using different techniques and ingredients.
Pizza Pasta Salad by Inside Bru Crew Life: Pizza pasta salad can be prepared in less than 15 minutes and is perfect for the lunchbox.
Peanut Butter and Jelly Muffins by I Heart Naptime: there's no combination better than peanut butter and jelly. Everyone loves peanut butter and jelly sandwiches but level up its game by making fun variations.
Toddler & Mom-Approved Zucchini Bread by Baby Foode: Toddlers and mothers approve of this nutritious bread.

Fruit Salsa

by The Girl Who Ate Everything: Diced fruits can help you make a sweet, fulfilling salad you can take anywhere!

Cold & Spicy Peanut Sesame Noodles

by Table For Two: these get ready really fast, and you can toss some more seeds to level up the nutrition.
Kid Salad by Betty Crocker: this salad will provide your kid with all the nutrients and is super healthy for them.

Baked Zucchini Chips

by Lana's Cooking: an upgraded version of classic potato chips with fewer carbs makes a perfect cold lunch for fussy eaters.
Tips for Packing a Cold Lunch
Make sure to choose a lunch box that is leakage free and made of solid material. If you are using plastic wrap, make sure it is BPA and phthalate-free.
Take some time out and pack lunches you really want to eat and not because you ran out of time.
If you are too busy, take a day out and plan and prep your meals so you have meals available all week long. Prepping your meals ahead of time will also save you the hassle.
Ensure proper space between hot and cold food to reduce spoilage.
If you carry your lunch inside a bag, keep it in the first or bottom so there no chance of squishing.
Use ice packs that are again BPA and phthalate-free so that no chemical reaches your child. Use large ice blocks as smaller ones don't do the job well.
The Takeaway
You can toss any ingredients or veggies of your own choice in these cold lunch ideas, or you can remove any optional ingredients according to your own preferences. Try out these amazing and delicious recipes and add your own touch to them.