Dry Days in Delhi: Liquor is becoming a part of almost every person's life. In some places, liquor is available only at beer shops, bars, pubs, restaurants, hotels and in some places where people experience a cold climate, liquor is available in departmental and grocery stores itself.
Here is an introduction to the concept of Dry Days. Dry days in cities are considered to be a great deal. You might want to consume liquor that day, or you might have a small house party on that day or who knows you might also crave for liquor.
According to the latest survey conducted by AIIMS (All India Institute of Medical Sciences) and ISI (Indian Statistical Institute), Delhi citizens consume 5 lac liters of alcohol worth 6 crores every month. Therefore, Delhi is said to have more alcohol consumption than the other metropolitan cities.
Dry Days in Delhi can spoil all the plans you have for the party because Delhi is one of the party capitals in India. It is better for you to know the dry days in Delhi to make plans, invite friends, buy and store alcohol and party accordingly. To know everything about dry days in Delhi for the year 2020, read below.
What is a Dry Day?
A dry day is a day where people of a particular region would not buy, sell or consume alcohol. The sales of alcohol are banned during the day. The ban applies to Government liquor shops also.
These days are generally the national holidays. Dry days are also announced during elections and other important days like festivals. These days are not just observed in India, they are also observed in other countries as well, just that, they are not exactly termed as dry days.
For example, in Norway, you cannot buy alcohol on Sundays, except in bars. In a couple of countries like Afghanistan, Bahrain, Bangladesh, Brunei, Iran, Saudi Arabia, they either do not sell liquor for foreigners or limit the quantity of sale.
Why is there a Dry Day?
If you have noticed, there are a lot of dry days in India when compared with other countries. You might guess a number of reasons. There are two main reasons for the greater number of dry days in India. India is diverse in religions, there are nearly 33 crore Gods in Hinduism itself. So, there is a staggeringly high number of religious festivals.
As all religions must be treated equally, even when it comes to dry days. And the commitment made towards prohibition under the directive principles of state policy must be given to each of them in a similar manner. The next reason is that the Alcohol trade shuts down on election days, which happens a bit frequently.
Mahatma Gandhi was the one who wanted a total prohibition or a ban on alcohol in India. Article 47 of the Constitution says: 'The state shall regard the raising of the level of nutrition and standard of living of its people as among its primary duties and in particular, the state shall endeavor to bring about prohibition of the use except for medicinal purposes of intoxicating drinks and of drugs which are injurious to health.'
The symbolic push for prohibition has been so strong that October 2 is not just a dry day in India, but has been recognized as World No Alcohol Day since 2008. People could not totally restrict themselves from alcohol, so they promised that they can be without drinking on national holidays and other important days. That is how Dry Day came into existence.
The World Health Organisation conducted a survey, according to which, India is one of the fastest-growing markets for alcohol and other alcoholic beverages. Restrictive policies at the federal and state levels are often carried out under the concern that alcoholic beverages should be heavily regulated to prevent public health and safety issues related to drinking.
Types of Dry Days
There are four different types of dry days on which there is a complete ban on alcohol. People never consume or buy alcohol on those days, except for some who might get psychologically triggered on the word 'Ban' and would want to go against it. Here are the types:
State Dry Day – These dry days are observed only in a single state on a particular day. There won't be a restriction outside that particular state. This may be due to various reasons or it might even be an important day or a special day.
National Dry Day – These days are for the whole country and their Union territories. The alcohol trade will be close in every state of the country.
International Dry Day – This is similar to the other two, while the circle increases to the whole world. International Dry Day is observed on October 2nd, on Mahatma Gandhi's Birthday in order to respect him and his movements against the alcohol ban.
Election days – On the days of elections, India does not sell alcohol for two main reasons. One is people shouldn't consume alcohol and get involved in problems. And the other is that the candidates of the elections should not bribe alcohol for votes.
These are the types of days where you restrict the sale and consumption of alcohol. There are some states who have a liquor ban in almost all parts of the states. Gujarat, Lakshadeep, Manipur, Nagaland, Bihar are some of them.
List of Dry Days in Delhi in 2020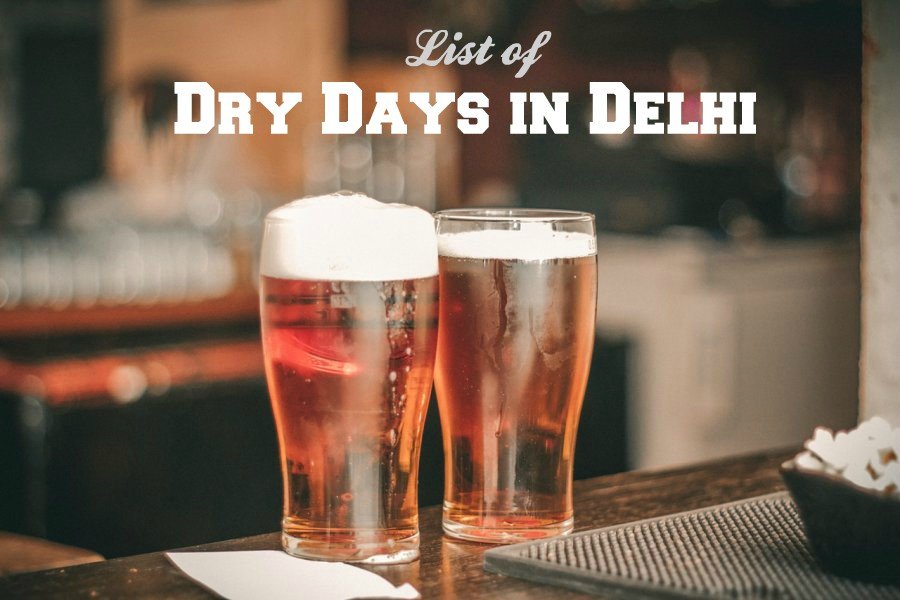 Here is the list of dry days that are followed in Delhi, for the year 2020. It is important to know these days for various reasons and stocking alcohol before the Dry Days might be one of them.
January
15 January (Wednesday)  – Makar Sakranti
26 January (Sunday) – Republic Day
31 January (Thursday) – Mahatma Gandhi Death Anniversary
February
18 February (Tuesday) – Swami Dayanand Saraswati Jayanti
6 February  (Thursday) to February 8 (Saturday) – Delhi Elections
11 February (Tuesday) – Delhi Election Results
21 February (Friday) – Maha Shivratri
March
10 March (Tuesday) – Holi
April
2 April (Thursday) – Ram Navmi
6 April (Monday) – Mahavir Jayanti
10 April (Friday) –  Good Friday
May
7 May (Thursday) – Buddha Purnima
24 May (Sunday) – Eid Ul Fitr
July
1 July (Wednesday) – Ashadi Ekadashi
31 July (Friday) – Bakr-Eid
August
11 August (Tuesday) – Janmashtmi
15 August (Saturday) – Independence Day
30 August (Sunday) – Muharram
October
2 October (Friday) – Gandhi Jayanti
25 October (Sunday)– Dussehra
30 October (Friday) – Eid-e-Milad
November
14 November (Saturday) – Diwali
30 November (Monday) – Guru Nanak Jayanti
December
25 December – (Friday) Christmas
The Legal Age for Consumption of Alcohol in India
It is very much necessary that you make sure you are allowed to consume alcohol for your age. There are reasons like your body cannot sustain much alcohol until you attain a particular age. In India, different states restrict different sets of age groups from certain types of alcohol.
States like Chandigarh, Delhi, Haryana, and Punjab allows people to drink only when they are 25 years of age. You can consume beer if you are 21 and you must be 25 years old to consume other types of alcohol in Maharashtra. In Kerala, you can consume alcohol only when you are 23 years old.
Goa which is called India's party central, allows you to drink when you are 18 years old, which is the lowest legal drinking age. The same applies to Nicobar Islands, Himachal Pradesh, Jammu and Kashmir, Karnataka, Puducherry, Rajasthan, and Sikkim.
But generally, In India, the legal age to consume alcohol is 21 years.
Before going to the Bar or hitting a pub, it is very important that you carry your identification with you. It serves several reasons. You must carry your ID when you drink for the first time, in case of emergencies.
Dos and Don'ts
Before going out for a drink with your pals or anybody, it is important to know what you should do and not do during the consumption of alcohol. It is also important to know the other person's health conditions or let people know about your health conditions before going for a drink. Also, know which alcohol suits your body and does not have any side effects
Do's while drinking
Set a liquor limit because it might end up in health issues or other emergencies
Consume liquor little by little to reduce the effects of liquor in your body.
Eat before you start consuming any kind of alcohol as it slows down how quickly you get drunk.
Drink a lot of water after the consumption of alcohol to reduce the effects of alcohol and come to a normal state.
Have a track on your frequency in alcohol consumption and try to keep limits or reduce consumption.
Don'ts while drinking
Don't drive after consuming alcohol because major accidents are happening due to this reason.
Don't consume painkillers when you or drunk or the other way round. Do not alcohol while you are on medications. It is better to consult your physician.
Avoid consuming hot drinks with beer, you might end up puking.
Don't drink with people whom you don't feel comfortable with, this might end up in different scenarios.
Don't consume sweet and sugar items after drink because that increases the effect of alcohol in your body.
Bottom Line
Consuming alcohol is not a mistake, but getting addicted to it is harmful. Also, the dry days are one of the best initiatives, because it helps people not totally restrict themselves from alcohol as well it shows how important it is to not consume alcohol as a gesture of respect on certain days of the year. It also teaches us the limits. There is nothing wrong with following the plan and remaining a non-alcoholic during these days.