If you are bored of eating sandwiches filled with mayo, it's time you replace it with something healthier. So, I'm sharing three variants of my favorite curd toast recipe.
Often, we feel that sandwiches are not filling and end up overeating – which causes unhealthy weight gain. So, we need to take the road less traveled and go with a homemade substitute with our secret ingredient – curd.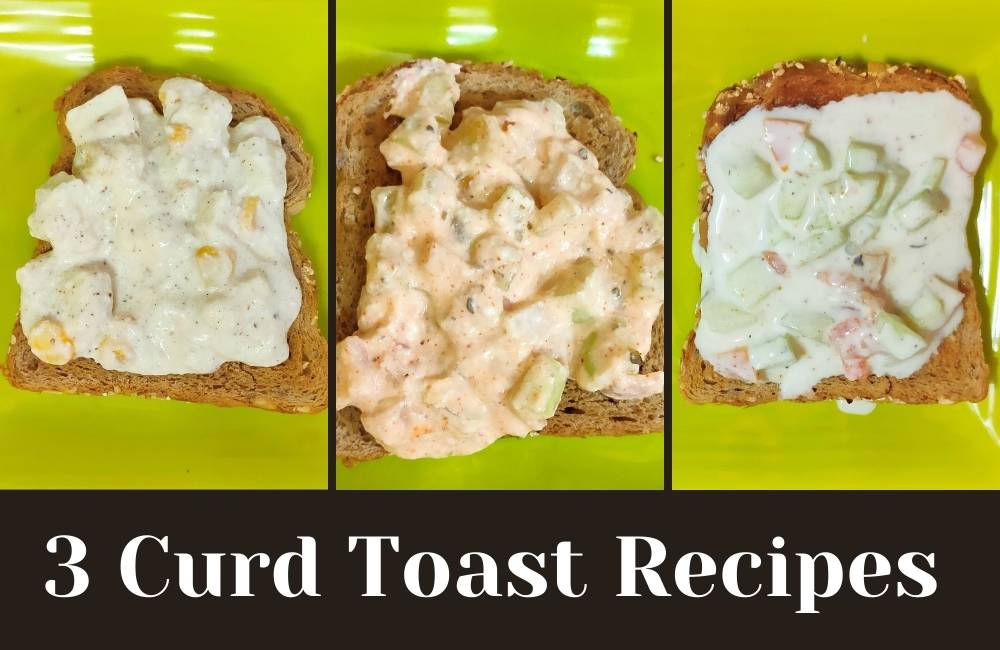 People are shifting from majorly consumed mayo sandwiches to curd sandwiches. This shift is slow, but it is happening.
Benefits of the Ingredients
Curd
As we all know, curd is a probiotic, and it helps promote good microflora in the gut, thereby promoting gut health. It can also help improve bone health. Streptococcus thermophiles and Lactobacillus bulgaricus are the main bacteria used in the formation of yogurt. Lactic Acid Bacteria (LAB) also helps reduce carcinogens, according to researchers. Benefits have been underlined in dental and bone health, hypertension, and liver disease.
Multigrain bread
Multigrain bread provided some grains' goodness, including flax seeds, pumpkin seeds, sesame seeds, etc. Whole grains provide added B vitamins, iron, copper, zinc, magnesium, antioxidants, and phytochemicals, Harvard Health states. Antioxidants in them protect your cells from damage.
Why not mayonnaise?
Mayo has become an integral part of our burgers and sandwiches. Vegetarian Mayo is made out of fat and might not be too healthy to consume frequently. On the other hand, Mayo has an imbalanced proportion of omega six and omega3 fatty acids, leading to heart disease risks. Salmonella, if passed, may also lead to food poisoning and other health conditions.
To substitute our favorite Mayo, we can use curd, hung curd, or vegan alternatives.
So, curd can be a great creamy substitute since a lesser proportion can make us feel satiated. These creamy and fulfilling curd toasts are easy to make. You can spice it up or keep it low key. You can mold them according to your preference.
Multigrain bread, curd, and your favorite veggies will make a great combination of a healthy yet delicious sandwich. You can consider it a scrumptious breakfast meal.
Salad Curd Toast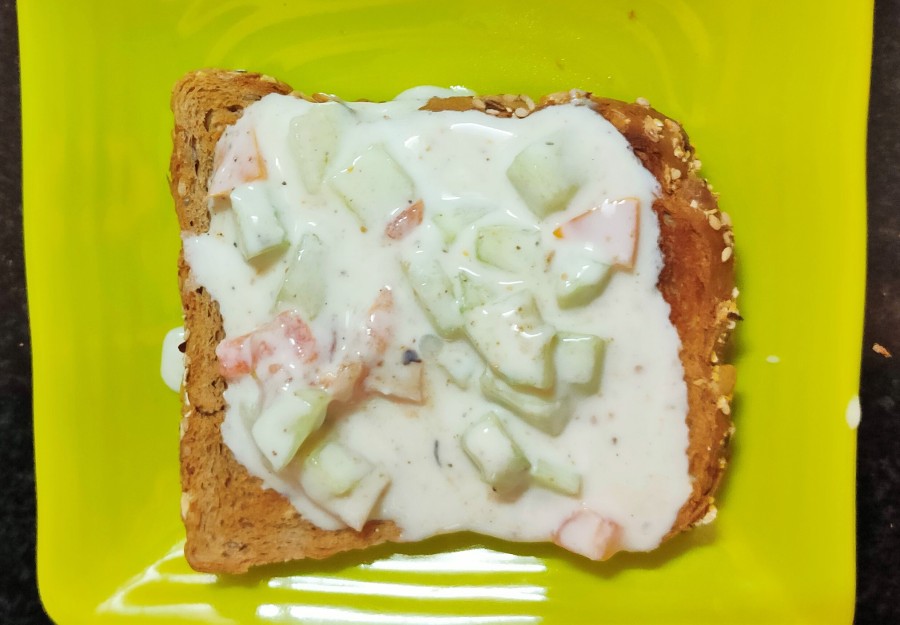 What you need
Curd – 2 tbsp
Multigrain bread – 2 (You can take any bread of your choice)
Cucumber – ½ piece
Tomato – ½ small sized
Onion – (You can avoid it if you don't like raw onion)
Carrot – few grams shredded
Chat masala
Oregano
How to prepare?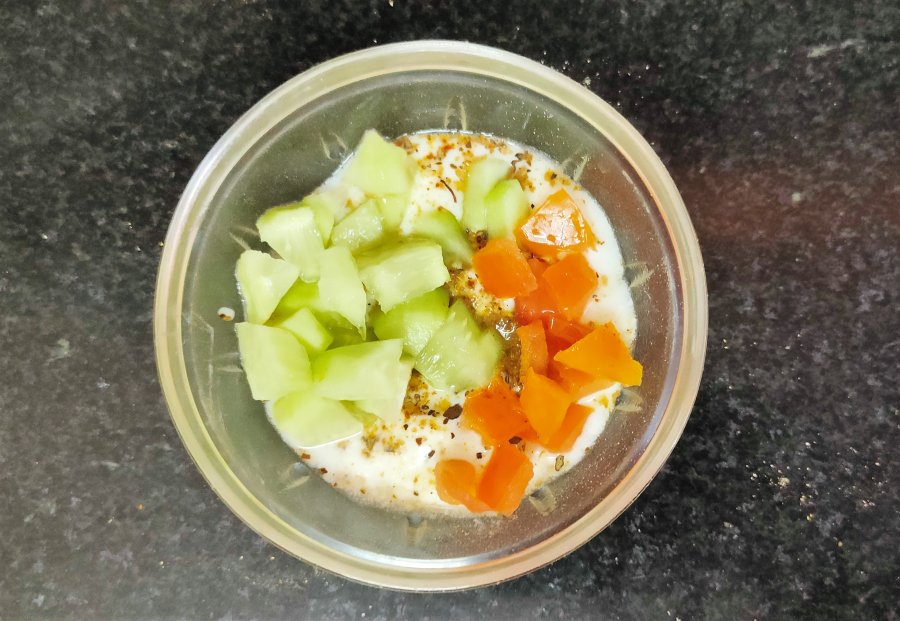 Pop up the bread taken to the perfect golden brown crisp.
Chop tomatoes, cucumber, and onion. You can choose the size according to your preference for bite-size.
Take curd and add chat masala. Add salt and oregano too.
Now add the cut cucumber, tomatoes, and onions to the spiced curd. Mix it well.
Add this mix to the popped-up bread.
You can add it on a single slice or sandwich the mix between two slices of bread.
Paneer Curd Toast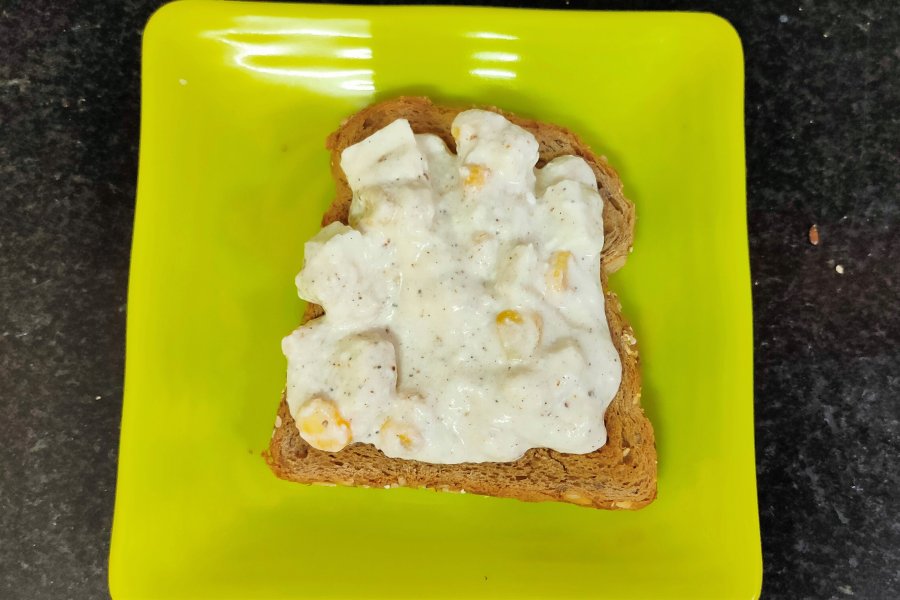 What you need?
Curd – 2 tbsp
Multigrain bread – 2 (You can take the bread of your choice)
Paneer – diced about 10-20 g
Corn – 5-10g
Bhuna jeera powder just a pinch
Salt
Black pepper
Fresh herbs
How to prepare?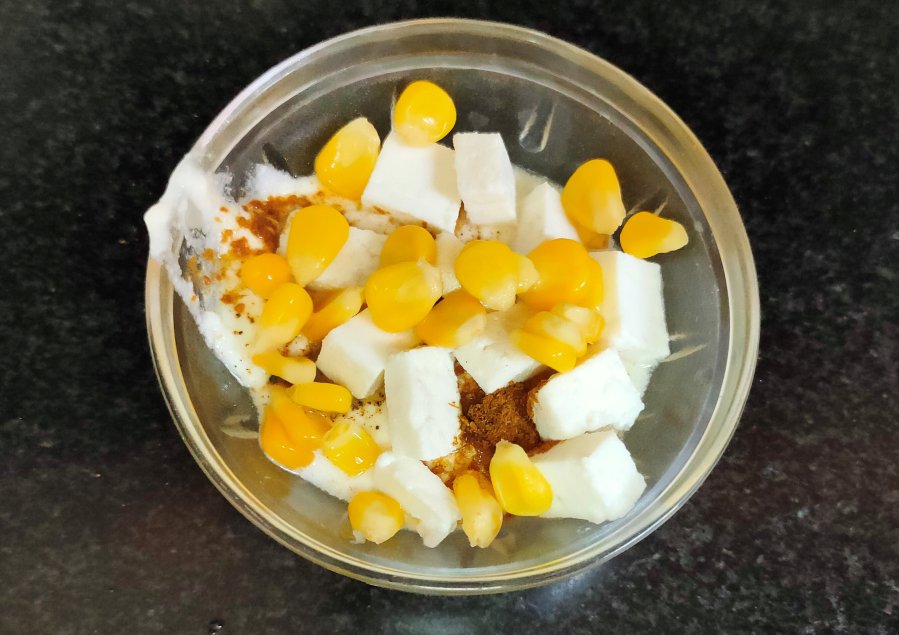 Take curd and add all the spices and herbs. Give this a good mix.
Now add paneer cubes and corn and mix it again.
Make a sandwich and toast it on a pan with or without oil.
Chilly Curd Toast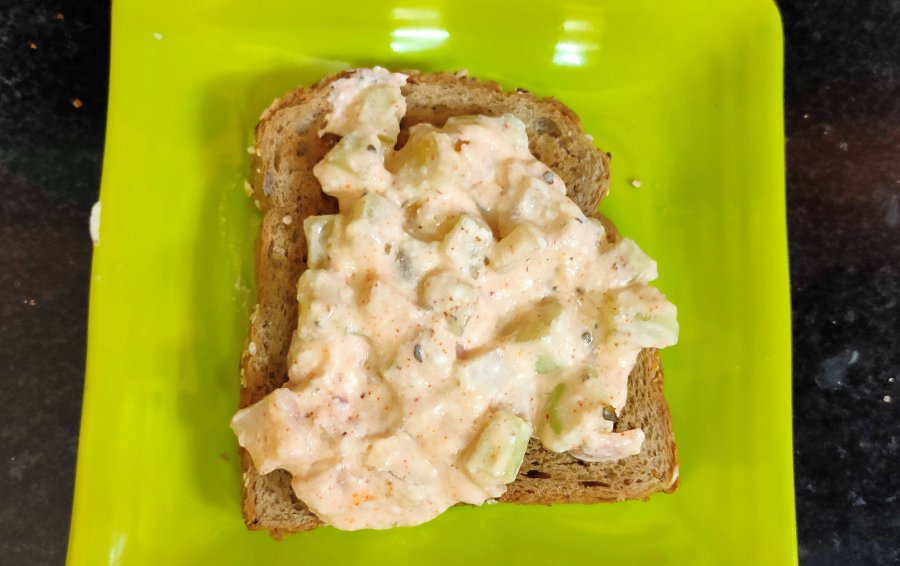 What you need?
Hung Curd – 2 tbsp
Multigrain bread – 2 (You can take the bread of your choice)
Pepper – half diced
Onion – (You can avoid it if you don't like raw onion)
Carrot – shredded around 10g
Chili powder (Kashmiri chili) – few pinches
Oregano as desired
How to prepare?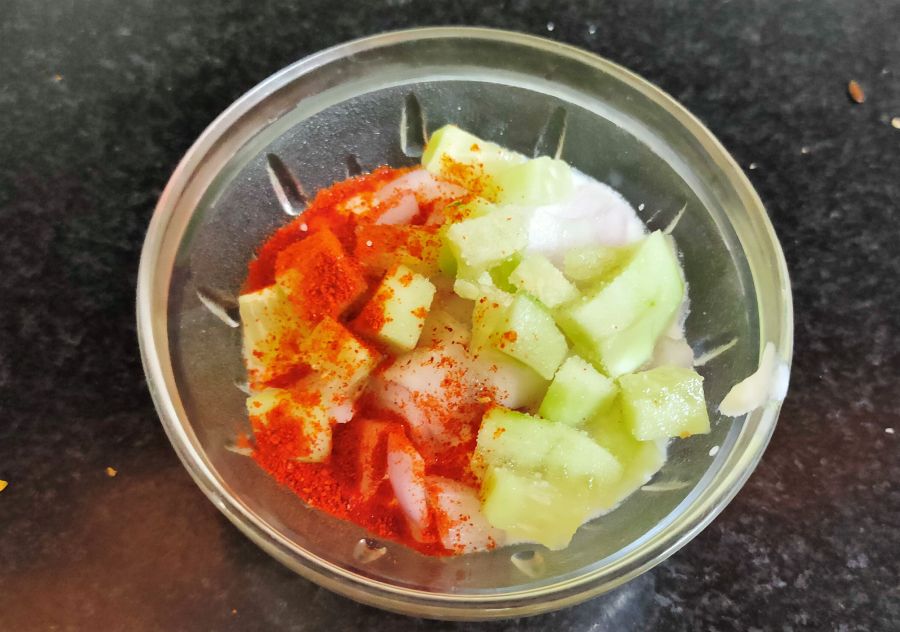 Take hung curd and add the spices to it. Add pepper and onions. (You can add other stuffing of your choice too).
Mix it to form a creamy filling for the toast.
Either toast the bread and add it as a spread or make a sandwich and toast it.
Enjoy your sandwich.
Tips
You can also use vegan curd but make sure you choose a creamy one. Vegan options might not provide the nutrients mentioned, but they might provide other nutrients.
People suffering from coeliac diseases can use gluten-free options. It might not taste the same but do give curd filling a try.
You can always swap the mentioned veggies with the ones you like to consume in raw form.
You can add a big leaf of any green leafy vegetable which you prefer in your sandwiches like lettuce leaf sandwiched in between.
I hope you liked these simple yet delicious curd toast recipes with fewer calories and even less fat. Let us know in the comments!