Bagara rice, also known as Bagara Annam, is a spicy rice dish. Hyderabad and Telangana are known for their popularity. Bagar literally means tempering, and rice is prepared in the same way. The dish doesn't contain vegetables or masala.
This dish is traditionally made with basmati rice (long ones) and green chillies. Veggie biryani, dalcha, and bagara baingan are usually served with bagara rice. It is often served along with curries, whether they contain vegetables or meat.
You will find this simple yet amazing and delightful to eat. Even though you can add vegetables and twist the dish, it will not be non-traditional.
The history
As a Hyderabadi cuisine known for its quality and richness, bagara rice or bagara khana has been there since the time of the Nizams. Being curated from the southern part of India, the dish is impacted by South Indian cooking techniques.
Weddings often serve this dish. For vegetarians living in the coastal areas of Hyderabad and Telangana, this dish is of tremendous importance and value, a dish that is a rare find.
After biryani, bagara rice is prepared widely in the area. Adding a little tadka of whole spices to the rice adds all the richness. It's a hit among vegetarians. You can prepare it two ways: stir fry the rice with the spices or add everything and put it on a boil. Whatever way you choose, it barely takes an hour to prepare!
Ingredients
One glass of basmati rice
2 pieces of green chillies
1 tablespoon of oil
2 teaspoons of cumin seeds
Ginger garlic paste
One medium onion
Few pieces of cloves
Few black peppercorns
Benefits of the Ingredients
Rice
This recipe calls for basmati rice as its main ingredient. Unless you've heard of basmati rice, you've been living under a rock. In India, basmati rice is traditionally long-aged rice. APEDA defines basmati rice as having a minimum average length of 6.61mm when it has been precooked and milled. In Hindi, basmati means "fragrant".
India produces and exports 70% of world basmati rice. It has 12 times stronger aromatic flavor than regular rice. By soaking for about 30 minutes and following that by cooking, you can prevent aroma loss during cooking.
In comparison to other types of rice, basmati rice has a low glycemic index. This means that they contain fewer calories. For this reason, they are considered good for diabetic patients.
They have a high nutritional profile. Our body cannot synthesize all eight essential amino acids, so we must obtain them from an outside source. Vegetarians have a difficult time finding foods containing all essential amino acids. Additionally, it does not contain cholesterol or saturated fats.
People who have coeliac disease or a gluten allergy can use this as an alternative to grains. Rice is gluten-free, but basmati rice is a better choice than ordinary rice. Because of its low arsenic content, it prevents many diseases.
This rice may be the only kind that promotes weight loss due to its high fiber content, making a person feel fuller for longer periods of time.
The benefits of brown basmati rice outweigh the benefits of white basmati rice. Anyhow, basmati rice is more beneficial than all other varieties.
Green chillies
Different types of peppers contain varying amounts of capsaicin. The compound capsaicin gives peppers and chilies their characteristic heat.
Capsaicin has many health benefits: it reduces inflammation and pain. As well as clearing mucus, it helps prevent congestion.
Green chilies support blood sugar regulation, digestion, and healthy skin, as well as heart health. Calcium and antioxidants are abundant in them. Additionally, it has some antibacterial properties. As a weight loss aid, it helps to reduce body fat. It boosts the immune system and keeps the skin glowing.
With zero calories, it is a great way to digest food and tastes great, too. Potassium, copper, iron, Vitamins A, C, E, and K are all found in chili.
How to make Bagara Rice – Step-by-step instructions
1. Remove dirt and impurities from basmati rice by washing it three times.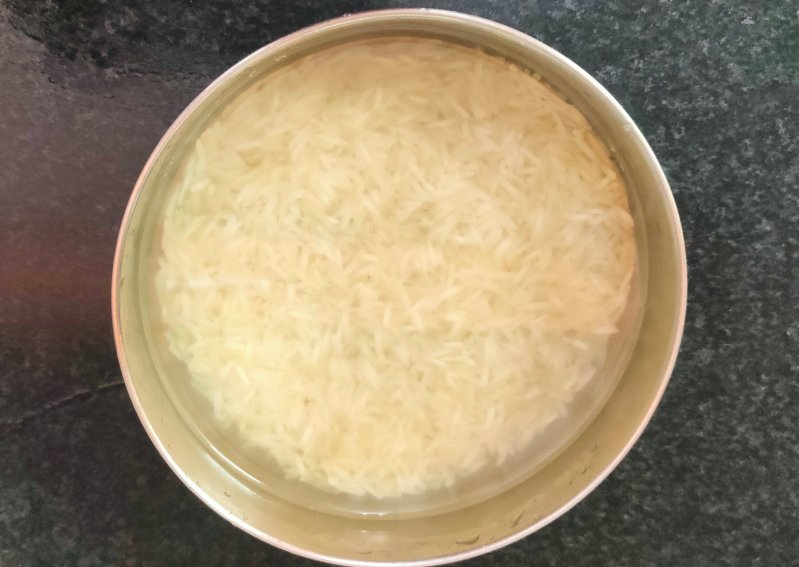 2. Let the rice soak for a few minutes.
3. Meanwhile it's time to temper the whole spices. Take a pressure cooker, instant pot, or a pan.
4. Add the oil and heat it up.
5. Add the cloves, the black pepper, and the cumin seeds. Pop 'em.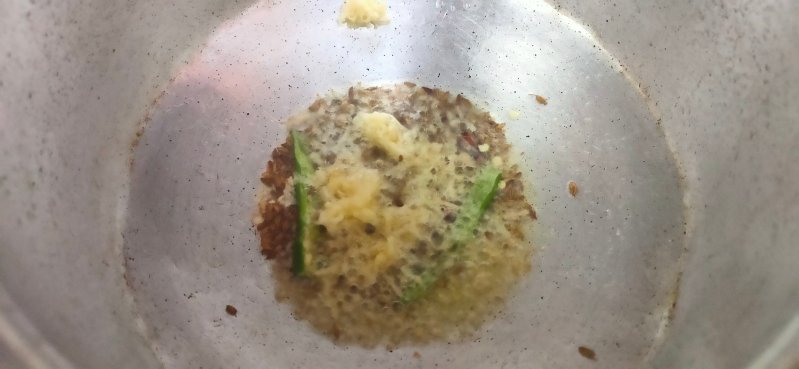 6. Saute the chili and onions until the flavors are combined. Top them up with salt.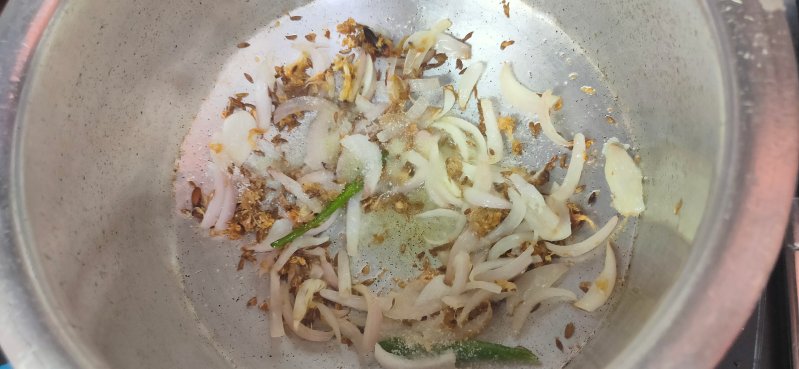 7. Add the rice to the pressure cooker after draining the water.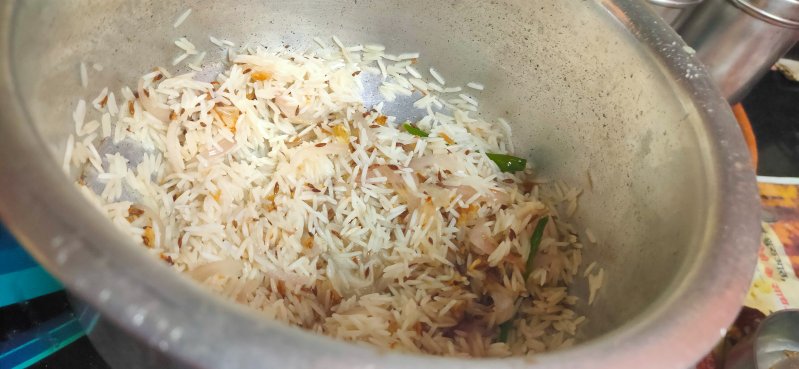 8. Cook on a high flame for one whistle after adding water.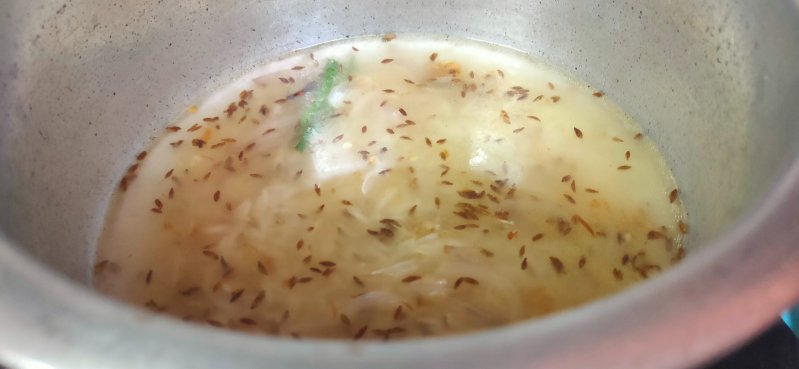 9. Let bagara rice cook for a few more minutes on a low flame.
10. Turn off the flame. Let out the pressure.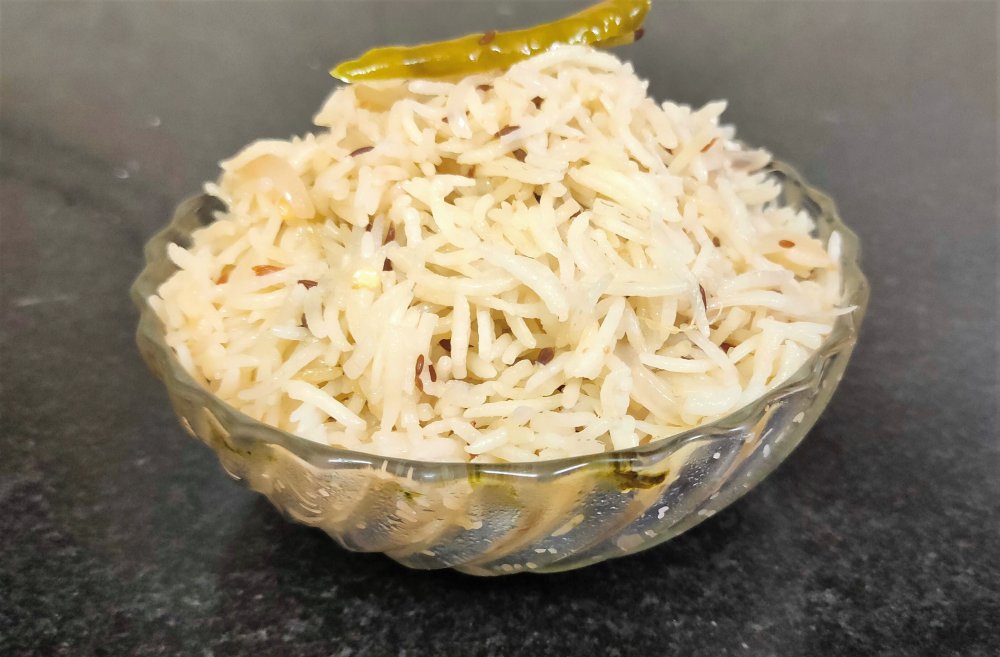 With curry of your choice, serve hot.
Tips
To make your bagara khana less boring, you can add some veggies to the rice. Spices of your choice are also welcome.
Hyderabadi biryani whether vegetarian or non-vegetarian has always been a favorite with the population, so why not explore another variant like this bagara rice recipe and savor the flavor and wholesomeness of this dish.
Frequently Asked Questions
What varieties of rice can I use?
This recipe works best with brown rice and long-grain basmati rice.
How many calories are there in the bagara rice recipe?
About 278 calories per serving come from 18 grams of fat, 164 grams of carbs, and 16 grams of protein.
What pairs deliciously with bagara rice?
Baingan curry, egg curry, aloo qorma, and mutton curry are the perfect accompaniments for this traditional dish.
Trying to make this delicious and royal bagara rice recipe has never been easier, and the taste is wonderful. It's a great dish when you're having trouble coming up with a recipe. I hope you'll prepare it and share it with your family and friends.