In this century of ever-changing trends, it is impossible to keep up with the latest trends, especially when it comes to design.
What's modern today may become vintage tomorrow, and what's cool today could very well have been boring yesterday. As exciting as this journey of design and style is, it's equally burdensome in our pockets. Particularly when we are talking about the evolving designs in houses: the cost can get out of hand quickly if we try to keep up with the recent trends.
A major change requires a lot of money. Minimalism may be all the rage in modernity, but accomplishing that minimalism maximizes costs. So we decided to help you find some quick and easy ways to give your kitchen a modern look with just a few tips and the minimum burden on your pocket!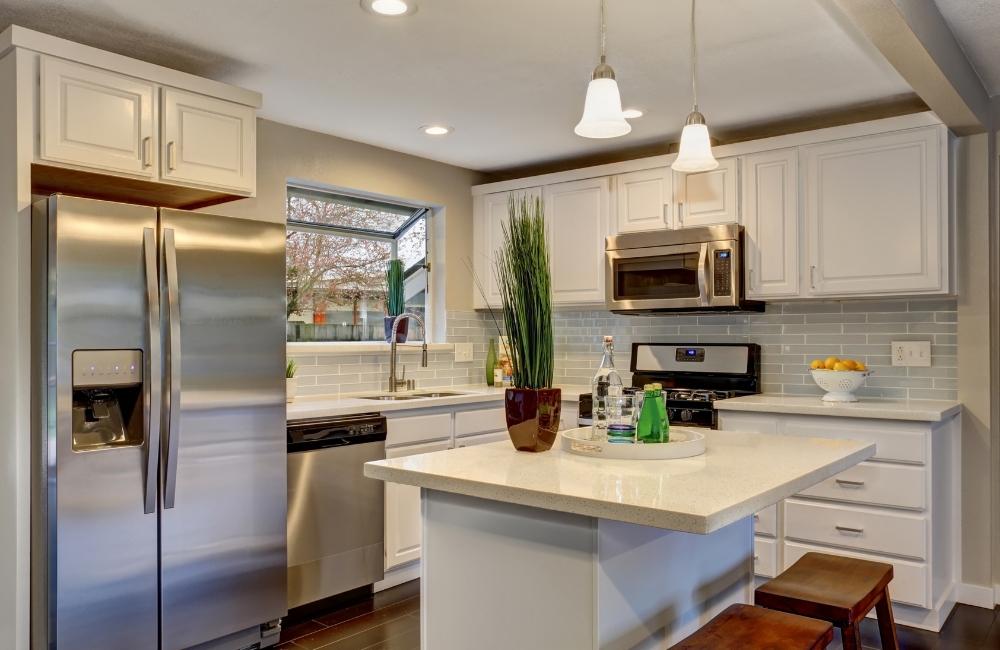 1. Brushed Nickel Kitchen Handles
If there is one thing that has never gone out of style, it's brushed nickel! It is used in kitchen handles and faucets etc. Brushed nickel kitchen cabinet handles can be used in both modern and vintage ways, depending on the color they are paired with.
All you need to do is find the right ones for your kitchen. To add coherence to your kitchen, you can use brushed nickel faucets, drawer pulls, and door handles too!
2. Go All Black
While we are talking about minimalism, going all black is the classic minimalistic move! Not only is all black never going to go out of fashion but making your cabinets, drawers, and even countertops black can be done at a relatively cheaper price.
You can go for plain black cupboards and drawers, while for your countertop, you can select a laminate sheet that has some texture and design in it to make it look more natural and stone-like on the countertops. When you feel like you've had a good run, just get rid of the black laminate and revive everything to its old glory!
3. New Lighting Options
One of the first things that people look at in a room is the lights. Due to their ability to change the mood of the whole room.
For a modern look, going for bold fixtures on your island or pendant lighting in a corner is ideal. If your kitchen allows you to place only one big lighting fixture, go for a rectangular-shaped pendant light on your island that is enough to fully light up the kitchen while making a statement of its own.
4. Plain Cabinets Are The Way Forward
If you have been all about carved cabinets, then this is your time to get rid of them. Carved cabinets and doors, although look beautiful in their own ways, but for a modern look, they are just not right.
MDM cabinets or any other material cabinets which are smooth and have almost no texture can be ideal for a modern look. Go for solid colors like black and white with a chrome finish. This minimalistic look is gorgeous and looks absolutely stunning!
5. Bring In Nature
Plants have been around since forever (for obvious reasons), but the modern and contemporary style has a newfound love for them. The warmth brought in by the green color, and the modernism of stylish pots is very pleasing to add both nature and modernism to your kitchen.
You can even try fake plants if you are not as dedicated and give them a cute little corner of their own. If you can take responsibility, go for a money plant on your window sill, some indoor plants in corners, and some indoor cactuses on your countertops. The colors that these plants will bring to your kitchen are not only a breath of fresh air but the cheapest way to give your boring kitchen a new and modern look.
6. Play With Colors
Modernism is mostly about minimalism but using the right colors to create a wall in your kitchen that garners everyone's attention can be one of the most flawless ways to add a touch of modernism to your kitchen.
This color can vary depending on the other colors in your kitchen, but we would advise that you go for pastel colors even if you want to choose a color like blue, pink, or yellow. Their pastel hues are the trendiest thing in the 21st century! You can use this wall for hanging some pots or keep it simple and just add a painting on it, making your kitchen the chic room of your house.
All suggestions aside, if your modern look is not about showing off, switching to smart appliances that save both energy and time is the best recommendation for any modern kitchen. It's high time we become more responsible with our choices and give back to mother earth!