It's no longer just women who need skincare. The men have taken notice and are investing in their skin too.
With new products hitting the market every day, face cream for men is no longer a luxury but a necessity.
Whether you're looking to reduce wrinkles, improve skin texture, or just want to keep your skin hydrated and healthy, there's a face cream out there perfect for you.
So, gentlemen, it's time to step up your skincare game and get yourself some of the best face creams for men out there!
1. Nivea Men Dark Spot Reduction Creme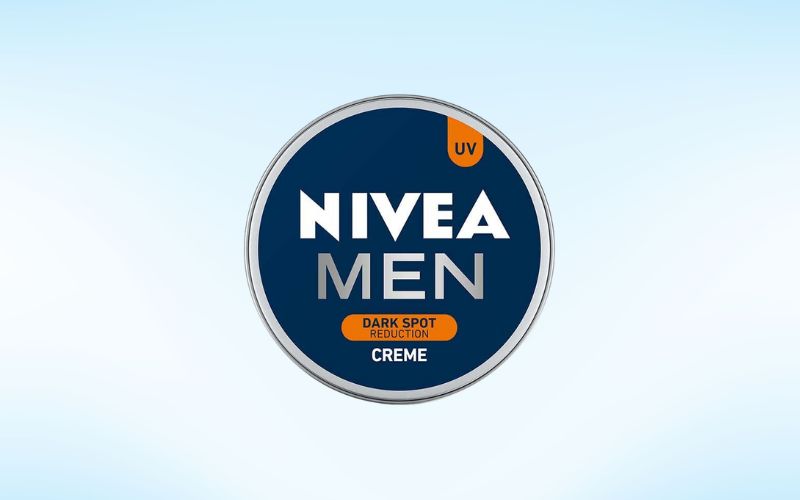 If you're a guy looking for a face glow cream that actually works, you need to give Nivea Men Dark Spot Reduction Creme a shot!
Its non-greasy, fast-absorbing formula means you won't be left with a shiny face, and the licorice extracts and UV filters work together to reduce the appearance of dark spots and give you clear, hydrated skin.
We love how it smells, and it's perfect for use during winter when your skin needs a little extra hydration. Plus, you only need a small dab to get the job done.
The best part? It's easy to apply and leaves you looking your best. Be aware, though – this product may not be for you if you have oily skin. It won't completely remove all instances of freckles or age spots, but it definitely makes them less prominent.
It's a little more expensive than some other moisturizers for men, but it's reasonably priced for a daily moisturizer and won't break the bank if you use it every day. This fragrance-free cream uses licorice extracts and UV filters to reduce dark spots, and it's non-greasy. If you're trying to reduce dark spots on your face, this is a solid choice.
2. Garnier Men TurboBright Brightening and Anti-Pollution Moisturiser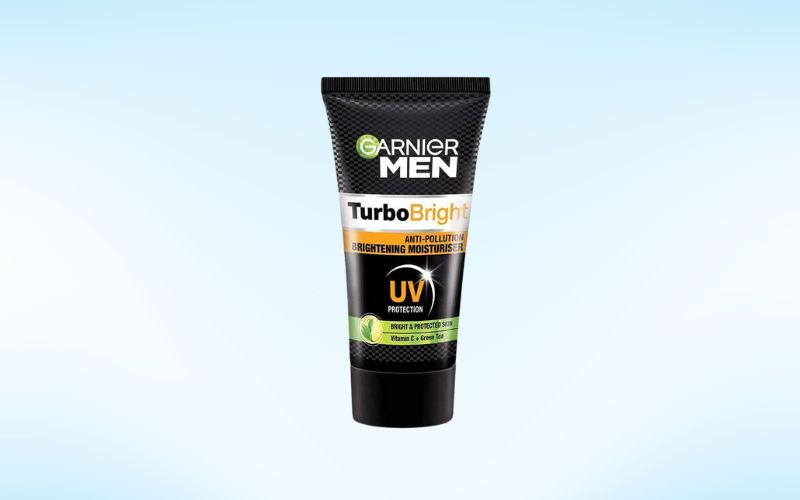 The Garnier Men TurboBright daily moisturiser has a lovely cooling effect that hydrates the skin with a lightweight, invisible texture. Vitamin C makes it feel fresh and light on the skin, and the fast-absorbing formula refreshes the skin.
If you have dull-looking skin, get yourself some Garnier Men TurboBright Brightening and Anti-Pollution Moisturiser ASAP. This incredible face glow cream for men protects your skin from harmful pollutants and increases your skin's glow! And who doesn't want a bit of that?
The cream is enriched with purifying green tea and brightening lemon extracts, so you can trust that only natural ingredients are going on your skin. Plus, it has the added bonus of containing a UV filter that protects you from sun damage.
The cream is lightweight and thin but doesn't leave you feeling greasy. It's suitable for all skin types. The tube makes it super easy to carry. The fragrance is fresh and healthy, leaving your skin feeling clean, healthy, and balanced.
The only thing to watch out for is that it gives a greasy look, but hey, you can't have it all. So why not cleanse your face twice a day with a deep cleansing facewash, then apply the moisturizer to bring back the vibrant and healthy look to your dull skin? Don't just take my word for it – try it for yourself and get glowing!
3. Beardo DD Face Cream for Men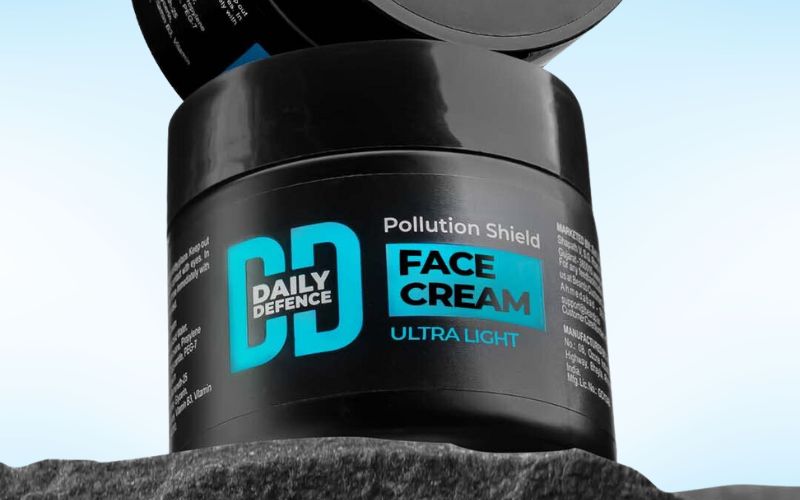 For men with heavy beards or stubble, finding a daily moisturizer that's breathable and won't clog pores may be challenging.
Beardo's Daily Defense Cream is lightweight and non-greasy and doesn't contribute to facial hair flaking. This Moisturizing Day Cream is meant to target multiple facets at once, and it contains ingredients like Niacinamide, Vitamin E, and ceramides. It has a slight fragrance that's reminiscent of green tea or cucumbers when applied, but it's certainly less noticeable than the scent of many men's moisturizers.
This cream is packed with antioxidants like Vitamin E and Niacinamide that strengthen your skin against harmful UV rays and environmental toxins. The best part? It doesn't feel sticky or heavy on your skin, keeping you comfortable all day long.
This face cream stands out because it's 100% vegan, paraben-free, silicone-free, phthalate-free, and mineral oil-free, making it safe for all skin types. It also works wonders in hydrating and moisturizing your skin, helping you fight dullness and maintain a healthy, natural glow.
Whether you have oily skin or lead a rugged lifestyle, this daily pollution defense cream has been tailor-made to suit your skin's unique needs. Check here for our picks for the best products from Beardo!
4. Blue Nectar Shubhr Saffron & Sandalwood Anti-Aging Cream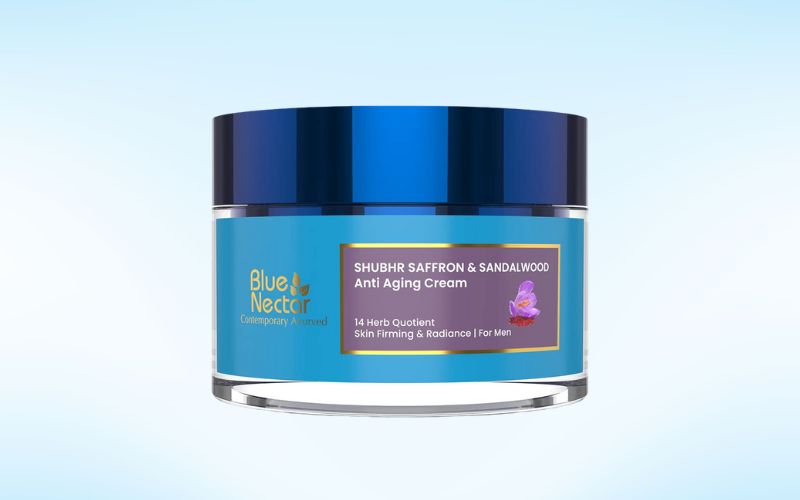 Packed with powerful yet gentle herbs, this skin-brightening cream helps to improve the appearance of uneven skin tone, dark spots, wrinkles, fine lines, and more. This multi-purpose face moisturizer provides intense hydration and nourishment to the skin while improving the appearance of aging signs.
It's infused with 14 skin-rejuvenating herbs, including Aloe Vera, Sandalwood Oil, Turmeric, Indian Madder, Almond, Plum Oil, Liquorice, and Sesame Oil. These ingredients help to replenish and nourish your skin to restore its elasticity and texture. Saffron, in combination with Natural Vitamin C and Almond Oil, helps to boost collagen levels naturally while plumping and hydrating the skin.
The formula of this face cream for men is fast-absorbing, light, and non-greasy, leaving your skin hydrated and supple with a brighter complexion. It's suitable for oily, dry, and combination skin types. Plus, it's free from parabens, sulfates, mineral oil, and animal testing.
Overall, the Blue Nectar Face Cream is an excellent investment for your daily skincare regimen. It's gentle on the skin and great for daily use. So, if you want to improve the appearance of your skin without any harsh chemicals, this natural skin brightening cream is the right choice for you!
5. The Man Company Daily Moisturising Cream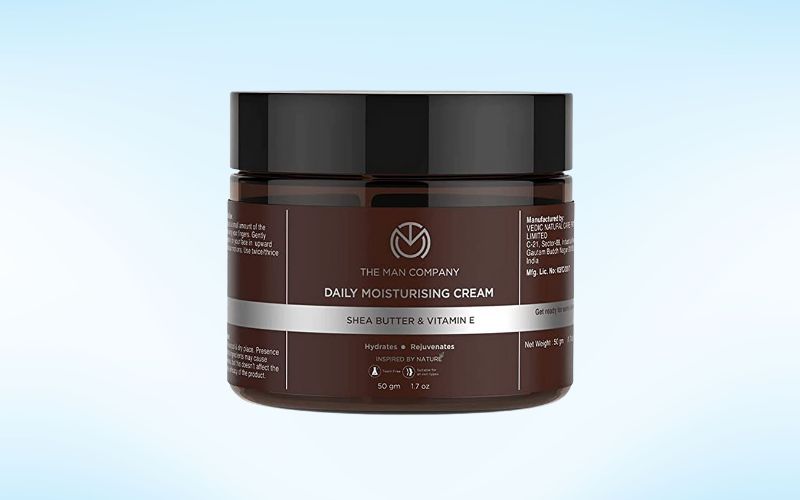 If you're hunting for an effective face glow cream for men in winter, look no further than The Man Company Daily Moisturising Cream. Packed with natural ingredients such as Shea butter and Vitamin E, this moisturizer has many benefits.
Not only does it make your skin soft and supple, but it also helps to moisturize and retain the natural softness without harming your skin at all.
The cream penetrates deep into the skin to protect the cell membrane, forming a barrier that keeps moisture intact. This makes it perfect for those with dry skin, but it's also great for oily skin – it won't leave you feeling sticky!
And, with a pleasant fragrance and long-lasting hydration, you'll want to use this cream every day. Swap your regular body lotion with this glow cream for oily skin in winter and see the difference for yourself.
6. Cetaphil Moisturizing Cream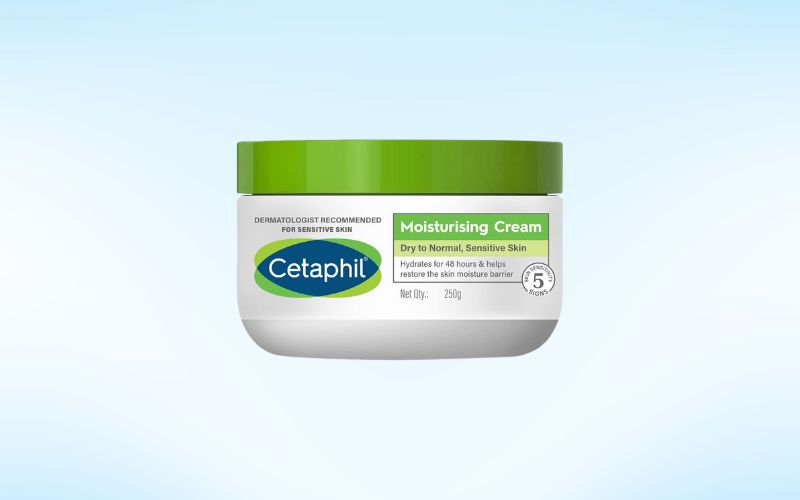 Are you a man struggling to find a face cream that provides the perfect balance of hydration and glow without causing breakouts or irritation?
Cetaphil Moisturizing Cream is the holy grail of face creams for men with dry, acne-prone skin. It provides 24-hour hydration with instant soothing relief, eliminating dryness and flakiness in just one day!
This non-greasy cream not only caters to your face but also works wonders for your hands, feet, elbows, and knees. Made with almond oil, Cetaphil is paraben-free, ensuring your skin stays supple and healthy without harmful chemicals.
Plus, this face cream is gentle and long-lasting, making it a remarkable option for busy men on the go.
Trust us; your skin will thank you once you introduce it to Cetaphil Moisturizing Cream- one of the best face creams for men's dry skin!
7. Neutrogena Hydro Boost Water Gel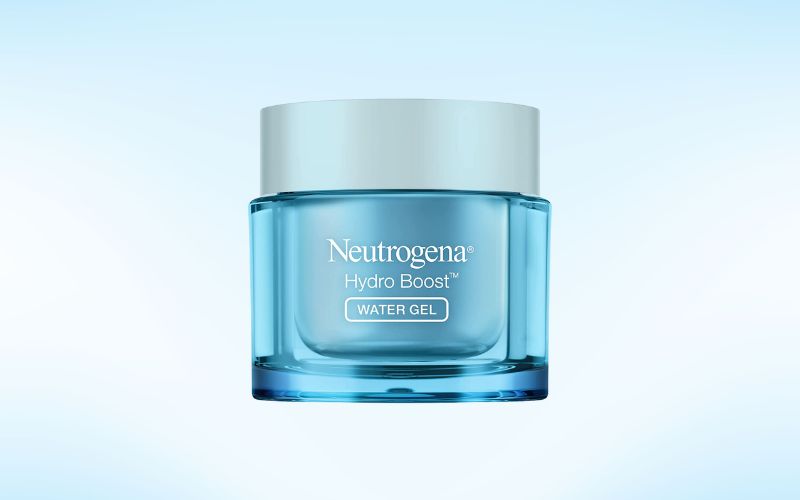 Today, men's skincare is just as important as women's, and finding the best face cream for men's oily skin is key. That's where Neutrogena Hydro Boost Water Gel comes in.
This face glow cream for men is a game-changer. With its unique formula that works 2x deeper in skin, it gives your face a pure boost of instant hydration, leaving it looking and feeling fresh all day long. What's more, it strengthens your skin's barrier to protect against five aggressors, so your skin can stay healthy and trouble-free.
The five dimensions of healthy skin are also achieved with this gel-based face cream: smoothness, firmness, translucency, trouble-free, and plumpness. It's lightweight, smells amazing, and feels oil-free, so it's perfect for men with oily skin.
The only downside is that less quantity is provided, but with all the benefits this face cream offers, it's well worth it.
How to Choose the Best Face Cream for Men in India
Moisturizers aren't just for women, they're also a must-have skincare product for men. Besides keeping your skin healthy and hydrated, men's face moisturizers also prevent fine lines and wrinkles from appearing. However, finding the right moisturizer for every skin type can be difficult with so many available options.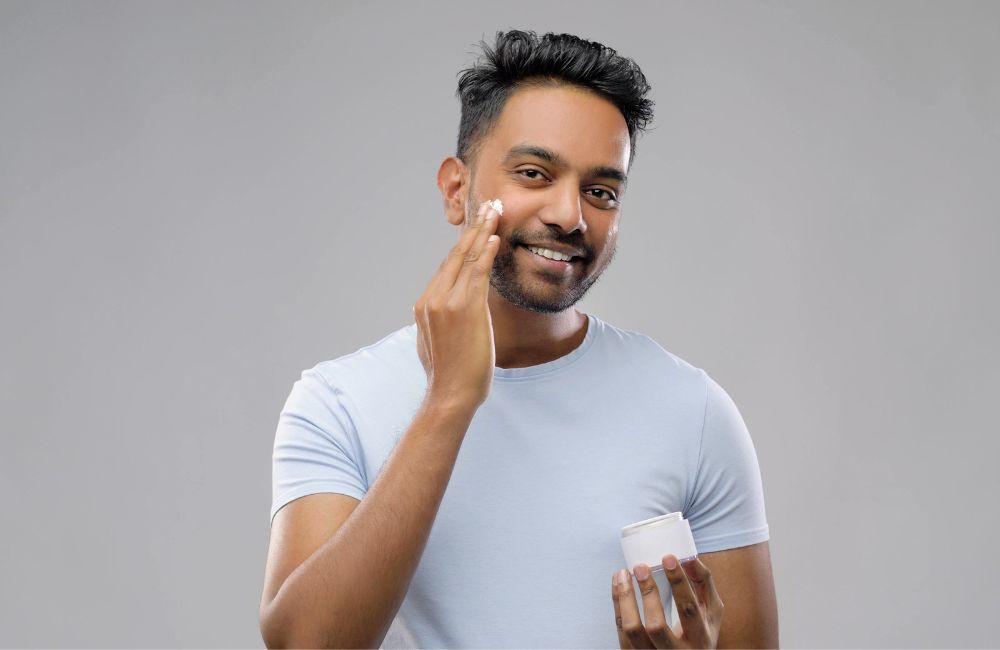 Here's a quick guide to finding the best daily face moisturizer for men in India.
Know Your Skin Type
Before choosing a face cream for men, you should know your skin type. Is your skin oily, dry, or a combination of both? Do you have sensitive skin or skin issues like acne or eczema? Understanding your skin type and specific skin concerns will help you find a moisturizer that suits your needs.
Read the Ingredients
When choosing a moisturizer cream for men, it is important to read the ingredients carefully. Look for natural and organic ingredients like green tea extract, willow bark, and niacinamide, which help fight free radicals and improve skin elasticity. Avoid synthetic fragrances and harsh chemicals like parabens and sulfates, which can irritate the skin and cause damage.
Hydrating and Moisturizing
A good face cream for men should be hydrating and moisturizing. It should help lock in moisture and keep your skin looking and feeling healthy. Look for ingredients like hyaluronic acid, jojoba oil, and glycerin, which help hydrate the skin without feeling greasy or oily.
Consider Your Skin Barrier
The skin barrier is the outermost layer of our skin that protects us from environmental factors like pollution and UV rays. A good face cream for men should help strengthen and protect the skin barrier. Look for ingredients like ceramides and niacinamide, which help improve the skin barrier and prevent moisture loss.
Suitable for Every Skin Type
The right moisturizer cream for men should be suitable for every skin type, whether you have oily, dry, or sensitive skin. Look for products designed to treat different skin conditions, like stressed skin or acne-prone skin. A good face cream for men should also be non-comedogenic, so it won't clog your pores or cause breakouts.
How to Use a Moisturizer
Cleanse your face thoroughly.
Put a small amount of moisturizer on your fingertips.
Apply the moisturizer in circular motions onto your face.
Especially pay attention to any areas around your nose, mouth, and forehead that feel tight and dry. Use a lightweight, oil-free moisturizer if your skin is oily. For dry skin, opt for a thick, heavy moisturizer. For combination skin types, concentrate on dry areas.
Let your skin absorb the moisturizer for a few minutes.
Moisturize twice a day, once in the morning and once at night.
Make sure you moisturize your neck and chest as well.
Bottom line
Choosing the best face creams for men in India is no easy task, but knowing your skin type and specific skin concerns can help make the process easier. Look for ingredients that help hydrate and moisturize the skin, protect the skin barrier, and suit your skin type. With the right moisturizer, you can achieve healthy and glowing skin right by yourself.