Best lip Balms for Men in India: Chapped lips are not sexy or appealing both for men and women. We always think that women are more conscious about their appearance than men, but it is not true.
Men are equally conscious, and you will find men doing a secretive skincare session when no one is looking. Talking about appearance, today we will discuss lips that play an integral part in our overall appearance.
Men also suffer from chapped lips and need hydration and moisturization. So without any fourth ado, let's begin.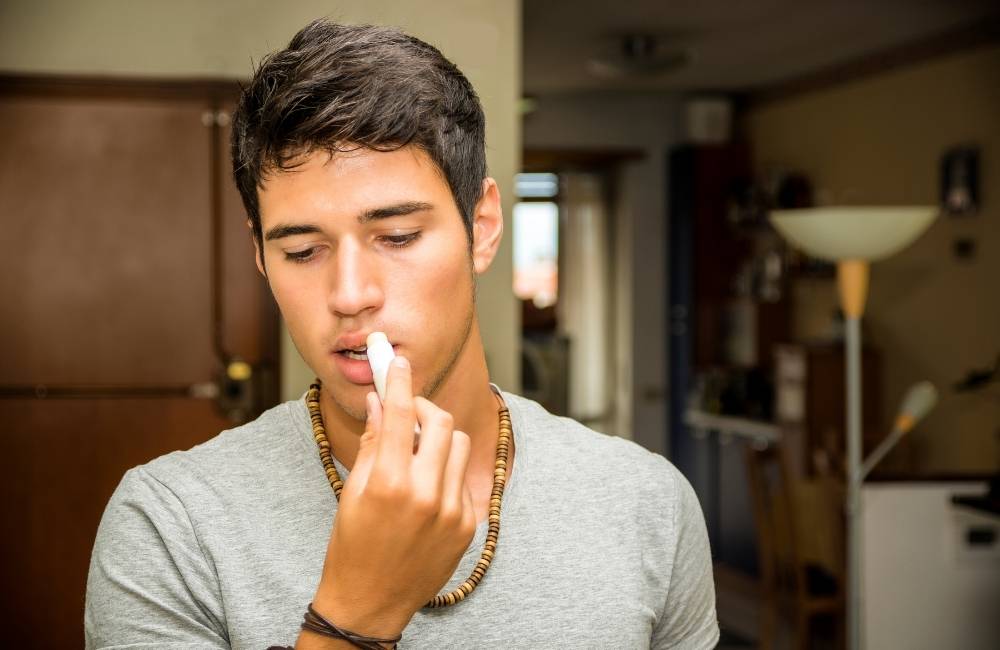 What are lip balms?
Lip balms are a wax-like substance applied on dry and chapped lips topically to keep them hydrated and moisturized.
Lip balms are often made of beeswax, carnauba wax, paraffin, camphor, cetyl alcohol, lanolin, and petroleum jelly combined with many other ingredients.
Some lip balms also provide sun protection and remove darkness and pigmentation.
Why should men wear lip balm?
There are some good reasons why men should wear lip balms. Most men seem negligent or ignorant about the fact that they do need lip balm.
Some men are stubborn, and some think it will lower their masculinity. They think lip balms are only associated with women, but that is so not true.
Lip balms can protect your lips from the harmful rays of the sun and can also provide relief from dry and chapped lips.
Taking care of oneself has got nothing to do with gender. It is all about the needs, and listening to one's body is the biggest need of all.
So guys, if you think it is a girl thing, you should also know that women never find chapped lips appealing. If you are in the mood to impress a lady with your skincare skills, you better start taking care of your lips right now. It is better late than never.
Top-rated Lip Balms for Men in India
Having discussed so much about the need and ingredients of lip balm, let us now share with you some options to choose from. This will narrow down your search and make it easier to choose from.
Readers like you help keep The Life Hype running. When you buy through links on our blog, as an Amazon Associate, we earn from qualifying purchases at no extra cost to you.
Palmer's Cocoa Butter Formula Lip Balm
Shop Now at Amazon
This is a skin-friendly lip balm with the power of SPF 15. This lip balm is ideal for men who have to face the sun every day. It has a butter-rich formula known to hydrate and moisturizes your lips for a prolonged period.
Many men face the problem of dark and pigmented lips due to several lifestyle factors. This problem can be solved by the prolonged use of this lip balm, plus it has SPF, which is always a bonus.
It also has Vitamin E, which is again good for removing darkness and pigmentation. It comes in travel-friendly packaging, and it is great for both day and nighttime use.
Himalaya Natural Soft Vanilla Lip Care
This is another trusted brand when it comes to skincare. The lip balm of Himalaya is essentially made of vanilla oil and cold-pressed castor oil. It is highly moisturizing, and it easily removes dry and flaky skin.
So for men who face immense dryness, this lip is perfect for them. The lip balm is not tinted and is free from preservatives, mineral oil, and petroleum jelly.
Furthermore, It protects your lips from environmental and photodamage and makes your lips appear softer and smoother.
Natio Aromatherapy Paw Paw Lip Balm
This is an Australian company that makes skincare and hair care products for both men and women. For men who really face the problem of dry and chapped lips, which can make the lips bleed, this is a good choice.
This lip balm is a perfect blend of aromatic and essential oils. As the name suggests, this lip balm for men provides optimum moisturization to dry lips. It deeply conditions the lips and gently removes dead skin cells.
It also contains SPF 30, a huge bonus for men who go out in the sun a lot.
The Man Company Lightening Lip Balm
Shop Now at Amazon
This lip balm is made only and solely for men. It is rich in vitamin E and licorice oil which is great for preventing dry and chapped lips. It contains completely natural beeswax, which prevents moisture loss. It is perfect for men with smoker's lips that want to lighten the pigmentation caused by nicotine. Vitamin E  provides moisturization and treats dark and pigmented lips.
NIVEA Men Lip Balm Active Care SPF 15
Shop Now at Amazon
Nivea makes some of the best products for men. This lip balm is rich in emollients and is excellent for healing dry and chapped lips. It also has SPF 15, which prevents and protects from sun damage. It provides prolonged moisture and is great for everyday use. It prevents moisture loss this keeping your lips hydrated for a long time.
Neutrogena Norwegian Formula Lip Moisturizer
This lip balm is formulated with the purest of ingredients and deeply conditions dry and chapped lips. It does not give any greasy or waxy feeling. It provides smooth and soft lips for a long time. It contains SPF 15, which protects and prevents the lips from being damaged by the sun. It has no artificial color, fragrance, or unnecessary additives.
ZOIVANE Men's Smoker's Paradise Lip Balm
As the name suggests, this lip balm is specially curated by keeping in mind those men who smoke.
Smoking can cause the darkness of the lips so that you can apply this lip balm before smoking. It will act as a barrier and will prevent lips from getting dark. It also keeps the lips moisturized for a very long time. It is not tinted and does not have any shine as well.
Regular use of this lip balm can help remove darkness and pigmentation from the lips.
Omorfee Lip Lightening Salve
This lip balm is made of cocoa butter, carrot, sweet almond, and watermelon extract. All these ingredients provide good hydration and moisturization to dry and chapped lips.
It acts as a natural sunscreen that prevents and protects the lip from sun damage. Regular use of this lip balm can reduce the darkness of the lips.
It is a little on the expensive side, but it is worth the investment.
Burt's Bees Replenishing Lip Balm with Pomegranate Oil
This lip balm is great for dry lips. It contains essential oils and ingredients which are good for moisturizing the lips. It is enriched with 100% natural beeswax, and it is very helpful in treating dryness.
Regular use of this lip balm can also reduce darkness and pigmentation. Since this product is directly imported from the US, it is expensive, and you might not get this offline. But in this digitally advanced world, online is always an option.
SebaMed Lip Defense SPF 30
This lip balm treats cracked and chapped lips. It contains the highest botanical content – rice bran oil and jojoba oil regenerating chapped and inflamed lips.
As the name suggests, it is really nourishing. Vitamin E, beeswax, and chamomile hydrate and soothes lips. It also contains SPF 30 +++, which pre-test from both UVA and UVB rays of the sun.
It is travel-friendly, so if you really struggle with cracked lips, this will prove to help.
Ingredients You Should Look for in a Lip Balm
Lip balms can be made of a combination of so many ingredients, but not all of them are beneficial for your lips.
It is essential to choose the right type of lip balm for your lip concerns.
For chapped and dry and chapped lips, look for hydrating and moisturizing agents.
For dark and pigmented lips, look for bleaching agents, and if you want sun protection, then it's a no-brainer look for an SPF.
Here is a list of ingredients you should look for in your lip balm:
Vitamin E
This is a thick, sticky, gel-like substance that provides all the hydration you need for your lips. It is also beneficial in removing dark spots and pigmentation. It is also an antioxidant that protects your lips from free radical damage from the sun, thereby preventing discoloration and pigmentation. Due to all these properties, it is a must-have ingredient to look for in your lip balm.
Lanolin
Lanolin helps protect your lips from environmental damages and also softens your lips. It also locks the moisture in your lips and prevents excessive moisture loss. So if you are suffering from chapped lips, this is your go-to ingredient.
Beeswax
This has anti-bacterial properties which prevent dryness, and it also helps to retain the moisture of your lips. So if you have dry lips, definitely look for this ingredient in your lip balm.
Shea butter and Cocoa butter
These ingredients are awesome moisturizers and can bring your dry and dead lips back to life. If you are looking for something which will keep your lips moisturized for long without having to reapply over and over again, then these ingredients are your best bet.
Sun protection
If you go out in the sun a lot, you must want to access a lip balm with an SPF. This will protect your lips from prolonged sun damage and also prevent darkness. Look for this SPF in combination with some moisturizing agents because SPF can be really drying on its own.
It is not only women who require lip balm, but men also suffer from lip conditions, and they need lip balm as well.
So guys, if you thought lip balms are only for ladies, you might want to think again. If you really think of making an impression and keeping your lips hydrated, these can really come in handy.