Sometimes, it's fun to look like a cartoon character. Thanks to technology, we now know how. There's no need to be a technical pro to use these cartoon avatar makers because the ones we're going to list today are easy to use.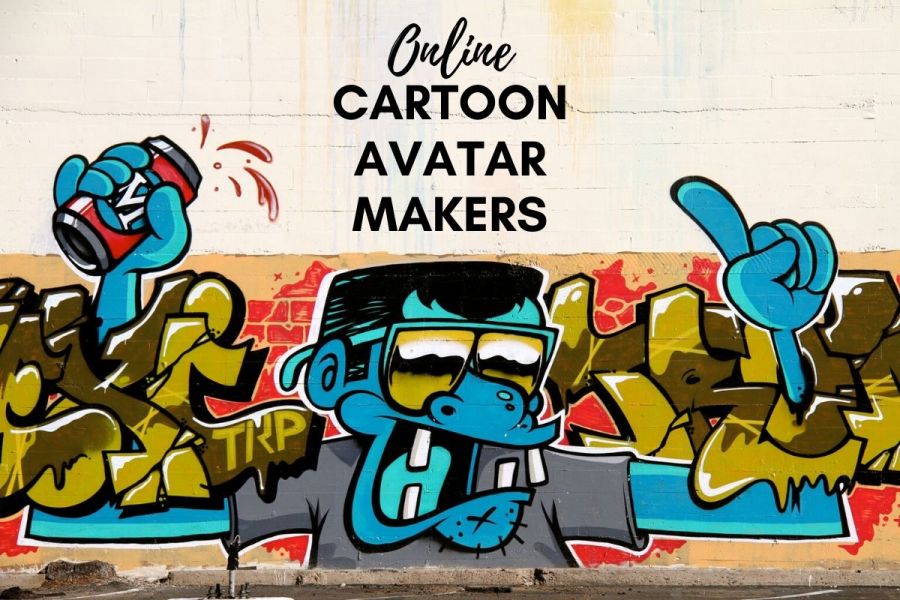 What are cartoon avatar makers?
Cartoon avatar makers are those tools you can use to create an animated version of yourself. Visual representations can be used in video games or online communities.
If you don't want to use your own picture on your social media profile, you can use such animation as a display picture instead or just use it for fun to spice up your profile.
It's like having your own virtual incarnation. This may seem exciting, and there are various cartoon avatar makers online that have simplified the process.
The full-body character creator does not require any tech skills. Also, you do not need any advance and complex computers and computer programs. The following tools will help you on your way.
List of Cartoon Avatar Makers & Full Body Character Creators
Below are some online cartoon avatar makers to turn you into an exotic character.
FaceQ
On Android phones, you can find it in the Play Store. This app is a powerful online cartoon avatar maker. There are many different features in this app that are also user-friendly. Therefore it is easy to use the app. An extensive user interface makes it easy to adjust all the features, and you do not need to be an expert at drawing to use it. Overall, it's a great app.
Bitmoji
Among the most highly rated and expressive cartoon avatar makers, it is popular. This app has millions of users. You can make your own cartoon avatar and choose your own expression, such as sad, happy, or any other kind that you like. Besides that, it has a variety of fashion to choose from. Both Snapchat and Gboard support it.
Cartoon avatar photo maker
You can choose from cartoon avatars, head portraits, stickers, and adornments. This app uniquely creates free avatars. Also included are many avatar styles, such as sunglasses, mustaches, hair colors, mouth styles, face styles, and much more. In addition to hats and wigs, there are also different hairstyles and colors.
SuperMii
SuperMii lets you create cute avatars. It allows you to create custom cartoon avatars. Editing is available on all levels. With this app, you can create unlimited avatars with numerous editing features. Additionally, the app has an unexpected feature in which you can shake your phone for a random avatar if you don't want to select one from the thousands of avatars offered.
Zmoji
An impressive app that creates avatars with animojis. You can also choose from a variety of wardrobe options. Additionally, Zmoji includes the Avatar Emoji keyboard and Live Zmoji. You can select among over one thousand emojis based on your mood, and it also has emoji themes. Using this app, you can also create your own emoji.
Moron Face
You can create funny cartoon avatars of yourself on this site. It's a perfectly suitable app for you if you're a fan of funny pictures. This app will change the way you look. This site is perfect for those who want to take smart photos. The website Moron Face is a great place to make crazy-looking and funny avatars.
Cartoonify
Compared to other websites, this one is more realistic. In a flash, you can convert your photographs into animations – plus, there are no extra fees. You can edit and improve the cartoon version of yourself using about 300 graphic elements. According to many online users, this website provides an easy and convenient way to create a cartoon avatar. So you might want to try it yourself.
Avachara Avatar
Make cartoon avatar characters, such as anime characters, picture characters, etc., through this online tool. There are a variety of clothing and accessory options. Avachara Avatar also lets you choose the face, skin color, eyes, etc. It has also added a guitar and other musical instruments to its accessory section. Additionally, you can choose from a variety of wallpapers. Additionally, it has tiaras. An interesting feature of the full-body avatar creator is that it offers a large selection of accessories and other features, more than most other apps.
South Park Avatar Studio
You can create your own cartoon avatar on this website. South Park Studios itself provides the service. Through your avatar, you can convey your emotions and feelings. Share it with your friends and family, and you will have a fun conversation. Moreover, it has also gained many handy features that will allow you to create your own avatar.
Portrait illustration maker
It is yet another awesome website where you can create a great cartoon avatar of yourself. One of the best on the internet, among others. If you would like to spare the finished symbol, you need the right tap on the symbol. Additionally, you can edit your avatars manually using the tools, or you can click on the randomizer button and pick your own random avatar.
Manga avatar face maker
Because this website is one of the most popular and supported websites, you have probably heard of it before. You can have fun with it since it has so many editing options. Avatars can be customized with skin tones and colors to suit any mood. It is also possible to change the facial hair color, offering you a wide selection of face shapes.
Meez
Meez is yet another free cartoon avatar maker. All kinds of anime avatars can be created. Also, you can post your cartoon anime avatar to different social media platforms, such as Facebook. A significant feature is that you can also add voice clips to your animations. With the use of amazing avatars with different features, it is a social networking site with a twist.
Doppel Me
Doppel Me allows you to create cartoon avatars for free. On this website, you can create cool cartoon images of yourself or your family or friends that appear real. On this website, you can add your preferences to suit your mood. Alternatively, you can use these cartoon avatars on your blog, Facebook, and even in your email signature. All those features can be selected, including skin tone and eye color.
My Blue Robot
You can adjust the size of your avatar's facial features through it. You can enlarge, magnify, or minimize the size of your Avatar's head, mouth, or eye, for example. Also, the software allows you to tilt your head in any direction you wish to become more expressive.
BeFunky
It provides some interesting and essential features for converting simple photographs into creative specimens. You can create anything you want with it. With this tool, you can give your photos a funky and cartoony look. Imagine what you could create as an avatar using all your imagination and creative skills. It is also a famous tool, and anyone who knows even a little bit about editing knows about it. Even if you're a beginner, you won't face problems using it.
Dude Factory
Dude factory allows users to create their own Avatar, and therefore it is one of the best tools to make cartoon avatar makers. Clients can cartoonize any photograph in no time. You only need to upload your photo to this website. You can also choose from a variety of outfits, body parts, accessories, etc. This tool is completely free to use.
Picasso Head
Picasso's head is a digital tool that allows its creators to use notable features that Picasso drew to create his masterpieces. It is easy to turn these paintings into avatars.
Marvel Superhero Avatar
You can give your favorite superhero some interesting features that you think can make them more powerful, such as wings, with this Marvel superhero tool. According to its name, it is related to Marvel superheroes.
Kartunix
Kartunix makes avatar creation easy and accessible to everyone. Create an avatar and choose from a variety of different styles. Kartunix has an extremely user-friendly interface. For avatars, the program generates vector files.
Why You'll Like these Cartoon Avatar Makers?
Wouldn't it be fun to see your cartoon self? The idea of making your own can be so fun and interesting, and for many artists out there, it can be intriguing as well.
These full-body character creators help you protect your privacy by not using your picture but using your avatar to display pictures on your various social media accounts. The cartoon avatar makers help you to do the same thing.
Anyone who knows how to operate a computer can use these cartoon avatar makers since they are easy to use. Most of these tools are also free, and they offer most of their features for free. You only need to get access to these tools and follow the instructions.
Having a clear idea of yourself and these tools will take care of the rest. What's not to love about such user-friendly tools? Simply upload a decent photo of yourself, as the picture plays a key role.