A Grandfather clock to a classic home is a great idea for home decor. Even the lobbies of classic hotels have these clocks. If you are looking for the best grandfather clock brands, then continue reading!
The clock has long been a part of home décor. Be it classic or modern; we try to pick a clock that matches the theme of our home.
Why is it called a grandfather clock? When you look at them, you feel like you've gone back in time when people drove vintage cars. Typically, you find these clocks at your grandparents' house, but rarely at the homes of millennials.
This guide will give you all the information you need to know before selecting the best grandfather clock brands that will match the theme of your home.
What is a Grandfather Clock and the Story Behind It?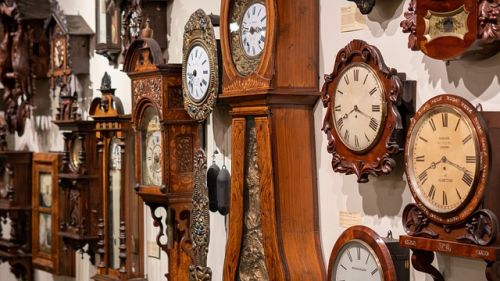 A songwriter named Henry Clay Work visited a North Yorkshire hotel in England in 1875 and invented this clock during that visit. There was a large pendulum clock in the hotel lobby that wasn't working. Interested in its history, he inquired about it. The owner then told Henry the clock belonged to the Jenkins Brothers, the previous two owners.
In their time, the clock worked well and was accurate. When Jenkins's first brother died, the clock became inaccurate. Moments after the second brother died, the timepiece stopped working. It was impossible to repair the clock after it broke down.
Since the clock complemented the interior, it was kept by the new owners. Whether this is the true story or not, the clock got its name from here. Alternatively, the new owners might not have wanted to pay for the clock's repair.
Later, Henry Clay Work wrote a song called 'My Grandfather's Clock' in 1876. His audience loved the song, and he sold more than a million copies. That's how the clock became known as a Grandfather clock instead of a longcase clock.
Grandfather clocks have a large case, pendulum, and a shelf inside. Approximately 6 to 7.5 feet tall, it is engraved with roman numbers. You cannot mount it on a wall but can place it on the floor. Typically, it is made of wood.
While the Grandfather clock was designed to keep its heavy machinery safe, it might not have been secure if it had been put up on a wall.
Often, grandfather clocks are confused with grandmother clocks and granddaughter clocks. Though there are no major differences between the three, a few differences set them apart. For example, Grandfather clocks are taller than Grandmother clocks, whereas the Granddaughter clocks are a recent addition to these clocks' families.
Grandfather and Grandmother clocks are typically made of wood, while the Granddaughter clocks are generally made of plywood. Additionally, they are short, ranging in height from three to five feet.
Hence, you can tell the difference between the two types of clocks.
Why Should You Get a Grandfather Clock?
Decorating your home means picking your interior and furniture carefully to create a warm and inviting environment.
You might want to add a grandfather clock to your home décor because:
The house looks elegant with it. A Grandfather clock makes your home look elegant like no other furniture. The craftmanship of the clock makes it look like the most precious piece of furniture that you possess. An amish grandfather clock is something you can go for if handcrafted clocks with wood, color, and the high-quality finish of your choice.
It is the perfect piece of furniture for filling a vacant corner in your living room or entryway. Place a Grandfather clock so that it doesn't look like an extra piece of furniture and fills up an empty corner.
A Grandfather clocks fit anywhere. You can place the clock in your dining room, in your foyer, at the end of your staircase, in your living room, in your entryways, etc. (Keep it out of your bedroom if you are a light sleeper since the ticking sound can be noisy.)
The clock symbolizes legacy. Having been handed down over the years, it is a prestigious and dear possession to hold.
Visitors always admire these clocks because they give the house a luxurious, classic look. Every kind of interior décor looks good with it.
Adds a royal touch to your home. In America, having a Grandfather clock was a symbol of being rich. Only the rich people had tall clocks reaching towards the ceiling. People having a Grandfather clock were treated differently in America.
While a Grandfather clock may not be technologically advanced, it is accurate at telling time.
Grandfather clocks are easy to repair. Because its parts are visible and easily replaceable, it's a great DIY clock.
They are an investment. As time passes, the value of the clock increases, so if you sell it, you can get a higher price than you paid for it.
What Are the Best Grandfather Clock Brands?
Here are some suggestions that you can refer to before purchasing a Grandfather clock and are unsure where to buy these clocks or which brand to choose.
#1.
Coaster Home Furnishings Harris Grandfather Clock
This clock comes in a brown-red and clear color. With a midheight build, it adds a warm and romantic touch to your house. It is a mid-height build clock and does not require much space. The brown-red finish gives your home a classic touch.
Pros

Cons

Could make a good present to give to your loved ones and friends.
Since the clock is advanced than the older Grandfather clocks, hence it is effortless to assemble it.
Comes with a volume control button so you can make it chime at regular intervals or not, depending upon your preference.
Made from pure wood.
The clock doesn't tick but the pendulum swings, and it chimes at the right time.

The chime is not audible at times
The clock can mess up if not delivered carefully
#2. Howard Miller Langston – Windsor Cherry
Check Price & Reviews
This clock comes with a cherry finish, perfect to pair with a classic interior. It is durable and chimes at an accurate time. It has a decorative shelf, which enhances the beauty of this clock even more. Howard Miller is famous for its traditional and generational products and is a trusted brand since 1926.
Pros

Cons

Comes with accurate instructions on how to assemble the clock.
It is provided with a light inside so you can see the time in the dark.
Gives an entirely classic look to the house.
Comes assembled; you only have to hook the pendulum and three weights. You can not adjust the volume of the chime

d.
The light inside the clock doesn't help read the dark as it reflects the stars engraved inside the clock.
#3. FirsTime & Co. Shiplap Grandfather Wall Clock
Check Price & Reviews
If you want to give your modern house a rustic look, these clocks are a perfect choice. It has three removable shelves and is made of wood. This clock is accurate and requires three AA size batteries. This clock is an amazing option to give your house a classic yet modern look.
Pros

Cons

Easy to assemble.
Enhances the look of your house.

The chiming bell might not work properly.
Might be too short in height
#4. Coaster Home Furnishings Grandfather Clock
Check Price & Reviews
Another great piece of furniture to add to your house. This another Grandfather clock by the Coaster Home, which will give your house a classic look. It is a stylish round-faced clock that looks very vintage and gives your house a warm touch.
Pros

Cons

Easy to assemble
Battery operated
The pendulum and the base might seem heavy but are very light in weight
Looks expensive but it is very reasonable
Chimes in the day and is quiet during the night
Can be placed anywhere in the house

Fragile, so it can get damaged if not delivered carefully.
The chiming bell wires can come unwired.
#5. Howard Miller The J.H. Miller II 
This clock gives the feel of an ancient clock, and the 'Limited Edition' inscribed on the clock's hemisphere complements it.
The clock has a Swan neck pediment crowned with three carved finials, two carved rosettes, and a carved finial shell, and the numbers are engraved in the Roan.
The cast center disk is numbered and a special removable engraving plate where you can write your engravings. The dial has a special brass finished moon phase.
The pendulum is decorated with a polished brass lyre and has a cast center disk with a spun silver background and weight shells made with decorative bands and a silver background. All in all, the look of the clock makes it look vibrant and classic.
Pros

Cons

Rich look
Is of the best quality
Handmade

High-maintenance
Expensive
#6. Howard Miller Urban III
Check Price & Reviews
It comes in stunning black color with silver chimes and pendulum. It is made of wood. This Grandfather clock by Howard Miller screams elegance. It has a white dial with nickel-finished hour hands. Gives a neo-classic look to your house. It is another option to give your modern house a rustic look.
Pros

Cons

Easy to assemble
Soothing chime sound
#7. H4Homes Blue Moon Cherry Oak Floor Clock
Check Price & Reviews
A complete vintage clock to give your house a classic look. It is an antique-looking clock with modernistic features with is a combination of traditionality mixed with elegance, consisting of wood and metal elements with Roman numbers engraved in it. It has an automatic night shut-off feature.
Pros

Cons

Easy to assemble.
Could make an excellent present for your loved ones and friends.
Can be placed anywhere in the house.

The chiming bell could not work at times.
# 8. Kieninger Walnut Grandfather Clock
Check Price & Reviews
A combination of brown-red outside with golden pendulum and chimes make this clock a perfect option to buy when looking for something classic to add to your house. It has faceted crystal glasses in the door, a moon phase dial with etched decor, and Roman numerals. It automatically shuts off between 10 PM to 7:15 AM and also offers a 2-year warranty.
Pros

Cons

Can be placed anywhere in the house.
Easy to assemble.
Gives a vintage look to the house
#9. Sligh Noble Legacy Grandfather Clock
Check Price & Reviews
This clock is very beautifully crafted and can give your house a gothic plus classic look. Made from Mahogany wood, this clock fits perfectly to the definition of elegance. It will make your guests stop and admire the craftsmanship of this clock.
Pros

Cons

Comes with a warranty.
Easy to assemble.
Can be placed anywhere in the house.

Shorter than other Grandfather clocks.
#10. Howard Miller Majestic II
Check Price & Reviews
Another beautiful creation by Howard Miller. This clock will give your house a royal look. As the name says, Majestic comes in Windsor Cherry finish on the outside and golden décor on the inside. A special cast dial offers intricate corner spandrels and a center disk with an astrological, blue moon phase. There are a total of six glass shelves for showing your collectibles, and three adjustable shelves run across the entire width of the cabinet.
Pros

Cons

Handcrafted by a trusted brand.
Can fit in corners.
It can make a lovely present to send to your loved ones.

Looks are different from the original Howard Miller Majestic clock.
Roman numerals can not replace the inside dial.
Purchasing a Grandfather Clock: What to Look for
Any item you purchase for the interior of your house should fit seamlessly and look stunning.
Before buying a Grandfather clock, you should consider the following:
Originality
First, check to see if the clock is original when buying one. Authentic clocks are expensive. Make sure the clock's parts haven't been swapped with those of another clock. Hence, the clock may not be that costly, and you won't need to spend a lot on it.
Rarity
It is important to check the maker and age of a grandfather clock before buying it. Clocks from famous makers usually cost more. Similarly, if the clock is old and antique, it will be priced higher than other clocks.
Condition
Before purchasing a clock, it is important to keep this in mind. Before buying a clock, you should make sure that it is well maintained and working. It is suggested that you check that the clock is not damaged anywhere and works fine before buying it and bringing it to your house.
Size
Even though tall clocks look great, you need to consider what size of the clock is best for your house and which one matches your décor. If you have modern furniture in your house, buying an extremely classic and tall clock may not fit in. Therefore, you need to have an idea of the clock that will suit your interior before buying a grandfather clock.
Duration
A Grandfather clock's duration is very important to know before you buy the clock. Basically, you should know how long the clock will work after you buy it. Get a warranty card so that you do not waste your money if the clock breaks down or stops working. The seller should be able to repair it.
Last but not least, take an antique clock expert with you to buy a grandfather clock so they can identify the clock. When that isn't possible, do your research about the clocks and then buy them so that you don't waste your money on something that's not an antique or that isn't functional.
Significance of a Grandfather Clock
The grandfather clock has always been in style and makes a fantastic housewarming gift.
Traditionally, grandfather clocks are given to newlyweds when they move out of their parents' house. Why? You might ask. This is because it represents 'Family Time.'
These clocks will remind you of the time when you were a child. Hearing or seeing an image of a Grandfather clock fills you with warmth. When you see or hear one of these clocks, you are taken back to your childhood when you sat with your grandparents and listened to their stories.
Apart from this, Grandfather clocks can symbolize different things to different people. Some believe that having a Grandfather clock gives them a sense of control over the world. Some might feel that the clock helps them recognize their morality. To some, it is simply a way to decorate their homes with a classic touch. Furthermore, for some, the mechanisms of a clock may indicate that they have control over time.
What are the Parts of a Grandfather Clock?
Various mechanical components make up a grandfather clock. As complex as the woking looks, it is quite simple. A pendulum movement aids in the movement of the minute and hour hands and the chiming of the bells.
Mainspring
Either a cord or a weight turns the pulley. The clock is powered by it. The clock's wheel is rotated by a spring called a winding, which stores mechanical energy.
Wheel Train
From the mainspring to the pendulum, it controls the speed. The hands are attached to the wheel train. This is why the hour hand moves slower than the minute hand. It is also called a gear train.
Pendulum or Weights
The visible oscillating rod with a ball attached to the end of it. You can see a pendulum in all antique clocks, and it is the most eminent part of the clock. The time a pendulum takes to oscillate from left to right is important to calculate time.
Escapement
The pendulum is one of the essential parts of the clock. Essentially, it converts the rotating motion of the gears into oscillating movement. The mainspring drives it. When the pendulum swings, the escapement releases a tooth in the gear train and changes the locked motion into a rotational motion. It is the reason why the clock ticks.
Clock Dial
The minutes, hours, and seconds hands are attached to this clock dial, where the numbers are engraved. The universally accepted form of a clock dial is with 1-12 numbers on it.
Crank
Another important part of the clock is a crank. It winds the mainspring's charge. The winding period of different clocks varies—some need to be winded once a week, and some need winding once a day.
Chimes
This is the part that makes a sound every quarter-hour or every hour. Generally, Grandfather clocks have working chimes. A chime requires many levers and hammers to function. The Westminster Quarter is a famous chime sequence.
Keeping all these parts intact and functioning, your Grandfather clock is likely to last for years to come.
Frequently Asked Questions
How much is a Grandfather clock worth?
According to the condition of the clock and its age, the Grandfather clock has a value. If the clock is old and in good condition, it is likely to have a higher price value, and if it is not old and yet in good condition, it might be priced less.
How long do Grandfather clocks last?
Modern Grandfather clocks last for about 10-15 years. It can also survive for 25-30 years, but it's rare. If a clock begins to malfunction after 10-15 years, it is normal and generally caused by wear and tear.
Do Grandfather clocks increase in value?
Yes, Grandfather clocks increase in value over time as they get old.
Can you lay grandfather's clock down?
Grandfather clocks are fragile and can be tricky to move. Keeping the clock upright is always recommended. While it is possible to lay it down while moving, it is not recommended. This can put pressure on the clock's panels and damage them.
What is the difference between a grandmother and a grandfather clock?
Most commonly, long clocks are known as Grandfather clocks. There are also 'grandmother' and 'granddaughter' clocks. When you differentiate a Grandfather clock from a Grandmother clock, you will need to keep a few points in mind.
A grandfather clock is taller than the grandmother clock. Grandmother clocks are small and can be placed anywhere, like in a bedroom or any little corner. Place grandfather clocks at the end of the staircase or the dining room.
Compared to a grandfather clock, a grandmother clock weighs less and costs less. These clocks were generally made to fit in small homes, whereas the Grandfather clocks fitted in larger homes.
They are called grandmother clocks since they look more feminine and delicate than grandfather clocks. They also have more feminine designs, like floral patterns and scrolls.
How do I know if my clock is valuable?
To find out if your clock is valuable, you could either consult a specialist who understands clocks or check the marker's label or signature. Labeled clocks are more valuable than unmarked clocks.
Knowing the clock type and label will help you research whether or not it is an antique. It is automatically of high value if a reputable manufacturer makes your clock.
You should also examine the clock's rarity, condition, authenticity, and originality.
How do you pack a grandfather clock?
Due to the fragile nature of these clocks, it is not advised to touch the inside mechanism of your clock with bare hands since your skin's oils can damage them. Use soft gloves to handle the clock's mechanism.
Pack its delicate parts in soft wrapping paper. The best way to prevent any damage to your antique clock is to hire movers who are experienced in moving antiques safely.
What is the best way to move a grandfather clock?
To move a Grandfather clock safely, follow these steps:
When moving this delicate piece of furniture, you must remove its weights first.
To minimize damage, wrap it with a moving blanket.
When the glass is stabilized inside the clock, place the moving blanket inside.
Lastly, wrap the outside of the clock to protect it from damage.
The Takeaway
If you want your house to stand out from the rest, add an elegant Grandfather clock to your home decor.
Besides being the best home décor accessory, the clock is also a wonderful gift for those you care about.
It is worth it to pay the big bucks for these best grandfather clock brands. They make sure that these clocks are easy to assemble, so you don't have to waste your entire day assembling the clock.
It is a delight living around these clocks, as they emanate such warm feelings. Seeing these clocks might also make you miss your parents and grandparents, and you may always end up cherishing the memories of your childhood.
There is nothing more soothing than hearing the chimes every hour, and now you can switch the sound off at night for a peaceful sleep. It's even better to place it in your room because of this.
Place it near your house's fireplace to give the house an antique look. When you invest in your interior, you wouldn't be wrong to purchase a grandfather clock to match your décor.