Are you looking for DIY doggie toothpaste recipes for your pooch made out of natural ingredients? Keep on reading this post.
For most human beings, dental hygiene is a matter of utmost urgency as the entire body's health depends on it in some way or another.
However, easy for humans, brushing their teeth twice a day accompanied by mouthwash and gentle flossing, you can meet daily dental hygiene standards. These simple steps prevent us, humans, from mouth cavities, tooth decay, and all other forms of oral diseases.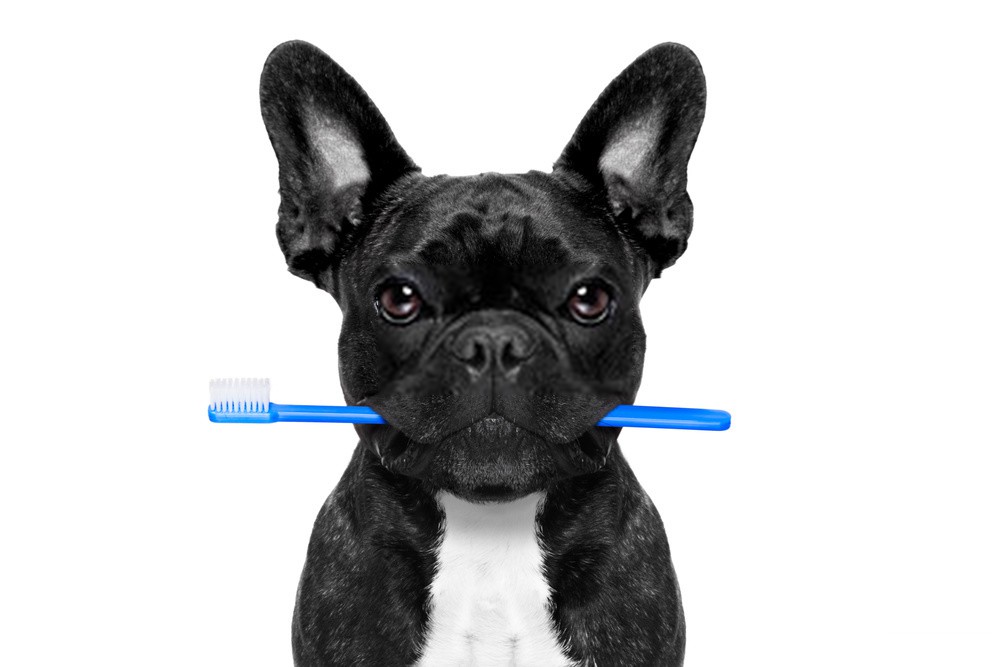 However, most pet owners maintain their dental hygiene with the same enthusiasm and dedication to our pets. However, dental hygiene for our dogs is as essential as it is for humans.
According to many renowned vets, pet owners should brush their dogs' teeth every day to avoid oral diseases.
According to many important institutions that deal with dogs and other animals' welfare, brushing dogs' teeth every day is a gold standard that has to be met at every cost by pet owners.
If your beloved dogs' teeth are not appropriately brushed regularly, simple oral diseases can, over time, lead to kidney and heart diseases in older dogs.
Hence, simply feeding your dog and showing him endless affection and love is not the only responsibility that any pet owner has for their beautiful dogs.
Why your dog needs homemade toothpaste?
Most people lack the proper knowledge and skills to take care of their dogs' dental hygiene. However, once the owner knows about the importance of brushing their lovely pets' teeth, the next question arises which toothpaste should one use.
The answer to this question is quite simple. It is always wiser to use natural products instead of store brought products as they contain various chemicals and preservatives that may be harmful to our furry playmates.
Besides dental hygiene, brushing your dog's teeth regularly ensures that your pet's breath does not stink and remain fresh. The best natural toothpaste for your dog is the homemade one.
One should never try and use human toothpaste on their dogs as it contains fluoride and can cause serious damage to the dog's health.
You can easily make natural homemade toothpaste for dogs. This is a matter of grave importance since dental disease affects 89 percent of dogs over three years. Only one in every three pet owners is aware of the importance of maintaining proper dental hygiene for their pets.
Tips for easily brushing your canine's teeth
The best time for brushing your canine's teeth for many owners appears to be when their dogs have exercised and are well rested from all the physical exertion. This allows your dog to stay more relaxed and calm, allowing you to brush their teeth a little more easily.
For first-time owners, brushing should be done slowly, allowing your dog to adjust to this new experience and not start to hate it from the very beginning.
While brushing your pet's teeth, it is the toothbrush that matters the most. The perfect toothbrush for your dog will take care of removing plaque and other food particles from the teeth and mouth.
To encourage brushing from your dog's side, the taste of the toothpaste will come into importance. One should choose a toothpaste, the taste of which is actually favored by their pet, and it is something that he will look forward to every day.
Some important aspects to keep in mind for maintaining healthy canine oral health:
Dry dog food is always preferred to canned food as dry food has a lesser chance of sticking to your dog's teeth and cause plaque and other dental issues.
One should buy certain toys and treats that are enjoyable for their furry playmates and work on keeping their dental hygiene immaculate.
One should take their dog to the vet every six months for dental care and sooner if the dog has any dental issues such as swollen and bleeding gums, foul breath, a chipped tooth, etc.
6 Homemade DIY Doggie Toothpaste Recipes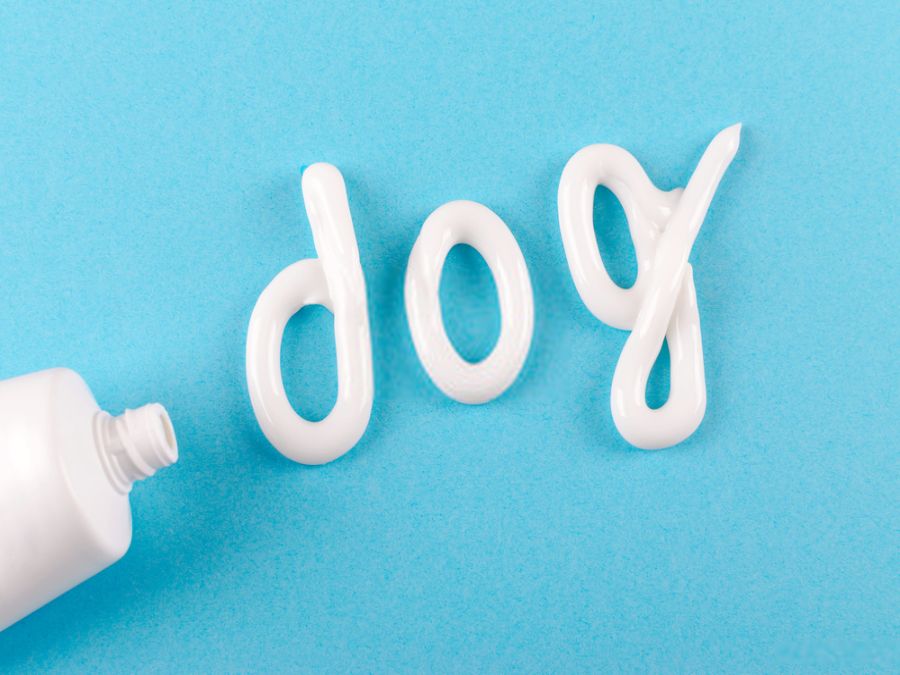 Herbal DIY doggie toothpaste with turmeric, parsley, and kelp
You will need:
Coconut oil
Turmeric powder
Parsley
Steps:
Firstly, one has to make sure that the coconut oil is soft and pliable using a hot-water bath and a bowl.
Then, one has to mix in the turmeric, kelp, and parsley flakes and store the mixture in the fridge for repeated usage.
This homemade dog toothpaste recipe uses turmeric as a natural tooth whitening agent, parsley as an antibacterial agent, and kelp to help with plaque removal with a natural base of coconut oil.
While using the toothpaste, one needs to warm up the mixture to give their dog safe and natural teeth cleaning.  Five minutes is the total time it takes to prepare this homemade DIY Doggie toothpaste.
DIY doggie toothpaste with chicken broth and aromatic herbs
You will need:
One tablespoon of chicken broth, without salt or onion,
one tablespoon powdered mint or some other aromatic herbs that are suitable for dogs,
Half tablespoon of baking soda and half tablespoon of vegetable oil.
Steps:
Mix the ingredients in a glass container until they are fully integrated.
After this step is completed, one can apply this mixture to the dog's toothbrush and start brushing. This mixture should not be kept refrigerated for more than 5 days as it would turn stale and harmful for your puppy.
It is common practice to add chicken broth to the dog's toothpaste as the stock's flavor allows the owner to brush easily as their puppy is busy licking the taste and flavor of the stock coming from the toothpaste. This would make your dogs look forward to brushing every day and take care of their dental hygiene at the same time.
The mint is added to remove any sort of foul breath for your dog so that they can come and lick you and shower you with love with a fresh minty breath.
Beef bouillon cube, baking soda, salt and parsley toothpaste
You will need:
Beef bouillon cube
Baking soda
Parsley
Salt
Steps:
This natural dog toothpaste recipe is flavored with beef bouillon, naturally making it a delightful treat rather than an organic toothpaste for your pup. With a small amount of baking soda and salt base, many gentle granules work to keep the dog's teeth clean and tidy. The paste is then made by adding a small amount of water to which some dried or fresh parsley is added to keep the dog's breath fresh. This toothpaste does not take more than ten minutes to be prepared.
Brewer's Yeast
You will need:
Two tablespoons of brewer's yeast
One teaspoon of powdered aromatic herbs that are suitable for dogs
One tablespoon of striped lemon rind
One teaspoon of table salt
Steps:
For this natural toothpaste recipe, mix all the ingredients and the paste thus formed. It should be carefully stored in the refrigerator in a sealed container so that the yeast in the paste does not turn acidic.
The lemon rind tastes nice for our dogs and does not make them protest this toothpaste, along with taking care of the teeth by whitening and brightening them over regular use. The salt acts as an agent that calms the pain in your dog's gums if he has any form of inflammation or infection in his gums. The beer yeast serves as an anti-bacterial agent and prevents the formation of plaque, tartar, and foul breath.
Coconut and Stevia Doggie Toothpaste
For this homemade toothpaste recipe, you will need:
Four tablespoons of crushed stevia leaves
Two tablespoons of baking soda
Two tablespoons of organic coconut oil
Fifteen drops of edible aromatic oils that are suitable for dogs
Steps:
Firstly, one needs to mix the coconut oil, stevia leaves, and baking soda properly and form a paste.
The next step involves adding the aromatic edible oils slowly and tasting them to make sure that the paste has the right level of flavor for their dog.
Stevia is a leaf extract from the Stevia rebaudiana plant, eliminating the bacteria responsible for plaque and bad breath. Stevia has many health benefits, including the ability to eliminate fungi. Due to its anti-microbial properties, organic coconut oil is the ideal ingredient if one wants to prevent cavities in their dog. It eliminates bad bacteria in the dog's mouth and helps in preventing the formation of new plaque. Natural oils to are usually added to animal toothpaste as they act in the same way in human teeth, leaving your dog with fresh breath.
Coconut oil, baking soda, cinnamon and probiotics Toothpaste
You will need:
Two melted but cooled teaspoons of coconut oil
Three-fourth cups of baking soda
Half teaspoon of cinnamon
Half teaspoon of probiotics
Steps:
Mix all these ingredients properly until a paste with a smooth texture is formed.
Once that is done, one can apply it to the toothbrush and brush their canine teeth.
Cinnamon is a great ingredient for fighting infection and giving the dog's breath a pleasant smell. The use of probiotics helps promote healthy bacteria in dogs' mouths, while oregano works as an anti-viral and anti-bacterial booster. One important step that one should never forget is that if one plans to refrigerate the mixture, one should add the probiotics right before applying the paste to the toothbrush rather than mixing it directly into the paste in the beginning. This is because probiotics need to be refrigerated; otherwise, the good bacteria present will die in the heat.
 Can I use coconut oil to brush my dog's teeth?
The big benefits of coconut oil come from the type of fats it is made of. Coconut oil is almost exclusively (more than 90%) saturated fat and one of the few foods classified as a "superfood."
Coconut oil does not harm your dog in any way and promotes dental hygiene in your dog, making it a suitable candidate for being used as a mouth cleaner for your dog. It is recommended to use a mixture of hydrogen peroxide and aloe vera to get rid of plaque. It can then be chipped off with a fingernail or a toothpick. Once the plaque is under control, one can maintain their dog's teeth by brushing them with coconut oil and using a soft baby toothbrush.
The Bottom Line
While almost every dog owner loves their dogs above anything else, due to a lack of proper knowledge and awareness, most dog owners are not aware of the importance of dental health in their dog's life, which can lead to serious diseases if ignored.
In this regard, it is always advisable not to buy dog toothpaste from the market as they contain harmful chemicals and preservatives. Instead, one can easily make the toothpaste at home as it requires minimum effort.
Although no matter the amount of effort required, a true dog lover would not hesitate at any point to put in the extra effort for the comfort and health of their beloved pup.
The different varieties of homemade toothpaste have been mentioned as each one has a distinctive flavor, and not all dogs would like or prefer all the kinds of toothpaste equally. Hence, it is wise to have a wide selection of options available at your disposal.