Ah, Friday Night Lights—a show we all remember, and the character of Coach Eric Taylor give us that extra push to take yet another day head-on despite the late-night blues when we feel vulnerable.
Based on H.G. Bissinger's book, Friday Night Lights tells the story of the Panthers, a football team in a fictional Texas town called Dillon. Eric Taylor now leads the team, the pride and priority of the town.
The plot takes place in a non-fictional small town and looks at issues like family dynamics, school funding, and drugs. As his family struggles, Eric Taylor helps the team navigate a season filled with pressure and expectations.
To celebrate the show, we've rounded up the top Friday Night Lights quotes: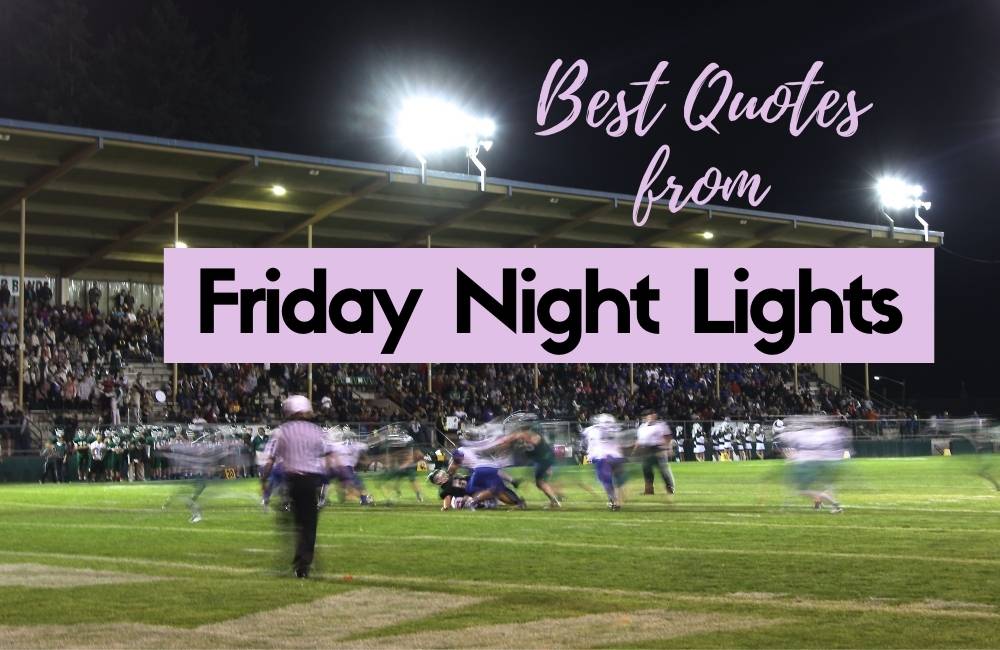 Friday Night Lights Quotes: The Best Of The Best!
1. "Opportunity does not knock. It presents itself when you beat down the door." – Coach Eric Taylor
2. "You never know what's going on with somebody, sweetie. Can't take it personally." — Tami Taylor
3. You ever feel a curse, Coach? Like, no matter what, inside your heart, you feel that you're going to lose. Like something's hanging over you, following you like a witch or a demon that just… I feel that way all the time. Even when things are going well. When we're winnin', it's there. And when we're losin', it's there. — Mike Winchell
4. "Nothing is bigger than us. Nothing is bigger than the love I feel for you in my heart. Nothing is bigger than that. And I'm not holding on to you anymore because you're all I have left. I'm holding on to you because I love you, and I need you in my life. And I'm not giving you up without a fight. And I'm not letting you go. I love you." — Jayson Street
5. You are going to have everything that you are dreaming of. — Tyra's mom
6. "Clear eyes, full hearts, can't lose." — the Panthers
7. "A few will never give up on you. When you go back out on that field, those are the people I want in your minds. Those are the people I want in your hearts." — Coach Eric Taylor
8. "You give 110 percent all the time, not only when you feel like it." — Coach Eric Taylor
9. "Every man at some point in his life is gonna lose a battle. He's going to fight, and he's going to lose. But what makes him a real man is, in the middle of that battle, he does not lose himself." — Coach Eric Taylor
10. "No matter what happens, no matter where you go, no matter what you do, I'm always going to be behind you. Always and always and always." — Coach Eric Taylor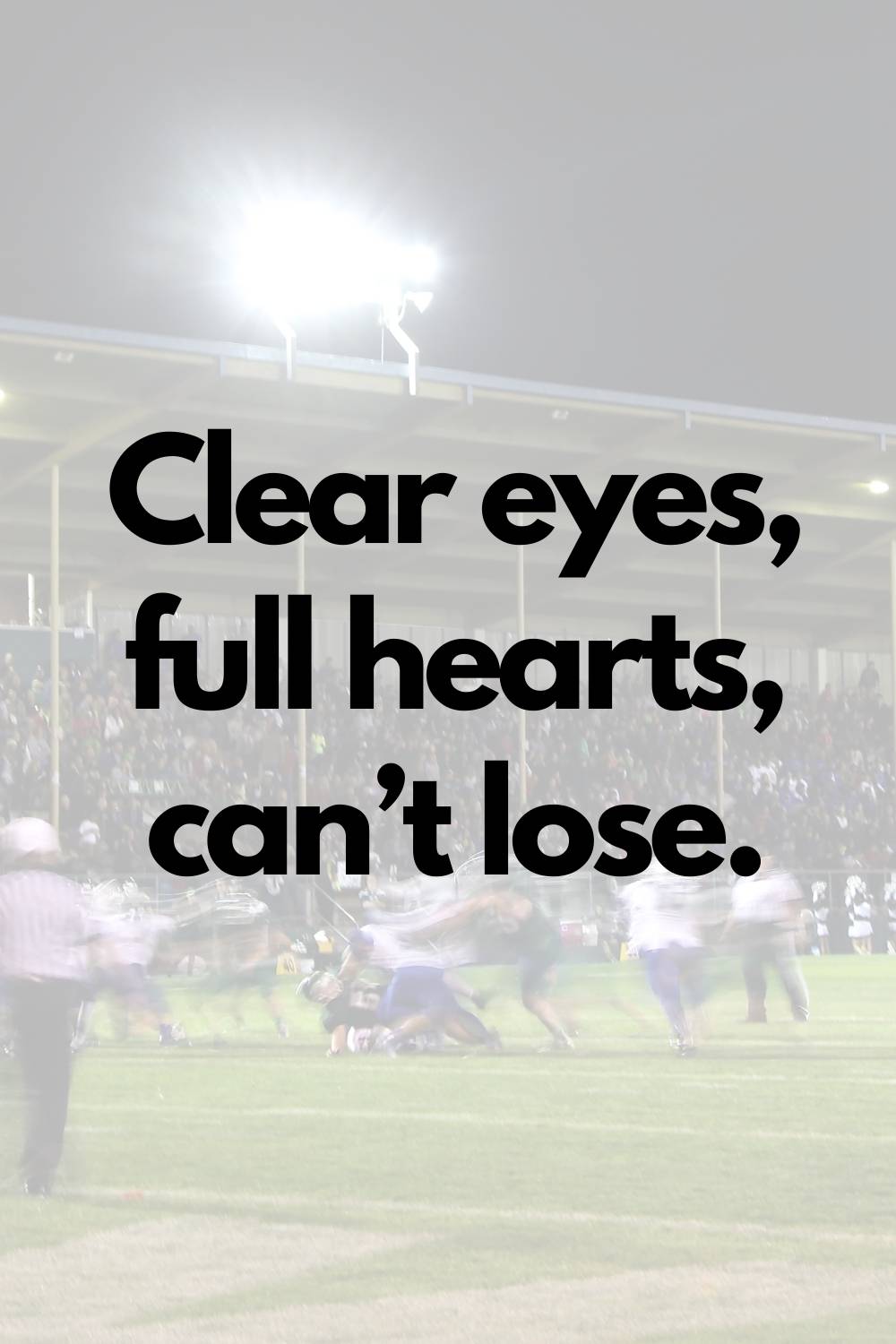 11. "The big deal is that its part of my job to make sure that you don't grow up stupid. It's bad for the world." — Tami Taylor
12. "Success is not a goal; it's a byproduct."— Coach Eric Taylor
13. "Two years ago, I was afraid of wanting anything. I figured wanting would lead to trying, and trying would lead to failure. And now I find I can't stop wanting." — Tyra Collette
14. "There's no weakness in forgiveness." — Tami Taylor
15. "But honey, when a door closes, God opens a window. He doesn't never fumble the ball, baby. He always gets the touchdown." — Mama Smash
16. "Six a.m. sharp means a quarter to six. " — Coach Eric Taylor
17. "Well, you're gonna win, or you're gonna lose. Either way, the sun's always gonna come up tomorrow morning." — Tami Taylor
18. "Champions don't give up. Champions don't complain. Champions give 200 percent. You're not champions until you've earned it." — Coach Eric Taylor
19. "You get one chance in life, fellas. You can either take advantage, or you can piss it away. You do that latter, and you're gonna regret it the rest of your lives." — Coach Eric Taylor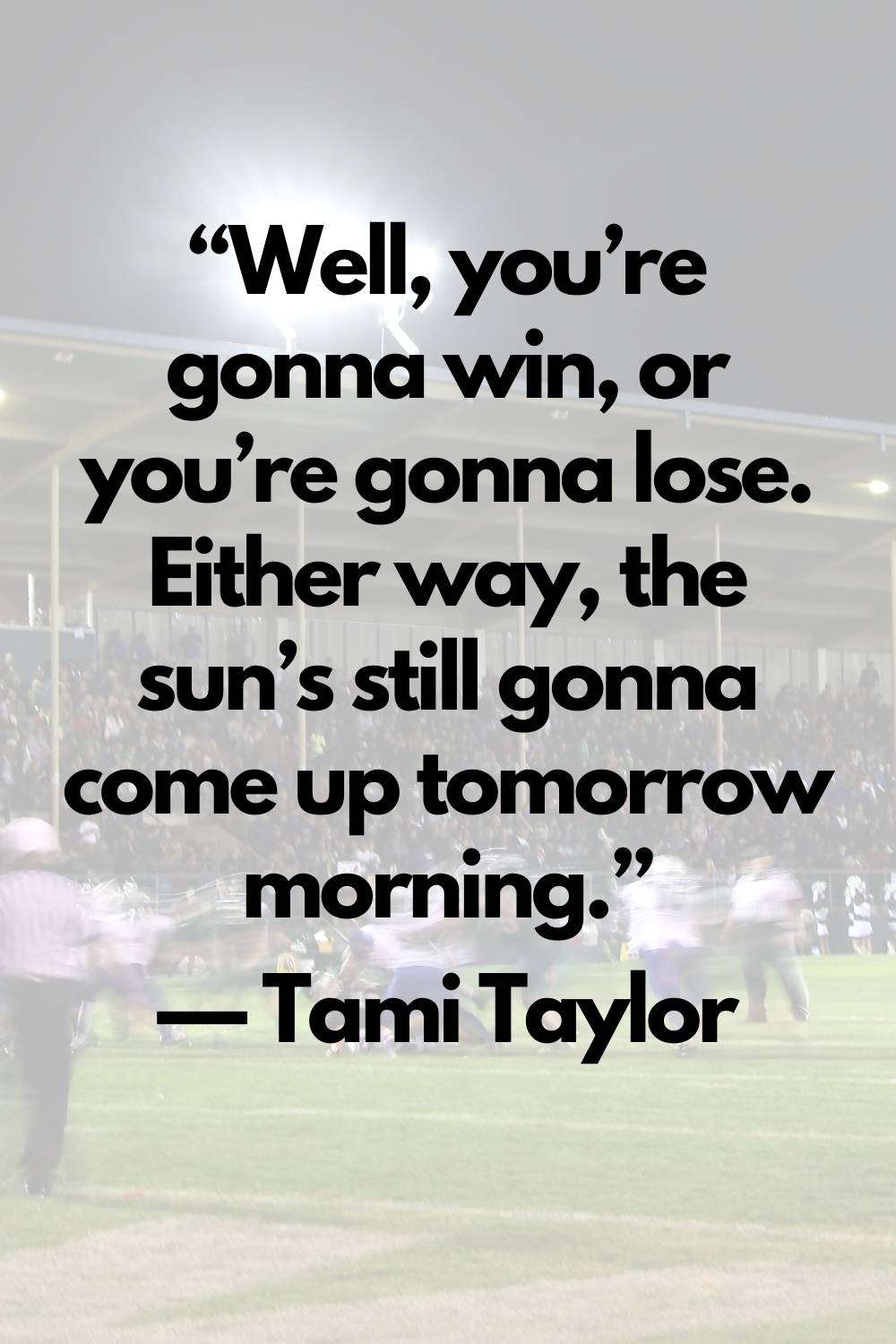 20. "I said you need to strive to be better than everyone else. I didn't say you needed to be better than everyone else. But you gotta try. That's what character is: It's in the try." — Coach Eric Taylor
21. "I just want you to have faith in something. Something that can hold you when I'm not going to be able to hold you anymore."— Tami Taylor
22. "Life's harder when you truly love someone."— Tyra Collette
23. "Marriage requires maturity. Marriage requires two people that will listen, really listen, to each other. Marriage, most of all, requires compromise."—Coach Eric Taylor
24. "Perfection is being able to look your friends in the eye and know you did everything you could not to let them down." — Coach Gary Gaines
25. "Stop reading the news clippings. You're small, and you're going to be smaller every week. There ain't going to be no growth spurt between now and the first game. You're going to use your minds! You're going to play with your heart! And that is what you're going to use to win the State Championship." — Coach Gary Gaines
26. "I can't give you any answers. You gotta make the answers." — Coach Eric Taylor
27. "You can't beat yourself up because you're taking chances on things." Coach Eric Taylor
28. "I believe in you with every cell of my being." — Tami Taylor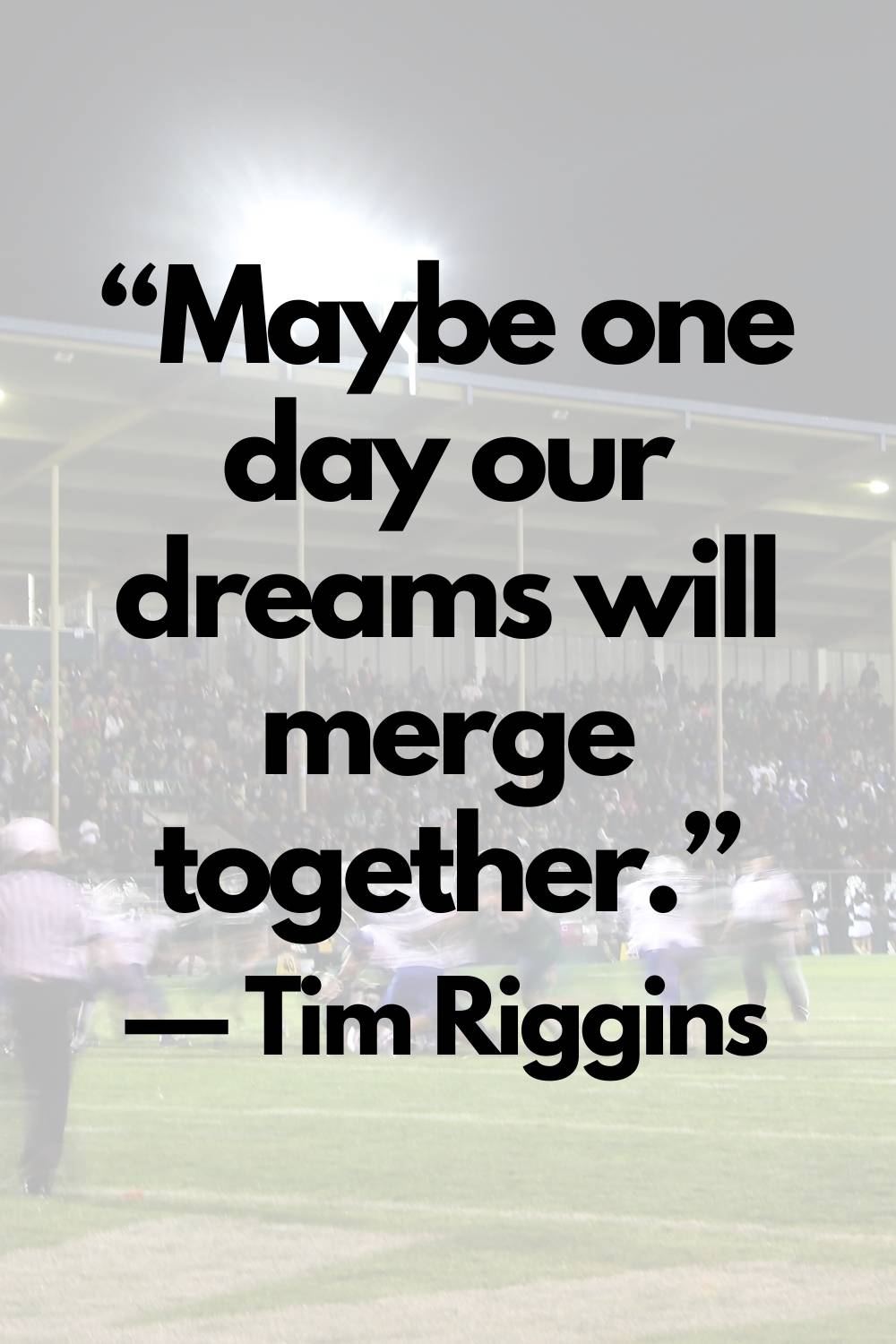 29. "If I ever so much see you look at this kid the wrong way, I'm gonna find you, and I'm gonna punch a hole in your chest and rip your heart out." — Tim Riggins
30. "Fine, I'll sit on your bench. I'll come to practice, and I'll do whatever you tell me to do. But I'm gonna hate it. And you're gonna hate it. Good talk, Coach." — Matt Saracen
31. "I wanna fly somewhere in first class. I wanna travel to Europe on a business trip. I wanna get invited to the White House. I wanna learn about the world. I wanna surprise myself. I wanna be important. I wanna be the best person I can be. I wanna define myself instead of having others define me." — Tyra Collette
32. "Stay away from dumb, gentlemen." — Coach Eric Taylor
33. "Maybe one day our dreams will merge together." — Tim Riggins
34. "You don't have to worry about me. In a fight, I just kinda stand in the back and just yell stuff." — Matt Saracen
35. "College represents possibility. The possibility that things are gonna change. I can't wait." — Tyra Collette
36. "Barbecues build morale. That's why you have them." — Tami Taylor
37. "Honey, hypocrites are everywhere." — Tami Taylor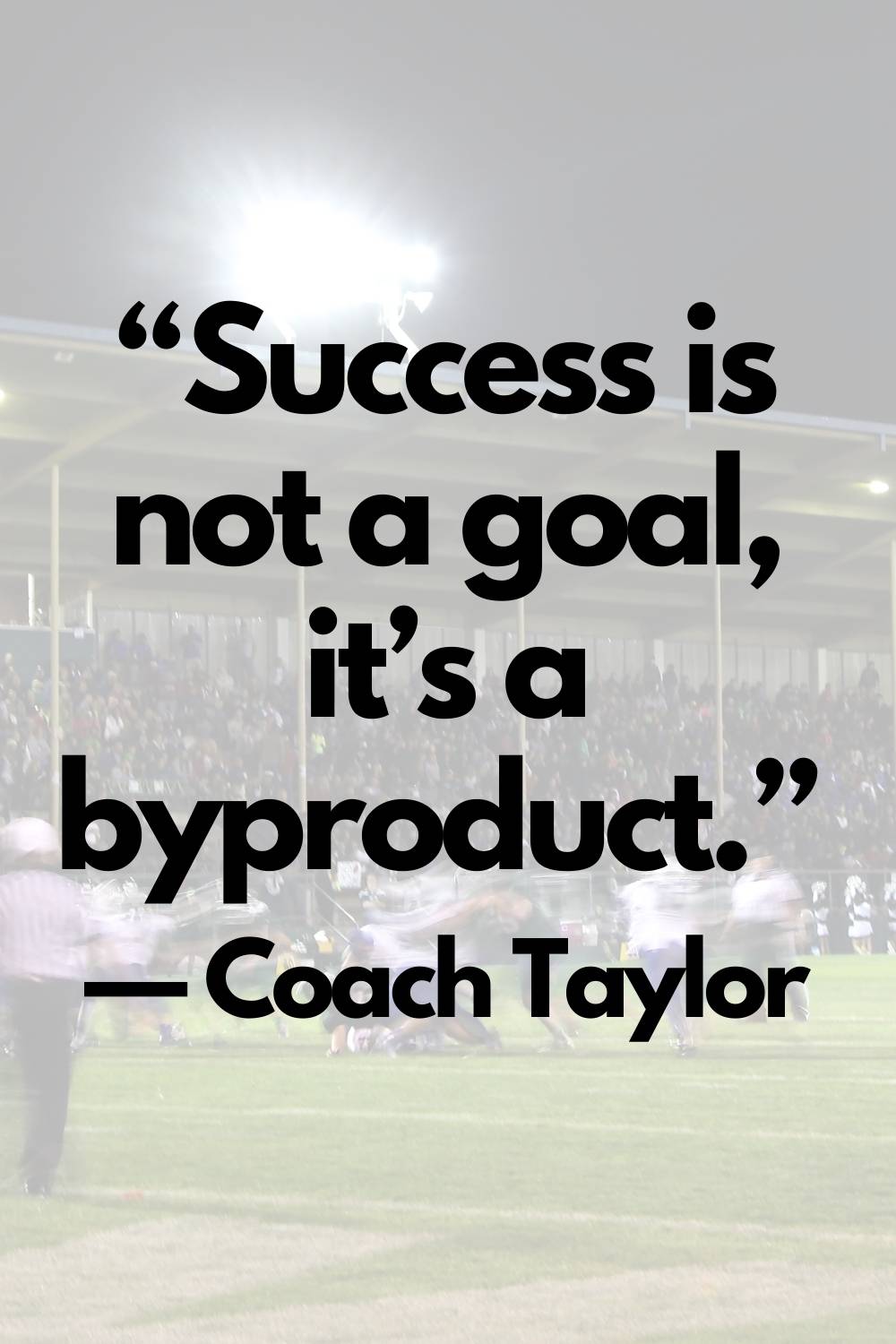 What is the Hype about Friday Night Lights?
Despite the series being cut short, all 76 episodes are still worth watching.
While it addresses a number of real issues facing rural America, Coach Eric's lessons and values will last a lifetime.
As for the cast, they are also incredibly attractive, which is another good reason to watch Peter Berg's masterpiece for American television on Netflix.
You probably haven't watched it, but now is your chance! For the rest of your life, you might as well turn into a fan of Friday Night Lights.
Are you still on the fence? Watch the women in the show. You'll find some of the strongest female characters on American television in Friday Night Lights. Taylor's quotes are nothing short of life's mantras.
Still, the show does not let its characters dictate the plot; instead, it keeps letting go of characters that don't work anymore and introduces new ones.
The game scenes are well directed and do not fall flat with the audience. Coach Taylor and his wife are one of the most amazing couples ever shown on American television since their marriage is anything but flawless, yet they both give it their all to stick together despite the challenges, giving us a lot to think about and apply in our daily lives.
What is Friday Night Lights inspired by?
The show was inspired by the book Friday Night Lights: A Town, A Team, and a Dream by H.G. Bissinger. A book recounts the 1988 season at Permian High School, when the team had a perfect record until they were beaten in the playoffs.
2004 saw a movie adaptation starring Billy Bob Thornton and directed by Peter Berg. Later, in 2006, it was adapted for TV and ran for five seasons. The series won three Emmys and other great accolades.
The takeaway
These Friday Night Lights quotes should give you enough reason to watch it. Let's grab those drinks, grab some popcorn and enjoy the roller coaster ride of FNL together with your partner or budding teen, and allow everyone to take away bits of passion, enthusiasm, optimism, strength, and values that the show so beautifully portrays.
Related Posts