Finding the best jobs for people with social anxiety can be challenging. Those with social anxiety often opt for jobs that do not require enormous social interaction.
You shouldn't let your anxiety affect your potential; instead, use it to your own advantage.
You don't necessarily have to find a job requiring you to work alone rather than with people to take steps towards learning social interaction.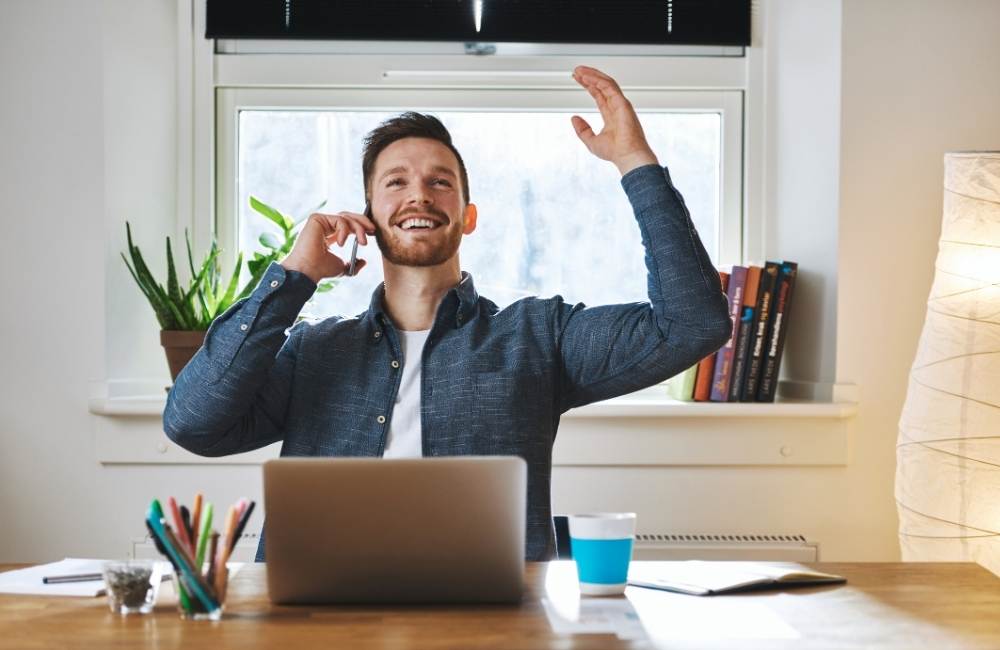 Here goes the list of the best jobs for people with social anxiety:
Writer
Writing is one of the best jobs for people with social anxiety as it does not include a lot of social interaction. Writing can be quite challenging at first, but when you gain the experience needed, you can make a good living out of it.
You can choose to be a freelancer, copywriter, creative writer, or you can even write your book. Being a writer allows you to work in solitude from the comfort of your own home or even a coffee shop as you please. The only interaction required is with the editors, clients, or readers.
The first downside of this profession is the criticism you get from the readers, editors, or clients. You should choose this profession only if you can take criticism constructively. The other downside is the uncertain income. If you want a fixed amount of money every month, you can choose to write for companies rather than work on your own project.
Graphic designer
This independent job is, yet again, an excellent job for people with anxiety. Graphic designing requires a basic degree, which can be avoided if you show the companies some amazing workpieces.
Being a graphic designer will allow you to work from home, or even if you have to go to the office, you will most of the time alone work on your projects. The major interaction is with the clients, which can happen online if you choose to work from home.
You will have to create logos, posters, and many such things. If you have the required talent and interest in this field, graphic designing can be your pick. And also, why not make a living out of your love for graphic designing? Just put great content out there!
Entrepreneur
What's better than being your own boss? Being an entrepreneur gives you the flexibility that you need. You can set your own set of rules and work accordingly. The control will be in your hands, and you won't have a supervisor watching your work.
Being an entrepreneur requires minimal social interaction. The only people you need to be in contact with are the customers, suppliers, and dealers. This can also fetch you high income once your business takes off.
You can even start your blog or e-commerce business, eliminating interaction with the customers. You can choose to work with socially comfortable people so that you can avoid all social interaction. Once your work gets settled, you can even hire people or outsource the services you are not comfortable doing to eliminate interaction.
Accountant
You can make a promising career out of your love for maths and numbers. An accountant manages all the finances of a company. This job provides you with a choice to work as a private account or extend your services to any company.
Working as an accountant allows you to work in solitary, avoiding major social interaction. The interaction that you might face will help you overcome your social anxiety. The work is mainly independent as it requires no suggestions from others. Sometimes, you will have to attend work meetings, which will help you challenge your anxiety.
Animal caretaker
Do you love animals just like we do? Why not make a great career out of it? Working as an animal caretaker can be the best starter job for social anxiety. Animal caretaking provides you with many options starting from being an animal walker to a veterinarian.
This career option deals with minimal human interaction. The only people you need to interact with will be the owners of your buddies. Those minimal interactions will help you challenge your fears and benefit you in the long run.
The only disadvantage of working as an animal caretaker is that it is not highly paid, but if your social anxiety and love for animals are immense, it will be a perfect choice.
Gardener or landscaping
You can choose to be a gardener if you want to share a great relationship with the planet. Gardening can help you avoid the physical office environment. You can spend the majority of your time being out in nature. Again, you will have a choice to work as a private gardener/landscaper or work for other clients.
Every job you do will require a level of human interaction, so doing this job and a little interaction with others is necessary. If you choose to work privately, your interaction will be with your customers. Deciding to extend your services to a company will also require human interaction. You can take those interactions positively to enhance your social skills.
Artist
Being an artist requires creativity, and if you have a creative mind, this can be a perfect career option for those with social anxiety and panic attacks. You can spend the majority of your day creating your masterpieces.
Being an artist isn't just related to art; you can even choose to be a musician. It will allow you to work independently or with a few other people. You can work independently and spend your time making music and writing your own songs. It can take some time to make a good living out of it, but once your career flourishes, you can make a good income out of it.
Counselor or Therapist
People with social anxiety are great listeners, and they can understand what their clients are going through. They are highly empathetic, which is why they can make an excellent career out of their qualities.
Being a therapist can sound a little strange to someone with social anxiety, but this is a perfect career idea for them as they tend to give great advice. This job would require human interaction, but that will be with limited people taking one-on-one sessions.
Therapists encourage their clients to speak more, which can be perfect for people with social anxiety as they are effective listeners. You can be the ideal person to help others overcome their social fears.
Librarian
Being a librarian is not a highly paid job but can be perfect for escaping human interaction. It is yet another best starter job for someone with social anxiety. This job would call for interaction with others, but you will not be the center of attention.
Private tutor
Working as a private tutor can be a great source of side income. Teaching one-on-one will not be included in social interaction as you have to teach the subject you are appointed for. The student will be looking up to you for knowledge, and there is no chance that your students will judge you on any basis. This can also be ideal for introverts with anxiety and a tiny step towards overcoming their social fears.
Video editor
For those with severe anxiety, you can use your editing skills to make a great career out of it. Working as a video editor can be the best option because it mostly requires working alone. You need to be excellent at what the job requires. Video editors work with raw clips and turn them into beautiful videos portraying a story.
Working in a noisy environment is impossible for an editor as they need ample solitude to work. This can help you avoid social interaction and work independently.
Computer programmer
Computer programming involves having excellent coding skills. To work on those skills, you need to have extreme concentration and focus levels, perfect for those with social anxiety, especially agoraphobia, as it can help you escape social interaction.
In addition to coding, computer programming also involves app making. This field of work is constantly changing, so you need to update yourself accordingly.
Medical technician
This sphere of work is becoming important day by day. Being a medical technician can be an excellent option for social anxiety. Choosing to be in this field would require human interaction. Still, it will be limited to short meetings and include more communication with the medical tools from your side and verbal communication from the patient's side. The main focus will be on resolving the patient's problem.
Chef
Another amazing option for people with social anxiety is that being a chef includes few social interactions. Again, the choice is yours to provide your services to an existing hotel/restaurant or work independently. This includes interaction with colleagues or your employees. This job would require a lot of focus to make others happy, which people with social anxiety enjoy doing.
Work in an orphanage
This job may not involve a lot of money, but it is a great choice for people with social anxiety. Being around children can make people happy and help them overcome their social anxiety issues. Children don't judge us on any basis, and communication with them is not finicky. This can also be the best way to challenge your fears and take steps to overcome them.
Workplace Tips for those with Social Anxiety
Communicate with your colleagues: communication is an integral part of the workplace. Be comfortable with your colleagues and step out of your comfort zones.
Explain your situation to your supervisors: instead of keeping every problem to yourself, learn to share it with your supervisor.
Attend business meetings: learn to be interactive and attend all the business meetings. You might even hesitate to raise your opinion in the meeting, but you should develop your own ideas.
Attend social functions: you can even overcome your social anxiety by attending every social function your company hosts. This will be an excellent opportunity to interact with your colleagues and bond with them.
Learn to say no: you have to learn to say no as people can take advantage of your nature. If you have a lot of workloads and are being told to do additional work, you can politely tell your colleague or supervisor about your condition.
Bottom line
Managing work and social anxiety at the same time can be demanding. You have to find a way to balance both. It will be easier for you if you know the type of job that will help you overcome that fear of social interaction. Remember to maintain your identity and not get lost in the crowd due to your illness. A lot of careers do not require a degree. According to what we feel would suit you, we have tried to include a few jobs for people with social anxiety in this list to help you get started.
Sources
Cuncic, A. (2020, May 14). 10 Best Jobs for People With Social Anxiety Disorder. Retrieved from https://www.verywellmind.com/the-10-best-jobs-for-people-with-social-anxiety-disorder-3024988

Berlinsky-Schine, L. (2019, May 22). 11 Best Jobs for People With Social Anxiety Disorder. Retrieved from https://fairygodboss.com/career-topics/jobs-for-people-with-social-anxiety
Related Posts