Here we'll talk about the guy you'd often see in those sad memes: Keanu Reeves.
Keanu's acting career began when he was just nine years old when he appeared in Damn Yankees. In his career, he has appeared in numerous blockbusters such as the Bill & Ted series, Point Break, Speed, and, most recently, the John Wick series. He's already shooting the fourth installment.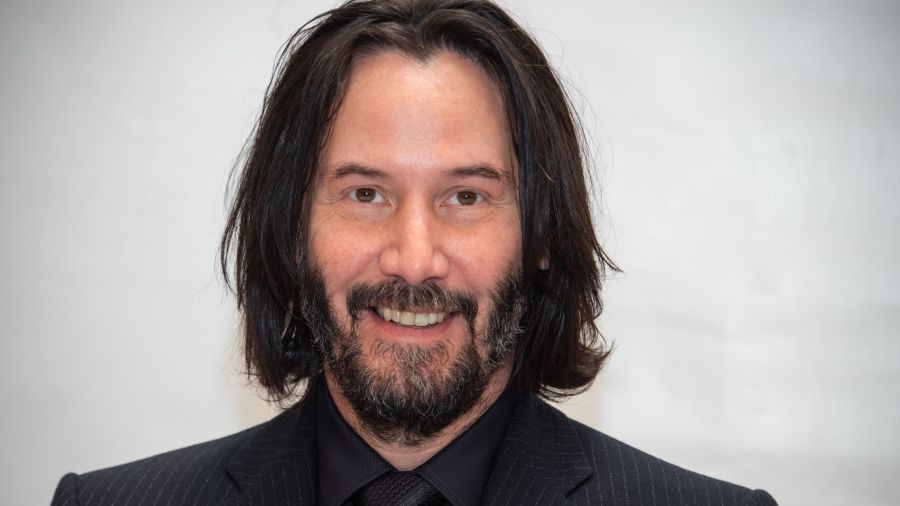 Following his role in The Matrix, Keanu's popularity skyrocketed. He has won everyone's hearts with his exceptional acting abilities since he began. For his acting skills, he has earned considerable critical acclaim. Initially, however, he was not a movie star. For more than a decade, he has been recording music and playing bass guitar.
As a performer, he is known for playing characters who often 'try to save the world' for his films. He has received several awards, including a star in the Hollywood Walk of Fame.
Keanu isn't your typical celebrity. He doesn't live in a mansion, and he often donates most of his paycheck to less fortunate people, but we will get into those details sooner as you read.
Now that you know who we're talking about let's get to those Keanu Reeves facts you didn't know.
#1 His Agent Thought His First Name Was Too Exotic
Upon Keanu's arrival in Hollywood, his agent believed that his first name was too exotic for people from everyday life. For this reason, Casey Reeves, Norman Reeves, and Chuck Spadina were sometimes credited as his names. He got his name after his uncle Henry Keanu Reeves.
Keanu's name means cool breeze over the mountains in Hawaiian.
#2 His Father Left Him When He Was Three Years Old
A sad twist of fate caused Keanu's father to abandon his family when he was only three years old. They stayed in touch until he turned six, but the last time they saw each other, Keanu was 13. During this time, his father was jailed for selling heroin at an international airport.
After his parents divorced, his mother remarried, and Keanu had three stepfathers. His mother moved around frequently, so he attended multiple schools and never established lasting friendships. As a result of dyslexia, he also had trouble learning in school. He attended four high schools during a five-year period, including the Etobicoke School for Arts. Apparently, he got himself expelled from the school because he was rambunctious and would often talk too much.
#3 His Sister Suffered From Leukemia
His sister Kim is one of his closest friends, according to Keanu. After being diagnosed with leukemia a few years ago, she fought a long battle against cancer until she won. Due to his sister's experience with leukemia, Keanu Reeves regularly donates a percentage of his earnings to leukemia research. 70% of his earnings from The Matrix went to the cause as well.
#4 He Lost His Best Friend to Drug Abuse
After a difficult childhood with his father and many setbacks in his personal life, he met a fellow actor named River Phoenix, the brother of Joaquin Phoenix. They quickly bonded and became best friends after Reeves acted in Parenthood alongside River. Their connection became even stronger when they starred together in the 1993 film My Own Private Idaho.
Keanu's happy period did not last long, however, as his best friend collapsed and died outside the Viper Room, a nightclub in Hollywood, due to drug-induced heart failure.
#5 He Was Paid $10 Million Upfront For The First Matrix Film
Keanu was already famous at this point in his career, so he received millions of dollars in advance. The huge success of the movie led to him earning more than 114 million dollars. Keanu chose to give eight million dollars to the special effects and makeup crew when negotiating his contract because he believed that they worked as hard as he did and deserved to be paid more. As an additional gift, the actor gave 12 Harley-Davidson motorcycles to every stunt performer on The Matrix.
#6 He Used To Play In a Band
Keanu played bass guitar for a band at one point in his life. In the mid-1990s and early 2000s, he was part of DogStar, an American alternative rock band. Some of the band's performances took place at music festivals in Belgium and the United Kingdom. After the band broke up, they released an EP and two albums. As part of a band called Becky, Reeves and his colleague continued to play together, but the group had to disband due to Keanu's busy schedule.
#7 He Dropped Out of School To Pursue An Acting Career
Reeves attended Avondale Secondary Alternative School after being expelled from his fourth high school, where he was able to study while working as an actor. He quit school, however, to pursue acting full-time, and did not complete his high school education before dropping out at age 16. In his first television appearance, Keanu Reeves competed in a bicycle race in a Coca-Cola commercial. The commercial was his first major acting gig. Young-blood was his first studio film, in which he played a goalie.
Keanu was driven to Los Angeles by his stepfather in his 1969 Volvo after the movie was released. He also convinced Erwin Stoff to be Keanu's manager. Stoff went on to co-produce many of Reeves's films over the past year.
#8 He Almost Become a Hockey Star
Keanu struggled in school due to his dyslexia but excelled in sports. As a child growing up in Canada, he was very interested in ice hockey and even played goalie. So good was Keanu that his teammates called him The Wall. Many believe he could have made a career playing hockey but instead chose to act. Other people say that an injury killed his hockey dreams, which is why he became an actor.
The only thing we know is that after watching him perform, he ended up in front of the camera and not in front of a net.
#9 He Wrote The Text For The Picture Book "Ode To Happiness"
The rough and trying times in Keanu's life inspired his unique sense of creativity. Ode to Happiness is a poem penned by Keanu with a line on each page accompanied by simple blotted ink drawings by the artist and his rumored girlfriend, Alexander Grant. The poem does not reflect Reeves' life, nor is it intended to counteract his media-fabricated image of loneliness.
#10 He Doesn't Own a Mansion
The actor now resides in the Hollywood Hills area of Los Angeles, California. However, for a long time, he preferred to live in rental homes and hotels. Back then, he lived at the Chateau Marmont but eventually bought his own home in Los Angeles. His neighbor in the Hollywood Hills area is none other than Leonardo DiCaprio.
#11 He Turned Down A Role in The Speed Sequel
Following his award-winning role on Point Break, everything was focused on Keanu. Almost immediately, he received the role in "Speed", starring Sandra Bullock. While Speed was a huge success, Keanu declined the role when the film's sequel Speed 2: Cruise Control came along. It wasn't a problem with the actors or directors, just that he read the script and thought, "Oh, I just can't do it."
#12 He is a True Philanthropist
It's no secret that Keanu is one of the good guys who like to give. Apart from the matrix donation he gave to the special effects and makeup teams, he took a 90% pay cut for the replacements. So the studio could bring Gene Hackman into the film.
Before this, he redirected two million dollars from The Devil's Advocate's salary to work with Al Pacino. Once his sister was diagnosed with cancer, he created a cancer charity that he contributes to; however, he doesn't attach his name. Aside from PETA, the actor supports Stand Up To Cancer and the Kid's Foundation.
#13 He Owns a motorcycle Manufacturing Company
His favorite bike, the Norton commando, has logged thousands of miles behind its bars, as has the actor himself. Since his 22nd birthday, when filming in Munich, Germany, he saw a girl with a Kawasaki and Dural motorcycle. Following her lesson on how to ride it, he bought one that looked like it, and after that, he continued buying until he opened his own company that produced motorcycles.
As he was looking for a sissy bar for one of his bikes, he walked into a custom shop in Los Angeles and met his business partner. He was the co-founder of Arch Motorcycle with Guard Hullinger, a motorcycle builder with years of experience. The two became business partners and even released a product together, the KRG t1, based on a bike he built for Reeves shortly after they met.
As a reward for sticking with us all the way to the end, here is a bonus fact: Alice Cooper babysat Keanu Reeves when he was a child. During his childhood, Keanu lived near the Nimbus 9, where his mom worked as a costume designer. His mother recalls that Alice Cooper babysat him when he was a child. However, he has little memory of it.
Source: YouTube