My last recipe was for a delectable vegan fruit smoothie bowl, and today, again, I have something healthy for you. The recipe is simple to make and tastes amazing: it's a spicy and healthy pumpkin soup recipe that I will share with you.
And no, you don't have to be Gordon Ramsay to prepare a perfect soup. It is just so perfect for beginners.
Let's get started.
Why should you try this recipe?
Aids in weight loss
Reduces blood sugar levels.

Boosts good cholesterol and lowers bad cholesterol.

Regulates blood pressure.
Enhances digestion and metabolism.
Rich in vitamin A, antioxidants and other nutrients help prevent the risk of chronic health diseases.
Boosts immunity
Improves eyesight
And, of course, a perfectly healthy recipe for Halloween.
Ingredients Required
I have used these ingredients for the soup preparation: pumpkin, onions, ginger, garlic, cloves, black peppers, green chilies, bay leaves, vegetable broth, olive oil, mint or parsley leaves, oregano, and mayonnaise.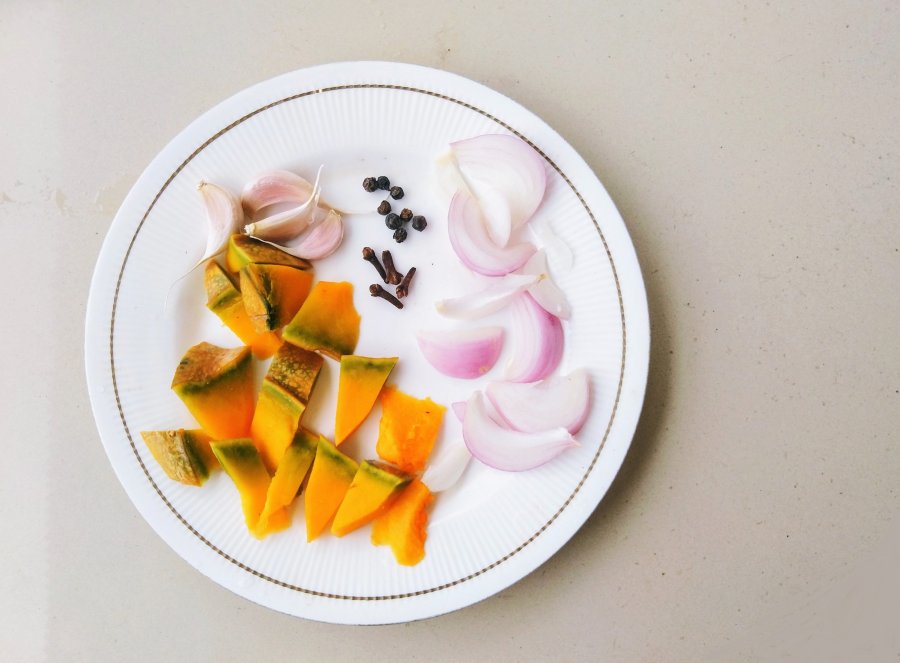 For soup:
Pumpkin: 10-20 cubes ( medium-sized )
Onions: 1 whole ( chopped or sliced )
Ginger: 2-3 tablespoons ( grated )
Garlic: 4-5
Cloves: 4-5
Black peppers: 6-8
Green chilies: 2
Bay leaves: 1
Vegetable broth: 2-3 cups ( or accordingly)
Olive oil: 1 tablespoon
For garnishing
Mint leaves: 2-3
Oregano: 1/2 tablespoon
Mayonnaise: 1/2 tablespoon
Pumpkin or pepita seeds
Benefits of the Ingredients
Pumpkin
Pumpkins are a good source of calcium, magnesium, vitamin A, C, and E. It's also loaded with iron, zinc, fiber, beta-carotene, and potassium. It is high in lutein, which helps to prevent cataracts. Additionally, it helps to cure stomachaches.
Onions
An onion is full of nutrients and antioxidants and has antibacterial properties. Vitamins and minerals are present in it. By controlling blood sugar, it helps to maintain health. Additionally, it boosts the digestion process and bowel movements. It lowers bad cholesterol levels.
Ginger
A powerful herb, ginger aids digestion and keeps stomach diseases at bay. It helps to cure a cold, nausea, and flu and keeps you warm in colder months. It has anti-inflammatory properties that help to heal muscular pain. It is good for heart health.
Cloves
Among its benefits are the regulation of blood sugar levels and the maintenance of bone health. Antibacterial properties enable it to kill bacteria. As a result, stomach ulcers may be reduced, and liver function may be improved. Cloves can also strengthen your immune system.
Black pepper
It's high in fiber and antioxidants. Black pepper is loaded with manganese, iron, vitamin K, copper, and other nutrients. It's good for digestion and helps to relieve constipation.
Green chilies
It contains fiber, which helps with indigestion. Calcium, vitamin E, and vitamin C are abundant in green chilies. It boosts immunity, is rich in antioxidants, anti-inflammatory, and antibacterial properties. It helps improve vision and alleviates respiratory problems.
Bay leaves
Bay leaves are filled with iron, potassium, calcium, magnesium, vitamin A and C. It helps in treating migraines. It reduces fungal infections. It contains enzymes that help in the digestion process and bowel movements. It helps in improving heart health and reduces anxiety.
Vegetable broth
It contains phytochemicals, antioxidants, and anti-inflammatory compounds. Vegetables used in the broth provide essential nutrients and minerals. Cold and flu symptoms are reduced by taking it. As well as enhancing digestion, it improves vision. This contributes to bone health. Keeping blood pressure in check helps with detoxification and blood circulation. You can nourish your body on a whole level with vegetable broth.
Olive oil
Being a healthy oil, olive oil helps in preventing stroke and other cardiovascular diseases. It cures diseases like acute pancreatitis, ulcerative colitis, etc., and maintains good cholesterol levels. It relieves constipation.
Mint leaves
It's rich in nutrients. The mint leaves have a pleasant smell and reduce bacterial growth in the mouth. It treats irritable bowel syndrome, relieves indigestion, and enhances brain function. As well, it reduces the symptoms of colds and flu.
Oregano
This herb gives energy and rejuvenates the body. It reduces the risk of stroke or cardiovascular disease. The antibacterial properties of oregano help you to prevent skin and gut infections. Digestive and metabolic processes are maintained by it. It boosts immunity. Fiber, manganese, omega fats, vitamin E, and calcium are its major components.
Mayonnaise
This nutrient-rich sauce helps keep the heart healthy and contains various essential nutrients, protein, and minerals such as vitamins A, D, E, and K.
Steps to Prepare this Spicy & Healthy Pumpkin Soup
1. Take a saucepan with a lid. Put oil in it, then add chopped onions, grated ginger, garlic cloves, and sauté the pan.
2. Add cloves, black peppers, bay leaf, green chilies with some salt into the pan, and cook for 1 minute. Add the slices of pumpkin and cover the lid for a minute.
3. Add a cup of vegetable broth to it. Keep the flame low and cook it for 8 minutes or till the ingredients get properly cooked.
4. Switch off the flame and let it cool down, and then blend it well.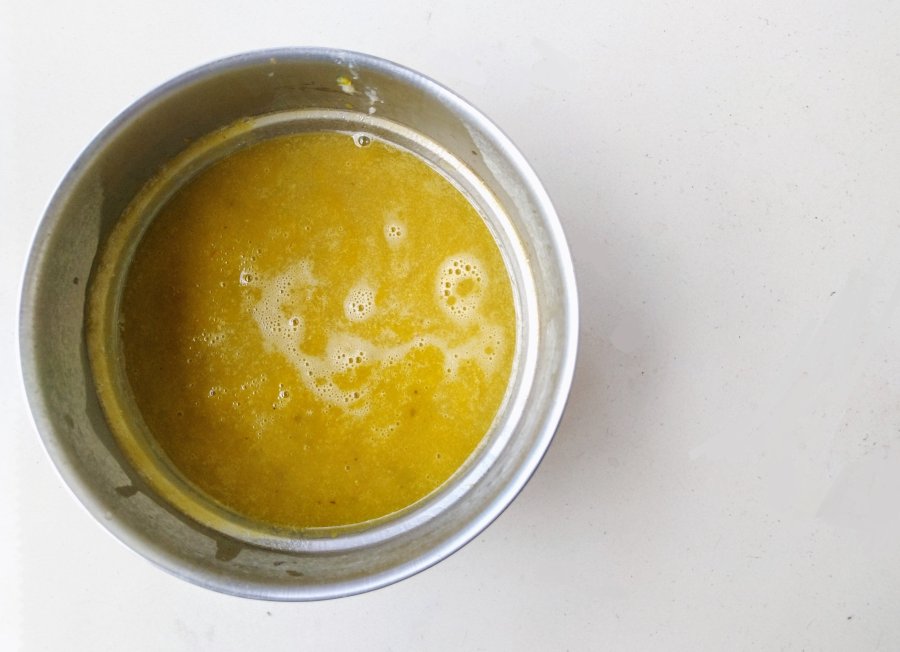 5. Pour the pumpkin paste into the pan again, add the mint or parsley, oregano, mayonnaise, pepita seeds for garnishing.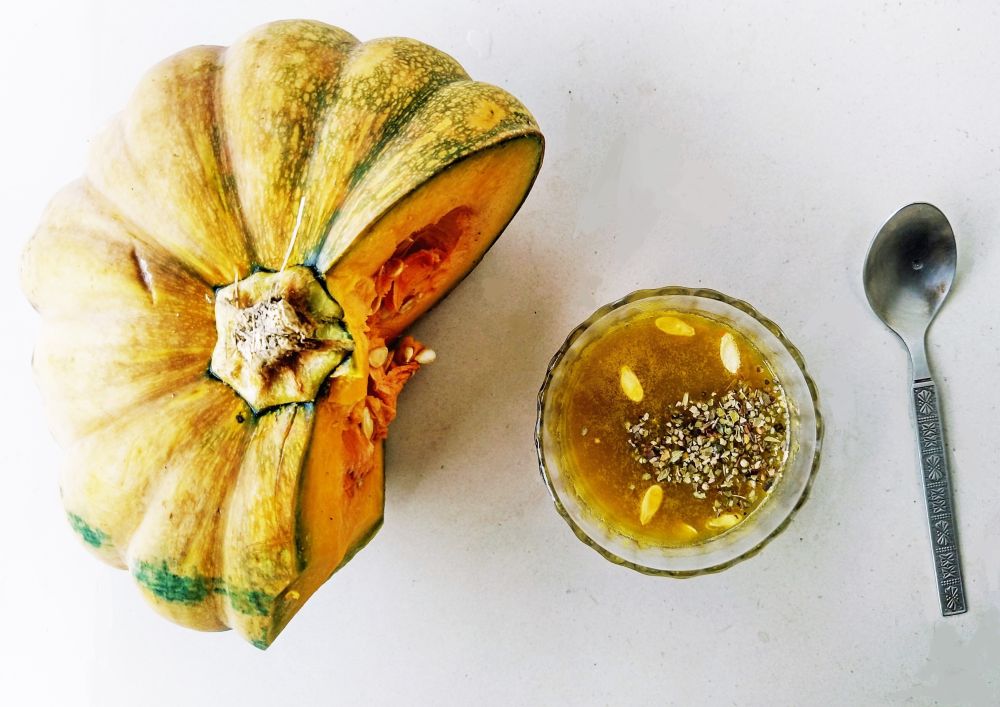 Your pumpkin soup is ready. Serve it hot!
When and how to have this hot soup?
You can have it whenever you like. Having the soup at dinner with some croutons is the best time to eat it. It's a soup, so you should serve it hot or warm.
Finally, I would like to mention that this spicy and healthy pumpkin soup recipe makes a satisfying dinner option. You will enjoy its delicious taste, as well as its health benefits. In my opinion, it would be the best winter dinner.
Having this soup for dinner with homemade croutons makes me feel full. It is easy to get the ingredients and takes little time to prepare. Simple and quick steps, chop it, boil it, blend it, and you're done. Everyone can enjoy the wonderful taste and exquisite presentation regardless of their age.