I am back with another healthy, easy-to-make recipe for you, and it is one of the best ones for breakfast. It's a vegan and gluten-free food that I like to have every morning with my warm cup of green tea. A smoothie is the best way to start your morning since it's lightweight yet full of nutrients. You can never get bored of having it. Enter scrumptious Banana Pomegranate Smoothie recipe that you can never get tired of!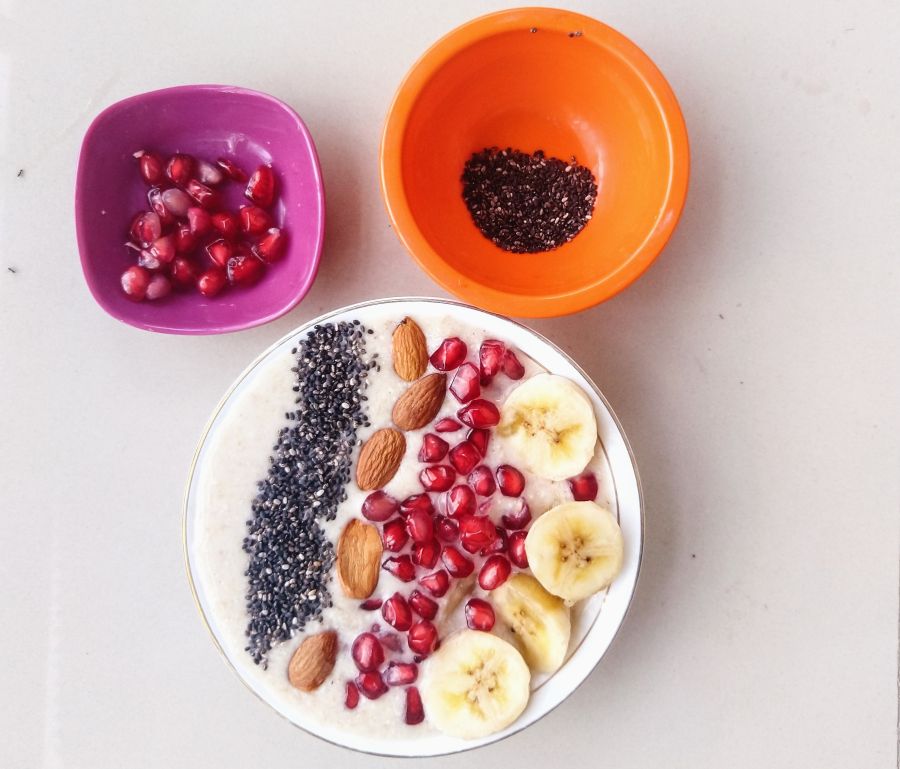 Why should you try this recipe?
Vegan Banana Pomegranate smoothie is an all-time healthy breakfast recipe that is effortless to prepare. It's packed with many essential nutrients along with various fruits, nuts, and seeds. It's a one-bowl recipe and is also known as the Buddha Bowl. It's a vegan, gluten-free recipe. It's a much more fulfilling and satisfying meal loaded with anti-oxidants. It is an all-in-one kind of recipe filled with wonderful toppings. It has all the vitamins, minerals, protein, calcium, and various other nutrients.
Therefore, I have this delicious yet healthy recipe for you to try in your meals. This smoothie bowl contains many essential nutrients and various vitamin supplements within the fruits and berries, seeds like chia, flax, sunflower, hemp, etc., nuts like almond and pistachios, cashews, raisins. Here we bring the vegan Banana Pomegranate smoothie recipe for today and let's get started.
Ingredients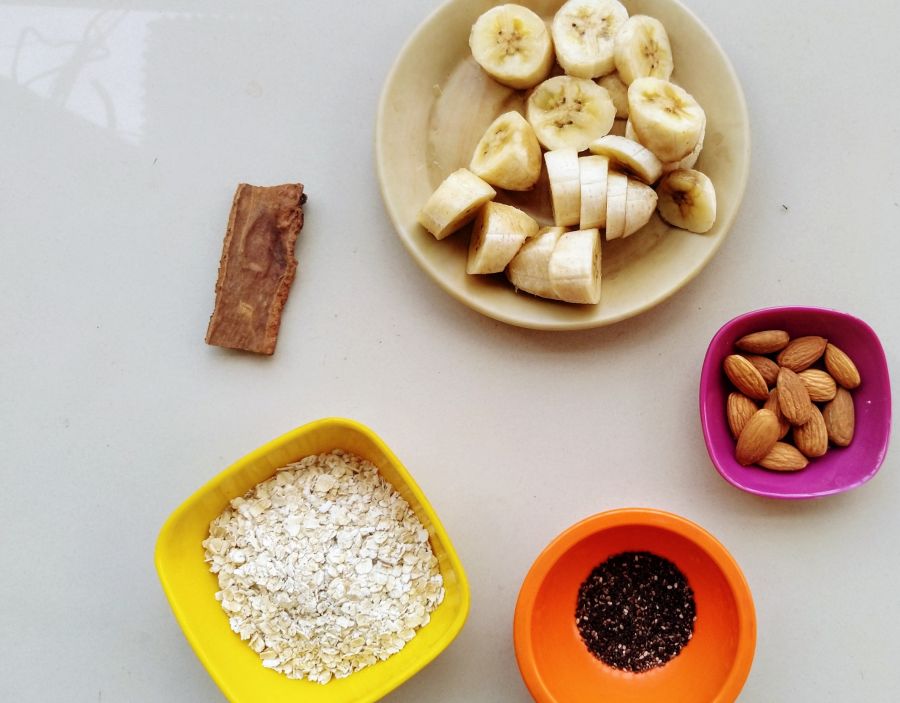 Oats: 1 cup
Bananas: 1 large (frozen)
Apple: 2-3 slices
Pomegranate seeds: 2-3 tablespoons
Plant-based milk: almond/soy/ coconut milk 1/2 cup (or as per requirement)
Nuts: almonds, cashews, pistachios, raisins ( anything of your choice)
Seeds: chia seeds and flax seeds ( or anything of your kind)
Benefits of the Ingredients
You will need oats, bananas, apple, pomegranate, milk, nuts, chia seeds, flax seeds.
Oats
Oats have fibers, anti-oxidants, and multiple vitamins and minerals that help to keep various diseases away. It helps in improving heart health and improve digestion and bowel movements. It helps in reducing weight quickly. Oats contain good cholesterol levels and healthy for diabetic people.
Bananas
They are rich in iron, vitamin B6 and C, manganese, potassium, copper. It's full of nutrients like fiber and biotin. Banana fights against anemia and high blood pressure. It also helps to lower cholesterol levels and increases brain function.
Apples
Apple is a powerful fruit for weight loss loaded with anti-oxidants. Apples are high in pectin, which speeds up metabolism, so you lose fat quicker. And did I mention that they make your teeth whiter, so you smile brighter?
Pomegranate
An amazing fruit that contains important nutrients and plant compounds. If you face inflammation in your body, pomegranate is a great addition to your diet. It also aids in a healthy heart, and if you exercise, it enhances the benefits.
Plant-based Milk
It is more than a trending fad. Plant-based milk is an excellent substitute for the milk extracted from animals. It is low in fat, rich in vitamins and minerals, and does not contain cholesterol. Those with lactose-intolerance used to prefer plant-based milk, but now everyone is raving about its benefits. Since this smoothie bowl recipe is vegan, I used almond milk.
Almonds
Almonds are not only good for your brain but health too! This popular nut contains various nutrients like fiber, protein, vitamin A, B3, B5, B6, B7, E, C, K, calcium, copper, iron, sodium, zinc, biotin, niacin, riboflavin, and thiamine. It reduces inflammation, slows aging, and benefits blood pressure levels. Almonds are the best source of vitamin E. Talking about the weight loss benefits, it curbs hunger and promotes satiety, so you consume fewer calories.
Chia seeds
Chia seeds are full of antioxidants and high in protein and fiber. It' is an amazing ingredient to sprinkle on a smoothie since it provides quality protein and more fiber, which helps one maintain optimal weight. And It helps to reduce hypertension, blood pressure. Apart from that, chia seeds lower the chances of heart disease and chronic inflammation.
Steps to prepare Vegan Banana Pomegranate Smoothie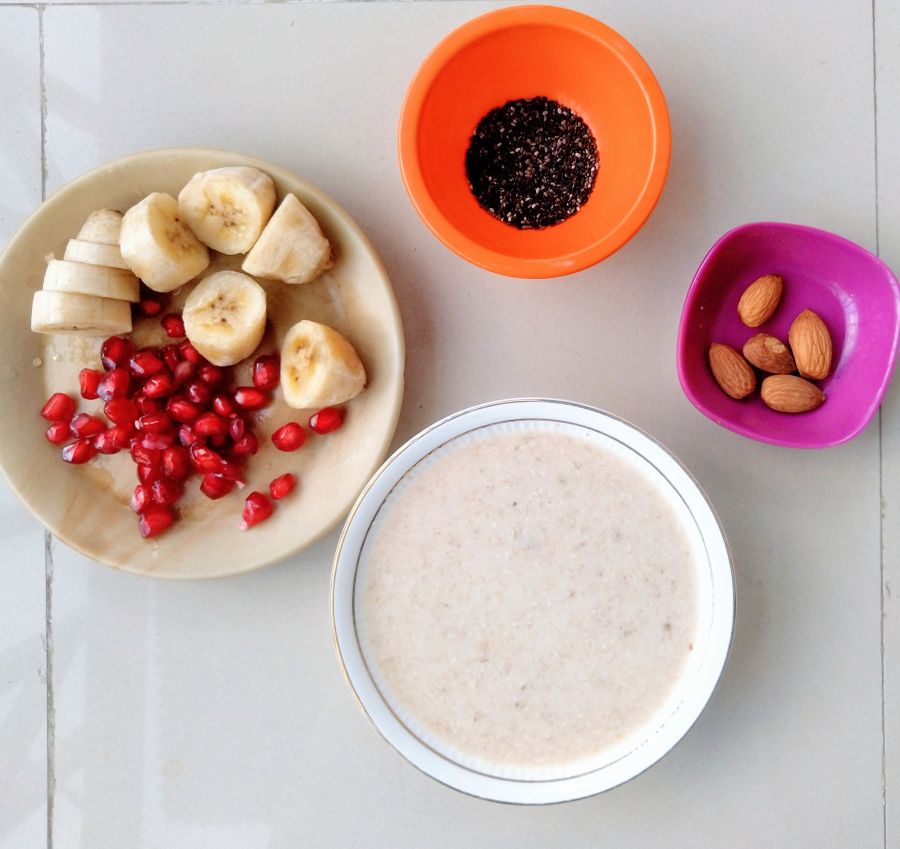 Take the rolled oats and the frozen bananas in a blender and blend to create a puree. Add the plant-based milk of your choice and again blend it.
Take out the smoothie paste to a bowl and add your favorite fruit slices, nuts, and seeds.
You can add some sweetener if you want.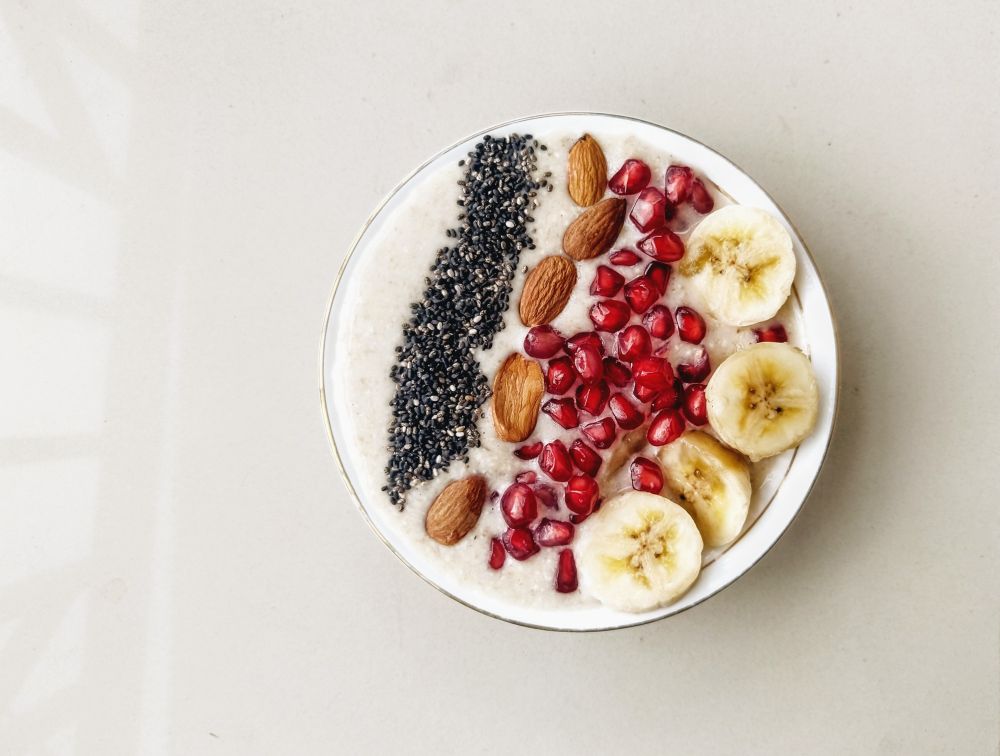 And your smoothie bowl is ready.
How and when to have it?
You can have the smoothie bowl anytime you want. But ideally, it's the best breakfast. You can have some warm green tea along with this to comfort yourself.
Benefits of this Vegan Banana Pomegranate Smoothie Bowl
It's healthy and quite fulfilling, along with being yummy. The best thing is that it can be prepared in just 5 to 8 minutes. It's quite simple to prepare without putting it on your gas stove. It's rewarding if you serve it to your guests as a dessert.
It's loaded with anti-oxidants. You get ample fiber, calcium, carbohydrates, and good fats in a bowl.
This smoothie makes a great option for after gym snacks. It's like a powerhouse in a bowl full of energy.
It's a well-balanced meal for everyone.
Over to you
Finally, I would like to add my experience with this Banana Pomegranate smoothie bowl before ending this recipe. I treat myself to this recipe often. It has many more varieties you can try it easily. The recipe is high in protein and many other nutrients, which keeps my stomach full for a longer period of time.
For my busy schedule, it's a perfect fit. It can be your heavy breakfast recipes or your light lunch meal. Since it gets prepared in minutes, it helped me manage much time and also feel lightweight. As I have been trying to lose weight, it's a great match for my diet chart. It's one of the delicious weight loss meals. You can make it right away and try it out.
Related Posts: