After the engagement, planning and preparing for your wedding can be incredibly stressful! From picking out decorations to the first dance, you've got a million questions.
How do you make sure your big day goes smoothly? By asking the right questions.
So, we've compiled a list of questions to ask your wedding photographer before booking from real couples and answered them expertly by our team. When planning their wedding, these questions are on everyone's checklist, so we'll answer them here.
But before that, let's get one thing straight: everyone's wedding is different. No way is right or wrong, so don't pay attention to what other people say about how photos should look or how long it takes you and your photographer to get through it. Let this guide be your headstart and adjust it according to your needs (and budget) to make your wedding unforgettable.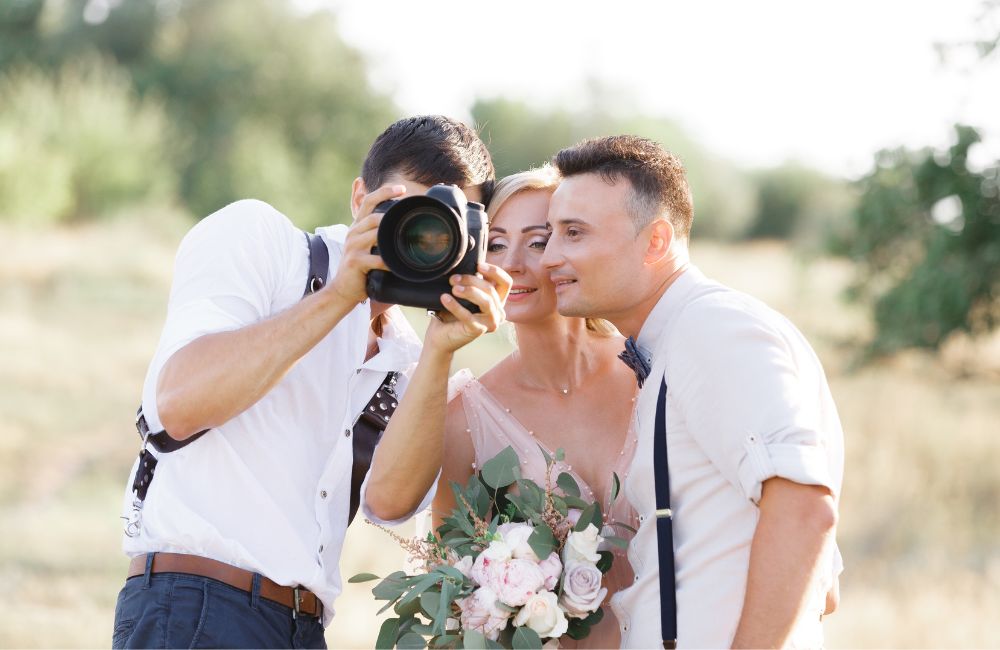 Why it's important to ask your photographer questions?
Your wedding photos will last a lifetime – make sure you love them! Asking your potential photographer essential questions will help you to better understand their work and ensure they're a good fit. You want to make sure you're comfortable with their style and that they can take your kind of pictures. This will help you plan the perfect wedding photography.
Confused about what important questions to ask your potential wedding photographer? Don't worry. We have put together a list!
Now let's get to the essential questions to ask a wedding photographer before booking them!
Availability
Make sure your wedding date aligns with your photographer's availability. Here are some questions to ask:
Are you available on the day of my wedding? What are the best dates for us and our guests?
You will have to reschedule if they are unavailable on your suggested date.
Are you going to film my wedding? If not, can I meet the photographer who will be doing it?
Sometimes a photographer will likely snap one wedding in the morning and the next in the evening. If you want this actual photographer instead of an outsourced or crew member, let them know.
Will you be attending any other wedding that weekend?
Nobody likes divided attention. You'll get better pictures if you get your photographer's attention.
Do you work with an assistant?
While some artists prefer to work with an assistant, others need one based on the size of the event. An assistant can cost you extra if they don't have one.
How much do you charge per extra hour?
When you have fun, time flies. It's best to ask your wedding photographer about per-hour rates. At least you'll know what you'll spend if you go a little overboard.
How do I get in touch with you if I have any questions or problems? Will you be available to talk on the phone? Will you be able to answer my emails within 24 hours?
To make last-minute adjustments, stay in touch with your photographer. Get their contact information, such as email and mobile number. Look for a photographer who responds right away.
If you're not available, can you recommend someone else?
Photographers know a lot of wedding vendors. If an emergency comes up, they can tell you who to contact. There's a good chance they can suggest a photographer or person who works in a similar style or knows your venue.
History and Experience
An artist's experience and expertise are just as important as creativity and an eye for detail. Here are some questions to ask wedding photographers about their experience and background:
How long have you been photographing wedding ceremonies and events? Do you have any recent wedding photos to show us?
This will tell you how serious they are about their job as wedding photographers, how fair their pricing is, and how much they value their work. A quick reply from an established professional should always be considered a positive sign.
Have you ever attended or photographed a wedding with a similar style or size to ours?
Every photographer is unique. While some love the outdoors, others do better indoors. To get the best out of your wedding, it is essential to match your style with the snapper. Tell them the style you're going for and the size.
Do you have any references?
People usually vouch for photographers if they do good work. A referred artist is a plus.
Do you offer a free/paid trial?
To help you feel comfortable, some artists offer a one- or two-hour trial session. These sessions are usually paid. A trial shoot with a photographer is a good chance to see if their style suits you.
Have you previously worked with our florist, wedding planner, videographer, or DJ?
A wedding photographer who knows one or more vendors from your wedding will know their work ethic and temperament. It'll make sure everything runs smoothly.
Are you familiar with the location of our ceremony and wedding? If not, do you plan to check it out?
Taking your photographer to your wedding venue before the big day is a great idea—they'll understand the settings better. Also, you can discuss table arrangements, stage placements, etc.
Do you offer discounts?
Photographers usually run discounts during certain events or offseasons. Occasionally, they'll cut album making or extra hour charges.
Price and Packages
You'll save money by hiring a rookie, while professionals will cost you more. Decide on a wedding package according to your budget and discuss it with the photographer.
What are your rates for a package of services? What are some of your basic packages? Advanced packages offer what add-ons?
There's a lot riding on the type of photographer, their equipment, their editing tools, and whether they have an assistant or a second photographer. If you want them to be a lead photographer, make it clear.
Do you offer customized packages?
There are photographers who offer limited packages and others who offer full-service packages. Find out if the photographer offers customized packages. Most of them are more than happy to customize a package to help you achieve your goals and budget.
Do you include pre-wedding or rehearsal dinner snaps in your package?
Ultimately, the artist decides. Some will charge you extra for including pre-wedding photographs, others won't. Ensure your wedding photographer understands this.
Do guests get clicked too?
While some photographers enjoy capturing every smile, others charge extra per shot.
How many hours is the basic package? How much do you charge per hour?
Each package has a different price. Basic packages would cover 6-7 hours, while advanced packages cover more than 8 hours.
Artists may charge per hour, per event type, or per piece of equipment required.
Do you have a photo booth facility?
Booths are fun and stylish. They cost extra, but it's worth every dollar.
Do you send both raw and retouched photos? Packages include those, or do they cost extra?
Many people prefer raw images because they can edit and retouch them. Also, ask what tools they use to retouch or edit pictures.
Are you available to travel? Does the event outside your radius cost more?
Photographers may charge you extra for travel outside their radius. Also, they can ask you to arrange accommodations for the crew and themselves.
Is there any additional fee for specific locations, events/activities we should know about in advance?
Depending on whether it's in a unique or particularly scenic spot, there might be an extra charge. Don't forget to ask about extra fees for special events. For example, if you want your photographer to stay longer to capture more candid moments, you may have to pay them an hourly rate.
If we need you to stay more than the fixed time, will you be able to do it? When do overtime charges apply?
While some may charge an additional fee, others may not be available to stay longer. Having this info in advance will help you plan. Overtime charges apply if your photographer stays over the fixed time. They have other weddings to attend and need to get paid. Determine the photographer's overtime policy and the rate they charge.
Style and Theme
Describe your wedding photography style and theme to your photographer so they can serve you better. Here's what you should ask your wedding photographer:
What is your photography style like?
Start by asking what settings they like (indoors/outdoors). A photographer that doesn't have the same taste or style as you can cause conflicts. Ask them if they like taking portraits or candids. A good photographer will take time to understand your desired style.
Do you plan to suggest poses to the couple?
It's a sweet way to bring up that wedding photos usually require posing. Wedding photos are serious business, and you don't want to embarrass yourself in front of your in-laws or in front of the cameras!
Which do you prefer, film or digital?
Most photographers use digital cameras. But some artists use film, digital, and hybrid media. Film takes time to process, whereas digital is faster.
Printing and Album
These are some questions to ask your photographer about your album and printing:
Can we see a full wedding gallery?
You'll want to ask to see a full wedding gallery to get a sense of their style and get sneak peeks of what the photographer has shot previously. Don't settle for just one single wedding gallery—compare many to see what you can expect!
Is album making a service you offer?
If they say "yes," ask to see a few picture albums. Ask if you can pick your own photos or if a photographer will design the album for you.
How much does an album costs?
The memories in an album go beyond the pictures. Making an album comes in several formats: some look like scrapbooks, some like coffee table books. Select your format together with your photographer.
Will you give high-resolution images?
Most photographers will send you both high-resolution and web images, but you should still discuss this with them to be sure.
Do you give out raw images? Do you charge for it if so?
Raw images aren't given away for free for a reason. Often, people request raw images and edit them unprofessionally, so some clients think the photographer edited them. There's no way they want to ruin their brand.
Can you give us unwater-marked images?
An event is like a photographer's portfolio. Watermarks are put in photos so people can see who took them. Some photographers may give you high-resolution unwatermarked photos, and some may not.
Logistics
Here is a list of logistic-related questions to ask your wedding photographer:
What equipment do you carry? Is there backup equipment, too?
Start by asking what brand they use. Among the known brands are Canon, Nikon, Sony, etc. Also, ask whether their cameras are professional grade or consumer grade. Don't forget to ask about backup equipment in case something goes wrong.
Do you plan to share our wedding pictures on social media or on your website?
Social media won't be a problem if you're comfortable with it. If you want this kept private, let your photographer know.
What if I don't want my pictures posted online? Do you have an NDA?
Ask your photographer about this before hiring them. Taking photos is part of their advertising strategy. There may be a fee for not posting your snaps on social media/websites.
How are you going to dress for our event?
Your photographer should look as good as his photos on your big day. For blending into backgrounds, some use black or other dark colors.
Do you offer liability insurance?
In public places, you should hire a photographer with liability insurance.
What's your return/cancellation policy?
A wedding photographer is expensive, so it's important to discuss their cancellation and refund policies in case you need to reschedule.
Do you provide an agreement?
A photographer's contract details the time they will be at the event, the fees that have been discussed, the refund policy, the deposit, and the quality of the photos. It's best to ask questions before signing the contract.
What happens if you get sick? Do you have anyone as your backup?
Last-minute situations can happen at any time. They should be able to find you a backup photographer if they get sick or run into an emergency.
Don't ask these questions
We get it. Getting married is super thrilling, and you want to make sure you have everything under control. We love that you're asking, but here are a few things you should definitely NOT ask a photographer:
"Will I be able to see my face when we take pictures?" (You're probably going to look fine.)
"Will I look like me in pictures?" (To everyone else—yes.)
"Why are you charging me so much?"
"Why is your assistant wearing a white T-shirt and jeans?"
"Will you be able to make me look nice?" (You're already pretty awesome.)
How to find a professional wedding photographer?
Finding the perfect photographer can be hard and extra work for just one person, so here's what we recommend:
Ask five or six friends who have recently had their weddings if they'd recommend their photographer. You'll get some good insight into what works for them (and what doesn't) without having to ask them directly.
Then, look into the photographers' reviews on Wedding Wire or Google profiles. If those reviews aren't helpful, try asking more people until you find a photographer whose style fits with yours.
If all else fails, and you still don't know who to hire as your wedding photographer—or just want someone to bounce ideas off of—consider hiring a wedding planner! A planner can save you time and money during the planning and make sure everything runs smoothly during the big day.
Things to Keep in Mind
You shouldn't ask your wedding photographer, as it could make them feel uncomfortable or even jeopardize the quality of their work.
Avoid making demands about specific shots you want, as this takes away from their creative freedom.
Don't ask your photographer to break the law or put themselves in danger for the perfect shot. For example, never ask them to trespass on private property or to climb onto dangerous ledges.
If you ask for too many pictures, they'll miss the important moments.
Don't ask for discounts after booking – they're being paid for their experience and expertise, so respect their prices.
Any specific requests you might have for the photos, such as a specific filter or treatment, notify the photographer in advance.
Bottom line
The questions you ask your wedding photographer can make or break your experience. If you're looking for an elopement, ask them how they'll handle it. If you want a day-of-the-week shotlist, ask them when it's best for you to schedule it.
In the end, you shouldn't feel like a drone asking these wedding photographer questions. Most photographers will be happy to answer them. However, if they're short on answers, or you feel like they're not giving you a straightforward response, think seriously about hiring another photographer for your special day. There's no reason to hire an amateur for one of the most important days of your life.