Rose gold is the new gold. As the hues of gold and metals have become more varied in jewelry, they are no longer exclusively ornamental. Throughout the makeup industry, rose gold is everywhere, from hair color shades to lip liners to gloss shades to eyeshadow palettes. Rose gold eyeshadow looks are especially popular.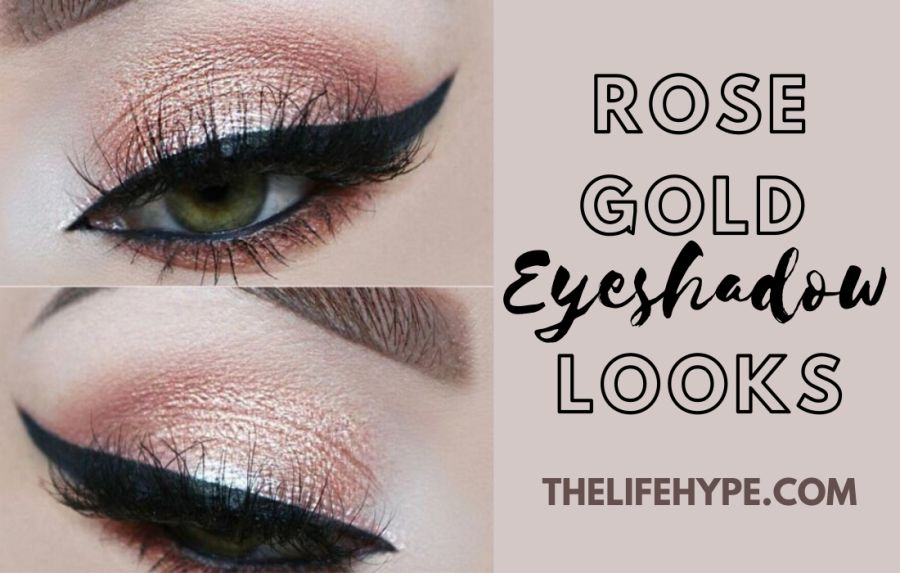 Rose gold proudly stands out from the rest of this season's makeup trends as the shade that blends like magic with any skin tone. 8 out of 10 women are covered with some of the other rose gold shades on their faces. This shade's warmth is its unique selling point, as it makes the whole appearance extremely versatile and still grounded. One can flaunt this tint on a casual day and even on an eventful one.
In summer, girls tend to avoid heavy makeup and turn to more natural and dewy tones to get a natural yet attractive look, especially for their eyes. Doing your eyes can make a huge difference in your facial appearance. Adding nudes and neutrals has been in vogue for a long time; however, ladies are now experimenting with rose gold eye shadows to create different looks, and all of them are turning out nothing less than gorgeous!
To help you and get your look ready, here are ten rose gold eyeshadow looks we cannot stop swooning over. Once you're done, even you won't be able to stop.
#1 Cut Crease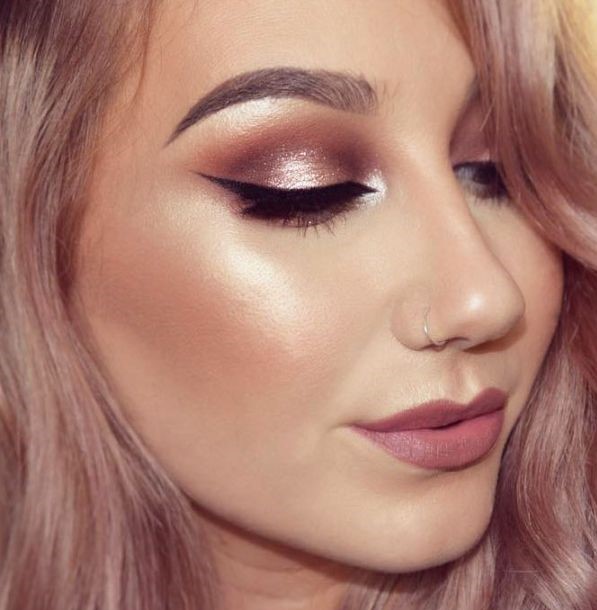 These two trends are the hottest looks in fashion right now: cut creases and rose gold. All you have to do is define your eyes' crease by cutting across involving rose gold shade along with a darker eyeshadow and gently blending it. We recommend using a light eye shadow all over your lid along with the tint of rose gold to highlight the appearance.
#2 Winged Liner Rose Gold Eyeshadow Look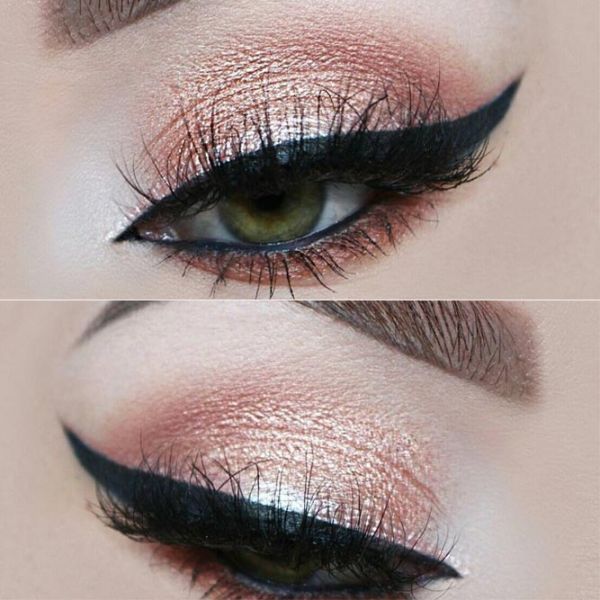 You can never go wrong with a winged eyeliner in a makeup look. Rose gold shades go beautifully with all kinds of complexion because it's a great warm and cool combination. To create this look, conceal your eyelids before applying the generous amount of rose gold shadow and finish it off with a flawless black wing liner. The simple yet striking look is guaranteed to help you stand out in an event.
#3 Basic shimmer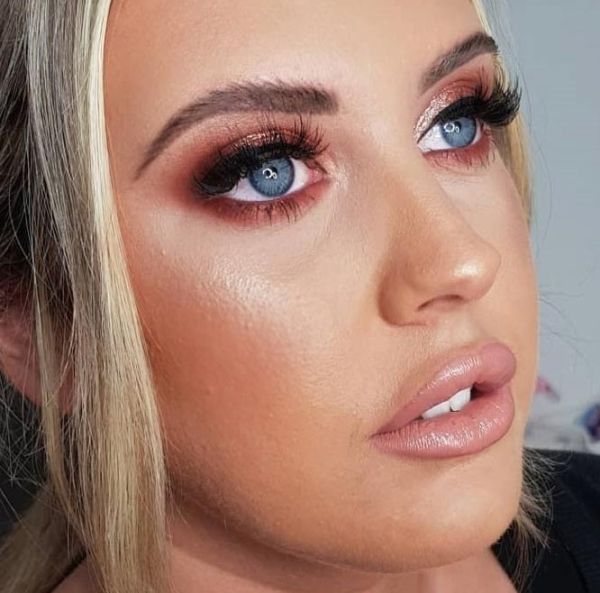 Rose gold has its own charm. A little highlighter and shimmer complement your face like nothing else. To create this look, start with blending the rose gold eyeshadow along with a darker tone. Once you've achieved the desired tone, add more shimmer to the center of the eyelids and the inner corner of your eyes, topping it up with a thick liner. This simple step of adding an extra highlight can make your eyes look bigger.
#4 Rose chrome Rose Gold Eyeshadow Look
Why restrict rose gold just to the lids? Go all out and keep the eye shadow as the center of attraction of your makeup look. Start by concealing the eye area and adding a dark shade of rose gold to your lids. To create a chromic and a dewy look, apply the rose gold shadow in your water line and smudge it along. Ditch the kohl and opt for a thin liner and extra mascara. Since your eyes are going to do all the talking, keep the lip shades extremely subtle.
#5 Matte nude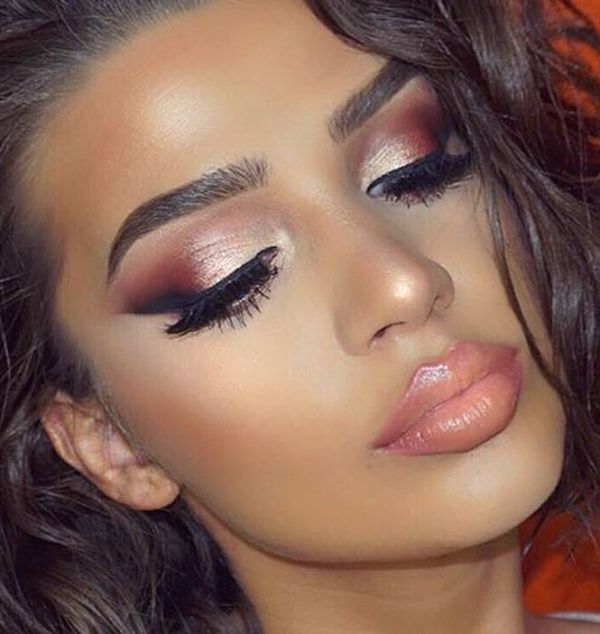 To make your eyes seem deeper and darker, ditch the gloss and pick the matte rose gold shadow for your eyelids and as you move the outer portion of the lids, smear the darker shade of rose gold to create a subtle Smokey tint and top it up with a liner. Mattes keep the look casual and not too dressy. Make sure you do your lips in even lighter shades of mauve or nude to complement your eyes.
#6 Smokey Rose Gold Eyeshadow Looks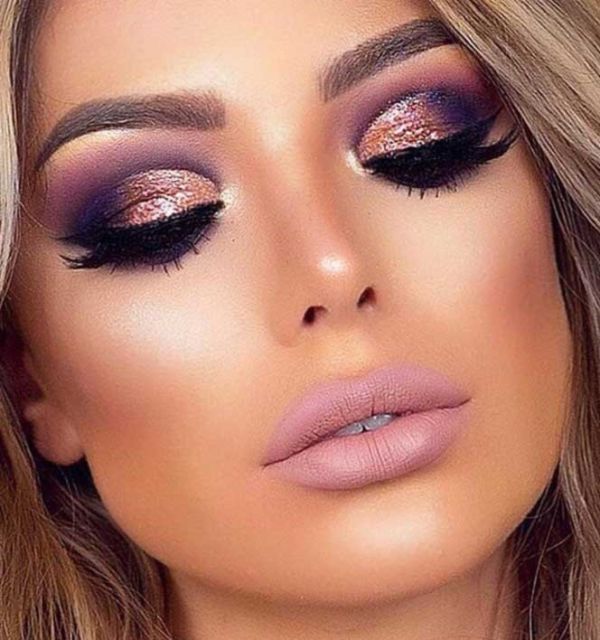 Party nights and special occasions are more fun with smokey eyes. It brings a lot of drama to your eyes and draws all the attention. To create this look, pair up the bold dark colors like dark purple or violet and rose gold shimmer eye shadow with a thick wing eyeliner. Since all the focus will be on your eyes, keep your lips nude matt or just with natural color, and you will be all set to dazzle.
#7 Natural Hues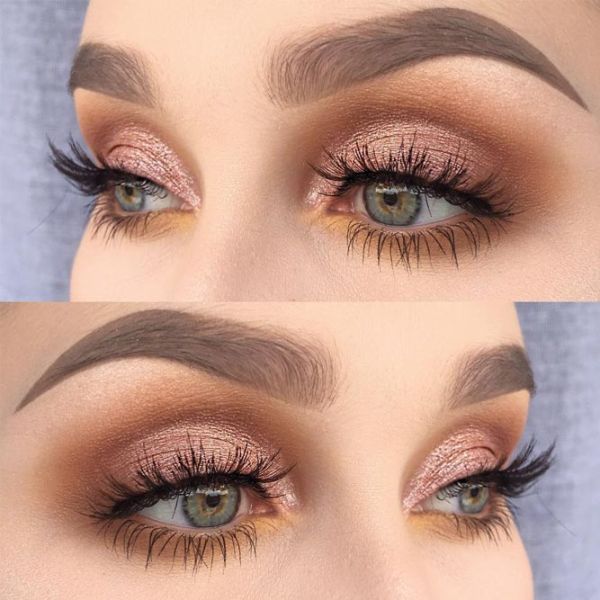 Natural hues are timeless and pretty. This is a perfect everyday look for work who want to look presentable without going overboard with their makeup. Use a rose gold eye shadow over a dusky caramel shadow on the outer crease, and add minimal mascara to complete the look. For a crisp and minimal look, make sure your eyebrows are done perfectly.
#8 Ditch the blacks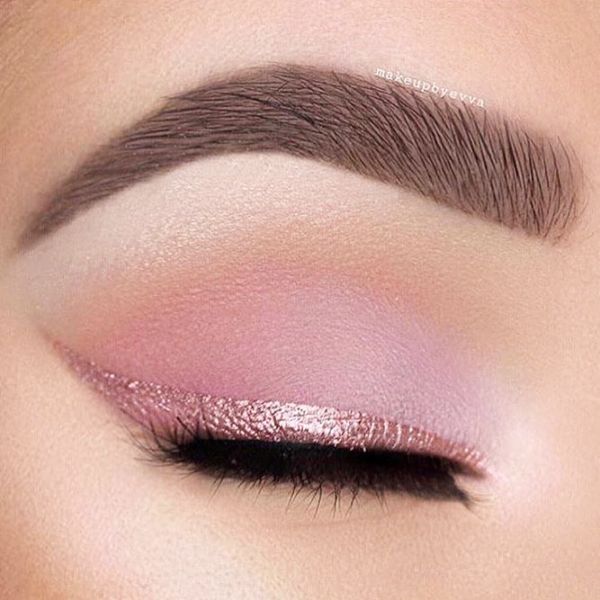 Ever thought of a rose gold eyeliner? Yes, it does exist. You don't always have to go with the classic back liner. To create a very subtle warm eye look, pick a light rose gold pin tinted eye shadow and pair it up with a crisp rose gold shimmer liner. This look is so pretty for a day look that once you've applied it, there's no going back to your mainstream black ones.
#9 Natural Crème
When you don't want to focus solely on your eyes, go ahead with the mixed tone of rose gold and dark glitter mauve and complete the same with a very thin liner and bright pink lips. Make sure you add a tint of brown to your eyes to create an alluring effect on your eyes.
#10 Pink mascaraed Rose Gold Eyeshadow Look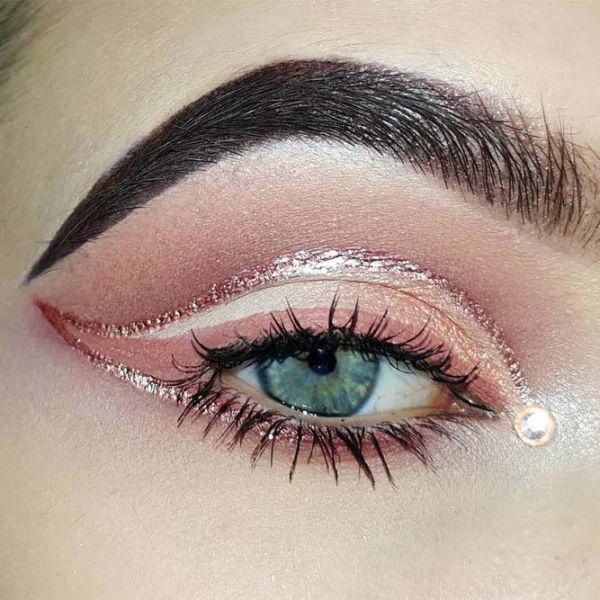 We absolutely love this dramatic rose gold eye shadow look. This look will require a look of concealer, mascara, and three different tones of rose gold eye shadow, and a rose gold liner as well. All you have to do is create an outline of a wing liner with a rose gold liner, fill the space with cream-based shade on the first line, and mauve rose gold shade on the second line. Put on some mascara and extend your shadow all the way to the waterline.
These gorgeous rose gold eyeshadow looks are sure to inspire you. Make sure you tell your girlfriends about it. 🙂