Are you looking for Sudha Murthy quotes that will motivate you to achieve something big in life? You are at the right place. Inspiration for the youth, Sudha Murthy is a name famous in various fields. She is an author, philanthropist, engineering teacher, and the chairperson of Infosys Foundation.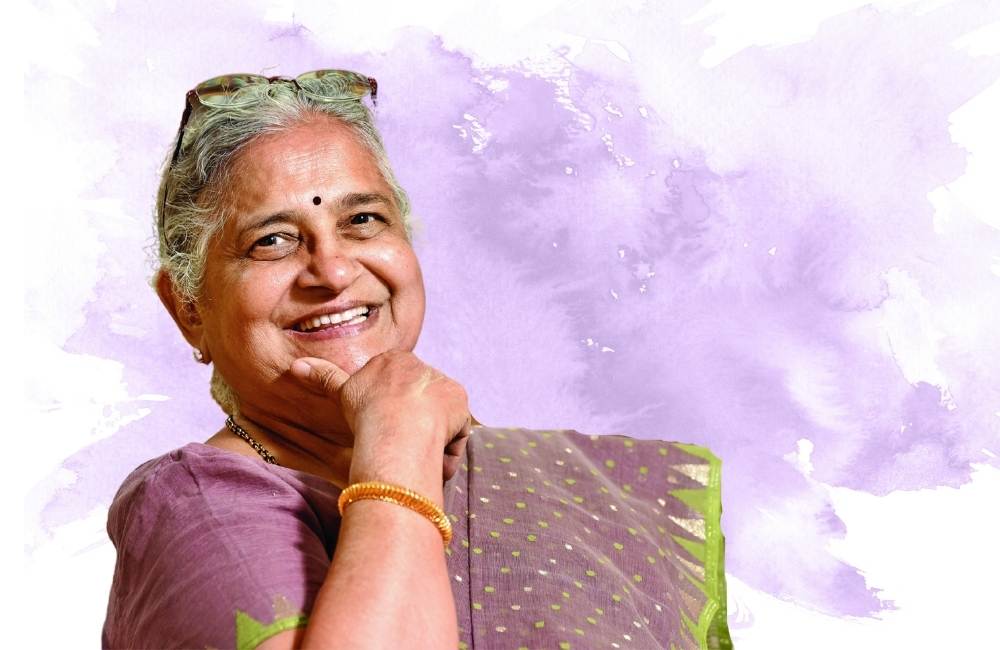 Who is Sudha Murthy?
Sudha Murthy was born on 19th August 1915 in Shiggaon, Karnataka. She became the first female engineer hired at TATA Engineering and Locomotive Company (TELCO). Sudha Murthy is the chairperson of Infosys Foundation and the wife of Narayana Murthy. She is also a member of the public healthcare initiative of the Gates Foundation.
Sudha Murthy is a philanthropist who has contributed to setting up several orphanages and supported a movement of providing the government schools of Karnataka with computers and library facilities.
She was a computer teacher and won the 'Best Teacher Award' in 1995 by the Rotary Club of Bengaluru. She has contributed to building the 'Murthy Classical Library of India' at Harvard University. She has also written works of literature in English and Kannada.
Famous Quotes by Sudha Murthy
Sudha Murthy has been an inspiration to many throughout her life and continues to be one. She is one of the most humble people you would come across and holds immense knowledge.
Here are some famous Sudha Murthy quotes:
A fire can not be extinguished with another fire. It is only water that can make a difference.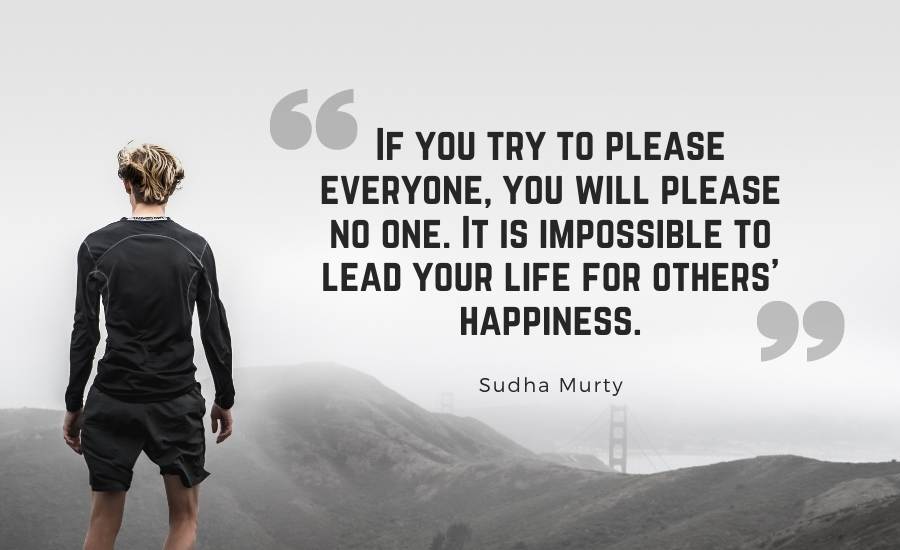 Life is an exam where the syllabus is unknown and question papers are not set. Not are there model answer papers.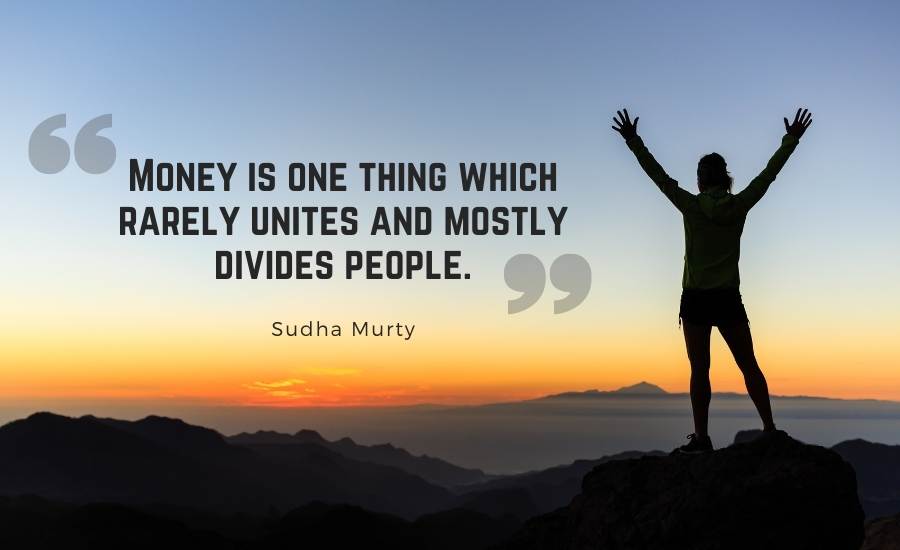 Rich or poor, it is good to do our own work and be fit.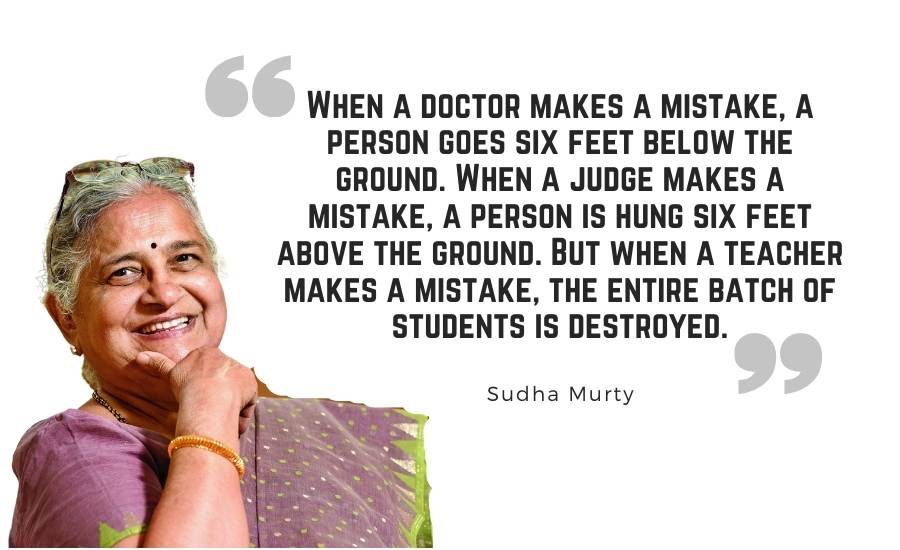 Usually, people who are sensitive need more time to understand the real world.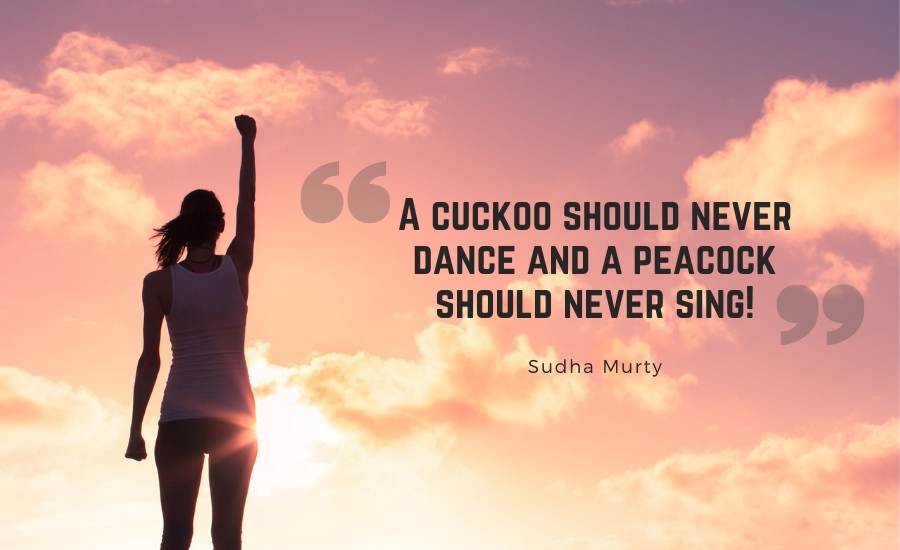 I realized then the only diseases and not honesty and integrity are passed down to the next generation through genes.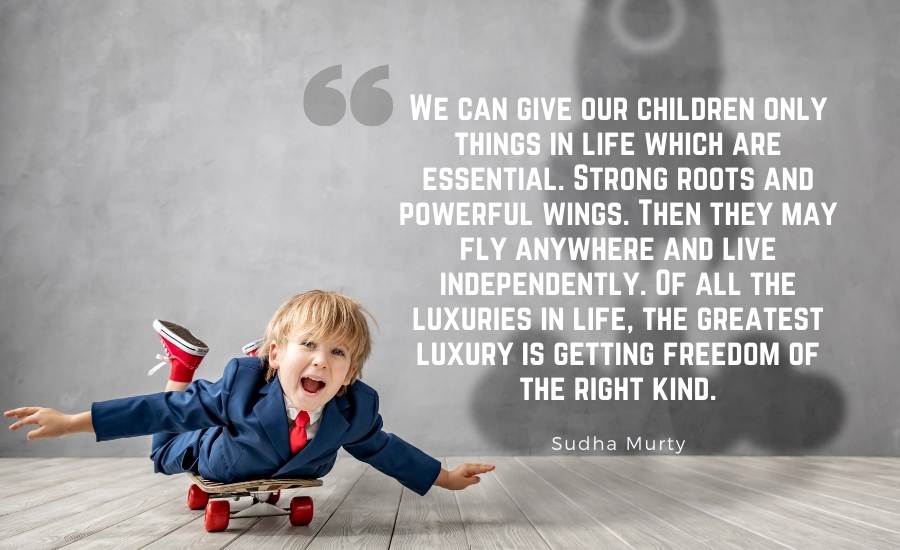 'Lady candidates need not apply' I read it and was very upset. For the first time in life I was up against gender discrimination.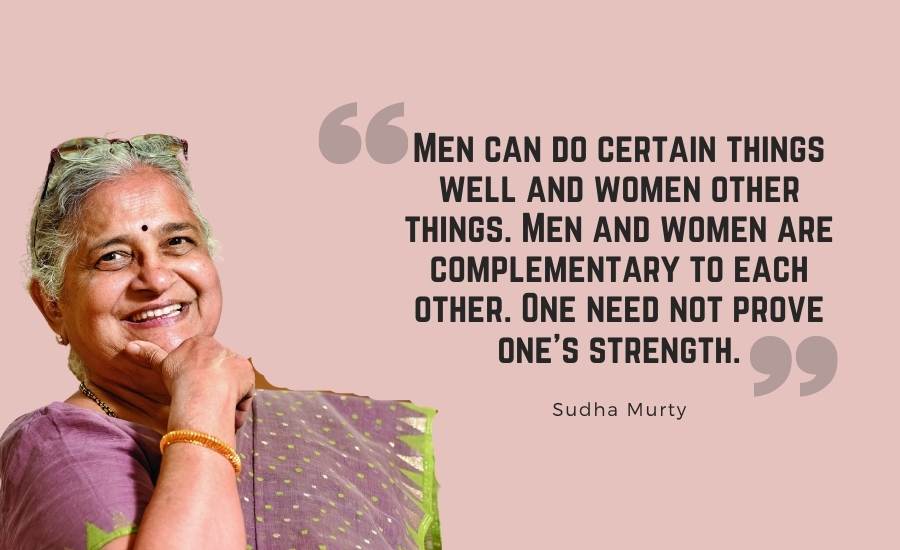 Money should come slowly over a period of time. Then only does one respect it. Whether it's a woman or a man, earning too much money in too short a period is as bad as excess liquor.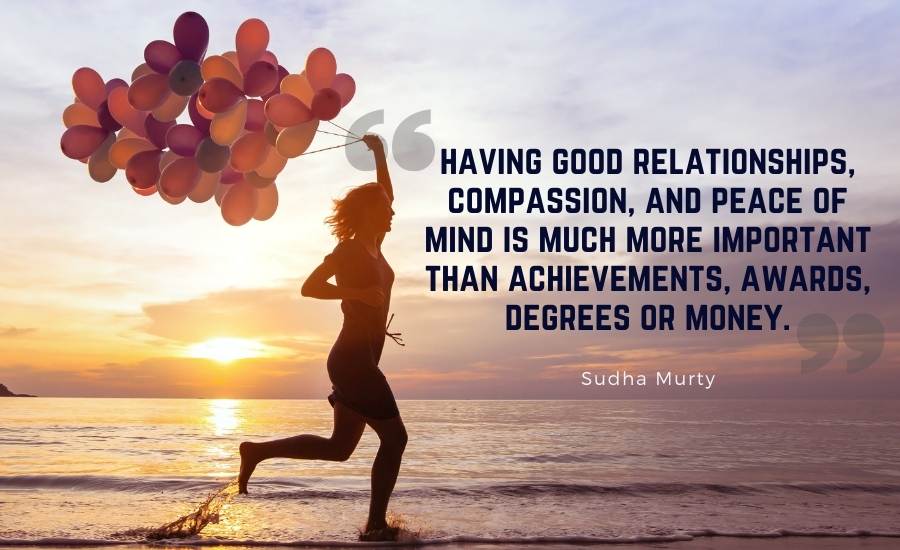 Class does not mean huge possession of money.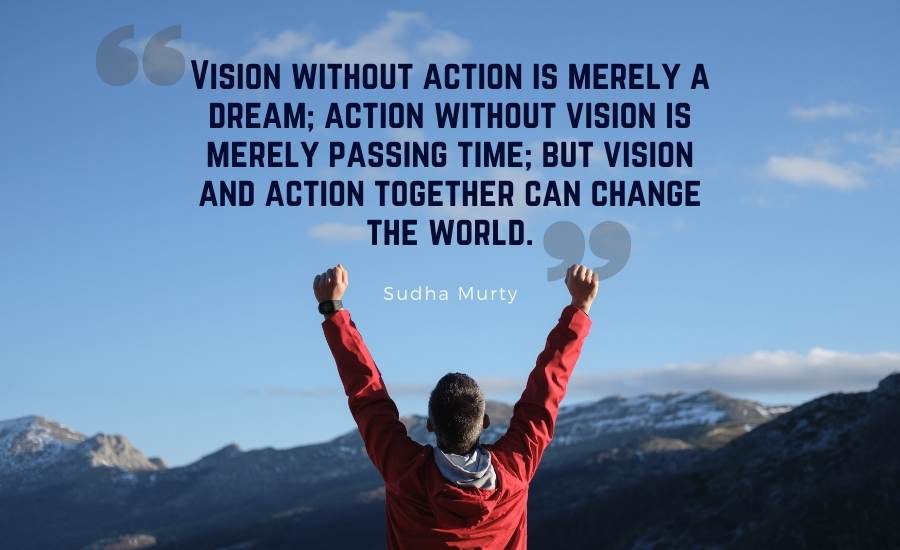 Many a times there is no perfect solution for a given problem. No solution is a solution. Everything depends upon how you look at it. We make judgments on others depending upon what we think of them.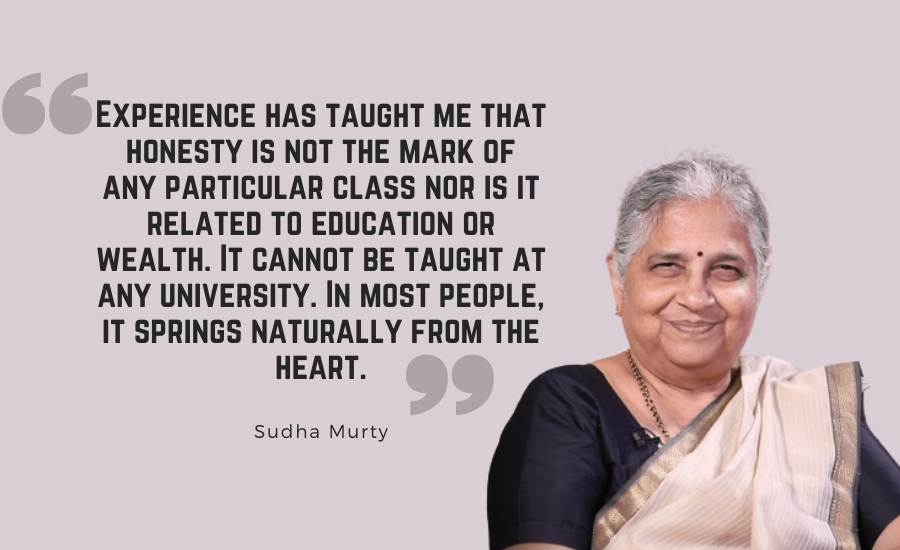 You should not be so sensitive. Sensitive people suffer a lot in life.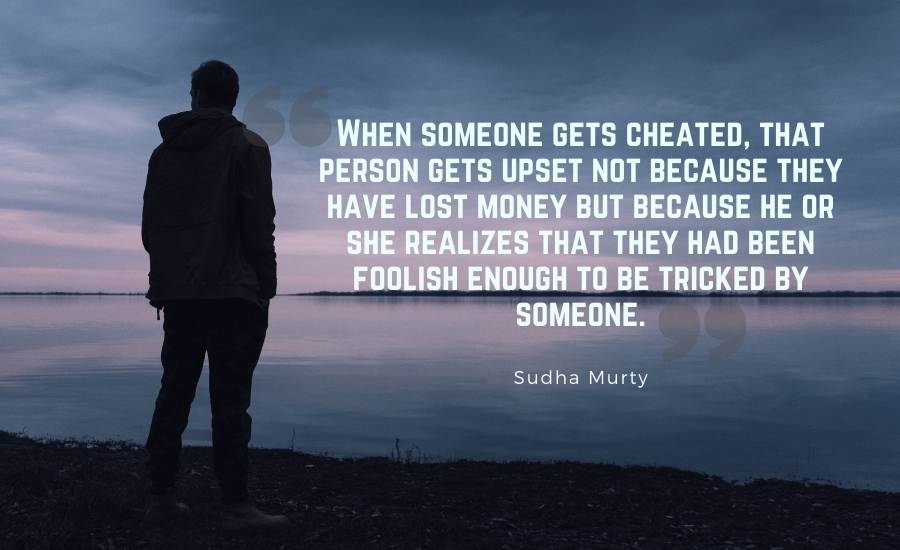 Most people do not have the same value when they get money. Money changes a person completely. Very few people can withstand the lure of money and they are difficult to find.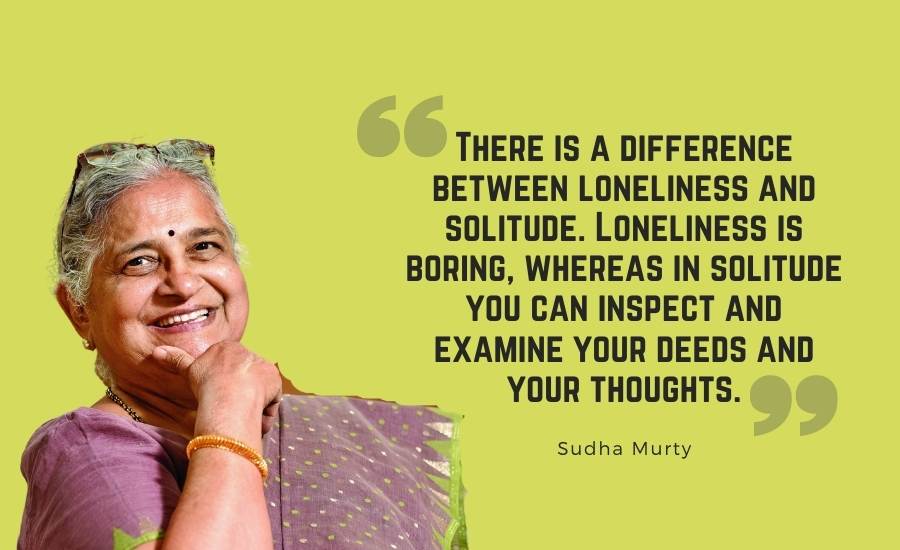 I knew then that to come up in life you require talent, hard work, aggression, and connections.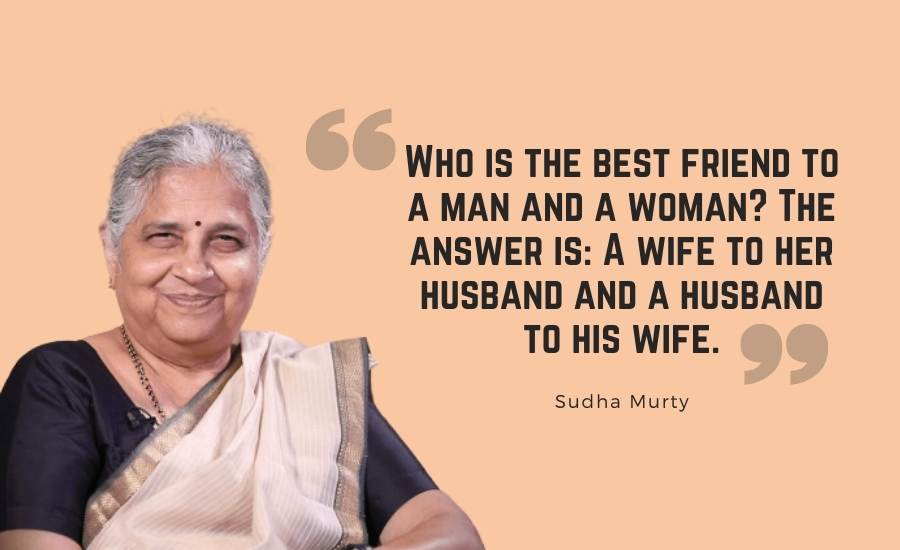 It is better to be worn out than to be rusted.
The Inspiring Story of Sudha Murthy
Sudha Murthy belongs to a middle-class family. Her father was a doctor and professor, whereas her mother was a school teacher. Later, Sudha pursued Engineering from BVB College of Engineering and Technology in 1972. She did her M.E in Computer Science from Indian Institute Science. She was less likely to pursue Engineering, given her family was in the education line, but Sudha Murthy is known to do something different than others; hence she has reached such heights. She received gold medals in both her degree course BE and ME from the chief minister of Karnataka of that time.
She was bullied during college
During her college days, she had been bullied by her batchmates. Her marks were announced at the last before the results were out. She never missed the class, knowing that her batchmates wouldn't help her, but she was determined and focused on achieving her goals; hence all the harassment did not bother her. She stated, "it doesn't matter how intelligent you are, how well off you are, or how well-connected you are. Your perseverance, your courage, if you keep that intact, only such people will always be successful."
A talented engineer
Sudha Murty was appointed at India's largest auto manufacturer, TELCO, and she was the first female engineer to be hired in the company. She came across the job vacancy during her college days when her eyes fell on the notice by the company. She decided to apply for the post because the notice said: "Lady candidate need not apply." She was upset to see gender discrimination and decided to send a letter to the head of the JRD Tata company, applying for the post. She said that she was surprised to see that a company like TELCO was discriminating based on gender. In 10 days, she got a reply from JRD Tata to appear for the interview, making her a female employee.
A doting wife
When it comes to Sudha Murthy, it is obvious that we talk about N.R. Narayana Murthy. They met through a mutual friend, who is the Global Head of Wipro. The love story of the two is adorable and old school. During the time the two pursued each other, Sudha maintained a diary where she wrote that Narayana owed her Rs. 6000, and when she got married, she tore the paper off. Finally, in 1978, both of them tied-knot.
An inspiring boss lady
As we are aware, Sudha Murthy is now the chairperson of Infosys Foundation. She has invested her time and sacrificed a lot for the company, just like a mother does for her child. Even though she is an ambitious woman, she does not ignore the responsibility of her family. There was a time when Sudha felt like a single parent when Narayana Murthy was diligently working to achieve his goal and was not aware of his children's lives. She called this period 'Tapasya.' That is how they both built up Infosys.
Humanitarian causes
Apart from being busy with the company, she is also a philanthropist. She is a patriot at heart and hence believes in making India better by spreading literacy. She quoted, "Donating 100 crore isn't more valuable than teaching 100 children." It was her daughter who inspired her to began doing social work. Her daughter stated that if you are not doing any social work, you do not have the right to talk about social work. Being a victim of gender discrimination herself, she strives for woman empowerment. She helps those living in poor conditions and provides them with the facilities to live a better life.
An eminent writer
Sudha started writing under the guidance of her mother at a very young age.  It was not until she turned 50 that she switched from her native language to English to write her literary works. Her first book was dedicated to her husband, for which she traveled to the US for its publishing. Her works are now translated from Kannada to English and vice versa. Some of her works are also now a script of Indian TV series. She has written travelogues, novels, children's books, etc.
An all-rounder
Not many people know about Sudha Murthy, but she had made her debut in movies with a Marathi movie based on her novel Rhun, namely Pitruroon. Not only acting in a movie, but she loves watching them to the extent that she says that if she weren't an Engineer, she would have pursued being a film journalist.
She has received prestigious awards for her work as a philanthropist and her works in literature. She received the Padma Shri award for her contribution to the economy and social welfare and the RK Narayan and Raj Laxmi award for her literary works.
Sudha Murthy has been an inspiration and continues to be one as she prefers to choose not to be a part of a herd. She had a vision, and she worked for it making her reach higher goals in life. She not only dreamt big but also was determined to reach her goals. She has always been determined and worked hard without complaining and wearing a smile on her face. She is the perfect example of a woman who can balance her work and her family equally, so we hope that these Sudha Murty quotes gave you the push you needed.
More Quotes