The medicinal benefits of tulsi are known for hundreds of years. The plant is abundant in antioxidants, which is why our ancestors believed it to be a holy herb. Tulsi leaf benefits are well-known for years. However, the entire plant is beneficial—from leaves to seeds.
Throughout this article, you'll learn about the health benefits of tulsi green tea and discover the best products on the market.
#1 Promotes weight loss
Like any other green tea, tulsi green tea also boosts your metabolism, thereby accelerating the fat-burning process. The catechins it contains have been shown to lower cholesterol levels. People keen on losing weight in a healthy and tasty way can benefit from tulsi tea. Although this tea can give you a slim and lean body, it alone cannot do it. For a model-like figure, a proper diet and regular exercise are also essential.
#2 Minimizes the Risk Of Cancer
The antioxidants in tulsi green tea prevent or slow down oxidation-induced damage to tissues and cells. Catechins, a powerful antioxidant, fights free radicals, slow down aging, and prevents DNA damage. Tulsi tea's benefits include anti-inflammatory and immune-boosting properties that reduce cancer risk in its early stages, especially oral, breast, and cervical cancer. Eventually, these catechins cause the cancer cells to die by preventing them from multiplying. In turn, they provide nourishment to cells that have been infected with cancer. Additionally, they prevent new blood cells from forming. Daily consumption of tulsi green tea can also reduce the effects of radiation therapy or prolonged sun exposure on cells and tissues.
#3 Improves Skin and Hair Health
The tea detoxifies and cleanses your body from within, so you feel lighter and fresher every day. As a nutritional powerhouse, it is the Holy Grail your body craves. You can improve your skin's quality and texture by consuming it regularly. Benefits of tulsi tea include treating eczema and ringworm, as well as reducing inflammation and itching. Carvacrol and ursolic acid, which have anti-microbial properties, are found to be effective in reducing and preventing acne. Regular consumption reduces hair fall and scalp itching and contains polyphenols, which delay aging signs.
#4 Reduces Stress
A natural adaptogen, Tulsi green tea regulates cortisol secretion, which is the stress hormone. You begin to feel frustrated and over-stressed when your body's cortisol levels rise.
Taking tulsi tea regularly may help reduce your cortisol levels, so you feel light throughout the day. Among the other benefits is the ability to help the body cope with stress and normalize its functions. Besides regulating your blood flow, this tea also soothes your nervous system, so you're less stressed. People with anxiety benefit greatly from this tea, as studies have shown.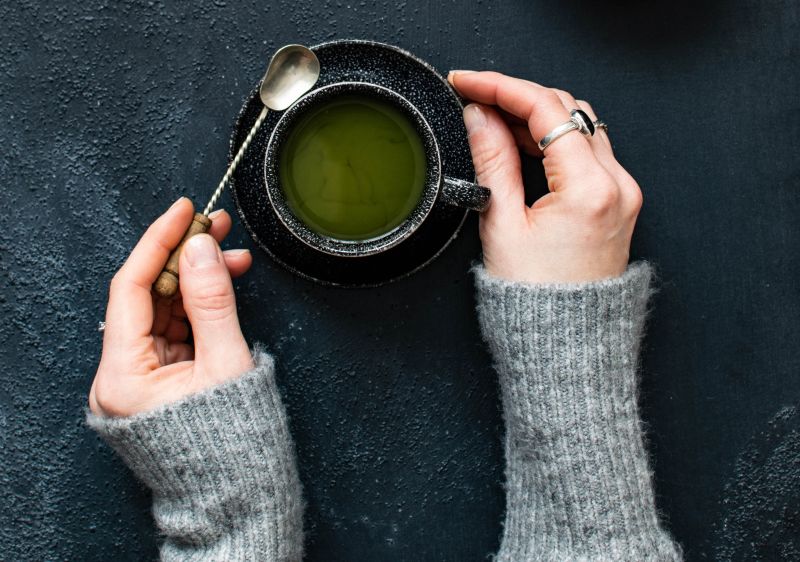 #5 Prevents Kidney Stones
Holy Basil is an excellent diuretic and detoxifier. It helps control the uric acid level in your body, so you don't have to worry about kidney stones. A cup of tulsi green tea can provide relief from kidney stone pain due to the presence of several essential oils. Combining this tea with a little bit of honey and drinking it regularly will dissolve kidney stones and enable them to pass through the urinary tract.
#6 Prevents Osteoporosis and Arthritis
Tulsi green tea has the ability to counteract cells that decompose bone tissue. Catechins are anti-inflammatory and can be used to alleviate arthritis, osteoporosis, and other joint-related pain. Antioxidants in this tea prevent the degeneration of bones and tissues caused by free radicals. Regular consumption can relieve you of these excruciating conditions.
#7 Cures Cardiovascular Ailments
Tulsi is rich in flavonoids and magnesium, which prevent heart conditions. By reducing blood clots on artery walls, it can prevent the risk of heart attacks. Reducing cholesterol and triglyceride levels is one of its benefits. In turn, magnesium helps boost the endurance level of a human being and enables the blood vessels to function properly. Overall, Holy Basil is essential for maintaining a healthy heart.
#8 Promotes Oral and Dental Health
Using tulsi is a great way to improve the health of your mouth, teeth, and gums, etc. Tulsi tea leaf aids in curbing unhealthy breath, pyorrhea (inflammation of the gums), mouth ulcers, etc. It prevents plaque and gingivitis, thereby inhibiting the growth of dental pathogens and promoting a healthy mouth and teeth. Most dental diseases can be treated by gargling with tulsi tea leaves or with basil extract.
#9 Cures Cough, Cold, and Sore Throat
This is a no-brainer. It is probably the most well-known benefit of tulsi tea. In Ayurvedic medicine, tulsi leaves are boiled with cardamom powder and honey to create a concoction. By drinking this, you'll prevent and boost immunity against dengue and malaria. Gargling with tulsi leaves can also relieve a sore throat. In most Ayurvedic cough syrups, this ingredient is essential. When combined with ginger and honey, tulsi green tea can be used to treat influenza and the common cold.
5 Best Tulsi Green Tea – Editor Picks
Having learned about the benefits of tulsi green tea, let us now look at where you can find this wonderful beverage. Our selection of the top tulsi green tea on Amazon is tailored to your convenience.
#1 Organic India Tulsi Green Tea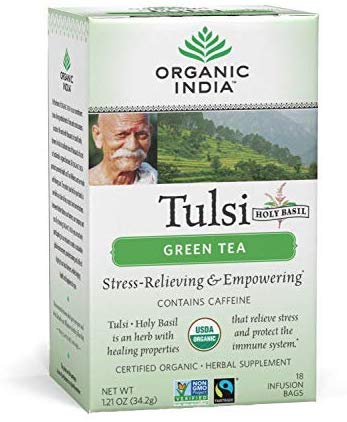 The green tea and tulsi combination not only aids in weight loss but also reduces stress. It contains antioxidants, which are great for fighting free radicals. You will feel more energetic and able to breathe more easily. Your senses will be stimulated and revitalized by drinking this tea regularly, which will result in a boosted metabolism. If you want to lose weight in a healthy and tasty way, this is the drink for you.
#2 Girnar Tulsi Green Tea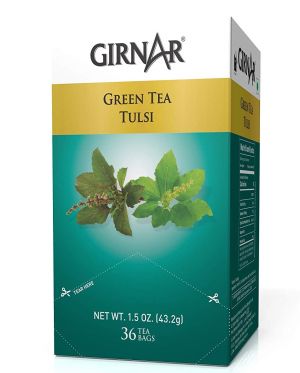 This green tea is available in tea bags, which is the best part. As a result, you won't need a spoon to measure the amount, and you can drink it whenever and wherever you like. The tea promotes fat burning by increasing metabolism. Tulsi green tea is high in antioxidants and helps prevent aging. It modulates the immune system of the body. As well as de-stressing, it soothes and calms your whole body.
#3 24 Mantra Organic Tulsi Green Tea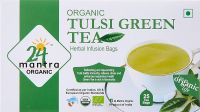 As the name suggests, organic means that it is free from any chemicals and preservatives. With this tea, you're one step closer to living in an organic and healthy environment without polluting your body. USDA certification is a factor alone to consider when buying this product. It is loaded with antioxidants and other healthy nutrients, which prevent aging by fighting free radicals. With 100% purity of nature, it provides you with good health.
#4
Teamonk Yakuso Tulsi Green Tea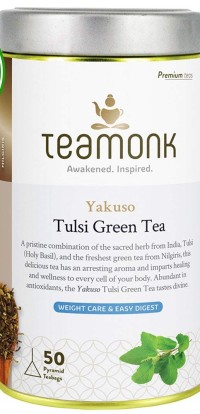 Antioxidants in this tea provide an incredible amount of health benefits. The tea is completely hand-made and the perfect blend of freshly picked and freshly rolled leaves. It is crafted with the finest Nilgiri long leaves tea, and sun-dried tulsi leaves to provide you with maximum benefits. Its aromatic flavor will reduce stress and calm and soothe your senses. The energizing drink will revitalize your senses, providing you with the best health.
#5
VAHDAM Tulsi Basil Green Tea Loose Leaf

The tea is 100% organic and contains no artificial flavors or preservatives. It is the best tea for people with anxiety and stress. Your cortisol levels will be regulated, as a result, keeping you calm and relaxed. It has a strong aromatic flavor that soothes your senses. Fresh basil leaves are blended with pure green tea leaves. In 2019, Oprah Winfrey named this tea one of her favorites. It is enough to know that herbs and leaves selected freshly for this tea are packed with goodness.
Final word
Taking tulsi green tea regularly will benefit your health in a variety of ways. The perfect art of brewing this tea is never to boil the leaves as excess heat can destroy all the leaves' goodness, and it will leave you with nothing but a simple cup of tea. Therefore, read the directions and enjoy a perfect cup of fresh brewed, energizing tea.