Tulsi is one age-old plant which is considered sacred and is blessed with incredible therapeutic powers. It is rich in antioxidants, and it is for this reason that our ancestors considered this plant to be the Holy Basil. Much is said and written about the benefits of Tulsi leaves for years, and the entire plant is beneficial from leaves to seeds. But in this article, we are going to learn all about the benefits of tulsi green tea.
How wonderful is it going to be when you can avail the goodness of fresh herbs along with the benefits of weight loss all in one?
In this article, we are going to see some of the benefits of tulsi green tea and also see some of the best products available online. So without much further ado, let's begin.
#1 Promotes weight loss
Just like any other green tea, tulsi green tea also boosts your metabolism, thereby accelerating the fat burning process. It contains catechins, which are very popular antioxidants that promote the break down of lipids. People who are keen on losing weight in a healthy and tasty way can avail of this tulsi tea benefit. However, drinking this tea alone cannot give you the perfect skinny and lean body as you desire. Proper diet and regular exercise are also essential if you want to achieve that model-like figure.
#2 Minimizes The Risk Of Cancer
Tulsi green tea contains antioxidants that stop or slow down tissue and cell damage due to oxidation. It contains catechins, which is an antioxidant, fights free radicals, slows down aging, and DNA damage. Anti-inflammatory and immunomodulatory are the most popular tulsi tea benefits which reduce the risk of cancer in its early stages, especially oral, breast, and cervical cancer. These catechins prevent the cancer cells from multiplying, thereby causing them to die eventually. They work directly on cancer infected cells, thereby providing sustenance to cancer inhibited cells. They also inhibit new blood cells from developing. Consumption of tulsi green tea daily can also provide relief from cells and tissue damage caused by radiation therapy or prolonged exposure to the sun.
#3 Improves Skin and Hair Health
The purifying and detoxifying properties of tulsi green tea cleanse your body from within, thereby making you feel all light and fresh. Loaded with antioxidants and all other valuable nutrients, it is just the Holy Grail that your body needs. Consumption of this tea regularly can provide nourishment to your skin, thereby improving its quality and texture. The tulsi tea benefits range from being effective on skin conditions such as eczema, and ringworms to reducing itchiness and inflammation. It contains carvacrol and ursolic acid, which has anti-microbial properties, and it is found to be very effective in reducing and preventing acne. Drinking this tea regularly reduces hair fall and scalp itchiness and also contains polyphenols which delay the signs of aging.
#4 Reduces Stress
Being an adaptogen, Tulsi green tea regulated the secretion of cortisol, which is the stress hormone. When cortisol increases in your body, you start feeling over-stressed and frustrated. Drinking tulsi tea regularly will normalize your cortisol levels, thereby making you feel light and fresh all day. One of the Tulsi tea benefits is that it enables your body to adapt to stress and thereby normalize the functions of the body. This tea further regulates blood flow, fortifies your system, and soothes your nerves, thereby delivering stress. Studies have shown that this tea is utterly beneficial to people with anxiety.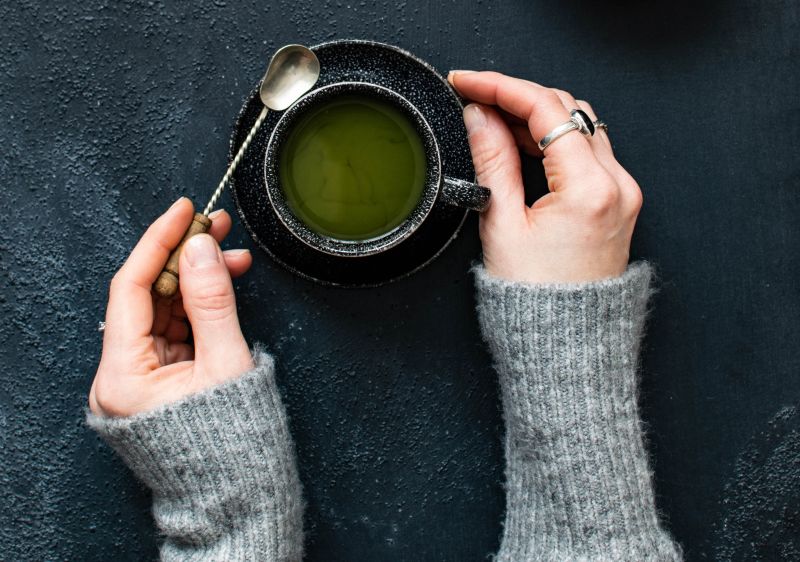 #5 Prevents Kidney Stones
This Holy Basil is a great diuretic and detoxifier. Drinking tulsi green tea daily will regulate the uric acid levels in your body, which is valuable in eliminating the risk of the development of kidney stones. This tulsi green tea has several essential oils which are very beneficial in providing relief to people with kidney stones. Combining this teal with a little bit of honey and drinking it regularly will dissolve kidney stones and will enable them to pass through the urinary tract.
#6 Prevents Osteoporosis and Arthritis
The therapeutic powers of tulsi green tea are responsible for the prevention of cells that decompose bone matter. The catechins present in this tea are anti-inflammatory and are known to relieve pain and inflammation caused due to osteoporosis, arthritis, and other joint-related pain. The antioxidants present in this tea fights free radicals which are responsible for the degeneration of bones and tissues. These conditions can be excruciating, and tulsi has been proven to provide relief with the daily consumption of it.
#7 Cures Cardiovascular Ailments
Tulsi is rich in magnesium and flavonoids, which prevents heart diseases. It reduces the formation of blood clots on the artwork wall, which in then reduces the risk of heart attacks and heart disease. It reduces the levels of bad cholesterol and triglycerides. Magnesium, in turn, helps to boosts the endurance level of a human being and also enables the blood vessels to function properly. All in all, this Holy Basil is vital if you want to maintain a healthy heart.
#8 Promotes Oral and Dental Health
The antimicrobial properties of tulsi will facilitate to improve the health of your mouth, teeth, and gums, etc. Tulsi tea leaf aids in curbing unhealthy breath, pyorrhea (inflammation of the gums), mouth ulcers, etc. Holy basil tea is effective in preventing plaque and gingivitis, thereby fighting against dental pathogens and providing healthy teeth and gums. Gargling with tulsi tea leaf or simply with the basil extract helps treat most dental diseases.
#9 Cures Cough, Cold, and Sore Throat
It is a no-brainer. It is probably the most widely known benefits of tulsi tea. In Ayurvedic medicine, tulsi leaves are boiled with cardamom powder and honey to create a concoction. Drinking this prevents dengue, malaria, etc. and boosts immunity. Gargling with tulsi leaves can also relieve a sore throat. This is an essential element in most Ayurvedic cough syrups. Mixing tulsi green tea with ginger and honey can cure influenza and the common cold.
5 Best Tulsi Green Tea – Editor Picks
Now that we have learned about the benefits of tulsi green tea let us now see where can you avail of this wonderful tea. Keeping your convenience in mind, we have selected some of the best tulsi green tea available on Amazon.
#1 Organic India Tulsi Green Tea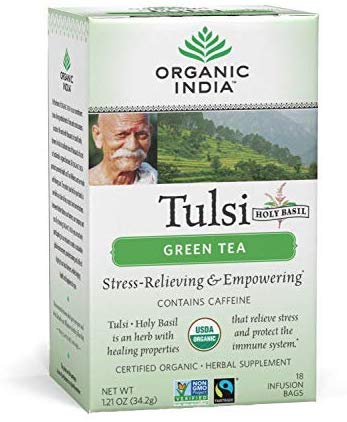 This is an amazing blend of green tea and tulsi, which not only aids you in losing weight but also facilitates in relieving from stress. It contains antioxidants which ha great to fight free radicals. It boosts your stamina and enhances your respiratory functions. Drinking this tea regularly will stimulate and revitalize your senses, which in turn will boost your metabolism. If you want to lose weight in a healthy and tasty way, then this is the right drink for you.
#2 Girnar Tulsi Green Tea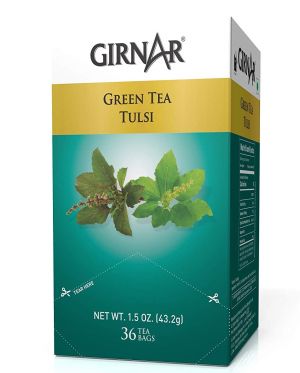 The best part about this green tea is that it is available in teabags. Therefore, you do not have to measure the quantity with spoons, and you can drink this anytime and anywhere at your convenience. This tea increases metabolism, which promotes fat burning. This tulsi green tea is rich in antioxidants, which prevents aging. It acts as an immune modulator for the human body. It helps to de-stress and also soothes and calms your system.
#3 24 Mantra Organic Tulsi Green Tea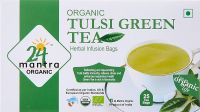 As the name suggests, organic means that it is free from any chemicals and preservatives. This tea takes you one step closer to the healthy and organic environment without polluting your system. This is USDA certified, which ha alone a reason to buy this product. It is loaded with antioxidants and other healthy nutrients, which prevents aging by fighting free radicals. It provides you with good health with 100% purity of nature.
#4
Teamonk Yakuso Tulsi Green Tea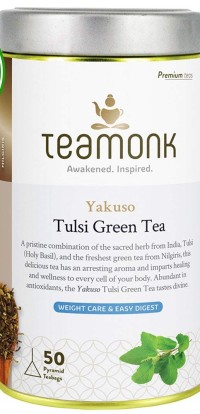 This tea is full of antioxidants, which has a tremendous amount of benefits. This tea is completely hand made and is the perfect blend of fresh-picked and fresh rolled. It is curated with the Nilgiri long leaves tea along with the finest sun-dried tulsi leaves to provide you with the optimum benefits. It has a leading aromatic flavor, which will not only reduce stress but will also calm and soothe your senses. This energizing drink will revitalize your senses, thereby providing you with the best health.
#5
VAHDAM Tulsi Basil Green Tea Loose Leaf

This tea is 100% organic and contains no artificial flavors or preservatives. It is the best tea for people with anxiety and stress. This is going to regulate your cortisol levels, thereby keeping you calm and relaxed. It has a strong aromatic flavor that soothes your senses. It is a blend of pure green tea leaves with fresh basil leaves. This tea made it to the list of Oprah Winfrey's favorite things in 2019. It is enough to know that this tea is packed with the goodness of freshly chosen herbs and leaves.
Conclusion
There are surplus benefits of tulsi green tea, and consuming it regularly can assure you good health. The perfect art of brewing this tea is never to boil the leaves. Excess beat can destroy all the goodness of the leaves, and you will be left with nothing but a simple cup of tea. Therefore read the instructions and enjoy a perfect cup of freshly brewed energizing tea.