Not all dogs love a doggie road trip, and many dogs become quite distressed, anxious, or over-excited when traveling in the car. Lavender has a lovely calming scent and can be used very effectively to soothe an anxious dog.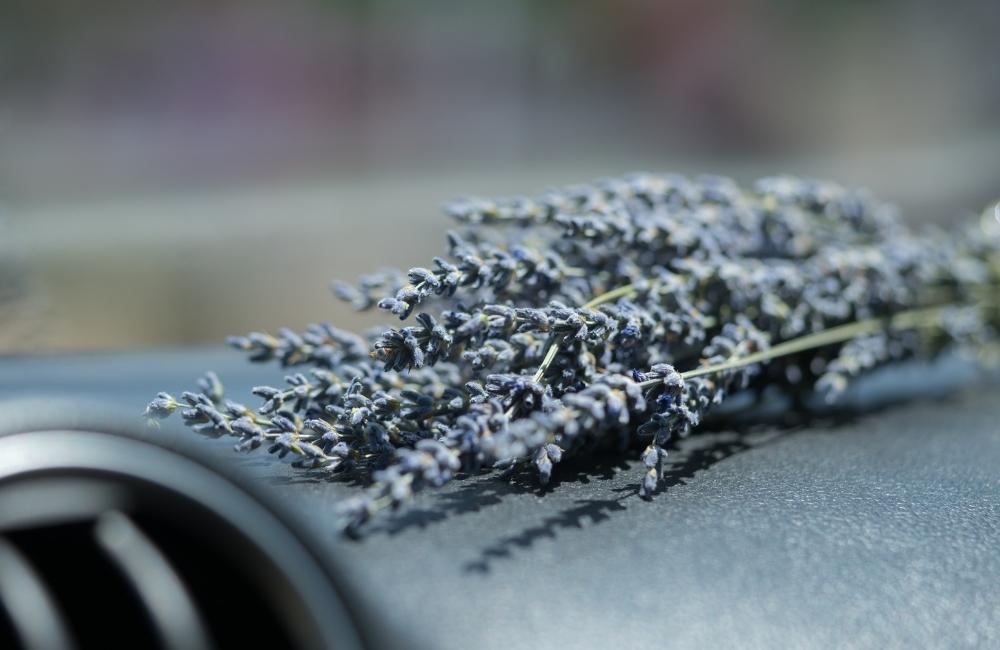 The use of lavender (Lavandula angustifolia) has been attributed to aiding in relaxation, sleep, anxiety, restlessness, depression, and headaches in humans for a very long time. A number of studies on our favorite furry friends have also shown wonderful results when used on them.
A 2006 study conducted in Ireland and published in the Journal of the American Veterinary Medical Association evaluated the effectiveness of lavender odor as a treatment for travel-induced excitement in dogs. The researchers found that lavender scent-exposed dogs were significantly more likely to rest, sit, and less vocal than those who were not exposed to the scent.
The American Journal of Veterinary Research published another study in 2009 that investigated the effect of topical application of undiluted lavender oil on autonomic nerve activity in dogs. The researchers found that when dogs were treated with lavender oil (3.6 drops were applied to the inner pinnae of each ear), their mean heart rate was significantly lower.
We know that lavender is wonderfully relaxing, but…
How does it help our dogs in the car?
We've compiled six simple ways you and your dog can use this brilliant plant to make time spent in the car less stressful and more enjoyable.
#1 Dog collar
Apply 1-2 drops of lavender essential oil directly to your dog's collar, or on a bandana placed around their neck.
#2 Lavender spray
Purchase or make a lavender spray and give the car upholstery a quick spritz to infuse it with a lavender scent.
#3 Car aromatherapy diffuser
You can now purchase some fantastic little aromatherapy diffusers that connect to the USB port in your car (or anywhere else that has a USB port). You just fill the cartridge with oil and it will intermittently disperse a puff of soothing lavender all around the car. Voila! I purchased mine from a health food store for $39.95.
There are a number of lavender-scented car fresheners on the market, however, I don't recommend these, as the fragrance is most likely synthetic and not pure essential oil.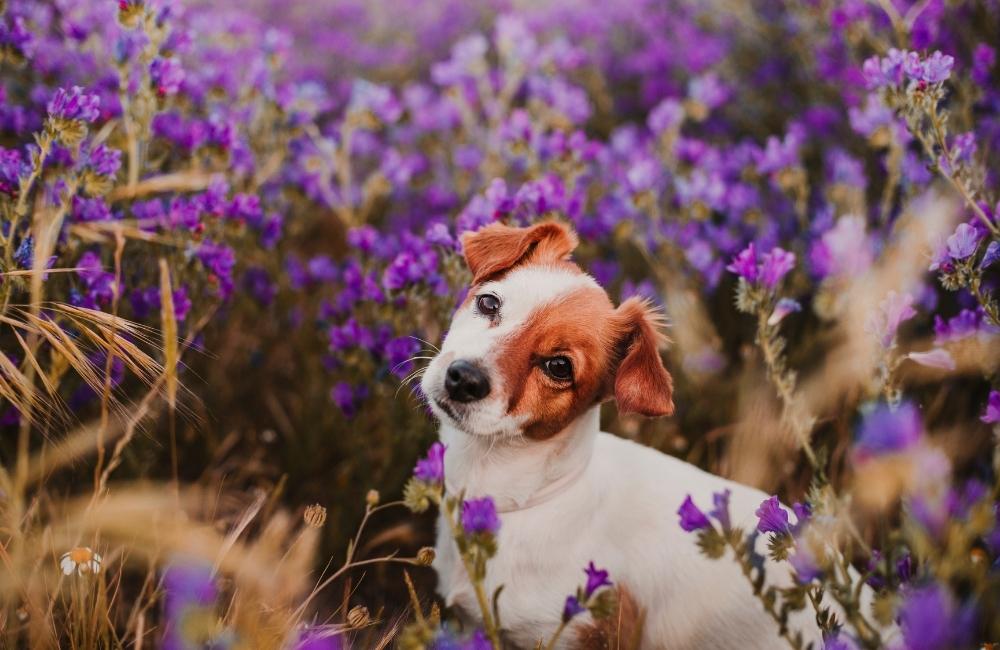 #4 Lavender infused piece of fabric in the car
Put a few drops of lavender essential oil on a handkerchief or piece of fabric and hang it somewhere in the car. If your dog travels in a crate, you can hang the fabric on the crate door.
#5 Apply directly to the dog
The abovementioned study used undiluted oil, HOWEVER, I would recommend diluting the oil at a 1:4 ratio. Add 1-drop lavender to 4 drops carrier oil such as olive oil before applying.
Place a few drops of the diluted oil onto your hands and then massage into the tips of your dog's ears, abdomen, neck, and back. Be careful not to apply too close to their nose or eyes, as they may find this bothersome. It is also recommended to conduct a patch test to check for sensitivity and discontinue use if any irritation occurs.
#6 Dried lavender sachet
Place a sachet of dried flowers in the car and allow the scent to diffuse throughout.
A Word of Caution
Essential oils vary significantly in both quality and price. The general rule of thumb is – you get what you pay for, so please, please, please don't use cheap fragrance oils as a substitute. You certainly don't want cheap, synthetic oils around you or your pooch, as they're made of petrochemicals and a variety of other nasty elements.