Nowadays, everyone loves to play games no matter how old they are. Many game companies make different kinds of games for every age group. They make many different versions for different devices. People play different games on their cell phones.
If you have an android cell phone, then you might be playing at least one game.  There are so many games available on the internet, but some of them are so addictive.
Today I am talking about some addictive games that can keep you hooked on them forever! Let's jump into the post now!

1. Hay Day
Hay day is my favorite game. I always play this game, and I am on level 46. Hay Day is a game that is based on farming. If you are interested in farming, then this game will change your life a little bit because it's gonna be a part of your life.
When you start this game, you watch the video in this game, and you see some caption in this video. It is started just like on any other day until the latter arrived. "Greeting from your uncle!" Uncle asks you, "so, how'd you like to be a farmer?" "I've decided to retire. The farm is yours if you want it!" Away we go! A new life in the countryside awaits. After your uncle's message, you see the plain land, and you have to create the farm as you can.
When you create your farm, you have to upgrade your farm. You can buy and sell your product in your roadside shop. You have to prepare your product and complete your order that is displayed on the board.
You have to buy animals like cows for milk, hens for eggs, pigs for bacon, sheep for wool, etc. You have to harvest crops like wheat, corn, sugarcane, soybean, carrot, etc. You can also do some fishing in this game for fish fillets, mining for collecting ores.
You can create your town to serve some goods to your visitors, and in return, they give you some special tools, coin, and experience. This game is played all over the world. If you want to know more about this game, just check it out in the Play Store if you have android and AppStore if you have iOS. It is such an addictive android game, I tell you!
Rating: 4.5/5
Size: 95.56 MB

2. Castle Clash
Castle Clash is the war game for android cell phones.  Create the definitive army and attack enemy villages. Castle Clash is a strategy and management game in which you collect resources, build structures to create a village, and recruit an army made up of tons of different creatures. That latter, and most fun, phase of the game. You can hire troops and attack on another player's base. You can hire monster type heroes in this game and place it in their place for your base defense.
In this game, there are many different types of heroes.  They are divided into different categories like:
Sacrifice Heroes are heroes that are used to increase other Heroes' skill levels. They cannot be used in battles or for Tower Garrison purposes.
Ordinary Heroes have the lowest stats but are cheap and therefore suitable for beginners. They introduce the player into the game but are not especially strong. Each hero can be fully useful to players with much experience but generally only fulfill tactical situations where skill effects overpower Hero health or damage.
Elite Heroes have mediocre stats. However, a few of them are on par with lesser Legendary Heroes. Half of these heroes are essential for tactical use due to skill effects but not valuable in Player-vs-Player and late-game scenarios.
Legendary Heroes generally have the highest stats and are among the strongest of all Heroes. Some of them can only be obtained randomly via Gem rolls or by in-game purchases.
There is so much fun in this game. If you play it once, you'll go crazy and play it again and again. If you have time and money, then this game is totally for you.
Rating: 4.4/5
Size: 39.82 MB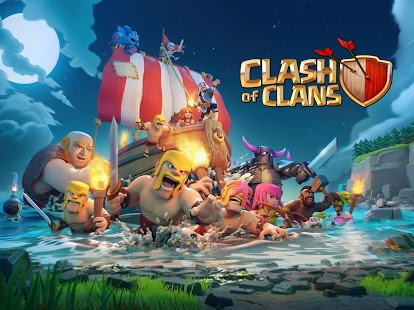 3. Clash of Clans
Clash of Clans is a viral game, and I think every gamer knows about this game. Clash of Clans is a strategy game for Moblie. Clash of clans also known as COC. This is a global social online game; you can play it for free. Clash of Clans players can join or create a clan and build an army of Barbarians, War Wizards, Dragons, etc., and more defeat the Goblin King and other clans.  Hero troops are the most powerful troops in this game. They are immortal, and you have to train them once. However, if they have been defeated, they must regenerate in order to fight again. With the help of these heroes, you can attack other players.
In this game, there are many different types of things used to build your clan. Some of them are:
Battle Machine Altar: The Master builder's prize invention smashes enemy buildings to bits. What is a better way there to show who's the best builder around? Unlock the electric hammer ability to give opponents a real pounding!
Archer Queen Altar: This graceful huntress is a master destructive force, though modest in health. She shoots targets in her territory when defending and can summon stealth and terrifying damage when attacking once her royal cloak ability is unlocked.
Barbarian King Altar: This colossal menace soaks up a huge amount of damage and bashes everything in his path. He guards his territory strongly when defending and can launch into a devastating rage when attacking once his iron fist ability is unlocked.
There is so much variety in this game that you'll get completely hooked once you begin to play!
Rating: 4.6/5
Size: 95 MB
These all games are so addictive that you get completely hooked on them once you start playing them. If you thinking of playing these games, play at your own risk! 😁