I have a classic recipe for you – baked cucumber chips. Those who prefer eating super healthy foods and consuming a vegan diet will love it. I guess most of you haven't heard about it, so let me break it to you – it's healthy and delicious. So, without further ado, let's get started with the recipe.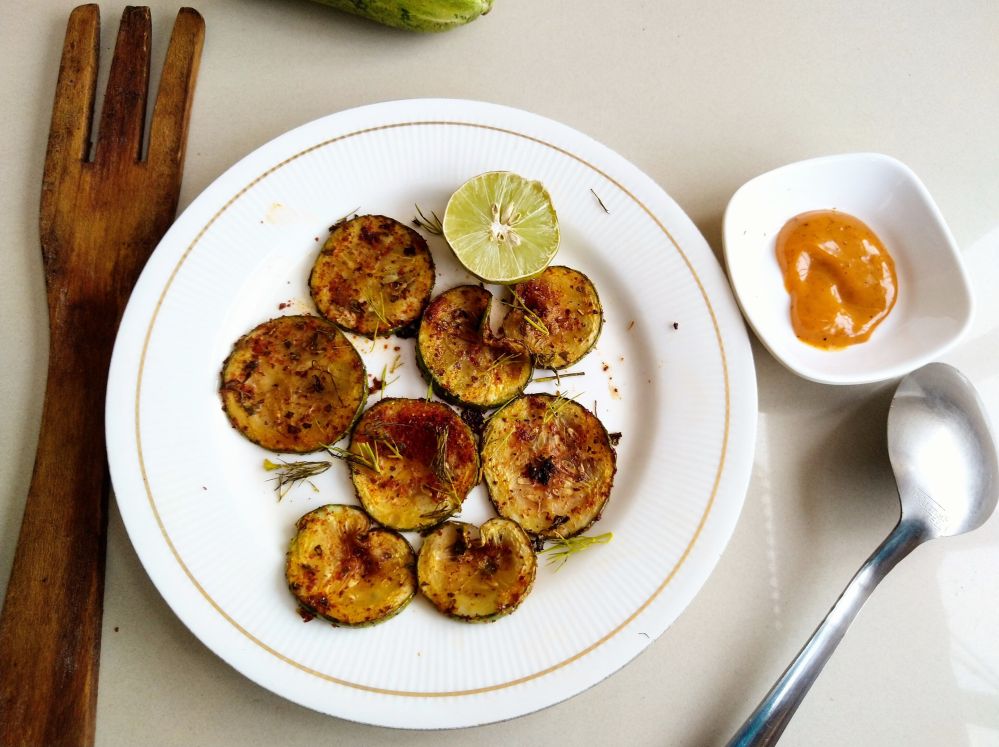 Benefits of the Ingredients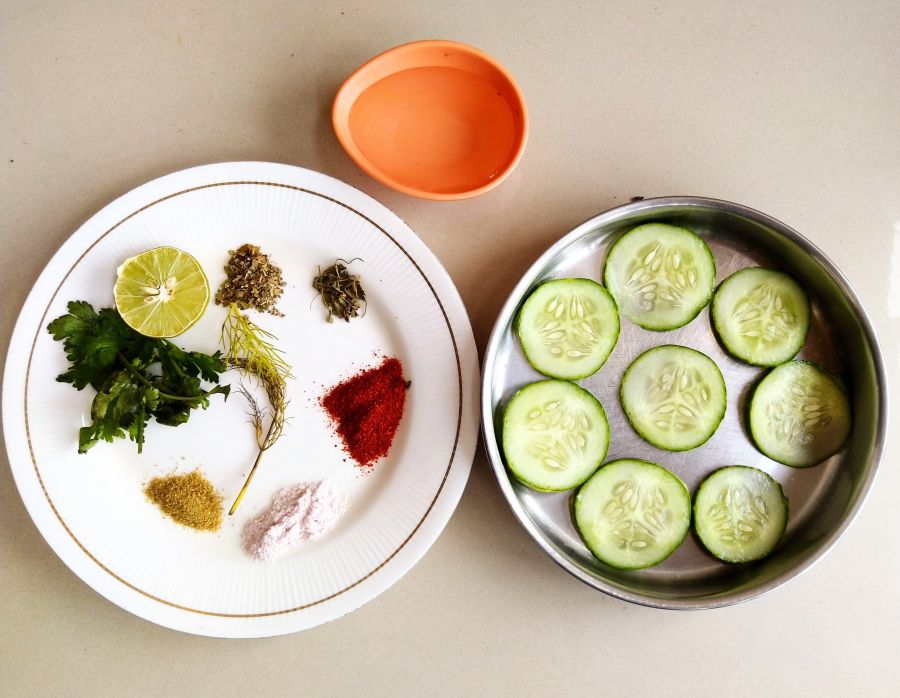 Cucumber slices
Cucumbers provide hydration as well as manage weight. It's packed with vitamins, minerals, nutrients, and antioxidants.
Himalayan salt
It helps to improve the respiratory system and keep away diseases related to it. Himalayan salt helps to balance your body's pH. Its skin benefits include reducing signs of aging, lightening the age spots and dark patches. It also improves the quality of sleep.
Cayenne pepper
Cayenne pepper regulating blood pressure. It's a good source of vitamin C and has antibacterial properties. It promotes blood circulation and reduces inflammation. Also, it helps to fight against cancer and reduces the risk. Cayenne pepper helps in saliva secretion.
Vegetable or balsamic vinegar
It's full of nutrients and antioxidants that help to prevent heart diseases and keeps proper functioning. It aids digestion and helps in weight loss. It prevents hair loss. It reduces acne, belly fat, and bloating. It kills bacteria. It lowers cholesterol levels and maintains blood pressure. It reduces the inflammation present in the body.
Garlic
A popular ingredient loved for its pungent smell and lovely taste, garlic has quite many benefits. It is an excellent source of immunity booster. Because it is low in calories, it helps in reducing cholesterol. Since garlic is rich in antioxidants, it protects against cell damage and aging. It helps in protecting the body from the side effects of diabetes. During winter months, when cold and cough becomes common, garlic help you in that too!
Dill
Being rich in micronutrients, it's a good source of fiber, antioxidants, vitamin C, and magnesium. Dill is often added to salads, soups and used for garnishing. It helps to protect heart health and prevent the growth of cancer cells. It relieves stomachache, renal colic, and other digestive tract infections.
Cilantro (Coriander)
Aka dhania, it's rich in nutrients. This pungent and peppery herb reduces bacterial growth and gives a refreshing smell to the mouth. It treats skin conditions and works well in reducing pain and inflammation. Also, it improves the IBS and helps in relieving indigestion. It helps in improving brain function along with reducing cold and flu symptoms. Also, cilantro is a natural food preservative.
Mint leaves
Another popular ingredient used in drinks and salads, mint leaves are rich in nutrients and vitamins. It adds a beautiful aromatic flavor to any dish. It helps to reduce bloating and improves the gastrointestinal system. The cooling properties of this herb help in soothing irritated nose, cough, and sore throat.
Oregano
Oregano is effective in treating menstrual cramps, UTIs, rheumatoid arthritis, headache, and heart conditions. It helps to prevent bacterial growth that affects the gut and your skin. It aids in digestion and maintains the metabolism process. Also, it consists of fiber, iron, manganese, omega fatty acids, vitamin E, calcium.
Lemon juice
It is one of the healthiest fruit loaded with vitamin C and fiber. It boosts immunity and promotes hydration. It helps in digestion and maintains the digestive tract, which helps one in weight loss. It reduces acidity in the body. It also removes uric acid from the joints. Lemon eliminates bad cholesterol from the body and acts as a blood purifier, detoxifying the body.
Vegan Mayonnaise
It is high in vitamin E, A, D, and K, which is great for heart health. It helps to maintain the lungs functioning and health. It's loaded with Omega 3 fatty acids. You might be unaware of the fact that vegan mayo is free from gluten and sugar.
What are baked cucumber chips?
Baked cucumber chips are thin slices of cucumbers flavored with salt and cayenne pepper. These chips are quite healthy as it doesn't include deep oil frying at all. You can add your favorite dressings like garlic and pepper powder, dried dill and mint leaves powder, paprika, salt, cheese and oregano, cilantro, etc.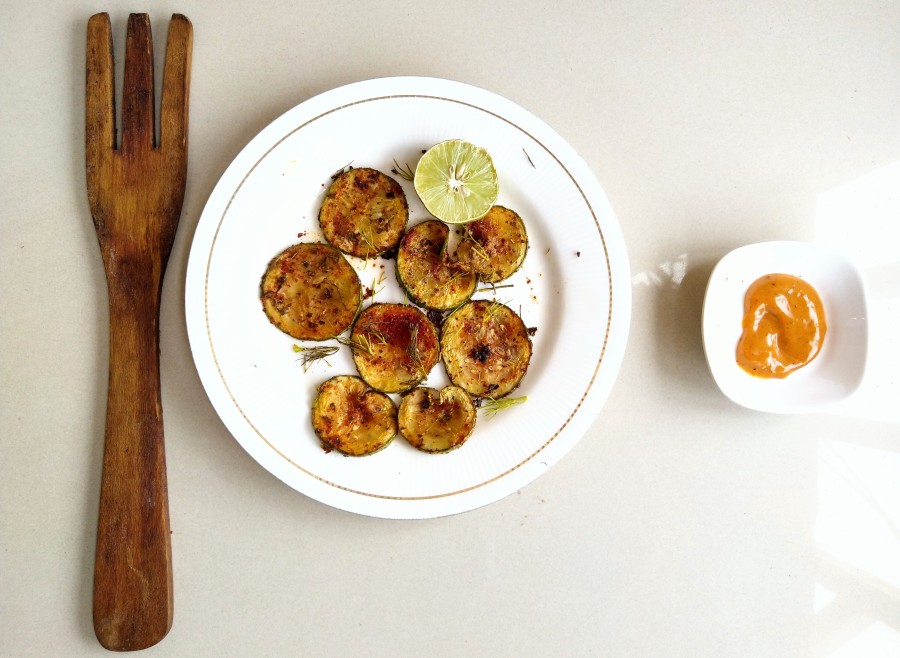 Baked Cucumber Chips
Ingredients
10

Cucumber slices

a medium-sized

2

Himalayan salt

or as per requirement

2

Cayenne pepper or Paprika

2

tbsp

Edible vinegar

1

tbsp

Garlic

dried and powder

1

tbsp

Dill leaves

1

tbsp

Cilantro

1

tbsp

Mint leaves

dried

1

tbsp

Oregano

1

tbsp

Lemon juice

1

tbsp

Mayonnaise

or any of your favorite sauce
Instructions
Take a medium-sized cucumber and cut thin slices out of it.

Spread it on a baking sheet or tray. You can also use your griddle for baking your cucumbers.

Sprinkle vinegar, Himalayan salt, cayenne pepper flakes, or paprika powder.

Bake for 2-3 minutes in a microwave or a pan. Your cucumber chips are ready to serve.
How and when to have it?
You can have these chips as your evening snack with your favorite mayo dip or hummus. You can serve it hot as a side dish in your lunch or dinner.
Do's and don'ts:
Don't cut too many thin or thick slices. Too thin slices may burn quickly, and too thick might not at all bake.
Be careful while baking or if you're baking on a pan or dry frying. Keep checking the layers of the cucumber. It may get burnt easily. Therefore provide appropriate heat.
Add the equivalent and required amount of the above ingredients to match the baked cucumber's perfect taste.
Finally, I would suggest to my readers to give it a try. It may be a new dish for you, but I bet you won't regret the taste. It's easy, simple, healthy, and deliciously flavorful. It's an easy to go recipe as well as a quick snack for your evenings. It can be taken as a midnight snack also. So, do try it and give your honest opinions and feedback.