Wondering what's new in this DIY? Let me give you a hint: it's a healthy drink for all ages and is commonly found in the main course meal of every Indian home. Now can you guess it? Okay.. let the mystery reveal. It's the healthy and nutritious bottle gourd juice recipe also known as lauki ka juice.
As this period is a worldwide pandemic situation and we need to stay healthy and heedful in every means. We have to be more hygienic and proactive from this wide-spreading scenario. Most importantly, we should spread WHO-verified facts that have absolute certainty to the folks.
Anyways, we have been trying to reach everyone and give proper advice to be safe and sound. How to become healthier, stay physically fit and immune. So, I have been thinking about what to share in my next article, which will help you guys. Let's start this wholesome and zesty DIY drink for today.
Benefits of bottle gourd juice
Helps in relieving urinary tract infections.
Helps to reduce body weight.
Contains antioxidants and full of good nutrients.
Helps to keep our hearts healthy.
Helps to reduce stress and exhaustion.
Has high fiber content and helps in digestion and metabolism process.
Ingredients
Bottle gourd: 10-12 medium size cubes
Tomatoes: 1 whole ( 4-5 slices)
Carrots: 1 whole
Salt: a pinch or according to your taste
Honey: 1 tbsp
Coconut water: 2 cups or accordingly
Benefits of the Ingredients
Here is the detailed description and benefits of the ingredients used in the recipe:
Bottle gourd
It is a vegetable loaded with vitamins like vitamin C and K. It has a high calcium content. Bottle gourd reduces stress and anxiety, which is helpful for the heart to keep it healthy. It helps to control cholesterol levels. Bottle gourds are helpful for indigestion and other gastrointestinal diseases. It also helps in treating sleeping disorders. This also helps to maintain blood sugar levels and balances the blood pressure too.
Tomatoes
This tangy fruit contains anti-oxidants, which are good for hair and skin. It helps to repair the damages caused by smoking. Tomatoes also help to keep our bones healthy. It is helpful for digestive
tract and improves metabolism.
Carrots
Needless to say, carrots help in improving eyesight. It helps to boost immunity. It helps to reduce high blood pressure and the risk of cancer and stroke.
Salt
I have used Himalayan pink salt in this recipe, although the choice of salt is up to you. It helps to flush out toxic materials and waste from the body. Salt regulates blood sugar levels and maintains the hormonal balances. It helps to improve the digestion process in the body.
Honey
Honey has anti-oxidants that help in curing sore throats and coughs. It aids in the digestion process and improves metabolism too. It regulates blood sugar levels, reduces ulcers. It heals wounds and helps quick healing.
Coconut water
It helps in improving digestion and avoid bloating after having foods. Coconut water helps in maintaining electrolyte balance in the body and regulates blood pressure. It prevents kidney stones,  supports heart health, and has anti-oxidants and various other nutrients. Regular consumption of coconut water avoids diabetes. It keeps the body hydrated and provides a radiant glow to the skin.
How to Make Bottle Gourd Juice?
1. Cut the bottle gourds into medium cubes, as shown in the picture. Then cut small and thin slices of tomatoes.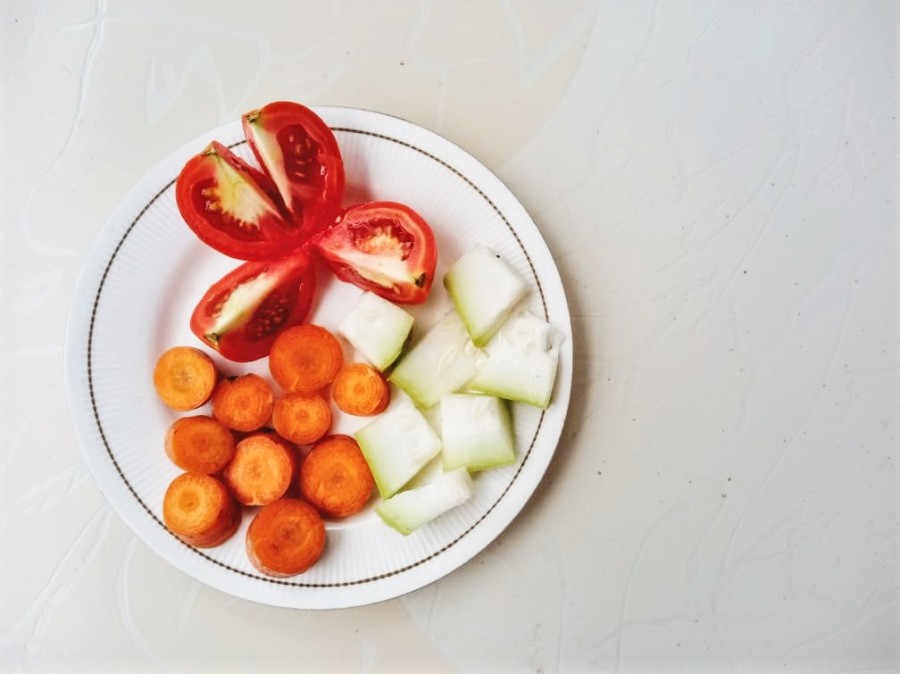 2. Add them into the blender or juicer, then add 2 cups of coconut or plain water to it. Blend them finely.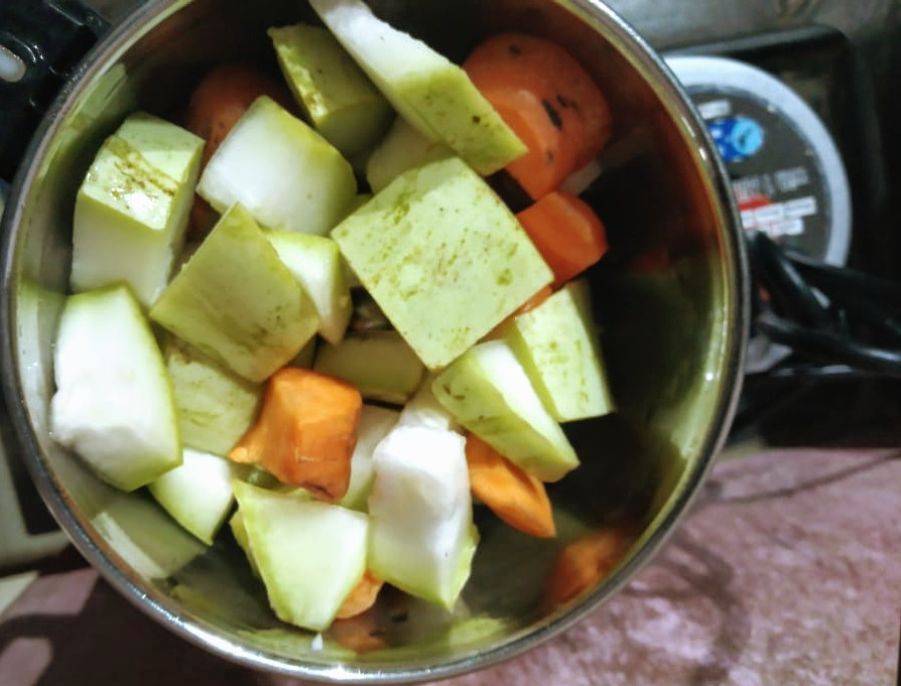 3. Sprinkle some Himalayan pink salt or black salt into the juice.
4. Again, drop some (1 tbsp) honey if required.
You can use either honey or salt and even both according to your taste. Even you can add your protein or spirulina powder to it. Or some herbs or spice of your choice to the juice to add some spicy and zesty taste.
And tada! Our bottle gourd juice recipe is prepared.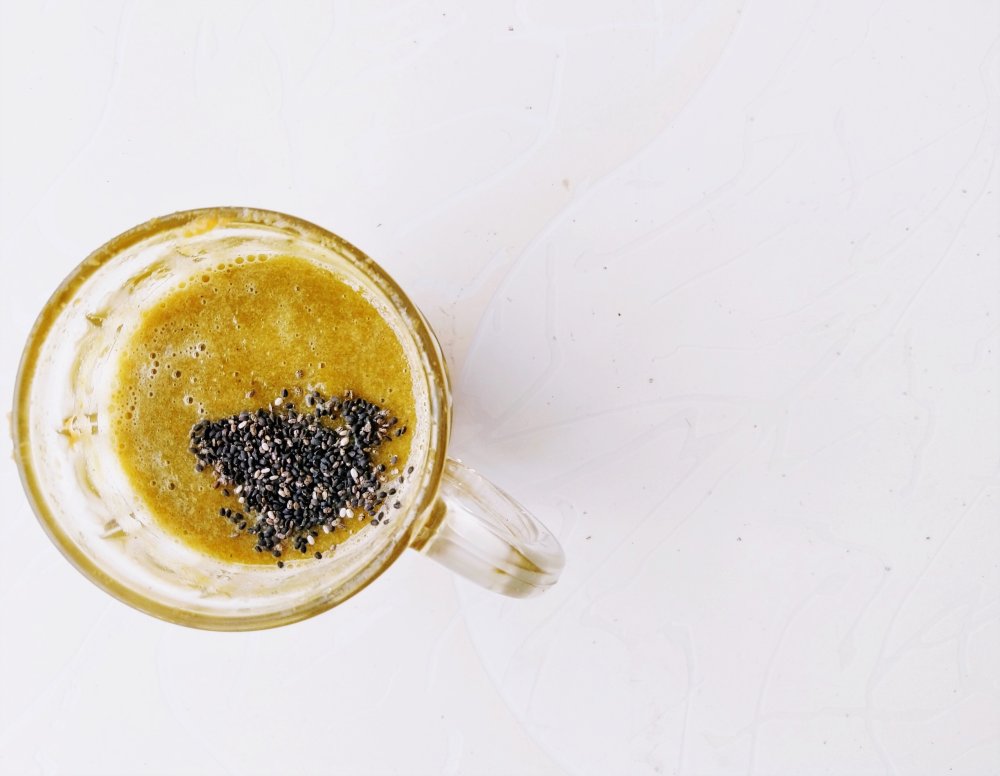 When and how to have the juice?
You can have this juice on an empty stomach, preferably before your breakfast or lunch. You can add your protein powder into it too. You can have it as a snack or pre-breakfast. It'd probably make you feel full.
Are there any side effects of bottle gourd juice?
According to research, bottle gourd with a bitter taste can cause toxic reactions to the body and lead to hematemesis, hematochezia, shock, and death. However, this is an extremely rare occurrence. On a milder level, it may cause abdominal pain, vomiting, and diarrhea. Excessive consumption can cause low blood sugar levels. All in all, make sure you prepare a juice out of a bottle gourd that is not bitter, discard the peel, and consume in moderate amounts.
Tip to Keep in Mind
Add the proper amount of every ingredient listed above.
Blend it well like a smooth and fine juicy texture, or else there may be a risk of choking on food(juice).
Don't add too much salt or honey—taste before taking a sip or serving someone else.
Adding spices like cinnamon, cloves, ginger, black peppers, etc., would add a flavorsome taste. Even adding herbs like chopped coriander leaves, freshly cut mints, dill leaves, basil leaves, etc., would be great.
Drink or serve the juice immediately after blending as it has coconut water and is to be consumed immediately because it gets oxidized very fast.
Pregnant, lactating mothers and children are supposed to take advice from the doctor before having this juice. It is totally made out of natural ingredients; still, we have to be careful of everything.
A healthy person is recommended to have not more than three ounces (88 ml) of the juice daily.
Over to you…
Finally, I have positive and healthy thoughts, and this lauki ka juice recipe is fantastic. This has been receiving many positive responses and genuine feedbacks from my relatives and other family members. It has been working like a miracle to many people out there.
In many cases, it has helped with indigestion and urinary tract problems majorly. I have been using it since August and have lost 5 kgs really fast. I will be continuing this till the end of this year to reduce more fat. Owing to the amazing benefits, this juice is better than soft drinks we mindlessly sip on.
I hope you will try this bottle gourd juice recipe now and continue for a constant period of time to see the difference.