How does it feel when you attend your best friend's wedding? Happy and sad at the same time, right? You're happy because she's your best friend, and sad because you're not even close to getting married.
While everyone around you is having the time of their lives, you are still struggling with being single. Being single isn't a sin but you may find it difficult to cope at times.
The experience of being single allows you to look at yourself differently, develop your potential, and discover your passions. Keeping that in mind, we are here with the best books for single women that will help you get over this phase when you are all by yourself.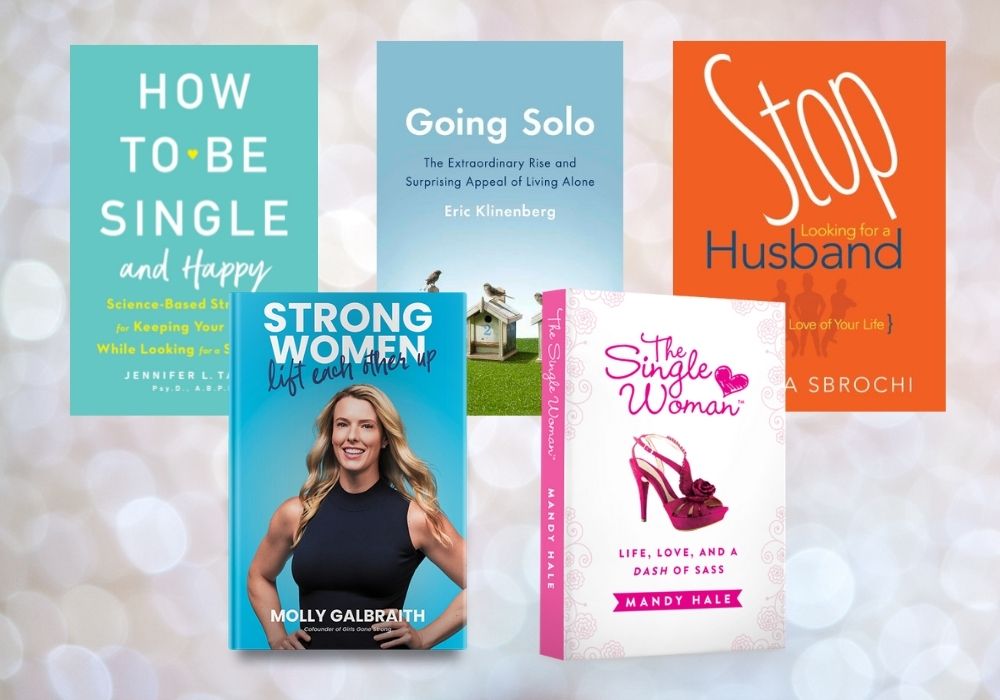 Women can live fabulous life if they are independent, strong, and smart. They don't need a husband to live a better life. The author Mandy Hale is known as The Single WomanTM by her fans and readers.
Mandy shares her stories, gives advice, and empowers the readers to be confident by sharing her experiences. In all, the book tells all the single women to look for their own purpose in life and live fulfilling happy lives.
While exploring the joys and possibilities of being single, this book is well-informed, knowledgeable, and revelatory. There is a great deal of curiosity and exploration of cultural differences and opportunities that enable readers to accept the opportunities and live an authentic life.
The author Kate Bolick takes us back into our lives to the times when we were young and carefree, and when we didn't have to worry about the things in life and we could savor our own happiness.
A story about a farm girl who spent her whole life looking for answers to questions about existence and her place in it, Growing Wild is the story of Kathryn Vigness.
While trying to find answers about her happily ever after, she deals with her transition into adulthood. On her quest, she plays the roles of a graduate student, professional, wife, mom, caregiver, and philanthropist.
Although she had played so many different roles, she still felt that something was missing. In the boo, she copes with unbecoming everything she has been made to be and finding solace in just being herself.
This book about single women can be a source of delight for single women who want to explore the perks of being single.
A life of singleness certainly comes with a stigma, but its impact on culture, politics and the economy is massive. Even though society tells us that spending time alone can lead to isolation and depression, the author shows that it is a wonderful way to keep active socially and civically.
The author of the book explores vividly what it means to go solo as a powerful and essential tool for social transformation.
There is definitely something about this book that speaks to the mentality of women who are single.
The author shows in the book that even though single women feel entitled to a relationship, they don't really desire it just for the sake of it. Although not opposed to relationships, they simply enjoy their own company more than anyone else's.
The main theme of this book is to transcend into a relationship without losing a sense of self.
The purpose of this book is to offer every single woman the inspiration and tools to live as an individual, regardless of her culture.
Following years of research, Leslie Ludy found that there were two types of young Christian women – one who is unfulfilled and discontent, and the other who is passionate about the romance of Jesus.
In her book, she shares personal stories of women who dealt with loneliness and personal desires but, after following God's path, found meaning and purpose in their lives.
This book debunks the myth that a woman needs a husband to be complete in life. The author Marina Sbrochi prompts smart, modern, intelligent women to redefine their thinking and come to terms with their worth.
According to the author, women can find true love only when they think beyond marriage. She encourages every single woman to stop focusing on finding a husband and begin seeking true love.
The only way to achieve complete happiness is to find true love. Women will find not only ideas in this book but also advice on pursuing happiness and love rather than a husband.
This is one of those books every single woman should read. After years of research, Rebecca Traister brings forth the pivotal truths of women's lives in her book.
The subject matter dives deep into the economic, sexual, and emotional lives of women who are married young. It provides a wonderful view of the life of American women from the perspective of an unmarried woman.
The book addresses all aspects of a woman's life in a thoughtful and informative way. If you are struggling to find your self-worth, this book should be a must-read for every woman, not just single women.
The book serves as a guide for every single woman out there because it is empowering, compassionate, and enlightening.
The self-help book is one of the best for single women to help them move on from the regrets about their past relationships and stop analyzing romantic encounters.
Yet this book is more than just a dating guide; the author draws on her own experience as a psychologist to successfully show women the art of date. Additionally, she cultivates the values, connections, and mindsets to achieve a happy life.
Based on real-life evidence-based studies, this book helps women identify and create opportunities for a better life.
If you've ever felt jealous, or that you have an inferiority complex, or that the world is too competitive, this book can help you change your mind.
The author provides you with strength and empowers you to thrive in and out of work by breaking through the pointless notions women have about careers.
The book is one of the most recommended books for single women. You'll find this book helpful if you've recently retired and are struggling during your post-retirement life.
The book covers everything from keeping healthy physically and mentally to managing your finances and handling a divorce or the loss of a partner.
You should read this book if you want to make the most of your retirement years.
Are you a young Christian woman looking for books on being single and happy? If so, then you'll love this book.
Whether you struggle to be that faithful and dutiful daughter of God or you are simply not sure where to begin, this book will guide you. You will learn many secrets about dating, faith, and self-esteem in this book.
A child of God, the author shares her own struggles with insecurity and how she moved on by loving herself and living the faith.
Moreover, the author Emily Wilson is also aware that young women these days are not fans of overloaded information, so she keeps her experiences and advice short, crisp, and to the point to help you develop a good mindset and enjoy life.
If you someone who struggles to deal with your single status and would like someone to accompany you, then this book about being single is the perfect companion.
Throughout the book, the author leads us toward fullness and teaches us productive, free living. Her message is to lay down all our worries and rely on God, who will satisfy us throughout eternity.
Using her personal experiences, Gretchen offers help to women who are willing to fight the chaos and discouragement of their lives and enjoy a meaningful life by seeking and finding a divine power.
In a way, this book lives up to its title—it deals with finding your own self before giving yourself solemnly to someone else.
The Angry Therapist, John Kim, after his painful divorce, realized that he has never been on his own, and his quest for finding himself began. The journey led him to find himself, and from being alone and disconnected, he became solo and fulfilled.
John's real-life experience has inspired thousands of people to find their worth and live a more meaningful life. He has encouraged people to understand that being single is not a sin but a blessing in disguise.
It's time for another book from Mandy. The book is the perfect companion for ladies suffering from heartbreak.
The author relates her personal experience about hitting rock bottom even after being a New York Times bestseller. But this was such a strong foundation for her that she got exactly what she needed to escape the taunting shadows of her life.
After finding answers to her questions, she encourages all women that no failure can make them less valuable in the eyes of God, and that is what matters.
Over to you…
While being single can be daunting, it does not mean you have to get into a relationship just because people want you to. If you're single and failing to get along with your single phase, these best books for single women can provide meaning to your life and existence. Each book is based on a personal experience, so you're sure to have a good time reading them.
Would you like to read as many eBooks as you like and keep them for as long as you like for a monthly subscription fee? Get Kindle Unlimited here and get your first month free!