Our fuzzy four-legged friends are like family to many of us.
Often, brown-colored dogs have unique personalities and coats that set them apart from other breeds.
From classic chocolate labs to golden retrievers, there are dozens of chocolate dog breeds.
Whether you're looking for a dog name inspiration for your brown puppy or just looking for unique ideas, we have it all.
Some names are traditional, others are more modern, and some are even creative.
Also, you'll discover why choosing a name that accurately reflects your pup's coat color is essential and which one to choose.
So if you're looking for a badass name for your furry friend, read on to discover our best brown dog names.
Cute Female Brown Dog Names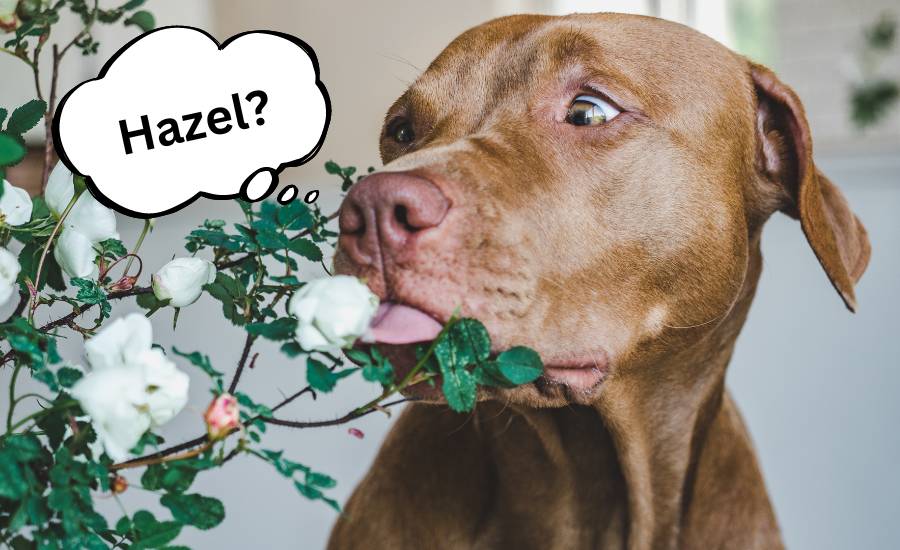 Cookie
The sweet sound and easy pronunciation make Cookie a great choice because it's modern and short enough for even dogs to remember.
Amber
Amber sounds elegant and represents the color. This name works nicely for brown-coated dogs that are on the lighter side.
Coco
The name symbolizes sweetness and the color cocoa. If you have a cute poodle, chances are, this name will go well with it.
Bella
A beautiful name for a sweet and gentle brown dog that translates into 'Beautiful' in Italian. Also great for a female dog who's outgoing and spunky.
Marron
In French, this means brown. This isn't a common name, but it might make you stand out. Besides, French is classy.
Honey
For a dog of golden hue, Honey makes a great name. Simple, sweet, and modern all at the same time.
Autumn
It's hard not to think of shades of brown when you think of the fall season. If you're looking for a name that captures the beauty of a crisp autumn day, look no further than Autumn.
Reese
Is your dog always up for a game of fetch? The name Reese literally means enthusiastic, so it's perfect.
Caramel
Caramel screams sugar. Is your dog brown, sweet, and loved by everyone? She's got the right name.
Hershey
We've got Hershey. As in Hershey syrup or Hershey kisses. Your call.
Hazel
Have you heard of Hazelnuts? Your pooch keeps you active and healthy by going nuts, so perhaps Hazel is the one for you.
Mink
It means "fur" and is derived from a small mammal's fur, making it an apt name for a pup who loves to cuddle.
Mocha
With its sweet, coffee-like flavor, your pup will captivate by this cute name. Plus, her brown fur will make her look even more like a mocha!
Nala
It's a play-off of the classic Disney movie "The Lion King," and it's a perfect name for your pup with his beautiful brown coat. It's also one of the best brown dog names, as it speaks of strength and courage at once.
Nessa
Besides being cute, it has a special meaning too! Nessa means "bright," so she's sure to brighten your day.
Lucy
It's great for your pup who loves the spotlight or for one who is the life of the party. Literally, the name means light.
Henna
That's a great name for a pup whose coat looks like it's been dyed with henna. It's also a nice nod to the popular hair dye and highlights the pup's gorgeous coloring.
Leah
If you're looking for a feminine name but not too cute, Leah is a great choice. It means "weary" in Hebrew and is perfect for a pup that loves to lay around.
Chesty
Your pup's spunky personality will shine through with this fun and playful name. It's a beautiful name for any brown girl pup.
Macy
With its warm, upbeat sound, Macy will fit your dog's personality beautifully. Plus, it's easy to pronounce, so your whole family can love her.
Sadie
You can say it with pride, it's from the Hebrew word for "princess" and a wonderful name for an adventurous girl pooch.
Let's look at some of the names for brown male dogs now.
Cool Male Brown Dog Names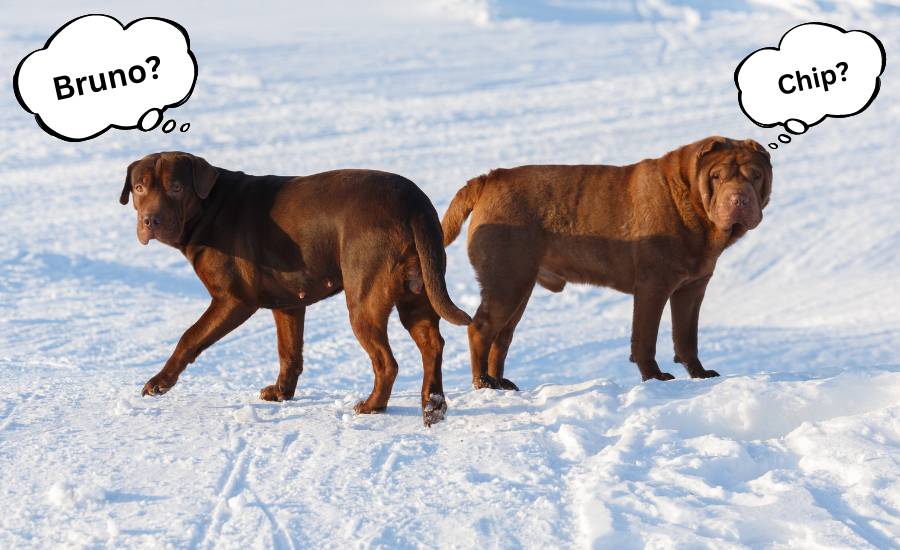 Bruno
Just like Bruno the bear, Bruno is a common brown dog name. A big brown dog would be a good match for this name.
Max
It's right up there with traditional names like Fido and Spot, but with a bit more pizzazz. Strong, classic, and easy to pronounce, it's perfect for light brown dogs.
Gus
A simple name with a little sophistication that's perfect for a pup who wants an old-fashioned name with a modern twist.
Nugget
Another cute name for a small breed. Nugget means small piece. It's cute and simple, just like a chocolate nugget.
Toby
Especially good for chocolate-colored pups that love cuddles. This name is warm and comforting, so they'll feel safe and secure when they hear it. It's ideal for dogs who love to lounge around.
Goofy
Remember the Disney cartoon character Goofy? The name is unique and works if your dog is a goofball that acts silly but, in the end, is still cute.
Chestnut
It exemplifies the warm, rich colors of brown dogs' coats. A great name for any brown puppy, it means "a nut with a hard, dark brown shell." We can think of no better word for our brown dog friends than Chestnut!
Chip
As in chocolate chip, place all your chips on your chip if you've got a small dog with a brown coat. Short, elegant, simple. Period.
Rocky
Strong, masculine, and great sound. There's nothing more classic than Rocky, so your brown male dog will always have the right name. Then there's the fun factor!
Maple
What a great way to honor the maple tree and its leaves, which symbolize strength, endurance, and longevity. Maple syrup fans will love it too.
Coco
This name screams fun and fluff. Coco is the right name for furry friends who don't take themselves too seriously.
Copper
That's a great name that's coppery and fits well if you are a cop. Okay, just kidding.
Canela
It's Spanish for cinnamon. Cinnamon is brown and sweet, as we all know. For a big brown dog, it sounds cool and manly.
Charlie
You've got a cheerful, friendly vibe here. Plus, it represents a pup's loyalty and love. It's also a classic.
Duke
A terrific name for an energetic pup who loves to be the pack leader. Strong, regal, and perfect for a dog always in charge.
Bourbon
An iconic Southern name that's sure to please! Ideal for a pup with a light, golden-brown coat, with its classic and strong feel. Besides sounding great, it also honors Kentucky whiskey.
Rusty
A name that really captures your pup's adventurous spirit and affinity for the outdoors. Rusty is sure to love lounging around in the grass and soaking up the rays.
Bear
The name evokes confidence, courage, and strength – all traits a male brown dog should possess. Plus, it's sweet, easy to remember, and fun to say.
Dusty
Is your dog a mixed brown color coat? Is he not so hairy? He likes to go and play outside a lot? For your 4 legged brown friends, Dusty is perfect.
Teddy
Whether your pup is light brown or a deep shade of brown, Teddy will fit right in. It brings to mind a sophisticated, dignified dog that's sure to be the toast of the town.
Bentley
A strong yet gentle name that exudes the class and grace that brown dogs possess. An intelligent, loyal, and gentle dog deserves a unique brown dog name like this. Bentley is a terrific name if your furry friend is a little showy.
We'll now look at some gender-neutral names for brown dogs that work for both males and females.
Top Unisex Brown Dog Names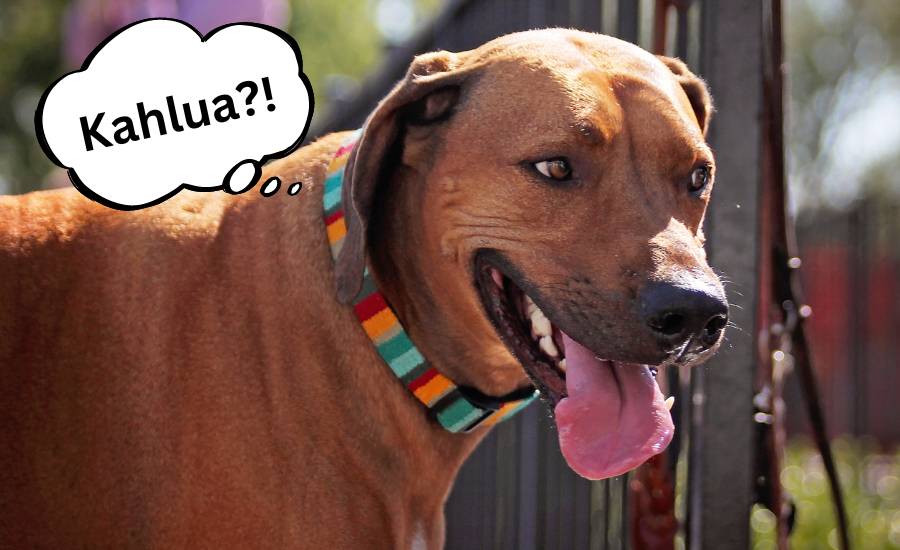 Java
We all love coffee, right? You're a programmer, or do you know Java? Here's your chance to show off your Java skills.
Muffin
If you like food-themed names, you'll love this friendly-sounding name. You'll find it a beautiful and playful choice that your pet parents will enjoy. Also, if you want even more cutesy options, simply shorten it to Muffy or Fins!
Chai
Coffee isn't your thing? How about tea? Name your dog Chai, which translates to tea in Hindi. Imagine enjoying a cup of chai on your patio with Chai relaxing next to you.
Sandy
A superb name for anyone who loves being outside, as sand is a key element of nature. It's fun, inviting, and unique, so it's a great name for your new brown up!
Foxy
Do you own a German shepherd or another mix dog with a brown coat? Yes, Foxy is a good name for it. If it's a boy or girl, don't worry, this name works well both ways.
Fudge
Fudge cake is everyone's favorite, right? Warm, sweet, and always brings a smile to your face. Messy but worth it. Is your dog like this? Give them a name like Fudge.
Goldie
A cute, easy-to-pronounce, and universally appealing name for a golden-brown doggie. Goldie is a name that transcends age; your dog will cherish it forever.
Toffee
Like caramelized sugar treats, it's an excellent name for brown dogs. Plus, it's an incredibly adorable name that'll make your friends and family coo with love.
Pancake
An adorable, whimsical name that conjures up images of a warm, fluffy stack of pancakes topped with syrup and butter!
Penny
Just like your new pooch, Penny is small but mighty! Here's a name that's both simple and meaningful for pet parents.
Brownie
Love brownies and need a way to celebrate your pooch's chocolate coat? An instant reminder of delicious treats and happy tummies, so it's a great fit for your fur baby who loves food.
Kahlua
We're talking about Kahlua, which is a sweet, delicious Mexican coffee liqueur. Just as Kahlua has a hint of sweetness and spice, so will your pup's personality.
Mudd
After all, most of our furry friends love nothing more than rolling around in the mud or playing in a muddy puddle. So in a sense, it's a nature-inspired name.
Beanie
Names like this work incredibly well for small brown pups, as they resemble beans. Beanie makes you think of snuggling close to your dog, a feeling all dog lovers can relate to.
Bhura
A Hindi word for brown or tawny, just like their fur. It's also a great way to honor India's culture, which is so rich in history. Make it Bhuri if it's for a female canine.
Latte
Warm tones of brown evoke coffee's creamy foam topping. If you have a natural affinity towards coffee and love sitting in cafes or drinking it at home, it naturally follows that owning a pet named Latte is just as delightful!
Cheddar
Got a golden brown dog that melts in your arms like cheese and wags its tail every time you call it Cheddar? You got a perfect fit, then.
Woody
Toy Story's classic character with a positive and friendly vibe. A great name for a pup who enjoys the outdoors and is fitting for a hunting or herding dog.
Espresso
Do you have a highly energetic short-breed dog that loves to bark and howl? We've brewed you an espresso. It's short but bursting with energy like an espresso shot.
Truffles
Perfect for dogs with unique spot patterns, like truffles! Also a treat for chocolate lovers, the name is ideal if your dog devours sweets. A name that's full of sweetness and personality.
Chocolate
Who wouldn't love a name after their favorite sweet treat, and it's something dogs also enjoy? Whether it's a young pup, rambunctious adult, or wise senior, Chocolate is timeless.
Potato
An adorable name for a chubby brown dog who loves to sleep. Plus, potatoes are a well-loved comfort food, stirring up memories of your special dog bond forever.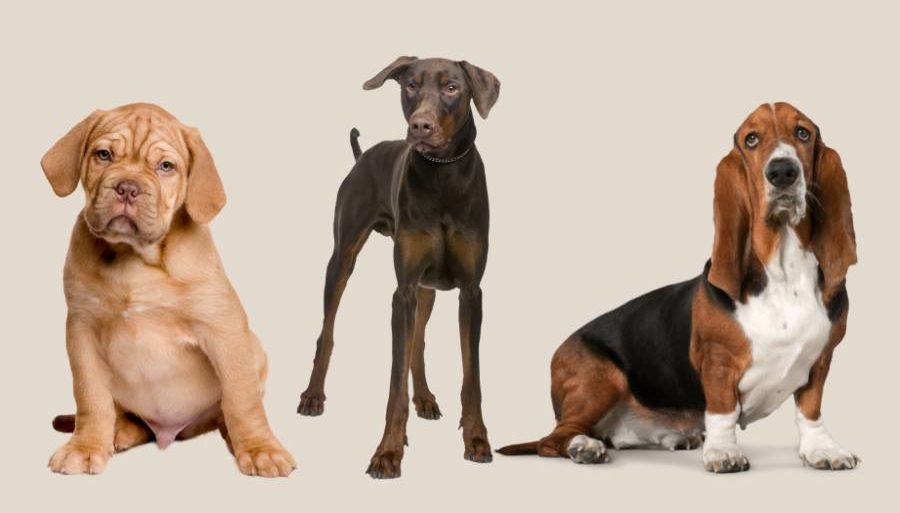 Do Brown Dogs Need Themed Names?
Yes and no. It all depends on your preference and your pup's personality.
Depending on the breed, brown dogs can have a light tan color or a dark chocolate one. Their fur might have black highlights or white patches. It's hard to go wrong with a name that fits the beauty of brown dogs, regardless of their shade.
Themed names are great for a lot of reasons:
Identifies your dog's breed. Brown dogs come in all shapes and sizes, such as German Shepherds, Labrador Retrievers, Cocker Spaniels, and more. Dogs with themed names can stand out from other brown dogs.
Are fun! It's a good way to show off your sense of humor and give your pup a special name. For example, if you've got a Labradoodle, you could name them something like "Cracker Jack" or "Snickerdoodle."
Bonds you with your dog. It's fun to name your dog together. When you give your pup a themed name, you're creating a connection that lasts a lifetime.
How to Choose a Perfect Name for your Brown Dog
Pick something that celebrates your dog's fur color. Maybe you have a chocolate lab, so why not name them something like Coco, Mocha, or Hershey? White and brown pups could be called Oreo or Chip, while a black and brown dog could be called Coffee or Cocoa. Or you have a golden retriever, and alliteration is your thing- Goldie, Honey, or Nugget are cute choices.
Think about your pup's personality. Is your puppy timid or outgoing? Is he a cuddler or a player? A brown dog Hershey, for instance, may be a laid-back pup that loves to curl up with a good book, while a brownie named Sherlock may have a knack for snagging treats. When choosing a name, let their personality guide you.
Consider the breed. You may have more options if your pup is a mixed breed. If your pup is a purebred, you may want to ensure the name reflects their breed. For example, a Labrador Retriever could be named "Chocolate" or "Lola," or a Great Dane "Goliath" or "Thor."
Take inspiration from other places. You can choose a geographic name, such as Rocky, Dakota, or Montana or draw inspiration from literature, such as Sherlock, Bilbo, or Atticus.
After narrowing down your options, give your canine a spin. Observe their reaction to each name. Reacts positively or negatively? Does it perk up or avoid the name entirely? Finding the right name for your brown dog is no easy task, but taking this test will give you a great start.
Bottom line
Color, breed, size, the dog's favorite food item, and your favorite movie or book can all play into its name.
This list of the most popular brown dog names is sure to give you some inspiration for your new friend.
From common names like "Brownie" and "Mocha" to unique choices like "Pancake" and "Mudd," you're sure to find something just right for your four-legged friend.
More Dog Names