If you and your boo are night owls, you know how frustrating it can be to find fun things to do late at night. Everything seems to close down early, leaving you two bored and restless. But never fear! There are plenty of late-night date ideas out there, you just have to get a little creative.
Have a late-night snack
For a sweet treat, try homemade cookie dough bites with sprinkles. You can also try churros, ice cream, or chocolate fondue. For something savory, whip up some nachos loaded with all your favorite toppings – jalapenos, cheese sauce, guacamole – a cheesy snack that won't disappoint. Want to keep it healthy? Fruit bowls or smoothie bowls will do.
Takeout from your favorite restaurant
Whether it's pizza and wings – or more refined dishes like filet mignon, takeout has its perks. Plus, ordering in gives you more one-on-one time together. Grab the food, find a nice spot, and watch the stars together or whatever strikes your fancy.
Dine at a 24-hour restaurant
This is one of the best date ideas for early-morning or late-night daters because you do not have to worry about getting home soon after. You can just sit down at your favorite eatery and enjoy yourself without making any other plans!
Go on a bike ride
There's nothing better than a bike ride to get your heart racing on a spontaneous late-night date? It's easy to find a spot and plan the ride. There's something about the freedom of riding a bike that just makes everything feel more romantic.
Light a bonfire
Firewood, a fire pit, and your sweetheart are all you need. Find a flat area in the backyard or local park, build a warm fire up, then sit around it together, taking it all in. For a relaxing evening, you can bring blankets and outdoor furniture. Add some fun by roasting marshmallows and hotdogs over the flame!
Make love! 💕
There's something romantic about the dark night. Simple or elaborate, it's up to you.
As you kick off your evening, cook dinner together, sip wine, and share stories about your day. Then move into the bedroom, where you can set the mood with candles, soft music, and rose petals. Spend enough time exploring one another's bodies while exchanging gentle touches, kisses, and whispers in each other's ears.
Wear costumes
Ditch the dinner and a movie this time and opt for a fun late-night date in costume. Dress up like your favorite movie, TV show, book character, or even cartoon. Or pick out coordinating outfits that match each other's theme. Dress up according to an era, like 50s rockers, or choose something quirky, like superheroes and villains.
Make a homemade dessert or snack
Nothing says I care more than a homemade treat. Make it light and refreshing. For a simple but delicious recipe, try a fruit tart or a cheesecake with fresh strawberries. Or, try something creative like chocolate-covered strawberry mousse.
If you're not much of a baker, don't worry—try something easy, like trail mix with your favorite nuts and dried fruits. Or whip up some delicious homemade energy bites with honey, oats, and your favorite nut butter.
Build a blanket fort
Grab some pillows, blankets, chairs, and tables from around the house. Strategically arrange them together in an open space, leaving enough room for cuddling once it's done. Add some ambiance with string lights or tea lights. Once the construction is complete, make the most of your private nest – play cards or read stories aloud, fire up the laptop to watch movies, and curl up under those cozy blankets.
Stream your favorite movie or TV show
You can't beat spending an entire night watching your favorite show or a new movie, just the two of you. Whatever you want, from a classic to a thriller or rom-com, choose a movie or show that you both enjoy. Turn off the lights, gather some blankets, and make sure the TV is in good sight. It's fun to watch a movie together and make memories after the credits roll —talk about making date night special!
Take a late-night drive
Let the road take you where it may, or head in a specific direction, such as finding a spot overlooking the city skyline or getting ice cream at an all-night diner. No matter where you go, make sure it's safe and there aren't a lot of distractions that might interrupt your conversation.
Do a housecleaning
An evening spent cleaning your house is fun and productive. Plus, you'll bond with your partner and feel good about it.
Take turns picking up clutter, organizing the closets, or even doing a deep clean of the kitchen. Chat about your day, or listen to your favorite music as you work. Seeing who finishes the task first can also be fun. As soon as you're done, sit down together and admire your work. Cuddling up in a clean, tidy house is the ideal way to top off the night.
Have a steamy bath together
A steamy bath can spice up your late-night date this evening. It's a wonderful way for couples to relax and reconnect in ways their daily lives don't allow. Draw a warm bubble bath for two. Add some essential oils to give it an extra luxury feel. Then light some candles and lay out towels to dry off after your soak. Wine, of course!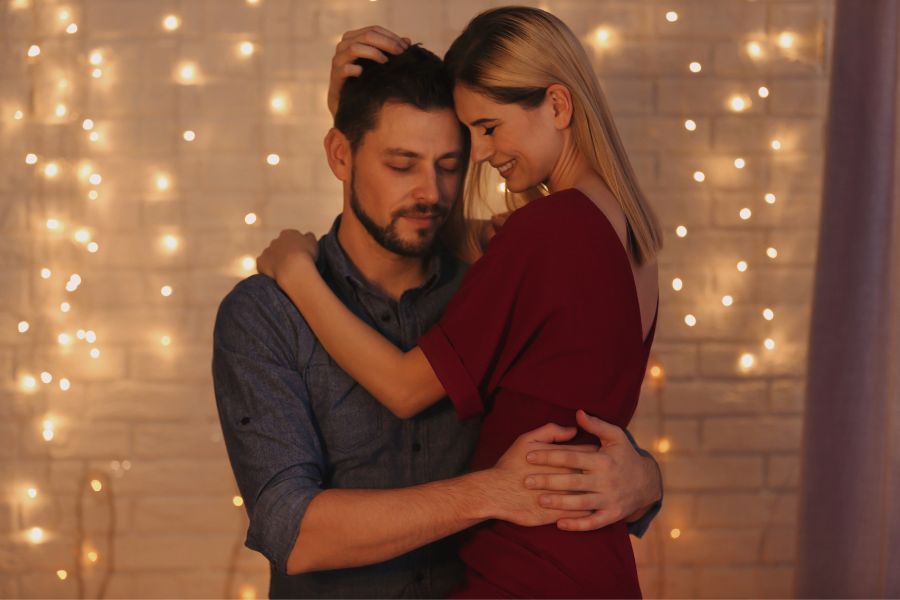 Talk about your day
The best thing about sharing your day with your partner is that it helps strengthen communication skills and builds trust.
Discuss your day's highlights and lowlights. Whether it's childhood memories that come flooding back after dinner with family, impressions of a new book you read over lunch, or lessons you learned at work. When one person speaks, the other should actively listen and offer empathy—no judgments!
After you've discussed your day, talk about what it was like to share intimate moments with your partner. By doing this, you'll foster openness and understanding in your relationship.
Solve a puzzle
One of our favorite late-night date ideas is to do a word or picture-based puzzle. You can use any type of word or picture you want, as long as you know it!
You pick your difficulty level and then test out your new clue on a thesaurus before looking up the original word or image.
By testing your knowledge in this way, you're ensuring that you go at a steady pace without too much quick thinking. This gives you more time to enjoy the game while proving that you are not simply looking up words for fun because you already have the definition stored away.
When you're done, talk about what you found funny or interesting about each word.
Make a homemade pizza
Nothing says "date night" like making and eating a delicious homemade pizza. Invite your partner over for a night of pizza-making fun. Start by choosing what toppings you want to create together, and then bake it up!
Livestream on social media
What about a live-streaming date for you and your partner if you're both social media addicts? Show off your best dance moves or chat about life and your relationship. Make sure the content you stream is appropriate, and you don't post anything embarrassing.
Explore your love language
Taking The Love Language™ Quiz together is another fun late-night activity. The quiz comprises five categories: words of affirmation, physical touch, Acts of Service, Receiving Gifts, and Quality Time. Every category teaches you about your and your partner's love languages and how to effectively communicate them. For example, if your love language is Quality Time, you'll learn how to set aside time to be with your partner without distractions. It will be fun to compare your answers and help you build closer bonds.
Make a movie night at home
Pop some popcorn, load up on snacks, and huddle up to watch your favorite movie. Not sure what to watch? Try a classic like Casablanca or something more contemporary like The Notebook. Adding scented candles and roses makes it extra romantic.
Plan for a getaway
Pick any destination and pack a bag for the night. You can go camping overnight or have a romantic hotel getaway. You can also book a staycation and spend some quality time together in a completely new setting.
Put together a reel
Instagram reels are a great way to capture your togetherness. Pick out some of your favorite songs, add some fun filters, and have a blast creating a unique video. Whether it's a silly video of the two of you or a creative production, it's sure to make the most of your late-night date. Plus, you'll have a nice memory to share with everyone.
Beach date
Who said beach dates were only for the day? Grab your blankets and head to the closest beach for a romantic evening stroll. Something special about the sound of the waves and the star-studded sky makes the night more magical.
Stargaze!
Whether it means camping out under the stars atop a mountain peak or taking refuge from the cold inside an indoor planetarium (or even better, both!), nighttime activities make for the best light pollution-free viewing. And with temperatures typically dropping below freezing during winter months in many parts of the world, it's the perfect time to enjoy these extraordinary experiences – especially since they're often cheap compared to standard day activities like eating out or shopping for clothes, etc.
Play video games
If you're looking for a fun way to spend leisure time, why not break out the video games? Whether you're competing against each other in a classic game of Mario Kart or fighting your way through a zombie-filled world, bonding is guaranteed.
Plan things to do together before you die
Put together a bucket list of romantic and meaningful things you want to do together before you die. You can jot down all the places you'd like to visit and experiences you'd like to have. Afterward, you can plan how to make them a reality. What a beautiful way to spend a late-night date!
Enjoy a live performance together
Whether it's a comedy show, musical performance, or even a movie, it can be an exciting way to get out of the house and do something different. Besides, you get to dress up and look extra fancy. Just make sure you pick a venue that stays open late so you can really make the most of your evening.
Play laser tag
For couples who want to stay up late, head to a laser tag arena for an active late-night date. It's a great way to get the competitive juices flowing and have a blast challenging each other. Who knows, you might even discover a new shared hobby.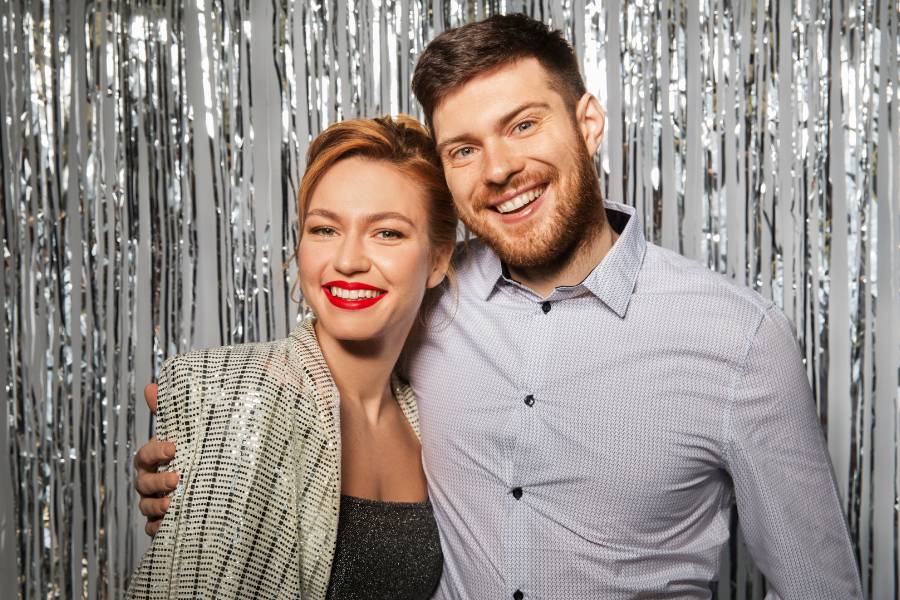 Get clicked in a photo booth
Visit an amusement park, mall, or restaurant to find one. Whether you're posing with funny props and silly faces or just cuddling up for a sweet shot, you'll delight in and get some lovely pictures to remember the evening. Plus, you can print the photos right away and keep them as a souvenir.
Do a relationship check-in
One of the best things about being in a relationship is being able to check in with your partner. Spend some time talking about how each of you is feeling, where your relationship is going, and how you can make it even better. Check out these must-ask questions for a relationship check-in.
Enjoy a picnic
Get creative and decorate your living space with blankets and pillows, light some candles, and prepare a delicious picnic-style meal. Fill up a basket with some snacks, make some hot chocolate, and cuddle up for a cozy night in. The best way to spend some quality time together without ever leaving the house.
Write love letters
Take turns writing each other love letters and exchanging them at the end of the night. Write down all your thoughts and promises, seal them with a kiss, and wait for your partner to read it. This is a sweet way of expressing your love and appreciation for each other and is sure to be a night full of memories.
Visit a fancy cocktail bar
Dress up, order delicious drinks, and have an awesome night out. Who knows, maybe you'll even find a new favorite cocktail or two. Take this opportunity to explore the local nightlife and have some fun together. Don't forget to make a toast to your late-night date adventures!
Sketch one another
If you want to keep it low-key, why not try sketching each other? In the end, you'll have a beautiful piece of art that you can hang on the wall and keep forever, and you'll have fun doing it as well.
Read a book aloud
Especially if you two are more intellectual, reading a book aloud together could be the perfect way to spend the evening. Whether it's a love story, a classic novel, or your favorite poem, you'll both be able to savor each other's company along the way.
S'mores over a fire pit or fireplace
S'mores are everyone's favorite! Whether you have a fire pit or a fireplace, roasting marshmallows and creating delicious s'mores is a great way to warm up on a cold night while also spending time together. You might get a little messy, but once you're sitting in front of the fire and enjoying the warmth of the flames, it'll be worth it.
Check off your list before the sun rises
Whether it's getting ice cream at your favorite spot, taking a late-night stroll through the park, or hitting the town for some karaoke, the possibilities are endless. If you want to make it a competition, see who can check off the most items on the list before the sun rises.
Head to a 24-hour fitness center
Work up a sweat at a 24-hour fitness center if you're feeling energetic. You'll be surprised how different it is to exercise at night once the hustle and bustle of the day has died down. Plus, you'll sleep well after a good workout.
Throw a pillow fight
If you're feeling silly, a pillow fight is a great way to liven up a night. From laughing until your stomach hurts to creating a mini battlefield in the living room, there's no end to the fun.
Brainstorm ideas for your dream home
Let your imagination run wild, and talk about what you want to include. Discuss what kind of furniture you would choose, the type of appliances you'd buy, and the decorating style you'd go for. Whether you're planning a big move or just dreaming, this can be a great bonding exercise. It's amazing what you can come up with in the middle of the night.
Make a playlist of songs that remind you of each other
It's a great way to relive sweet moments and provide a soundtrack for your evening. Whether it's a slow ballad or an upbeat tune, these songs will take you back to the moment when you first fell in love. Select songs that hold special meaning for both of you.
Make a scrapbook or photo album of your favorite memories together
No matter when you start or where you are in your relationship, this activity will make you feel warm and fuzzy. Get crafty, make your own scrapbook from scratch, or simply put together a photo album of your favorite memories. Either way, you'll have an end product that's full of love and special moments you'll both treasure for a lifetime.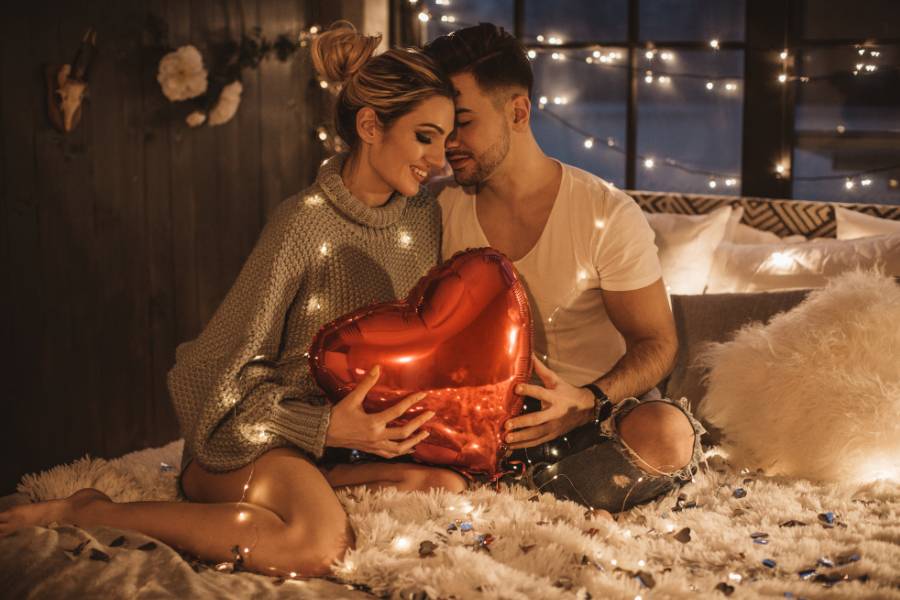 Start a new skill or hobby together
A new skill or hobby together, like painting, photography, or pottery, can be a fun and engaging way to get to know each other. And, since the night is already late, you don't have to worry about rushing through the activity. Don't rush, take your time, and enjoy yourself!
Take a trip to the casino
With the bright lights, the excitement of the games, and the potential for winning big, casinos are the perfect place for a fun-filled night out. And if you're lucky, you could even walk away with some extra cash.
Carve some pumpkins
Pumpkin carving doesn't have to wait until Halloween. It's another great activity to do late at night because it's a fun way to get creative. Besides, you can take your time and make sure the details are just right. Whether you choose to carve a scary face or a funny one, you're sure to have a great time.
Discuss expectations and aspirations
The best conversations often take place in the dark. When you and your lover are away from the hustle and bustle of the day, it's the perfect time to talk about your dreams, goals, and expectations. In this way, you can strengthen your relationship and create a deeper connection.
Try ghost hunting
Whether you're in a cemetery, old mansion, or abandoned building, you and your partner can explore the unknown while learning about each other at the same time. It can be thrilling and give you insight into each other when you share your experience. Add a twist by camping out in a supposedly haunted location overnight, if that's your thing.
Embark on an at-home spa session
Set up some scented candles, throw on some calming music, and make your own spa with massage oils and a soothing bubble bath. You can even give each other foot and neck massages – it's the perfect way to unwind and connect.
BBQ night
Nothing beats a classic BBQ night. Fire up the grill, light some tiki torches, and enjoy delicious food with your partner. It's the perfect way to stay up late and enjoy each other's company in a fun and relaxed atmosphere. Plus, the smell of BBQ in the air adds an extra special touch to the night.
Share memes and laugh together
Pick up your phone, search for the funniest meme you can find, and share it with your date. Chances are, you'll both be laughing in no time.
Grab a coffee
Whether a regular cup at your local café or a specially blended coffee from a local roaster, sitting down with a cup is a nice way to connect and chat. And with so many late-night options in most cities, you'll be able to find somewhere that's open late and offers a comfortable atmosphere.
Listen to your favorite music
Put on some music and have a dance party with your partner. Music has the power to bring people together and create the perfect ambiance for a late-night date. Turn on some of your favorite tunes and let the music take you away.
Go for a moonlit walk
Nothing beats a romantic stroll beneath the stars. This is one of the classic late-night activities with lovers that never fails to create a special atmosphere. A moonlit walk is a perfect way to enjoy each other's company and reconnect with nature.
Go to an escape room
A fun and creative way to have some late-night quality time together. You'll work together to solve puzzles and try to make your way out of the room in the allotted time. It's a great way to stimulate your mind and build your teamwork skills. Plus, you'll get to have some fun and get your adrenaline pumping!
Ask each other questions
This can be as simple as getting to know each other better or even more deep and meaningful questions. This is a great way to get to know someone on a deeper level and learn something new about them.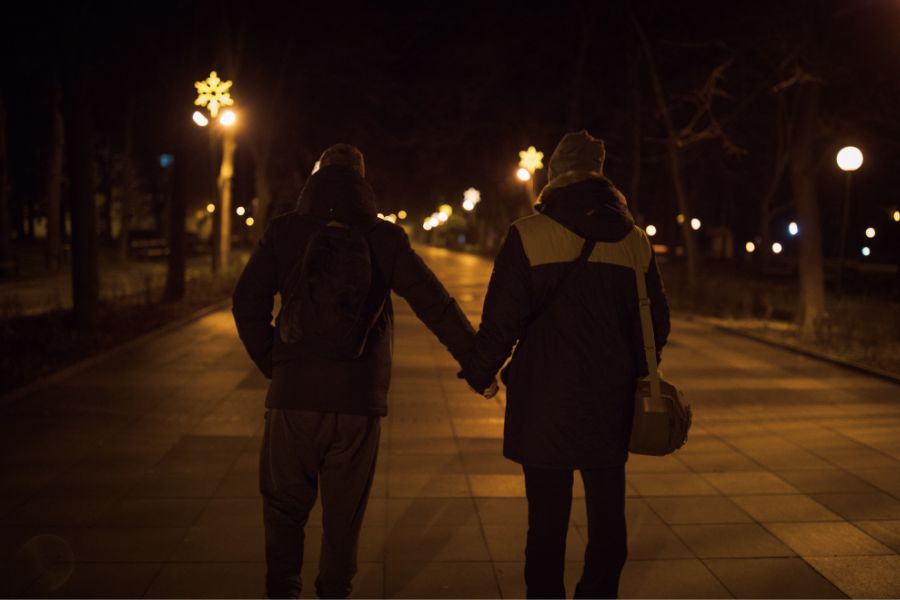 Get ice cream and walk around the city
There's something special about a night stroll that can't be replicated during the day. The city looks completely different at night, which is not only romantic, but it's also a great way to explore it. Discover new areas and take in the sights, sounds, and smells of the city.
Make a time capsule of your relationship
Take some time to write down your favorite memories, inside jokes, and plans for the future, then seal it up to open in 5, 10, or 20 years. A meaningful way to reflect on all the memories you've made together and reflect on them fondly in the years to come.
Binge watch
It's time to snuggle up and watch your favorite TV show or movie. Get comfy, make some popcorn (or whichever snack you prefer), and ensure your cozy blanket is ready! Date night doesn't have to be all about going out – it can also be a great time to chill out and come together.
Visit a rooftop place
From city skyline views to romantic sunsets, there's something special about rooftop places in the city. Spend some time up there, share some drinks, and talk about your day. Nothing beats a night of star gazing with the one you love.
Online window shopping
Why not try online window shopping if you are looking for something more low-key and unique? Make a shopping wishlist with items you'd like to buy together in the future. It's a great way to loosen up and dream of what's yet to come.
Rent your dream car
There is something magical about driving late at night. With the stars twinkling above, you can take your date on a romantic ride in your dream car – a classic muscle car, a speedster, or a luxury sedan. This is a great way to show off your skills behind the wheel and make your date feel special.
An adventurous subway ride
Who said late-night dates had to be all about luxury? Take your date on a thrilling journey on the city's underground subway. What could be more exciting than experiencing the hustle and bustle of a bustling metropolis in the dead of night?
Bake cookies
Nothing says "I love you" like homemade cookies. Have fun baking together with your favorite recipe. You can have a fun time with your date and enjoy the sweet smell of freshly-baked treats.
Pamper each other
Giving each other a little pampering helps to deepen your bond as a couple. If your budget allows, indulge in a spa treatment and treat yourselves to an evening of luxury. If that's not an option, you can easily recreate a spa experience at home. Get some scented candles, play some soothing music, and take turns giving each other a nice massage or facial.
Dance away the night
Who says you need to go to the club to enjoy a night of dancing? Put on your favorite music, turn up the volume, and let your bodies move to the beat. With a little imagination, you can create a night of passionate dancing at home.
Play your favorite childhood games together
Video games, card games, whatever you like! Bring out the kid in both of you and spend some quality time enjoying the games you used to love. Whether you're playing Mario Kart or Uno, it's sure to be a night you won't soon forget.
Act like kids
Put away the adulting for a night and just have fun. Put on a movie, have a pillow fight, or build a fort and make your own little hideaway. It'll be a night to remember!
Take a midnight dip in a local lake or pool
A great way to cool off and spend some quality time together after a long day. After you're done swimming, you can lay out a blanket, light some candles, and enjoy the night sky. It's a great way to get closer to your partner, and the best part is it's totally free.
Share your deepest desires and fantasies
A perfect opportunity to share your deepest desires and fantasies with one another. Talk about what turns you on and what kind of experiences you'd like to explore together. This could be anything from role play and naughty games to more intimate activities.
Create a memory jar
Gather up all the little notes, cards, and mementos from your past dates and fill a jar with them. On each late-night date, you can take turns picking one out and reminiscing about the moment it represents.
Watch the sunrise
What better way to end a date than by watching the sunrise together? Pick a spot with an amazing view of the horizon and settle in for a romantic morning. Share a sweet moment as you watch the sun come up, and the sky come alive with color. It's a great reminder that another day of adventures awaits you and your special someone!
Play truth and dare
You can have a lot of laughs as you challenge each other to answer questions or perform dares. Add a romantic twist by setting the stakes to kissing or hugging if you're feeling daring!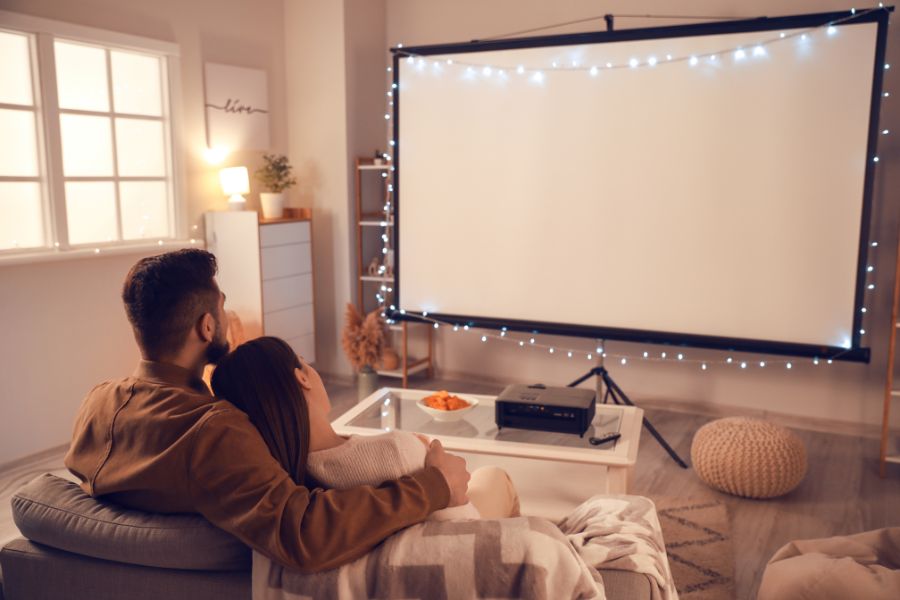 Tips For Making The Most Of a Late-Night Date
Staying up late is a popular activity for couples. It can be fun, exciting, and romantic. However, it can also be challenging. Here are some tips to make the most of a late-night date:
Make sure you have enough sleep.
Don't eat heavy meals before your date.
Stick to low-key activities.
Reserve judgment until you get to know each other better.
Don't overthink things.
Have fun! Late-night dates are meant to be enjoyed!
Planning a Romantic, Exciting Late Night Date
There's nothing like a late night date, and with the right planning, you can make it even more romantic and exciting. Whether you're looking for something fun and spontaneous or want to take things slow and easy, we've got you covered.
Plan ahead. If you know what you want, both of you can minimize potential conflict and make the experience more enjoyable.
Pick a destination and plan your route beforehand. This will help avoid any traffic issues or long walks. Plus, it'll give you some time to chat and get to know each other better!
Make a list of things to do before dinner. This can include going for a walk in the park, visiting an interesting museum, or simply grabbing coffee together at a local café. Starting with something fun and spontaneous will keep things from getting too serious later on.
Plan some simple activities that don't require much preparation (e.g., watching a movie together at home or participating in an impromptu game of pool). This will let you relax without feeling rushed or obligated to say anything during the film!
Don't pressure your date into doing anything they're uncomfortable with – whether that means trying new activities or going out in public alone. Instead, let them guide the evening and see where it takes them!
How to be supportive during your late-night date
Let them know what type of date they agree to go on ahead of time; this should help alleviate any fears or uncertainties they may have about what might happen if they back out halfway through date night.
Don't put all the pressure on them by making them feel like they have to perform or be perfect – letting them enjoy themselves is much more fun in the long run.
Quietly offer their support when they need it (like when they encounter an awkward situation) and remember that late-night dates are for taking things slow and getting to know each other better. So feel free to make a last-minute decision or two!
Bottom line
Late night dates can be a fun way to break up the same old routine. Whether you're looking for a casual hangout or a more adventurous experience, there are plenty of late-night date ideas to choose from. From cooking classes and virtual escape rooms to scavenger hunts and stargazing, there's something out there for everyone. So, why not give one of these ideas a try and have the time of your life..tonight!