In this era of the internet, buying and selling have become effortless. We now buy things online and have way more varieties with reasonable price points. But if you have ever thought about selling something, it is also an easy procedure. All you need to do is have full awareness of the product and a few marketing skills. You can do so easily with Craigslist posting softwares.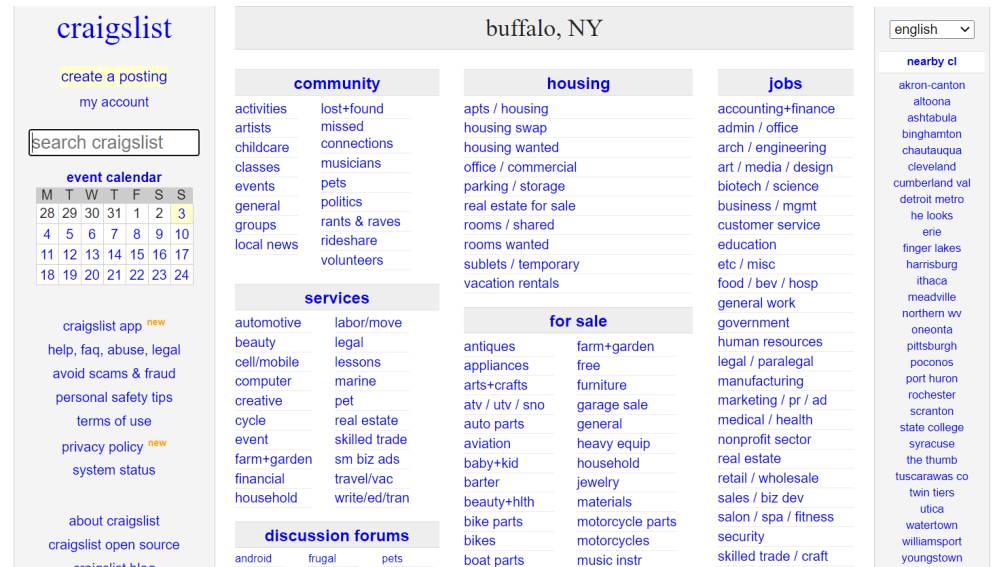 What is a Craigslist Posting Software?
Craigslist is a website that allows you to post ads in multiple locations to buy or sell anything, including phones, cars, services, laptops, jobs, housing, resumes, etc.
Craig Newmark was the person who established this advertisement website. It helps ease selling or buying items making it accessible to have more people view your ad and buy your product. It does not confine your ad to only a particular place, for example, up to the area you live in. Your product will be just a post away for the world to see it.
Craiglist is available globally, and it is a mainstream site with over 50 million guests.
Our Picks of Popular Craigslist Posting Softwares
CLAD Genius Software
This software will help in the enhancement of your marketing. It has amazing features such as auto-schedule, send ad recommendations to different email portals, custom marketing. It not only posts on Craigslist but other similar classified sites and eBay. Through this software, you can promote your product anywhere you wish to. For premium features, you will need to buy a subscription.
Craigslist Auto Poster
This popular software is by Crayzilla, which makes ad posting easy. You do not need to create a separate account as it is automatic software. Its unique feature is that it gives you so many variations of your ad, automatically renew ads, spin content for an ad, and captcha bypass.
Craigslist Bot Pro
The software helps you manage the ads you have posted and allows you to post multiple ads. It helps you with advertising your personal, business needs and makes it easier to reach clients.
ASN Auto Posting Tool
A unique feature of this software is that just by selecting the time and the place, you can easily view where and when the ad will be visible. This Craigslist posting software is specially dedicated to the automobile industry. It lets you post in any part of the world. You get different styling options to make your ads more attractive. Although you can get started with the free version, unique features require a premium version.
Admissile
This is one of those posting tools you can use to post ads on craigslist and even eBay and OLX. It can give you more leads, and you can also repost and reestablish your posts.
Craigslist Quick Poster
This tool is user friendly and also enhances your ad game. One important feature is that it is free to utilize. You can post your ad in one click, and it also has an option of downloading.
AdPlotter
This software helps in posting your ad in different destinations that have high traffic. It will multiply your advertisements, but you will only be needing to post the ad once and thus gives your advertisement more access.
ESC Ad Poster
It is one of the best tools that helps you to post your ads. All you need to do is fill up all the details of your ad, and this software will do the rest. It will enhance your promotion and make it more accessible because it has different kinds of boards. It will make your ad appear to a larger public and will therefore be very advantageous.
Craigslist eAssistant
This software is user friendly and simple. It makes the hectic procedure of posting ads very easy. Just fill-up the details and let this software do a further job. It does not contain any lengthy procedures and eases up the task. It works as a great assistant to improvise your ad game.
Clad Blaster
It has a three days free trial, which means that you can try out this website. If you like it, buy it, or do not like it, do not buy it. It is a great software that will improve your ad game and let you post your ads in a straightforward and modified way. You will for sure buy this software after the trial.
Ad Master
As the name suggests, it is a master in the game of ad posting. It will give you a holiday from manual posting and automatically post ads without much work, and you can utilize your time on essential parts. It is one of the best Craigslist posting softwares with a multi-posting feature, which enables greater access to your advertisements. Therefore, more people will come across your advertisement.
How to use the Craigslist Posting Software
First thing first, you can use Craigslist only if you live in a country that has Craigslist. It is now available in around seventy countries worldwide.
1. As you will open the Craigslist posting software, you will require to choose the country where you live.
2. Select the product or service or anything that you want to put an advertisement for. For example, a phone or a car or a camera or any job or housing, etc., it has multiple options.
3. Now that you know what you want to sell or promote, you need to upload a picture because you would not attract a customer to something with no photo. Make sure that the image is attractive.
Note: If your advertisement does not have an image, it will not appear on the advertisements' first page. If you do not have the photo of the product you want to sell, you can also google search the images, download one of those that match your description and then post it on your advertisement post. You should always first try to upload an original picture so that the customer has a realistic view of the product.
4. Write a description of your product. Suppose it is a phone. In that case, you will need to list the technical features like the RAM, camera pixel, and other stuff, and the outer features, for example, color, size, etc. You can also copy-paste the description from Google for those specific products.
5. The next step is to provide your location so that if the customer wants the product from that specific area, your advertisement will automatically pop up and increase the accessibility of your ad.
6. Then, type your phone number and e-mail. The e-mail part is optional, and if you do not wish to provide your e-mail, you do not need to since Craigslist camouflages your e-mail. The customer can contact you through either your phone number or your e-mail.
Tips
The title of your ad plays a major role. The longer and more relevant your title is, the more accessible it will be. If you search for an item, you will observe that the first few ads to appear have a long title.
Give the summary of your description in the title. The price point is up to you, but it is genuine and attractive for the customers.
You can also add some spelling mistakes so that if someone mistakenly searches the wrong spelling, your ad can pop up even in that situation.
Always try to have every accessory related to the product. In the case of a mobile phone, you should have the box, headphones, charger, or anything that comes with it and mention it in the description. If not, you should put that too in the description.
Always leave your contact details. It can be either your phone number or your e-mail or both so that the customer can contact you.
The location plays a major role. There have been many cases of disadvantage that can be taken, so you should always be safe. Do not meet the customer in some strange place or strange time. Meet them in the day time and at a public place.
How to Avoid Being Flagged or Deleted
Although Craigslist is an excellent platform to post ads and promotions, it also has some shortcomings.
Here are the reasons that can get you flagged on Craigslist:
Posting too many ads
Craigslist does not allow posting ads after a certain number depending on the user, city in one day or one week, or one month. If you go beyond that number, they will automatically flag your ad. It has been a complaint of so many users, but this is the policy of the platform.
Your ad has been flagged
Apart from this, one way that your post has been flagged is that a user might have clicked the 'prohibited' flag at the top of your post. Craigslist is a platform where there is heavy traffic at any given point in time. Therefore, to avoid complications, they limit the number of posting ads.
Strict anti-spam policy
The system and the Craigslist staff do the flagging or ghosting because, with increasing popularity, there has been an increase in misuse and spam. To avoid it, they are making their rules more strict, but common people are also facing the consequences for the same as they also get ghosted even though they abide by the rules. It has become frustrating for users for obvious reasons.
There are certain ways in which you can avoid yourself from being flagged or ghosted:
The first thing will be that you need to abide by Craigslist's rules and regulations. Although their norms are getting tougher, you need to follow them to avoid getting flagged.
If you get flagged, you can always complain, and every piece of evidence will be by your side. For example, the site limits posting ads per day or 48 hours or area, therefore not posting repetitive content more than once every 48 hours.
Mind your price range. According to the policy, if your price range is similar, it is considered to be repetitive. Do not use the same photos or descriptions frequently.
It also does not let posting of auctions, biddings, community, club membership, etc., so avoid it, or you will get flagged. Do not promote prohibited items like weapons, alcohol, drugs, etc.
Do not behave spammy like identical ads posted in different geographical locations. You cannot fool them, and they will find out such spammy behavior at once. Always give genuine information about yourself.
Do not use uppercase letters or use too many symbols and make it very clear. In other words, do not over stylize your ads. Use different kinds of words for your ads, or else it will be tracked down as a similar ad.
Avoid posting too many ads from the same account.
Getting flagged will affect your account's reputation and hamper your business there, so it will be better to abide by the guidelines and do your business smoothly to avoid any loss. Here ends our article about the best Craigslist posting softwares that can make ad posting a hassle-free experience.