Dogs are man's best friend, and there is a whole new level of awesomeness in it. What's a better way to express our dog than posting some dog Instagram captions?
You can write captions for a selfie with a dog or, simply, furry captions too.
There are many best dog captions and captions for dog pictures on Instagram worthy of every post.
Let's take a look at these dog Instagram captions to get inspired to write some of your own puppy captions.
Short Dog Instagram Captions
I hope you have a tail-wagging Wednesday!
Love is a four-legged word!
Tongues in the air like you don't just care.
Wag more, bark less
Pawsitive vibes only!
I'm mutts about this pupper!
Just pug-get about it
I labrodore you.
I really don't like melon. I am more of a happy collie
Meet you at the barking a lot.
According to my schedule, I must be getting a treat like right now.
Sorry boss. I can't come in today as my dog is being adorable again.
Do not disturb me; I am busy being admired
My Dalmatian constantly tries not to be spotted.
I have a pal who has a tail and a lot of fur.
Life is ruff without you.
A dog is God spelled backwards.
Love is a dripping nose and a wagging tail.
Anything is paw-sible with my dog beside me. Here comes the pup-Razzi again. They are always hounding me.
The path to my heart is filled with paw prints.
This friendship is fur real.
My dog's only flaw is he has only a few years to impress.
The luckiest human in the world with the best pupper.
I wonder what my dog would sound like?
I am a su-paw-star who woofs all the way.
Dog hair is my sparkle and part of my home décor
Happiness is getting showered with doggy kisses.
Become the person your dog sees in you.
I spend mastiff chilling with my human and also eating.
You can never buy love; you can adopt it.
The motto for life: live, love, and bark.
Every day I try to live the way someone leaves the door open.
Don't underestimate the power of a woof!
Dachshund through the show……….
Keep an eye out for poodles, as it is raining outside
My dog beagles my mind sometimes
Don't stop retrieving!
Dog cuddles fix anything.
A human is unlike a dog who lives at the moment.
I melt every single time; he looks at me with those dreamy eyes.
Traveling with my dogs is like a dream come true!
Dogs are like a direct connection to heaven.
Always hiss your dog goodnight.
Happiness is getting selfless cuddles from my dog.
We live too short a life to be annoyed with our dog.
Whoever said diamonds are a girl's best friend has never petted dogs.
When I needed a hand to life me, I found your paw.
He stole my heart before he captured my bed.
Life is like getting a dog after another!
Cold nose, warm heart, endless love: a deadly combination.
What the pug?
We have the ulti-mutt friendship.
Would you like my self-pawtrait?
Just a few moments to paws and reflect
Feeling corgeous.
Getting a new leash in life.
Cats are like roommates, but dogs are family, bro!
Every dog is a better choice than everyone.
He can be a little ruff around the edges.
We all have that one weird furiend.
Tongue out Tuesday!
Home is a place where furballs run to greet you.
So many of my smiles begin with you, and I woof it.
Woofooh! This snow is so much fun.
Celebrating our barkdays together.
Sweet dreams are made up of late-night treats.
This is my carefree. This is my freedom. This is me happy.
I am waiting for my furiends.
Ready for another dogtorate degree.
Good morning four and two-legged friends
Can you pawlieve it's Wednesday already!
Quite like you. Woof you.
I am not fat, just a little husky.
I'm all about that pug life.
Cats think that they are gods, but dogs think you are a god.
Feeling fridaylicious.
The secret behind every cute picture, some very, very tasty treats
Suppawtive Sunday!
Tongues in the air like you don't care.
You had me at woof.
You're gonna hear me roar.
Do you have some pawsome plans for today?
In the jungle, the mighty jungle.
Happy Pawther's Day to the most awesome dog dad I know.
Waiting for mom to put the camera down and gimme a treat.
My hooman won't let me go.
One hot dog, just ketchup.
I choose the furry one, but nothing should be that cute ever.
I live for the appaws.
Let's get those puppy eyes going for some treats.
My stomach is FLAT. The L is silent here!
The pawty has spoken.
How look should I pose, Hooman?
Dogs know how to turn a ruff day around.
The best therapist has four legs and a lot of fur.
My dog is a fluffy bundle of love, gift-wrapped in fur.
Ring doorbell, win a dog
I need a golden retriever, while you need a boxer.
Sometimes you just have to get on the ground with your dog.
He keeps hounding me for a treat.
A daily dose of cuteness.
Anybody unfamiliar with what soap tastes like has never washed a dog.
Best friend trained perfectly.
Behold the majestic husky.
We left the cat outside.
More ills are seen if a man sneezes and gives you a virus than a dog kissing a man.
My dog thinks I'm pretty darn important.
Until your dog turns into a cat, you've got everything.
Owning a dog is like eating candies; you can't just stop with one
Dogs are my favorite people. I Shih Tzu Not.
Rub a dub, bub a dub, a cute pup in my tub.
True love is wiping your dog's eye boogers away.
Any guests must be approved by the dog.
Beware of the wife, the dog is friendly.
Great Dane, Great giant.
Look at those paws, face, fur. It's a bundle of joy and awesomeness.
If my dog isn't happy, I'm not happy either.
Who let the dogs out?
Sorry, can't hang out. My dogs and I have huge plans.
The more guys I run into, the more I love my pooch.
Dogs do speak, but they can be heard only by the ones who wish to listen.
Caution: Dogs can't hold their licker.
I wish I could text my dog from work.
Dogs ask for very little but deserve so much more
I want to go to dog heaven.
Lamby the bichon frise.
Dogaholic
You're looking quite fetching.
My family is a rescue family.
Puppy love!
Dogs don't really bite, but humans do.
At the end of the day, I rather prefer dogs more than people.
Imagine what a great world it would be if people had hearts like dogs.
If you ask me, I'd rather be called a dog lady than a people's person.
I'll love you fur-ever.
To my bone-afied best friend!
You must be my backyard because I dig you.
I've got one unforgettable dad.
My doggy, this pic of you deserves to be on Vanity Fur.
You'll always be my favorite paw.
My dog and I will always woof you.
Here's the leader of our pack.
Let's paw-ty because it's Puppy's Day!
Paws what you're doing and relax. Today is your day.
Only walk the dog's nature.
Fact: I've got the most howlarious dog-human.
Doggo life.
I will paw-always love you.
Howl you doing, Hooman?
What a mastiff waste of time.
Pass the milk-bones, please.
I find dog puns rePUGnant.
The corg-key to my father's heart is his dog.
Paws down, you're the best dog dad on the planet.
I strive to be what my dog thinks I am.
Happy Father's Day to the one who makes me howl with laughter the most.
Every morning, I brew a cup of coffee and a beagle.
It's all right if you treat my dog better than me. I still love you.
I'm always attractive when I'm using a dog filter.
You'll always be a dad to the bone.
Like pups so much.
She is most definitely the missing puzzle piece in our family.
My dearest, only a dog is a true friend.
Dog psychology is the best option.
I love canines so much.
The smartest creatures on earth are dogs.
He's adorable, but it looks like he itches a lot.
Dear Monday, bite me.
Happiness is a warm puppy.
My dad really is living that pug life.
Can't seem to find the barcode of this cutie.
Our dogs are not our entire lives, but they make them complete.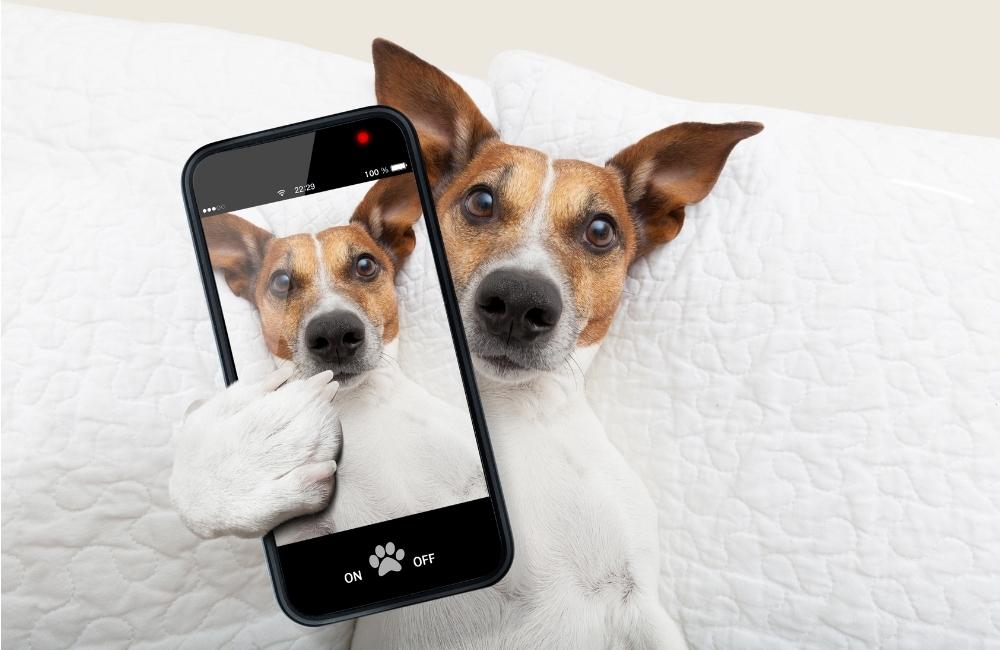 Long Dog Instagram Captions
Money doesn't buy everything for sure, and it surely doesn't wiggle its tail every time I walk through the door.
If I could get a dollar every time my dog drools at the sight of its treats, I would be a billionaire by now.
Disclaimer: This picture might cause some dizziness due to the cuteness overload.
Every dog owner thinks theirs is the cutest, and it is really no one's fault.
Don't get me wrong, but did I hear someone on the corridor declaring that I am the best dog?
This smile is brought to you by seven minutes of delicious cuddles and belly rubs.
Just realizing that I am going to return to a limitless dose of wet kisses and adorable tail wagging makes me energetic.
Always search for the dog that you need, not for the one you want.
Politics are ugly, religion is struggling, and the economy is unfortunate. What's one thing that is keeping us sane? A dog-loving us unconditionally every day.
I have found that when you are in deep distress, there is comfort you get from the silent companionship of a dog that you can get from no other source.
You can't understand the purity of love until an angel with legs comes into your life.
I'm just trying to get into law school. My first order of business: mandatory treats for all dogs.
It's getting warmer out there, and the temptations are making me drool.
Hey there good looking. I saw you sniffin' around….is it me you are looking for?
Dogs make so many friends because he wags his tail instead of his tongue.
A dog is an excellent teacher who teaches you to turn three times until you lie down.
A well-trained dog will never ask you to share your food; he will automatically make you feel guilty.
Our dogs seem to find us whenever we need them, filling a void we didn't even realize we had.
If my dog makes you uneasy, I'd be better off locking you up in the other room.
Without my dog, my wallet would be loaded, my house would be squeaky clean, but my heart would be empty.
My sunshine doesn't come from the skies; it comes from the love that's in my dog's eyes.
A dog teaches you to love when it comes to you. When it goes, it departs and makes you sad. A new dog never replaces the other and also expands your heart.
Dogs are like music. You can't explain their worth to anyone who doesn't appreciate them.
Having a dog will bring you the happiest days of your life as well as the most heartbreaking.
One of the best things that the dog teaches you is never to trust a mailman who is not to be trusted.
A life lesson from all dogs – no matter how tough life gets, lick some grass and get over that shit.
Dogs have a way of finding people who need them and filling an emptiness they didn't know they had.
We hope you liked these pawlicious dog Instagram captions that will add fun to your social media posts and fetch more likes, comments, and of course, love.
Want to suggest a cuter caption? Comment away so we can add to this list!