The Americans started the 'Food Truck' culture back in the late 1800s. These restaurants on wheels were basically meant to carry food and other necessary items for travelers and prepare lunch for the construction workers (roach-coaches) after the civil war.
Later these food truck sold ice-creams and their main customer targets were children. It was later in the 2000s when food trucks finally became famous. As the economy fell, chefs turned to open food trucks, which was also a low-budget investment plan.
Food trucks have evolved with time from Chuckwagons to Pushcarts and finally to the trucks we see today. Now the government of several countries has legalized the setting up of the food trucks. Food trucks were meant to sell quick and easy to prepare food items, but now you can find cuisine from around the world being sold at these food trucks.
There are a variety of food trucks. For example, there are food trucks that sell ice-creams or frozen food, whereas there are also food trucks that have a kitchen installed inside the truck to serve freshly made food in the streets.
Some food trucks carry portable booths that make it easy for the customers to eat. Such food trucks prefer to experiment with their classic recipes fused with some new and unique flavor, which is then served at a very pocket-friendly price.
Now, these food trucks have finally made their way to India, preparing and serving all kinds of delicacies at a very reasonable cost. Food trucks are getting popular among college students, making it a 'hang-out' for them.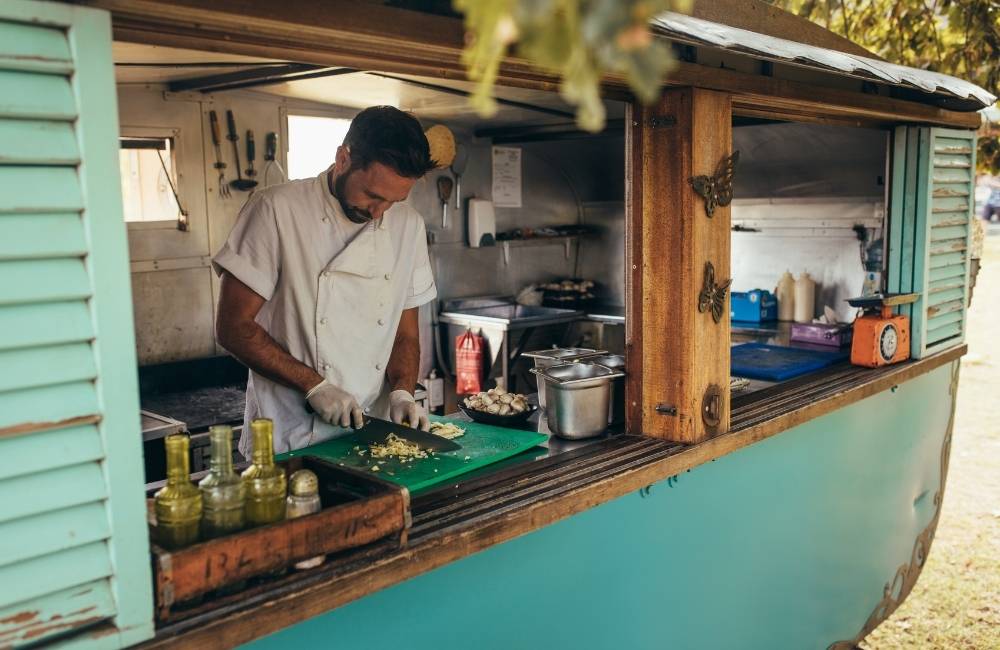 While talking about these mobile eateries making their way to our country, it is obvious to talk about some famous food trucks in the country's capital that would definitely make your mouth watery!
Lalit Food Truck
Craving for some scrumptious Mexican food? Lalit Food Truck is one of the famous yet reasonable options for you. It is famous for its tacos, churros, wraps, and more. Lalit Food Truck not only sells Mexican food but is also famous for its burgers and Falafel wraps. This food truck is especially famous amongst the youngsters.
Location: Barakhamba Road (Can also be found through their website)
Frugurpop
Ever heard of Paletas? Paletas are Mexican ice pops that have organic ingredients. Frugurpop is a food truck, more like an ice-cream truck started by a food expert partnering up with a food lover who sold fresh fruit-based ice bars. They have different flavors for you to taste, starting from INR100. Next time you want to have something to cool you off in this scorching heat and don't want to worry about the calories, you know where to stop by.
Location: Sector 57 Gurgoan
Oh Buoy
Oh Buoy is a food truck set up in NOIDA, and its food will get you licking your fingers. This food truck is famous for its Continental, Mexican and Lebanese food. What's more in store with Oh Buoy is its online home delivery service, which started recently, making it easier to get their delicious food.
Location: Amity Noida/Sector 62 (DLF IT Park)
Hawkers
Chinese is our go-to food for most of us, be it our bad days or good days. Hawkers is the right place for you to visit on such days. It prepares appetizing Indian-Chinese food at a low price. It has been around for a long time, making it one of the experts in the field. Next time you crave Chinese food, you know where you would end up at.
Location: B-1, Vasant Kunj
Eggjactly
As the name suggests, Eggjactly serves a diverse range of delicacies using only one main item, EGGS! It has been trendy among people, selling variety like the anda bhurji and classics of l ham and cheese. If you feel like having a hearty breakfast, Eggjactly is the place to stop by.
Location: Leisure Valley Road, Near Sector 29 Market, Gurgaon
Hoppers and Kobri by Flavour Labs
Hoppers and Kobri are two food trucks started by Flavour Labs (Food and Hospitality Company). Kobri serves South Indian cuisine with different touches of flavors from around the world. Its signature dishes include idli sandwiches, famously known as idliwiches and Dosa wraps. Hoppers, on the other hand, serve burgers, salads, and sandwiches.
Location: DLF Phase 5, Gurgaon.
Badmaash Kebabi
This one is for non-veg lovers. Badmaash Kebabi serves Mughlai food at a very moderate price. It is opened from 4:30 in the evening till 2:00 in the night. If you desire to have a mouth-watering midnight snack, Badmaash Kebabi is your place to be.
Location: Sector 135, Near Genpat Office, NOIDA
Dosa Inc.
Dosa Inc., started by a husband-wife couple, serves traditional South Indian food. You can see this food truck outside offices or educational institutes on weekends. Their menu serves delicious traditional food at a very pocket-friendly price.
Location: Opposite 204 Radio City, Okhla Industrial Area, Phase III, Delhi (Not a regular location.)
BhookBox
Serving a variety of dishes, BhookBox is popular among college-goers. You could find a wide range of dishes on the menu, starting from pasta to burgers at a very low price. Their signature plates include Boom Burger, which is definitely worth trying.
Location: B-2, CM Market, Near Authority Gol Chakkar, Greater Noida.
What The Truck
What the truck is a chain of food trucks that has an all-American menu. This truck dish out burgers, hot dogs, and more. What the truck, along with serving finger-licking food, also contributes to the environment by entirely working on solar energy.
Location: Leisure Valley Road, Sector 29, Gurgaon
Rolling Kitchen
Rolling Kitchen is famous for its all Lebanese menu. Not only non-vegetarian but their vegetarian food is also to die for. So when you feel like having a nice Lebanese meal, Rolling Kitchen is the place to be.
Location: 19 and 20, Leisure Valley Parking, Sector 29, Gurgaon
Delhi Food Truck Co.
Delhi Food Truck Co. offers you authentic North Indian food. They are famous for their Naanza, which is basically a stuffed naan. Delhi Food Truck Co. is expensive than other food trucks but worth every penny.
Location: Leisure Valley Gate 2 Parking, Sector 29, Gurgaon
Cheesezone
Another option to satisfy your desire for Chinese cuisine is Cheesezone. The quantity of food that they serve is huge given that their prices are low. They serve both non-veg and veg plates. They have a wide variety of dishes on their menu.
Location: Opp. BSNL Office, Huda Parking, Sector 56, Gurgaon
Why are food trucks an ideal choice?
The best part of these Food Trucks is that they are low at investment, easily available, and serve amazing food. These food trucks have a good ROI, with low investment. People are investing more in this business as it is also a unique business idea.
India is gradually coming up with more food trucks in different cities and making its way into this business. Food trucks are a get-together spot, especially for students to satisfy their midnight cravings and to stop by to have a nice long conversation. You may also find few jamming sessions near these food trucks making the atmosphere livelier and more fun.
Some restaurants have started food trucks in busy streets to expand their business and make their recipes more easily available. Also, through these food trucks, the customers might get to know about a restaurant.
Regular customers prefer eating at the food trucks as they enjoy the ambiance, which is open and not cramped, making it more comfortable for them to eat.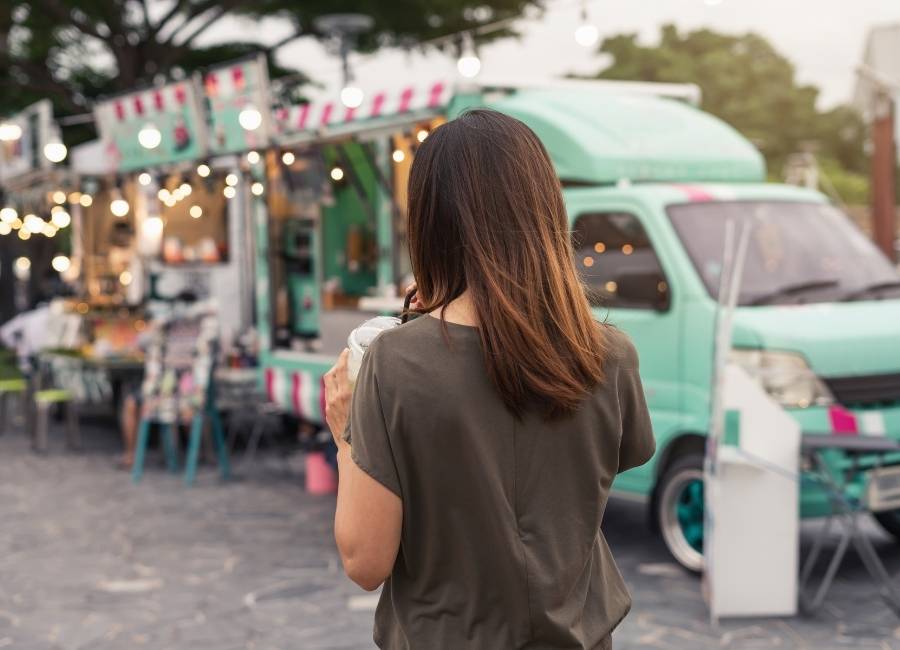 Since the world is so busy these days, food trucks are easy to access and quick eateries for busy lives. The owners decorate their trucks according to their menu's theme, making them pleasing to the eyes.
Social media has also played an essential role in making food trucks popular. Food trucks are now a trend in India as we see new food trucks opening up in every other street and food truck parks setting up that have a wide variety of cuisines.
Food trucks are also an experiment, where the owner can test their cuisine and theme and then move on to turning it into a bigger restaurant. They can mostly be found in busy streets or near offices or schools or colleges.
As time is passing the food truck business is also evolving. Food trucks are not a new trend even though there are parts of the world where food trucks are not that famous, but in some places, it is almost a part of people's daily lives.
With time gradually, these food trucks might evolve again and present the world with something new and more astounding, experimenting and coming up with something more unique than what we have now.
Related Posts