What's on the schedule for tonight? Still, stuck on what to do on your next date night at home? You don't need Netflix or a babysitter, you just need some creativity and these romantic movie date night at home ideas.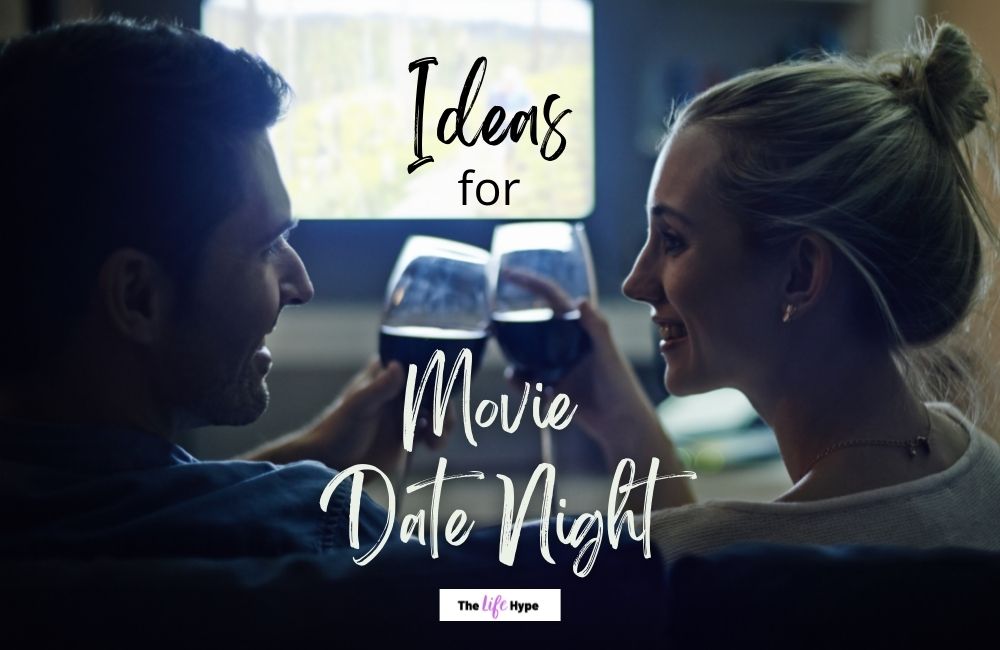 1. Create a theatre-like setting
Create a home cinema by setting up a projector and screen in one corner of your living room. Add comfortable seating, pillows, throws, and snacks for an unforgettable experience.
You can also create a movie night by watching your favorite movie on TV, with friends and family, for a fun evening!
2. Light candles
Create an intimate ambiance at home by lighting candles of various shapes, sizes, colors (e.g., red for passion; blue for peace; green for growth; purple for wisdom).
Create an inviting atmosphere and movie date night set up by using colorful table utensils like napkins and plates, lighted lanterns, or mercury glass votive candle holders. You can also use fairy lights to give your home an attractive look at night.
3. Bring your pet along
Invite the furry members of the family! Bring your pet dog along on your movie date night at home. They will feel part of the family as you spend quality time with them watching a movie together. Just make sure they don't disturb you while you're having fun!
4. Rearrange the furniture
Have a change of scenery by moving furniture around to create different areas in your living room for different activities (e.g., watching, chatting, eating).
5. Get creative with food
Make snacks that are themed to your favorite movies. For example, to recreate the magic of ' Beauty and the Beast, 'make some matching desserts that look like the characters from the movie! You can also serve themed food – for example, if you're watching ' The Great Gatsby, 'serve French pastries or cocktails! Some of our favorite ideas are popcorn with melted butter, chocolate milk, fruit skewers, chocolate fondue, biscuits.
6. Stay away from distractions
Turn off your phones, laptops, and other gadgets to create a technology-free zone for movie date night at home. This way, you can focus on each other and enjoy your time together.
7. Watch a classic
Watching a classic movie is always an excellent idea for a romantic movie date night at home. Choose romantic classics like ' Casablanca, " The Notebook, 'or ' West Side Story. ' You can also watch older movies that you may have missed earlier.
8. Watch a new release
If you want to watch something new, choose a movie that both of you are excited about. This could be anything from the latest blockbuster action movie to an indie film with an interesting plot.
9. Make a theme night
Have a cute movie night at home by making a film-themed night. Let the movies play in the background as you spend time with your partner and enjoy some quality time. You can also make movie night special by celebrating festivals like Thanksgiving, Christmas, or Halloween together.
10. Create a date jar
Fill up a date jar with ideas for movie date night at home. Then, take turns picking out activities from the date jar every week! This will ensure that you both look forward to spending some romantic time alone during your love time at home!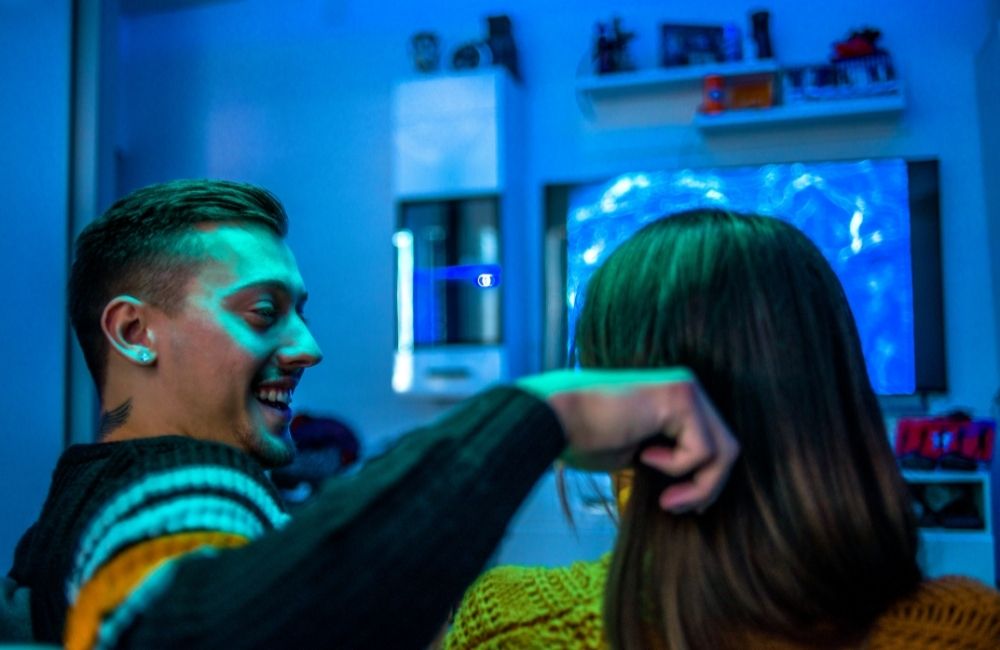 11. Create a love story for your movie date night at home
Spend your movie date at home by recreating your own love story. Your partner tells you an anecdote about your first date, and you recreate it! Don't forget to include little surprises like hiding behind corners (just like how the leading couple would do) or saying something romantic like "I'm glad we found each other" while looking into their eyes.
12. Watch a favorite TV show episode
There are TV shows that you can enjoy both as stand-alone episodes and entire seasons of television. Watch your favorite TV shows together during a movie date at home. If you're an action series fan, consider watching the latest season of ' Arrow, " The Flash, " Legends of Tomorrow, 'or ' Supergirl. ' If you're into drama, try watching the latest season of ' Game of Thrones. ' If comedies are more your thing, check out the latest season of ' The Big Bang Theory. '
13. Create a movie playlist
Put together a list of your favorite movies to watch during movie date night at home. This could be anything from chick flicks to horror movies! You can even create different playlists for different moods.
14. Play "Never have I ever"
Another fun game you can play during the commercials is "Never Have I Ever." All you need for this one is a smartphone and some drinks! Everyone takes it in turns to state something they have never done. Anyone who has done that thing has to take a drink, but anyone who has done it twice has to finish their drink!
15. Make a drinking game
If you're looking for something a bit more intense, why not make a drinking game? This can be as simple or complex as you want it to be, but the basic idea is that you take a drink every time something happens in the movie. Just make sure you have plenty of drinks on hand!
16. Watch a movie marathon
If you're looking for movie night ideas that will keep you entertained all night long, why not try watching a movie marathon? Pick a theme – such as horror movies, chick flicks, or comedies – and start watching one movie after the other. Not only is it a great way to spend an evening together, but it's also a fun way to get introduced to new movies that you might not have otherwise seen.
17. Play games
Play fun at-home movie date night games like Pictionary or board game classics like monopoly, risk, and clue. You can even use your phone to play trivia or word-based games! This is a great way to have some competition during movie night at home.
18. Read books
If you're not interested in watching TV shows or movies, sit down with your partner and read books instead! Pick out books that are set in the period of time you want to go back to – for example, ' Outlander, " The Notebook ' or any classic love stories by Jane Austen.
19. Stay cozy on the couch
There's more than one way to enjoy movie date night for couples! If you and your partner want to relax and spend time together, simply stay on the couch and watch a movie or TV show. Snuggle up under a blanket with some hot chocolate or popcorn and enjoy each other's company.
20. Cook dinner
Dinner dates are often romantic. So, spend the night with your bae by setting up a candlelit dinner table. Add fresh flowers, place cards, vintage crockery, cutlery. Treat your partner to delicious meal ideas like baked salmon or steak broiled to perfection. Make sure you take care of their sweet tooth, too, by preparing churros or waffles with ice cream.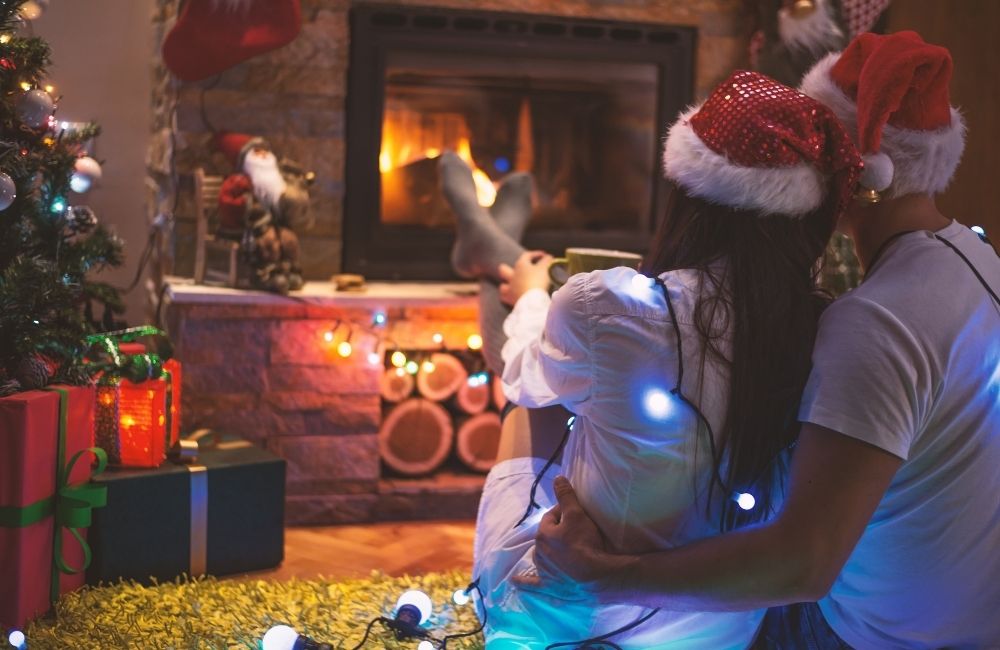 21. Light a fire for your movie date night at home
Get that old movie projector out from under your bed and project movies on the living room wall. It's an easy way to create an indoor movie theater! Simply get a long extension cord or set up near an outlet, get a movie to share, and build a cozy campfire in the fireplace. Turn off all the lights so only the film is lit up and you have a great movie night idea for couples.
22. Build movie theater boxes together
If you don't have movie tickets to include in your home movie date, making movie theater-sized boxes to enjoy snacks is a fun way to relive the movie night excitement. Start by taking an old shoebox and cutting out one of the long sides to form a flat surface. You can paint it or cover it with decorative paper to look like movie seats for two before filling them with some bags of popcorn, candy, soda bottles, and cups, and any other movie theater treats. Then kick back on the couch together as if you were at the movies!
23. Create your own movie
If you really want to go all out and show your DIY movie night at the home dedication, why not create your own movie? Start by taking a video camera and filming yourselves acting out the movie together. You can talk in funny voices and use funny expressions, or you can try to do it as realistically as possible. Then edit the movie together with music for added fun!
24. Host movie trivia game night
If you're looking for a movie night with a bae that is exciting, fresh, and new, then movie trivia games may just hit the spot. There are lots of different ways to do this – one is by having movie stills as quiz questions while playing music in the background, and another is by having movie posters as quiz questions while playing movie soundtracks in the background. You could also try to make it a contest of who can answer the most movie trivia questions correctly without getting any wrong.
25. Watch a movie from another country
Looking for something new and exciting to watch? There are lots of great foreign films out there with amazing storylines and beautiful cinematography – and watching them with subtitles can add an extra layer of excitement. Pick a country that you're interested in learning more about, or simply choose a movie that looks intriguing.
26. Make it interactive
Sometimes, you can enhance a couple movie night at home by adding some fun extras. For example, purchase some props like feather boas or plastic toy guns. This will make it feel more interactive and exciting – plus, it helps you get in character if you're watching a movie about cowboys, pirates, etc.
27. Make movie party invitations out of old movie posters
If you're having people over, chances are you'll need some movie party invitations too. One really creative way to do this is by using old movie posters as invitations instead! You can make your own movie party invitations by cutting out movie stills from movie posters and pasting them onto the invites. This is a really inexpensive, creative, and interesting way to invite guests along to movie night at home.
28. Watch movie trailers online, then guess what movie they are from
One of the best movie date night at home ideas is to watch movie trailers online. This way, you can get a preview of upcoming movies scheduled for release in the future – but even better than this, try guessing which movie each trailer comes from. Make it into a game by giving each other movie-related clues and seeing if your movie date can think which movie you're talking about! You could even set it so that every time they guess wrong, they have to do something silly like run around the house three times or cluck like a chicken.
29. Watch a movie while lying in bed
One great way to make your movie night at home more special is by watching a movie while lying in bed together. This can be incredibly cozy on colder nights – all you need is some blankets, pillows, and snacks. You could even try cuddling up under a warm duvet or blanket and watching a movie from your laptop – it doesn't get much cozier than that!
30. Have a romantic candle-lit dinner for two at home
If you want to make your movie night at home special, one of the best ways to do this is by having a romantic dinner for two. You could order take-out Chinese food or pizza if you don't feel like cooking, but even better, try having a go at making some simple pasta dishes from scratch instead. This way, you'll be able to save money and bond with each other through preparing it all together as well as eating afterward.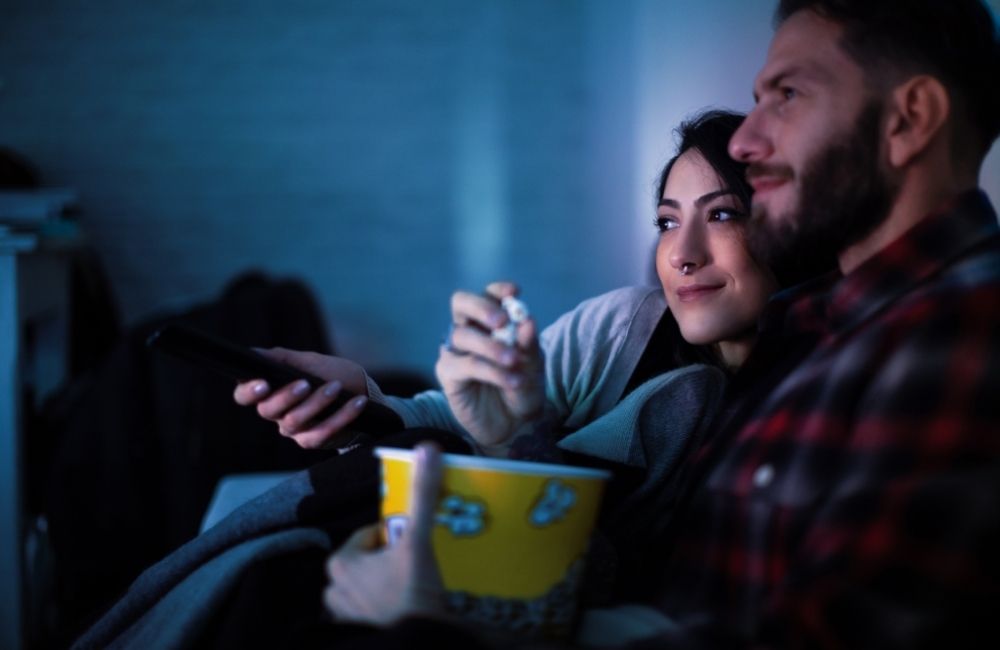 31. Make a themed movie date night at home
If you want to make your movie night at home more enjoyable, one way to do this is by having themed nights instead of watching random movies. This way, you'll already know what you're getting into, and you can plan your evening accordingly. One of the best ways to do this is by having a themed movie night around a specific genre. You could have all romantic movies one week, or horror movies another time – it's up to you!
32. Watch short films
If your partner hates sitting through long movies, then one way to avoid this is by just watching short films instead. There are loads of great websites that host mini online-only film festivals, or you could even just watch older public domain shorts that are barely five minutes in length. Film shorts can be fascinating and thought-provoking because they leave things open-ended, so your imagination gets to run wild afterward.
33. Watch a whole collection of documentaries
If you want something exciting and educational during your next movie night at home, one of the best movie date night at home ideas is watching a whole collection of documentaries. This way, you get to learn about things that interest you from real experts in their field without having to sit through a long story with all the boring bits cut out. If this sounds like your kind of thing, then check out some great documentary series on Netflix!
34. Make a new mixtape for each other every week
If you want to make your next movie night at home really fun and personalized, then one of the best ways to do this is by creating a new mixtape for each other every week. You could fill these with songs that remind you of each other or just share your absolute favorite tracks – either way, it's sure to be fun!
35. Dance along to your favorite songs
If you love dancing, then one of the best ways to incorporate it into your next movie night at home is by just having a dance-off. You could play some old-school pop songs on Youtube and try singing along, or you could even get down to some serious club bangers if you're in the mood for it. This will be sure to get you both up and moving, so there's sure to be lots of laughs!
36. Make a homemade pizza
If you want to make your movie night at home even more special, one way to do this is by making a homemade pizza. This is much easier than it sounds – all you need is some readymade pizza dough, sauce, cheese, and toppings of your choice. You could get really creative with your toppings and make something truly unique and memorable. A slice of pizza and snacks could boost an evening's movie on top. Make movie night fun with a pizza party. Plus, there's nothing quite like the smell of freshly baked pizza wafting through your house!
37. Get dressed up
One way to make your movie night feel a bit more special is to get dressed up. This doesn't mean you have to go all out and put on your best dress or suit, but just something a bit nicer than what you would typically wear. It can make you feel like you're having an event rather than just watching a movie at home.
38. Scavenger hunt
Set up a scavenger hunt before the film starts to make your movie night even more fun. Make clues around your house and yard that lead to different items (e.g., your best wine glass). Whoever finds all of the items gets to pour the wine!
39. Lingerie night
If you're having a lot of trouble coming up with ideas for your movie night, then why not set it as an over-18s only lingerie party? This is guaranteed to make your movie night very memorable. You might even be lucky enough to see some on-screen action in the bedroom!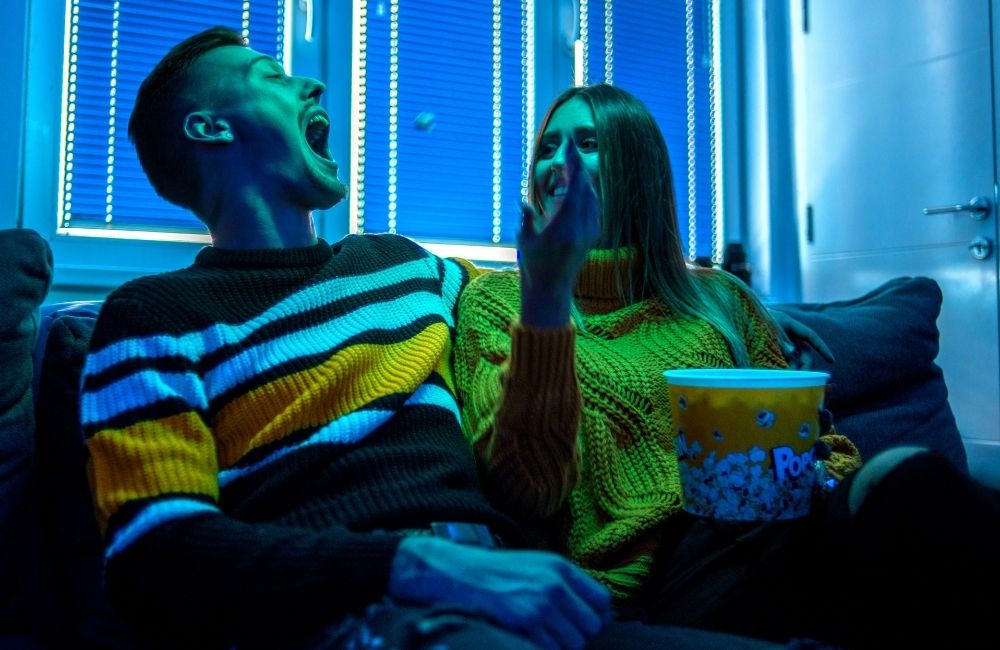 40. Complete a puzzle
If you're looking for something to do during the commercials, why not try completing a puzzle? This is a great way to keep everyone entertained and can be a lot of fun. Just make sure you have a puzzle that's big enough for everyone to contribute.
41. Watch kid movies together
Another way to make your movie night more interesting is to watch a kid's movie. This can be fun as it's usually very different from the kinds of movies you usually watch, plus kids' movies are usually pretty short so that they won't take forever!
42. Act out scenes
If you're going through a dry spell, why not try acting out scenes from your favorite movies? This is a great way to get everyone involved and can be a lot of fun. Just make sure you have enough room to move around!
43. Play in the snow
If it's winter where you are, why not check out the local weather forecast and see if there's any chance of snow? If so, then take some time out during your movie night to go outside and play in the snow! This can be a lot of fun and is a great way to get some exercise. Just make sure you dress appropriately!
44. Build a romantic blanket fort
When used with a cozy pillow or blanket, a fortress will make a really fun date night. Use your favorite movies as inspiration and create retro designs. You may want to wrap sheets on blankets or throw pillows in bed to make movie night more comfortable. You have to grab a hook at the door and hang the chandelier around them. When your candles are burning and your lights are on, your romantic atmosphere will feel even more inviting. Add a bunch of rose petals to the center to enhance the effect.
45. Rent a Projector for your movie date night at home
It allows you to view movies on huge screens. Most homes cannot afford projectors. If you search locally, you might find an option. It is amazing how exciting it is to use this projection! You can play games, see pictures, and watch movies with it. Put on some popcorn, microwave some hot dogs, and pour a few sodas to make it seem like you're going to the movies.
46. Backyard camping
Get some meat and marshmallows ready to grill. Light a campfire. For the evening, retreat into the camp to watch the movies. After, take a relaxing walk outside. You will enjoy watching fireflies flash their taillights as they fly around. Starry night skies will bind you together.
47. Bath and movie
There's nothing quite like a relaxing bath followed by a romantic movie to make a date night special. Here's how to do it:
Fill your bathtub with hot water and add a few drops of your favorite aromatherapy oil or bath salts.
While the bath is filling up, get a few of your favorite movies ready on the DVD player or on the streaming device. Choose comedies, romances, and action movies to keep on hand. So you can still talk in the bath, keep the sound low.
Once the bath is ready, dim the lights, light some candles, and invite your date to join you.
While you are both soaking in the tub, ask your date to pick a movie other than the one playing.
While you're drying off, your date can either get dressed or slip into a cozy bathrobe. Hand your date a towel so they don't catch a chill.
Once everyone is dressed, enjoy the rest of your movie on the couch while eating popcorn!
48. Loads of ice cream
Movie and ice cream dates are super fun! You can either make your own ice cream or get a tub from the store. If you're looking for a classic movie night date, we recommend going with vanilla or hazelnut ice cream. But if you're feeling a little more adventurous, try chocolate or strawberry balsamic ice cream.
49. Complete movie franchise
List 5-10 films. Several famous examples include Harry Potter, Fast & Furious, The Princess Diaries, Scary Movie, and the Lord of the Rings.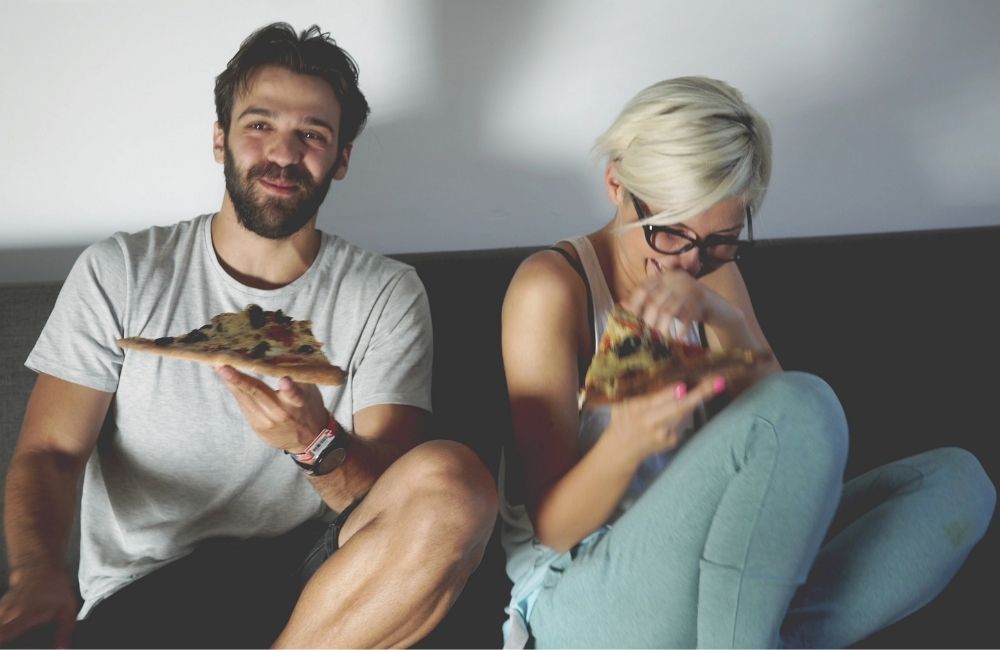 50. Movie-themed dinner
Following your choice, you will need to plan your own themed meal. For example, you can use pizzas, burgers, sodas, chips, and sodas. Often, viewers of fantasy films describe dishes the protagonist can enjoy. Order takeout to match movie scenes. Consult local restaurants to find out about their unique food preparation kits. If you're watching Always Be My Maybe, you might also order Dim Sum.
51. Movie date night at home outfit
Our fun comes from knowing how to be creative with what we have. Dress as if your party starts at midnight in your own house. If you want to look like a Jedi in a Star Wars movie, wear the closest costume to yours, even if it is just a sheet and belt. Make mouse- or rabbit-like headbands, and draw faces and brushes with noses and whiskers. Have fun dressing up for movie dates at home!
52. Turn it into an all-day event
Start the day by making a delicious breakfast together. Then, spend some time playing games or just hanging out. Once it's time for the movie, pop some popcorn and settle in for a night of entertainment. If you're feeling really adventurous, you could even end the night with a fun and romantic sleepover.
53. Watch horror movies
Looking for a fun, romantic way to spend a date night at home? When watching a horror movie, make sure to keep the lights on, snuggle up as close as you can and surprise your partner with a kiss or hug anytime they're caught jumping. In this way, they will have more fun and feel less afraid during the movie. You'll also look like a hero!
54. Zombie night
The variety of zombie movies available will allow you to find one that fits your mood. "Shaun of the Dead" is perfect for a date night if you want a light-hearted zombie movie. The humor in this film is witty and entertaining, but it isn't too serious to where you can't enjoy the movie with your loved one. When it comes to something more serious, "28 Days Later" is a perfect choice. The entire film is suspenseful and keeps you on the edge of your seat.
Whatever zombie movie you choose to watch, you are sure to have a wonderful date night.
55. Earth hour
There are plenty of ways to make your date night at home special without relying on electricity. You could light a candle and cook your own dinner, then watch a film together on a laptop or a TV.
During the movie, turn off the lamp completely. While reducing energy costs, we have to take care of the environment. Hug each other in silence when you're feeling romantic.
Movies You Can Watch for At-Home Date Night
1. While You Were Sleeping
2. The Ugly Truth
3. How to Lose a Guy in 10 Days
4. The Holiday
5. Hitch
6. The Proposal
7. Bridget Jones's Diary
8. Sex and the City: The Movie
9. Just Friends
10. Maid in Manhattan
11. When Harry Met Sally
12. Pretty Woman
13. No Strings Attached
14. Friends with Benefits
15. The Notebook
16. The Wedding Planner
17. 27 Dresses
18. Leap Year
19. The Lucky One
20. The Fault in Our Stars
21. PS I Love You
22. 50 First Dates
23. Sweet Home Alabama
24. The Best Man
25. Runaway Bride
26. My Big Fat Greek Wedding
27. The Blind Side
28. The Help
29. Eat Pray Love
30. Crazy, Stupid, Love.
31. The Switch
32. New Year's Eve
33. Valentine's Day
34. A Good Year
35. Just Like Heaven
36. Love Actually
37. Serendipity
38. Twilight
39. Dear John
40. When in Rome
41. Safe Haven
42. The Vow
43. A Walk to Remember
44. No Reservations
45. 10 Things I Hate About You
46. Eyes Wide Shut
47. Breakfast at Tiffany's
48. Date Night
49. Just My Luck
50. Overboard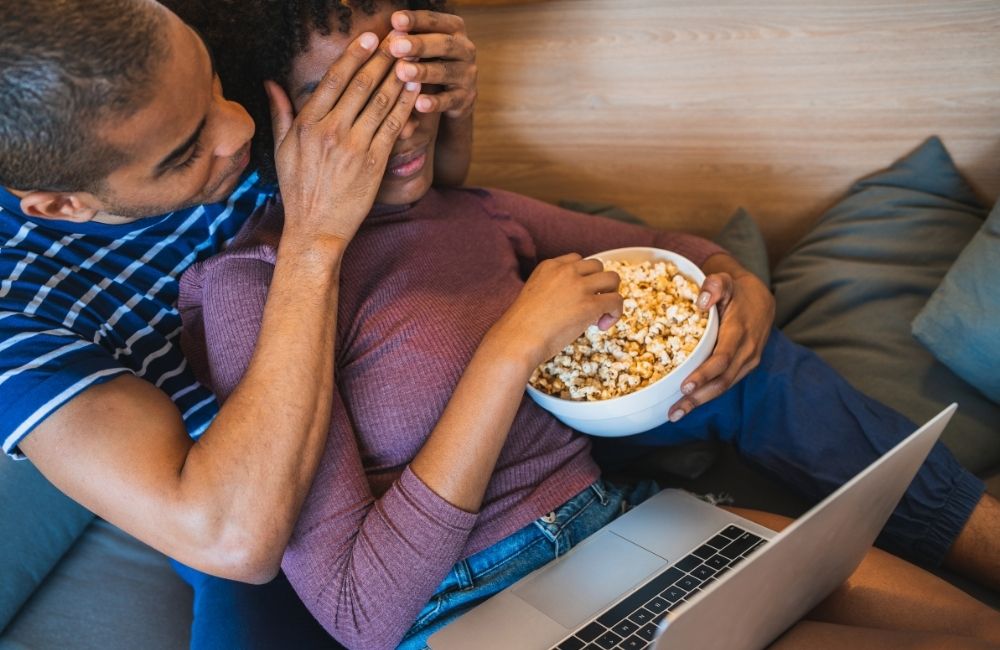 Is a movie at home a good date?
Whether or not a movie at home is a good date night depends on the couple. For some, it might be just the right level of intimacy and comfort. For others, it might feel too much like a "stay-in" night.
Ultimately, it's up to the couple to decide what they're most comfortable with. If they're looking for a low-key night together, a movie at home might be just the thing. If they're looking for something more energizing and romantic, perhaps not.
One way to make a movie at home date night feel less "stay-in" is to make it part of an evening or night out. For example, the couple could go on a walk before settling in for the film. They could make popcorn or other snacks to eat while watching the movie, too.
Over time, couples might decide that a movie at home is their go-to for a relaxing, low-key night together. Or, they might decide that it's better to save movies for when they're not feeling well or just need a chill night in. Either way, it's a great option for those who want to spend time together without leaving the house.
How to Make your Movie Date Night More Meaningful
– Take your movie date night outside by watching the stars together. Just make sure no one is around to bother you, like police officers who might want to move you along.
– Make sure there's no technology on movie date night at home so you can focus on each other. Avoid scrolling through social media before, during, and after your time.
– Try not to change rooms while watching a movie together – it will break your concentration and ruin your movie date.
– Make the cute movie night with your partner all about them; be thoughtful by including their favorite food, drinks, movies, etc.
– Sometimes, the best way to make movie date night more meaningful is by simply talking and getting to know each other better.
– Create a cozy environment for movie date night by lighting candles around the room.
– Finish your movie date night by giving each other a massage.
– Make sure you both know what's expected of each other on the date before it starts.
– Keep movie date night simple by watching TV series together.
– Pick the right setting for movie date night so it can go smoothly without any distractions, like making sure there are no kids fighting in the other room.
– End your movie date night with a kiss instead of just saying "good night."
– Pick the right kind of food for movie date night, so you don't have to worry about spilling things on your couch or getting multiple plates dirty.
– Have each other write down their favorite three movies and compare them – it will show your partner what makes a good movie, in your opinion.
– Try not to plan your date night with bae too far ahead – spontaneity creates excitement and adds meaning to the event.
– Turn off the TV and hide cell phones, so you don't get distracted during a movie.
– Movie date night at home should be reserved for significant others who are important to you – it will mean so much more than watching movies with friends.
Over to you…
Movie date night at home is always better when it's low-key and intimate. When you don't feel like leaving home to watch a movie, try one of these ideas on for size!
Organize a special dinner date or watch an old classic together to make it romantic. Try different things like recreating a scene from a movie that you've seen together or spending the night in celebrating Christmas or Halloween!
Whether you're cooking dinner together, enjoying a s'mores tray at the end of the day, or surprising your significant other with an elaborate home cinema experience, there are plenty of ways to have fun without ever having to leave home.
What are some more successful date night ideas at home? How do you spend movie nights at home? Share in the comments below!