There's nothing quite like sitting back and enjoying a good movie with your friends and family in the comfort of your own home.
Whether you're inviting your mates round to watch the latest blockbuster release or spending quality time with the family watching your kid's favorite films, taking the time to set the mood can make movie night much more enjoyable.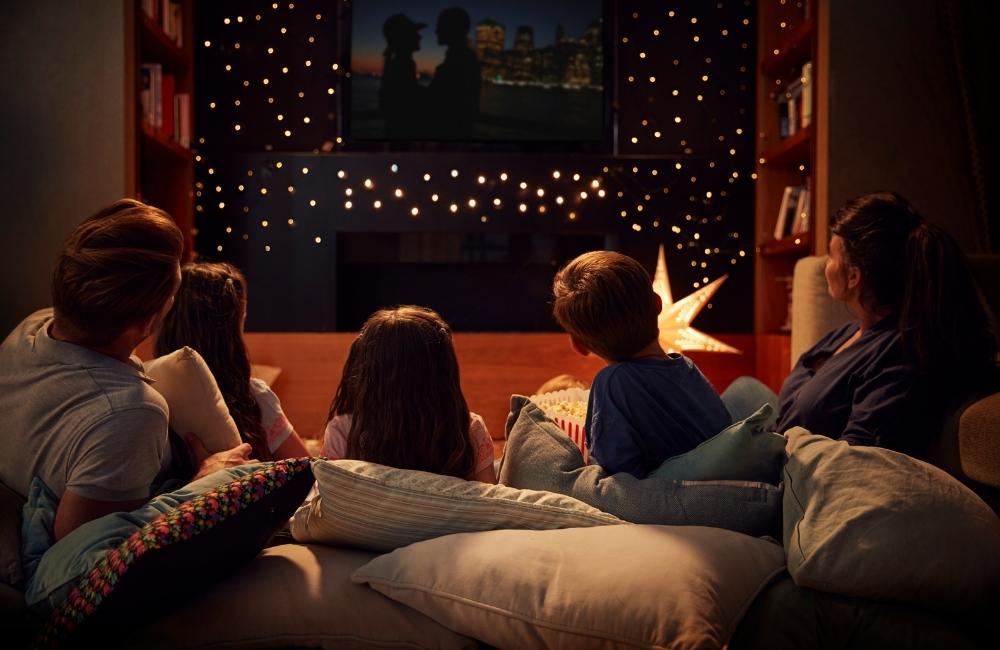 Before you sit back in your recliner chair and press play on your movie of choice, be sure to go the extra mile and create that movie theatre vibe that will make the evening more special.
Adults and kids alike will appreciate the effort, and it doesn't take much to elevate your movie-watching experience. In fact, with just a few small changes, you can have a movie night at home that will rival any night at the cinema and save yourself a fortune in the process.
Let's take a look at a few simple steps that you can take to set the mood for a movie night that's made fun and right.
#1 Consider Your Lighting
To create that movie theatre vibe at home, the first thing you need to do is think about your lighting. Watching a movie with the lights on is never a good idea. However, being in complete darkness is not an ideal choice either. Use some carefully positioned lamps to create soft accent lighting that will help to get everyone into movie mode.
#2 Put On The Popcorn
For many people, going to the cinema to watch a movie is more about the popcorn than it is about what's on the big screen. To ensure that you set the right atmosphere, be sure to rustle up some popcorn and get the house smelling like a movie theatre. If you want to go the extra mile, consider getting a popcorn machine to make movie nights extra special.
#3 Focus On Comfort
If you want to get the most out of your home movie nights, you need to be sure that there is enough seating for everyone and that you are all comfortable. As most homeowners will only have limited space on their couch, it's a good idea to have some extra chairs, beanbags, or large cushions so everyone can find somewhere to sit when the film starts.
#4 Go For Big Sound
Surround sound systems are not as expensive as they once were, and they can completely transform your movie-watching experience. Have a look at your options online and take movie night to the next level. Alternatively, check your TV settings and choose the best sound settings for whatever style of movie you are watching, and crank up the volume.
#5 Put The Phones Away
When you're watching a movie at home, be sure that the TV screen is the only device your attention is on. Make sure that everyone has their phones on silent and that they are not used while the movie is on. Better yet, collect all the phones and leave them in another room until the movie is over so everyone can enjoy the flick without any unnecessary distractions.
Make An Effort To Create The Right Environment For Your Home Movie Nights
Sitting down to watch a movie with your friends and family is a great way to spend quality time with your loved ones. However, to set the mood for a movie night and make the most out of your movie-watching experience, you need to put in a little extra effort so everyone is in the right frame of mind for the movie extravaganza ahead.
Following the tips outlined above, you can create a cinema-like experience and enjoy movie magic in the comfort of your home with ease.