How you doin', guys? I'm doing just fine and dine. Last Sunday, I went to Naturals Ice Cream, which my friends couldn't adore enough, and I got excited to try their ice cream out. So here goes my experience with it…
About Naturals Ice Cream: Established in 1984 in Mumbai, Naturals ice cream has been a pioneer in making artisan ice creams using only fruits, dry fruits, chocolates, milk, and sugar. We add no preservatives or stabilizers to our product. This idea was conceptualized by Mr. R S Kamath, CMD of Kamaths Ourtimes ice creams Pvt. Ltd
Price: Rs. 65/- for any ice cream scoop in a cup (Rs. 10/- extra for a cone)
My Experience with Naturals Ice Cream, Connaught Place
So last Sunday afternoon, I was feeling an urge to gorge on ice cream. Deciding between two ice cream parlors, I settled for Naturals Ice Cream, an outlet at CP. A few days ago, my friends also went there, and they were raving about their ice creams, which developed a curiosity in me. So without giving another thought, I drove to CP and went to the outlet to pick some yummy flavors.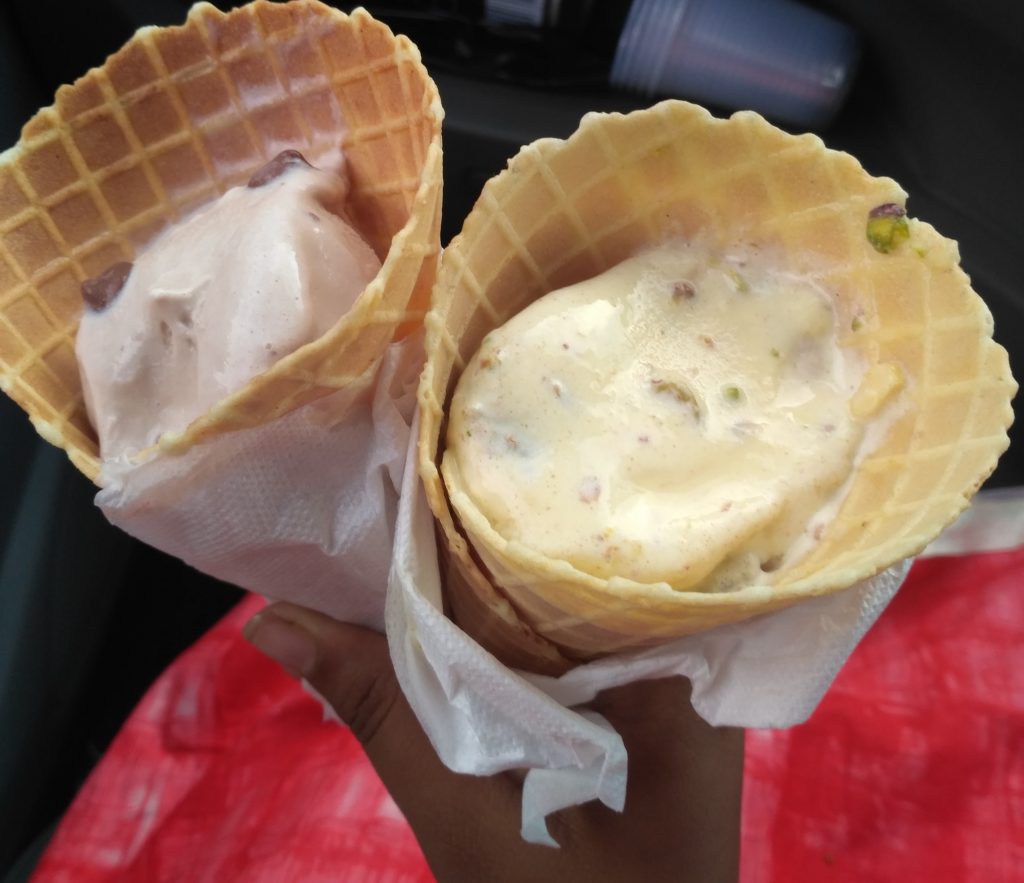 Naturals outlet had a huge hall which had good seating arrangements. There were three categories of ice creams – Seasonal Ice Creams, Round the Year and, Ice Cream Shakes. So, I picked two flavors – Choco Bite and Kesar Pista. Being Saturday, there was a huge rush over there, so I went out with my ice cream cones.
Choco Bite had chocolate chips in it, but I was still longing for the real chocolate flavor in it. Honestly, it was so dull and not sweet enough. Not getting this flavor again!
Now, here comes the Kesar Pista, the flavor I actually liked. The sweetness was enough, and the ice cream was loaded with pistachios and almonds. I liked the aroma of Kesar in it.
My Final Thoughts: I commend Naturals Ice Cream for their affordability and a wide variety of cool flavors. Though my experience was just average, I still like the Kesa Pista variant than Choco Bite.  I can't say about other flavors as I haven't tried them yet, and I don't know if I'll come back soon to this place. If I do, I will update this post with other flavors as well! 🙂
Have you visited Naturals Ice Cream? How was your experience with it?