Are you in some for some cheesy yet heart-winning Om Shanti Om dialogues? This movie has always been the number one in winning hearts. Om Shanti Om, directed by Farah Khan, has never failed to impress. The director has surprised everybody with waves of emotions in this movie.
The movie is dramatic, thrilling, romantic, and what not? To talk about the cast of the film, from then till now, Shahrukh and Deepika are really a couple on screen. The chemistry and the emotions between them are unbeatable.
The songs and the background score by Vishal-Shekhar and Sandeep Chowta have contributed the best to the movie. The party song has its own vibes whenever you listen to it. It lightens up your mood and gets you out of stress. Aren't we missing out on something? Yes, the dialogues. The dialogues are written in a way that they get you into self-realization. Here are 10 Om Shanti Om dialogues that are still unforgettable.
Om Shanti Om – A brush up to your memory
Om Prakash (Shahrukh Khan) is a junior artist in the Hindi film in the 1970s. He falls in love with Shantipriya (Deepika Padukone), an actress, in the same industry. During a shoot, Om rescues Shanti from a serious fire, and they become friends.
While Om was seeing his dream come true, he is shocked when he finds out that Shanti is secretly married to a film producer, Mukesh Mehra, and is expecting a baby soon. Om watches his love, actress Shanti being killed by her own husband to protect his career and prevent himself from a financial crisis. Om also dies while trying to rescue Shanti.
After three decades, Om has reincarnated as a son of an actor, Rajesh Kapoor. Eventually, he also becomes an actor. He starts to regain memories from his old birth when he gets to meet certain people. He also gets to meet Mukesh Mehra and decides to make a film with him, starring a look-alike of Shantipriya. The movie's name is Om Shanti Om. Om gets involved in the process of making Mukesh confess what he did, but in the end, his life is endangered once again.
The cast of Om Shanti Om
This movie has brought in almost all the actors of the Bollywood industry in it. This idea and work itself have been tremendous, and the movie has come out gigantic. There are a lot of special appearances in the song Deewangi.
Shah Rukh Khan as Om Prakash Makhija/Om Kapoor
Deepika Padukone as Shantipriya "Shanti" Kashyap/Sandhya "Sandy" Bansal
Arjun Rampal as Mukesh "Mike" Mehra (Shanti's husband and murderer)
Shreyas Talpade as Pappu Master (Om Prakash's friend)
Kirron Kher as Bela Makhija (Om Prakash's mother)
Bindu as Kamini Arora (Dolly's mother)
Javed Sheikh as Rajesh Kapoor (OK's father)
Satish Shah as Partho Roy
Yuvika Chaudhary as Dolly Arora (Kamini's daughter and OK's friend)
Nitesh Pandey as Anwar
Asawari Joshi as Lovely Kapoor (OK's mother and Rajesh's wife)
Nassar Abdulla as Nasser
Shawar Ali as Shawar
Lin Laishram
Other Special Appearances
Rani Mukerji
Zayed Khan
Vidya Balan
Jeetendra
Priyanka Chopra
Shilpa Shetty
Dharmendra
Shabana Azmi
Urmila Matondkar
Karisma Kapoor
Arbaaz Khan
Malaika Arora Khan
Dino Morea
Amrita Arora
Juhi Chawla
Aftab Shivdasani
Tabu
Govinda
Mithun Chakraborty
Kajol
Preity Zinta
Rekha
Riteish Deshmukh
Saif Ali Khan
Bobby Deol
Salman Khan
Tusshar Kapoor
Sanjay Dutt
Lara Dutta
Sunil Shetty
Amitabh Bachchan
Anil Kapoor
Uday Chopra
Hrithik Roshan
Abhishek Bachchan
Akshay Kumar
Bipasha Basu
Aishwarya Rai Bachchan
Kareena Kapoor Khan
And many others.
10 Om Shanti Om Dialogues with meanings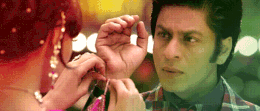 #1. Kehte hain agar kisi cheez ko dil se chaaho, to puri qayanat use tumse milane ki koshish mein lag jaati hai…
Meaning: If you really desire something from your heart, the whole universe will conspire to help you achieve it.
#2. Lekin agar end mein sab kuch theek na ho to woh the end nahi hai doston.. Picture abhi baaqi hai…
Meaning: And if everything does not turn out well in the end, then that is not the end, that means, the movie has not ended.
#3. Picture abhi baaqi hai mere dost…
Meaning: The picture is still on, my friend.
#4. Ek chutki sindoor ki qeemat tum kya jaano Ramesh Babu? Ishwar ka aashirwad hota hai ek chutki sindoor. Har suhagan ka taj hota hai ek chutki sindoor. Har aurat ka khwab hota hai ek… chutki… sindoor…
Meaning: What do you know about the value of a pinch of a red powder, Ramesh, sir? This one pinch is God's blessing. One pinch is the crown of a married woman. One pinch is every woman's dream.
#5. Hamari filmon ki tarah, hamari zindagi mein bhi end tak sab kuch thik ho jaata hai…happy ending!
Meaning: Like in our films, everything goes well till the end, in our lives…happy ending.
#6. Om aur Prakash to main bardaasht kar lunga lekin Makhija naam ke sath main kabhi hero nahi ban paunga…
Meaning: The names Om and Prakash can bear the limelight, but I will never be a hero with the name Makhija.
#7. Zarurat padhne par ek baar nahi, das baar nahi, sau baar nahi, hazaar baar… hazaar bar us aag me kood jaunga jisme Shanti ho.
Meaning: If necessary, not once, not ten times, not a hundred times, thousands of times… thousands of times, I will jump into the fire in which Shanti is also there.
#8. Mein tumhare liye ajnabee hoon lekin mere liye to tum mera wo hissa ho jiske bina mein bilkul adhoora hoon…
Meaning: I may be a complete stranger to you, but for me, you are a part of me without which I am incomplete.
#9. Yash Chopra ke set ki tarah shandaar bedroom hoga, gol bed ke sath… jab main subah uthunga to mere kadam sangemarmar ke farsh par padhne se pahle ek naukar makhmal ki chappal laa kar mere pairon me daal dega. Rajkumar wala silk ka gown pehankar jab mein bahar niklunga to doosra naukar juice ka glass leke khada hoga…
Meaning: I will have a lavish bedroom just like Yash Chopra's set with a round bed. When I'll wake up in the morning before I get my feet on the floor a servant will put me on silk flip-flops. When I'll go out wearing a Rajkumar silk gown, another servant will be standing right beside holding a glass of juice for me.
#10. Itni shiddat se maine tumhe paane ki koshish ki hai… ki har zarre ne mujhe tumse milane ki saazish ki hai…
Meaning: I have tried so hard to get you… that every particle of the universe has conspired to introduce me to you.
Is Om Shanti Om based on a true story?
Stories that we see in movies are not always real-life stories. Some stories or scenes from certain movies might be a part of the real-life incidents. If you ask if "Om Shanti om" is one of them, the answer is yes.
Little do people know that fire on sets accident, similar to this movie, has happened years before, on the sets of the movie Mother India. Nargis, who was single at that time, was playing the role of a mother of Sunil Dutt and Rajendra Kumar. The crew was about to shoot a fire sequence, just like in the movie "Om Shanti Om."
During the 1950s, sets were not much equipped with technology and safety measures that would be able to handle a bigger incident. There happened to be some sort of technical issue, and all the sets were able to hear the screams of Nargis. It was then that Sunil Dutt, without even thinking twice about his own life, jumped into the fire with a woolen blanket and saved her by pulling her out of the fire. Sunil Dutt was out of the fire with some burns, and Nargis was saved in a moment's time. Later, they got married. It would have been so lovely for Mr. and Mrs. Dutt to watch their life story being shot as a movie. Wouldn't it?
All in all…
We hope you liked these famous Om Shanti Om dialogues we curated for you! This 2007-released movie has opened 800 odd cinemas in 2000 prints worldwide. It has received a lot more controversies and has jumped a lot of hurdles prior to and after release. The film's net gross was rupees 994 million. It is really an achievement at that time. Bagging more than 25 awards and being nominated for a lot more, this movie has taught us a lot about love and affection.
This movie is a part of many people's popcorn time, even on today's date. It is not just an awesome Shah Rukh Khan's movie, but it remains as a memory of the actors in Bollywood and also for the fans who watched the movie.