Rangbaaz Phir Se is the sequel or second season of the hit web series Rangbaaz. It is a ZEE5 Original thriller web series, which was released on December 20th, 2018, and after almost one year, in December 2019, it came out with the second season with the name Rangbaaz Phir Se. It is partly fictional and partly based on the true story of one of the biggest feared gangsters of Rajasthan, Amarpal Singh. The series showcases the dramatic journey of the gangster.
If you have not yet heard about this web series, you must be living under a rock because it has got so much hype with its scenes and dialogues going viral, and it is also getting quite an amount of positive reviews.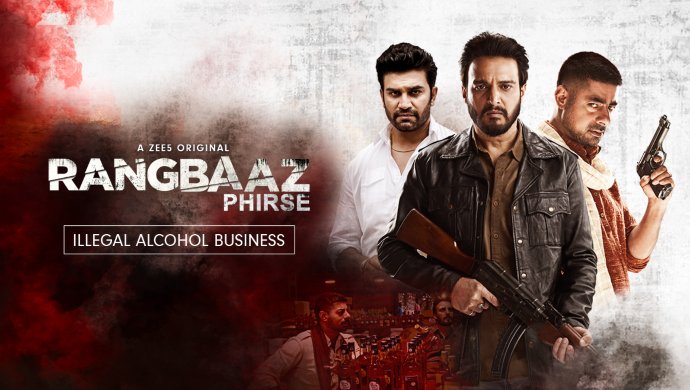 The cast of Rangbaaz Phir Se
The cast of a movie or a series plays a vital role in impacting the audience. They bring the characters to life. The cast members of this web series have been chosen wisely as every actor does justice to their character.
This web series has a plethora of characters. Since it's a gangster-based series, there have to be a lot of people. The whole cast member consists of the most known and talented faces. The director of this web series is Sachin Pathak, and the writer is Siddharth Mishra, who is also playing a cameo in the movie. The cast and the characters are:
Jimmy Shergill, whose debut movie was Mohabbatein in which we saw him as a cute and innocent chocolate boy, has come a long way and playing the character of the most feared gangster of Rajasthan as Amarpal Singh.
Sharad Kelkar is playing the villain's role as Raja Phogat, the rival of Jimmy Shergill's character.
Mohammed Zeeshan Ayyub as Sanjay Singh Meena, a police officer who led the police force of Rajasthan, tried to capture Amarpal Singh.
Sushant Singh, as Jairam Godara, plays the character of Amarpal Singh's confidante. He indeed does justice with his character.
Gul Panag is Anupriya, who plays a stockbroker and is seen helping Amarpal Singh.
Mahima Makwana, as Chinu, also shows the impact of her performance in the series.
Spruha Joshi, as Rukmini, is pleasant to watch even with her little screen timing.
Harsh Chhaya as Sundar Singh Chauhan.
Ujjwal Chopra as Harjiram.
Deepal Joshi as Amar Singh.
Sonam Arora as Jeevanram's wife.
Amit Sial as Balbeer Beneru.
Digvijay Rohidas as Gopal Phogat.
Ravi Khanvilkar as Ramnivas Gehlot.
What is this story about?
Like Rangbaaz's first season, which was based on the life of a Gorakhpur-based gangster, the second web series also showcases the life of a Rajasthan-based gangster the whole story revolves in there. The series is also set up in Rajasthan, with the cast having a Rajasthani accent. It is based on 1990's Rajasthan, which has been showcased very beautifully in the series, and you will feel the old 90s vibe.
Now talking about the story, it is based on the flamboyant life of the Rajasthan-based gangster with the name of Anandpal Singh, the name of whom has been changed to Amarpal Singh in the series. The story is about how Anandpal Singh became such a big and fearsome name. Not only in the state of Rajasthan but also across the whole Northern belt of India. He was accused of numerous murder cases, and finally, his encounter resulted in the protest all over the nation.
Anandpal Singh, an academically gifted child aspiring to be a civil officer, becomes the most wanted criminal of Rajasthan. Seeing his childhood, no one would have thought that a young man who is a UPSC rank holder, whose job is to clean any form of negativity in the society, would one day himself become the negative element of the society.
The story is about how he falls trap in the then crime-infested politics of Rajasthan, how the politics even did not spare, beautiful dreams of a young boy, and how that young boy even excels in this field as a gangster. From UPSC rank holder to one of the biggest gangsters, the series takes us through the ups and downs of the gangster from youth to encounter.
The whole series is about those who are not born criminals, but the circumstances lead them to such a place. The show portrays how he coped with rivalries and politics with a dream of excelling in every field. 
7 Best Dialogues from the Series
Dialogues are an essential factor of movies or series belong to this genre. Although this series does not have numerous dialogues going on, which is actually good for the series's impact, the dialogues that are there are so impactful when it comes out of the actors, too in the local accent. Most of the dialogues have become so famous that those have gone viral, and some dialogues portray what life is. Let us have a look at seven of its best dialogues.
#1 – "Rangbaaz to khatam ho sakta hai lekin shareer me khoon se bhi tez daudhne wali rangbaazi nahi." said by Zeeshan Ayyub, which is so true, even in real life.
#2 – "Kuch logon k saath galat karo to wo puri duniya ko sahi kar dete hai aur fir taakat aur rutbey se bhari rangbaazi ek zarurat nahi aadat ban jaati hai."
#3 – "Ek baar bandook se goli nikal gayi to bandook jaane aur nishana jaane, chalane wala sirf dekh sakta hai." this hard-hitting dialogue by Jimmy Shergill showcases the helplessness, and the way it is spoken gives us giggles as well.
#4 – "Pedh ki daal jab badi ho jaye to toofan aane se pehle use kaat dena chahiye, warna kaafi tabahi macha sakti hai."
#5 – "Amarpal Singh sarkar banwa bhi sakta hai aur gira bhi sakta hai." this dialogue portrays how important, influential, and in-demand was the then gangster of Rajasthan, Amarpal Singh.
#7 – "Jab bachpan se hi bahot uncha udhne ki khwahish ho to fir sahi galat ka fark mit jata hai." this quote can define the whole life of Amarpal Singh in only one line. How Amarpal Singh excelled in his academics and ranked in UPSC, to how he was still excelling in being a gangster.
And the best one said so impactfully by the character of Jimmy Shergill, "sabki Samadhi yahi banegi."
So these were the seven of the best dialogues. From the dialogues themselves, you can get the vibes of power-packed masala web series. Apart from masala dialogues, some dialogues also showcase the reality of life.
Who will love this web series?
Anyone keen to know about the inside life of gangsters, how politics work, the ground reality, and how even young people who do not have a connection to such an underworld and gangster world get trapped in it can give it a watch and it will surely not disappoint you.
This web series has so many emotions in it. It will make you laugh, cry, giggle, sympathize, and every emotion that you know. A gangster's life is full of drama, anyway. Murder, death, something that is such a significant matter for common people, these gangsters have to deal with such cases daily.
There are brutal deaths; in one of the scenes, goons come and attack a whole bus filled with innocent people, fire at them, and no one survives. Many such scenes can be sensitive to many people out there. Many dialogues contain abusive language. We will have to understand that these things form the essence of movies or series of such genre, and these things have to be added to keep the spirit of the life of a gangster.
So people who cannot stand such scenes should keep them away from this series. Also, children below the age of 18 should not watch such series to affect their mindset. Other than that, anyone with a strong heart can give it a watch.
Where to watch it?
Rangbaz Phir Se is a ZEE5 Original web series, and you can watch it on ZEE5 by downloading the app and registering in it. You will need a premium subscription that starts at 99 bucks per month, and the yearly subscription is 999 bucks. But you can watch it for free if you are a Vodafone-idea subscriber. You can get free access to the latest shows with the Vodafone Play app.
Does it Perform Better than the Previous Season?
Rangbaz Phir Se is the sequel of its first season Rangbaz. While Rangbaz was based on a Gorakhpur-based gangster, Rangbaaz Phir Se revolves around the real-life story of a Rajasthan-based gangster and his journey from a UPSC rank holder to one of the most feared gangsters of the Northern belt.
Well, it can be said this season has got more hype than the previous season. The last season was already a great hit, and because of its success, the sequel was decided upon, and it is receiving even more success. The dialogues and scenes are going viral. The critics have also given positive reviews. The previous season's IMDB rating was 8.4, while for this season, it is 9.1, which is enormous. Because of the strong story that is there and the strong star cast, the second season of the franchise is worth watching.
Conclusively, this web series counted amongst India's top five web series and is worth a watch. Jimmy Shergill has also stated that the last 20 minutes of the series will make you cry along with other emotions. Give it a watch for a thrilling experience.