Many of us work from home now. When life gives you lemons, you have to make the best of it, if not lemonade.
We constantly look for accessories that help us to be more productive. Luckily, we have put together these work from home essentials to help you out: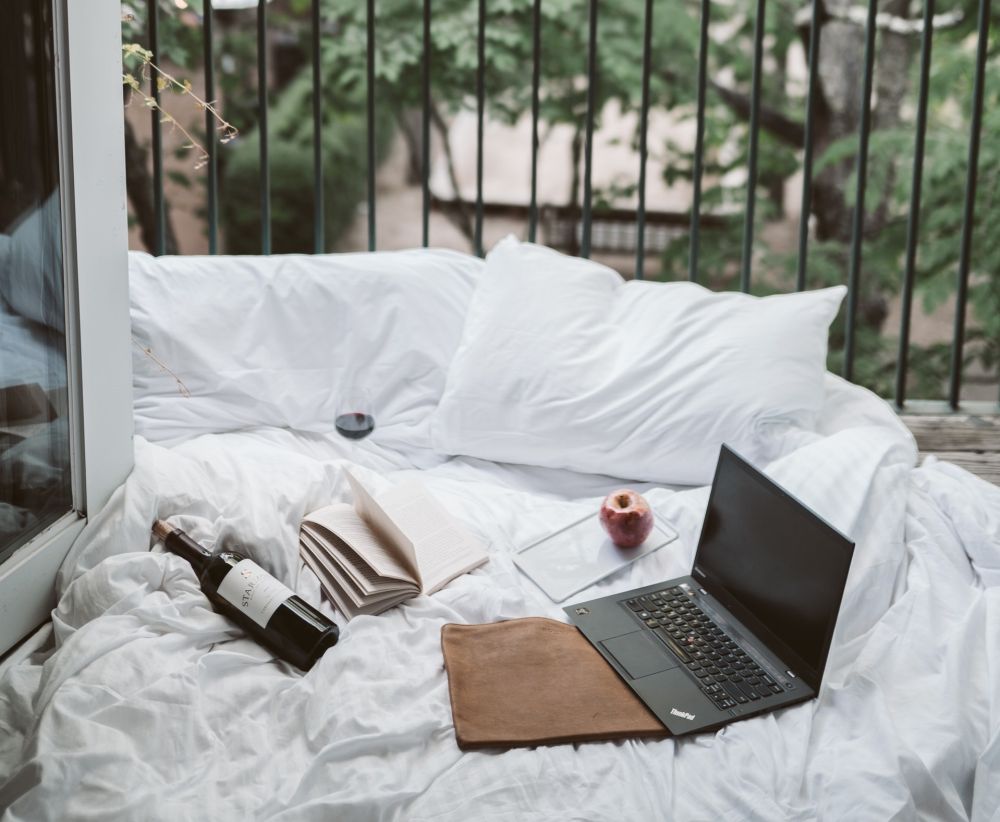 Readers like you help keep The Life Hype running. When you buy through links on our blog, as an Amazon Associate, we earn from qualifying purchases at no extra cost to you.
Posture Corrector
Sitting for a long time in front of a computer screen can disrupt your posture. And you obviously cannot focus on your posture for most of the day since you just need your work to be done at the end of the day.
Both men and women can use this posture corrector. With its adjustable upper back brace, the patented design ensures clavicle support. With this brace, you can adjust your chest size within a wide range of 30" to 43".
Neck and shoulder pain can be relieved with this product. Unlike other posture correctors, this one does not restrict most free movement.
Scented Candles
Lit workrooms promote good energy and a higher level of productivity. It is scientifically proven that the room's scent plays a vital role in the efficiency of focus.
A great way to keep the feeling of freshness in your room is to put scented candles on your desk or in your room.
This lavender candle is made with high-grade wax, which lasts for around 150 continuous hours, and does not ruin your desk with its large container. Lavender's fresh fragrance gives you a feeling of being outdoors and boosts your productivity.
Indoor Plant
Indoor plants on your desk help keep your room fresh while, at the same time, giving you a sense of the outdoors. This gives you a feeling that you are working in a garden.
The succulent plants are unique cactus decorated and are handpicked so that you get a unique collection. As shown in the picture, each plant is also rooted in a 2-inch pot.
Natural plants look more appealing than their artificial counterparts helping you decorate your home to your heart's content. The geometrical glass pot goes with almost every piece of furniture.
Comfortable chair
To support your body, you should choose a chair that feels comfortable and, at the same time, gives you room for movement. Because you spend the majority of the day sitting on your chair, it will always keep your posture in check. Furmax office chairs have leather cushions, which are very comfortable for those who use them most of the day. The headset on the executive computer chair keeps the neck and head comfortable.
Mono Headset
Listening to music usually helps people concentrate on their work. While many people have started conducting meetings online, people need headsets that are perfectly functional and allow almost negligible noise.
Jabra PRO 920 Mono Wireless Headset is specially designed for Deskphones. The headset is ideal for conducting online meetings smoothly.
There is a fantastic voice cancellation feature to reduce background noise. Furthermore, their wireless range is up to 300 feet.
Coffee and Tea maker
While working, snacks help you stay energized. Coffee is the first thing you want to drink in the morning so that you are all freshened up.
Having a coffee and tea maker close at hand ensures that you can make coffee or tea in a flash so that you only need one tool.
For making your instant hot drink, the Ninja hot brewed system is best. It is available in six different sizes and five different brew styles.
Wireless phone charger
As you sit at your desk most of the day, you need to ensure that the phone and laptop charger are readily available so you don't have to spend hours untangling wires.
The Yootech wireless charger is a 10W max fast wireless charging pad compatible with iPhone and Samsung galaxy facilities. Therefore, it will charge iOS and Android devices.
This charger eliminates the need to search for a cable. Simply place your device on it, and it will charge on its own.
Temperature Control Ceramic Mug
You don't want your coffee to get cold while working on something important from where you cannot get your eyes away.
With the Smartshow smart temperature control ceramic mug, you can keep your coffee warm at the temperature you choose. The LED display also shows you the temperature. The high-efficiency and durable battery can light the temperature for up to 8 hours.
This mug is remote-controlled, so that's the best part.
Desk Organizer
While you are working, you can end up with a very messy desk. Your files even get mixed, and piles over piles can take you so many hours to find the required thing.
With this desk organizer, you'll keep things organized and separate, and they don't usually mix. You can store as many files as you have because the 5 upright sections fit most desks.
Charging Station
There are times when you'd rather work in bed than anywhere else. But you struggle to pull out the extension cord so that you finally attach your laptop or your phone charger to the main point.
Seneo Wireless Charge allows you to charge any device by simply placing them on it.
Therefore, you no longer need to struggle to find the cord and to attach the cables so that you can work without distractions.
Water Bottle
Maintaining your health while working is essential. As summer approaches, your body dehydrates more easily. Keep it hydrated by drinking water regularly. You can keep a water bottle near where you are working to constantly remind you to drink water.
The Simple Modern Stainless-steel tumbler is completely leak-proof. You can keep it on your bed as well, as its Vacuum Insulated body keeps the water cold.
These are available in different colors and sizes so that you can have a variety available at your desk.
Laptop Tray
Study desks are not always convenient for everyone. When the weather is good, you would also prefer to work on your bed. But it is not possible to move it here and there.
SONDMICS offers you the ergonomic laptop desk for taking your laptop anywhere you want. Having foldable legs makes this product space-saving.
The floor deck is 100 percent made of bamboo. It can also be placed on the bed.
Wireless All in One Printer
We have to do a lot of filing and maintaining when we work from home. Printing would be easy for people, but at home, you would have to connect your laptop to your printer through complicated cables.
You might even want to print the document using your mobile phone directly. Canon has developed a wireless printer to eliminate your need for wires so that you can connect your laptop or phone wirelessly.
Desktop Planner
As you stack the things up together, you may end up messing up your desktop. This only puts a halt to your productivity.
With the Desktop weekly planner, you can keep a to-do list and boost productivity in a few minutes. The same comes up in 6 different sections, and it also provides the habit tracker.
Light Therapy Lamp
Working at home for hours can also stress you out a lot. But you still have to keep working nonetheless. For this, you must keep a device at your table so that it calms you down there only.
With Miroco's LED Bright White Therapy lamp, you can get appropriate amounts of Brightness without damaging the skin. The device has the touch control and a standing bracket, supporting the lamp's structure at every piece of furniture.
Under Desk Footrest
Your knees and joints may suffer as a result of hanging your legs. The Everlasting Comfort Office under desk footrest releases the strain on your legs and joints.
The footstool is made entirely out of memory foam, with no added substances, and is made from the same material as the world's leading memory foam furniture. Using a "teardrop" structure and orthopedic designs could set you up in an ergonomically correct position.
Lapgear
Laptops can burn your thighs and cause skin problems when placed over your lap.
LapGear's Home Office pro comes with a mouse pad and a phone holder, ensuring that you have everything you need to manage your work efficiently.
With the desk, it provides the perfect support for laptops of all sizes, and it rests easily on your lap.
Oil Diffuser
By using an Oil diffuser, you can enjoy a fresh, healthy working environment.
The InnoGear Essential oil diffuser helps in making the surroundings fresh. For a baby, it freshens up the air around. You feel as if you are floating. You can choose between two misting modes to match your mood.
Leather Desk Pad
The leather desk pad provides a suitable base for your laptop and your other essentials like the peripherals.
The Dual-sided PU leather desk pad comes with a waterproof coating that is easy to clean. At the same time, it comes with a writing mat mouse pad to substitute your regular mouse pads.
There are five different colors of furniture mats to choose from.
Bottom line
Work from home can be easier if you support your productivity by using home equipment that will energize you to work longer hours.
You can work at home with these products, but they give you exciting comforts that encourage you to work from home.
From our list of the best WFH essentials, you can order them online to keep you comfortable while working long hours in front of your screen.