When you think about hair, it is not only women concerned about it, but men too. Rather, men are more conscious about the way their hair looks than most women. Also, they spend more time styling their hair than women.
Having said so much, you must think hair care is super easy – oil, shampoo, and conditioner are practically all you need. No extra hydration or protection is required. But that is like viewing Earth from space.
If your hair is in any way sensitive, then you will know the importance of hair serums. And if you thought serums are useless, well, you might give it another thought.
Today, we will list the best hair serums for men in India for every budget.
What are hair serums?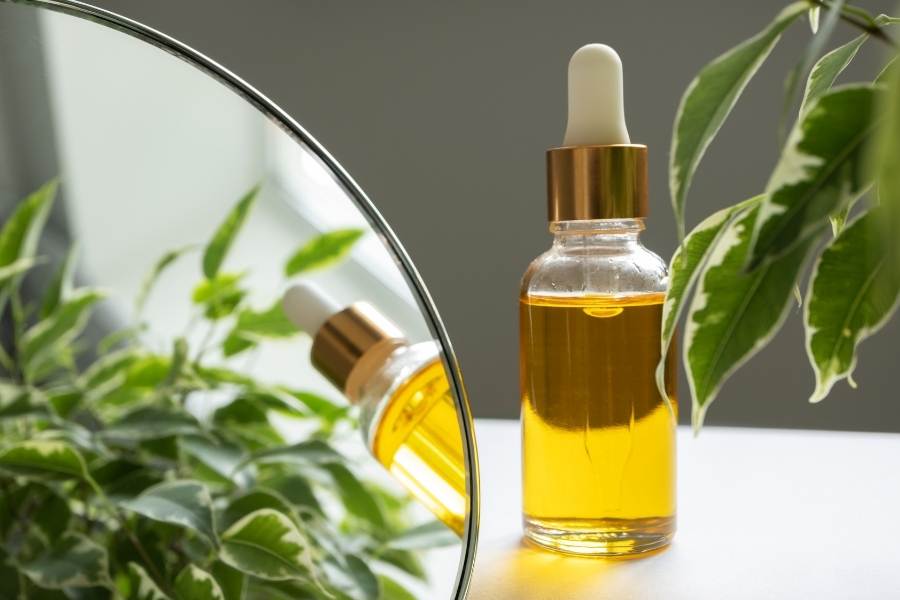 Hair serum is a silicone-based product, which coats the surface of your hair. It penetrates deep into the cuticle changing your hair texture. It is designed as a hair treatment that detangles your hair and prevents breakage, reducing hair fall.
Good hair serum protects your hair from environmental conditions such as heat, dust, and grime. Also, it adds shine and luster to your hair, making it silky, smooth, and healthy.
Once you get your perfect serum, it will maximize the benefits of other hair products that you use.
Why should you use hair serum?
Using a hair serum can be beneficial in so many ways. Let's see what they are:
Hair serums act as a barrier between your hair and your heat styling tools. They protect your hair from the heat damage caused by these appliances.
They help prevent breakage of your hair, which in turn reduces hair fall.
Some hair serums contain keratin. Keratin is an essential component of our hair, and hair serums unused with it smoothens your hair's texture.
It contains silicone, which coats every hair strand, thereby controlling frizz.
It protects your hair from environmental conditions keeping it shiny and healthy.
Best Hair Serums for Men in India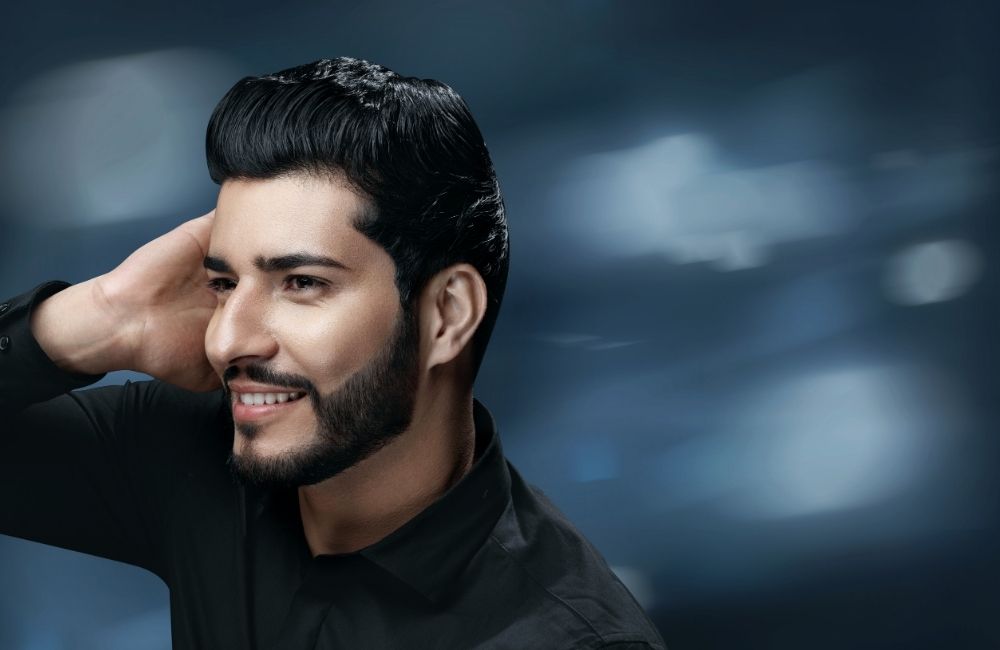 Beardo Hair Serum with Argan oil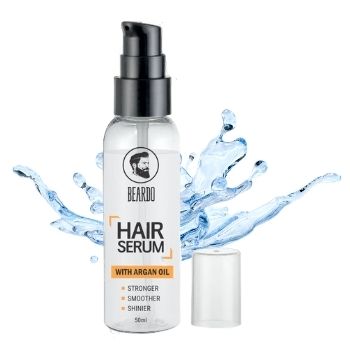 This hair serum is infused with the goodness of rich Argan oil. We all know Argan oil is nourishing for our hair, and hence this is a supreme product, hands down. Regular usage of this serum leaves you with smoother, silkier, and shinier hair.
The Body Shop Grapeseed Hair Serum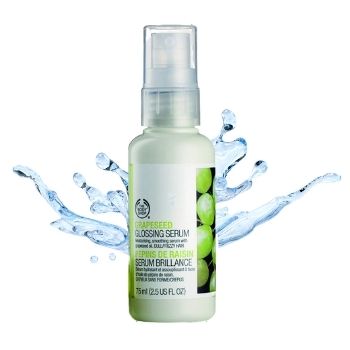 Undoubtedly this is one of the best skincare brands which make some of the best products. Here we have another essential, and this time it is for men. This is a bit on the high-end side, but it is worth every penny. It gives you smoother, shinier, and healthy-looking hair from the first use itself.
Streax Hair Serum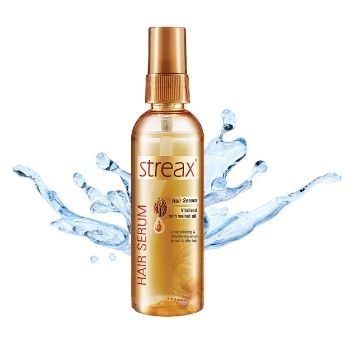 This is infused with walnut oil, which has immense health benefits for your hair. This will leave your hair smoother and shinier and will also improve its texture. The best part about this is it protects your hair from the sun's harmful UV rays and is ultra-affordable.
L'Oréal Paris Smooth Intense Serum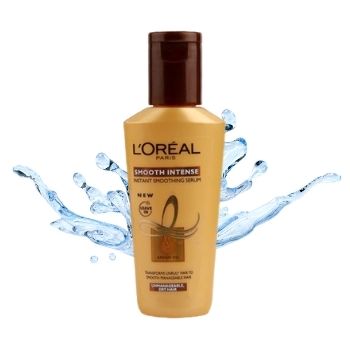 Another well-known brand that makes some of the best hair care products for both men and women. This is a brand that you can absolutely trust with your eyes closed. This serum is infused with Argan oil's goodness, which combats frizz and reduces split ends' visibility. It treats dry and damaged hair. If you face any of these problems, buy it right now because, guys, you are worth it.
Spruce Shave Club Hair Growth Serum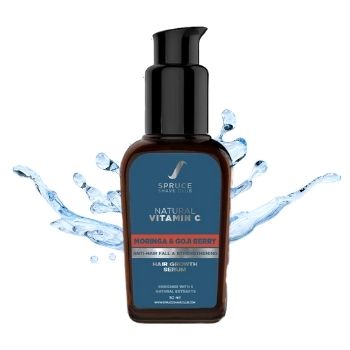 This beard and hair growth serum is infused with vitamin C and Moringa and Goji berry, reducing dryness and strengthening hair. It is also helpful in revitalizing your scalp and hair health. If you prefer natural extracts and lightweight formula in your hair care products, you can go for this hair serum.
Forest Essentials Hair Thickening Serum Spray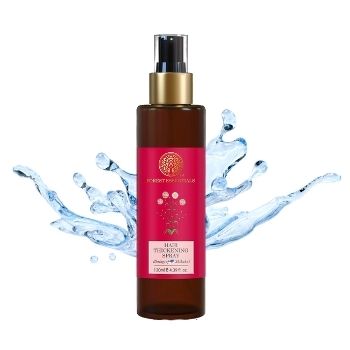 Another high-end brand that is reputed to make some of the best premium grooming products for men. It is infused with all-natural ingredients, so it is a worthy option to go for. If you are skeptical about using products on your hair, then this is your safest bet. Keeping the brand name in mind, there is practically nothing that will make you regret your decision. Plus, it is in a spray form, which ensures hassle-free application.
Tigi Bed Head Control Freak Serum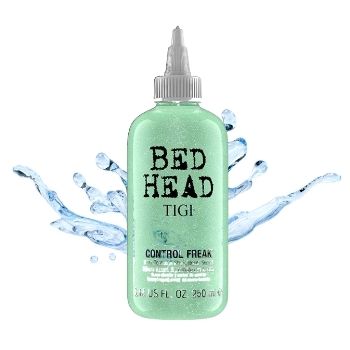 This is a light and non-greasy hair serum that protects your hair from excess heat, leaving it shiny and silky. Considering the humidity in India, this is probably the best product you can find which combats humidity. As you can understand by the name control freak, it really does control your hair from sliding down in this hot and humid condition.
UrbanGabru Hair Serum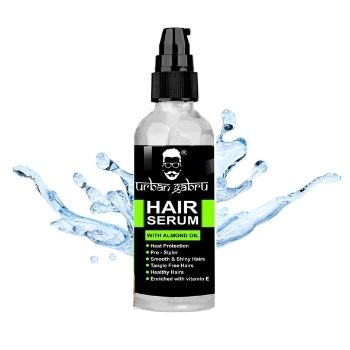 Probably the most popular men's haircare brand in India. This serum is infused with almond oil and Vitamin E, rejuvenating dry and damaged hair and reducing split ends. Both of these ingredients halve tons of health benefits, and so finding them in a serum saves you from all the hard work. It is super lightweight and non-greasy, and it also protects your hair from the harmful damages of the sun.
Set Wet Studio X Hair and Beard Serum
Another famous brand all men are familiar with. They tend to manufacture some of the best products for men's grooming. This is yet another one from them. It gives you neat, shiny, and healthy-looking hair. Nothing over the top, nothing inhuman, just the perfect amount of styling required. It is super affordable, so there is absolutely no chance of missing it out.
Schwarzkopf Professional Osis+ Anti Frizz Magic Serum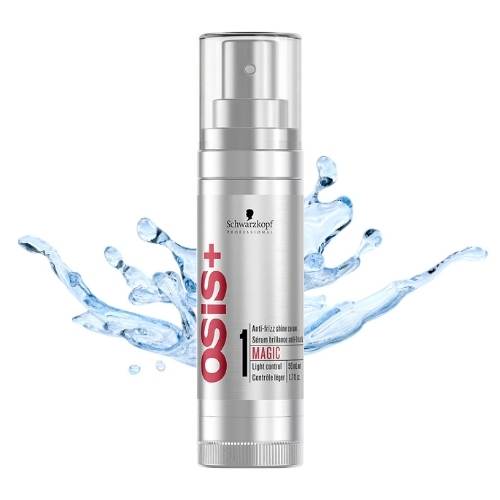 If you are familiar with hair care products, then you must be aware of this brand. Their serum is infused with the goodness of natural apricot oil, which rejuvenates damaged hair and protects it from further damage by pollution. Regular use of this serum will combat dryness and frizz, leaving your hair shinier and silkier than before. This also protects your hair from sun damage and other environmental conditions. If your hair is really fragile and prone to breakage, you can use this product as well.
How to use hair serum?
There is no rocket science in using a hair serum. However, there are still specific steps you should keep in mind to achieve maximum benefits. Here is a list of all those steps:
The first step of selecting any grooming product is to find the right type. In this case, find out your hair type and your hair concerns. There are hair serums targeted to certain hair problems, so it will do nothing for you if you buy the wrong one.
The next step would be to wash your hair thoroughly. Hair serums are always applied to freshly washed hair. So use shampoo and conditioner as usual and then finish off with a hair serum.
Start from the mid-length to the roots. Do not apply it to your scalp, as it can make your hair look greasy. Detangle your hair first with your fingers, and then use a wide-toothed comb.
The hair serum's best benefits can be achieved when you use it in damp or towel-dried hair. This is when your hair tangles the most and tends to break.
Here ends our post about the best hair serums for men in India. In conjunction with the serum, you can take the best hair growth supplements and vitamins to boost hair health and growth. If you thought your hair could deal with all the problems independently and without any protection, think again.
Related Posts