Are you looking for some best Disney dog names? If you are a Disney fanatic, then you are in the right place. Have you got a new pup in the family and wondering what should you name the pup? And you love Disney?
Of course, you can choose a Disney character name that made your childhood awesome. Are you confused about which one would be the best? Do not worry, we are here to provide you with help. In this article, we will be providing 301 Disney-inspired dog names.
Are you excited? Let's begin!
Disney Dog Names for Female and Male Dogs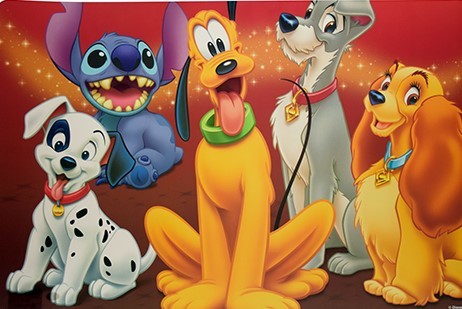 Porkchop – Disney's Doug
Rita – Oliver & Company
Reggie – Lady and the Tramp II
Rolly – Dog Pals TV series
Ronnie – Friend of Pluto
Roscoe – Oliver & Company
Rose – The Fox and the Hound 2
Roxanne – A Goofy Movie
Ruby – Lady & The Tramp II
Scamp – Lady & Tramp
Angel – Land and the Tramp II
Annabelle – All Dogs Go to Heaven
Annette – Daughter of Lady & Tramp
Bingo – Puppy Dog Pals TV series
Bolivar – Donald Duck's dog
Bolt – From the movie Bolt
Bowser – Goofy's puppy
Bruno – Pup in Cinderella
Buster – The Junkyard Dog in Lady and the Tramp
Butch – Pluto's nemesis
Cash – Dog in the Singin' Strays in Fox and Hound 2
Cerberus –3 headed Dog in Hercules
Peg – Lady and the Tramp
Percy –Pocahontas
Persephone – Frankenweenie
Pete – Nemesis of Mickey
Pluto – Mickey's dog
Scratchy –Lady and the Tramp II
Sparky – Frankenweenie
Stella – The Princess and the Frog
Stitch – Lilo & Stitch
Sultan – Beauty and the Beast
Sylvia – An Extremely Goofy Movie
Talbot – The Sword in the Stone
Tiger – The Sword in the Stone
Tito – Oliver & Company
Chief – The Fox and the Hound
Collette – Lady and the Tramp
Copper – The Fox and the Hound
Danielle – Lady & Tramp
DeSoto –Oliver & Company
Dinah – Girlfriend of Pluto
Dixie – Fox and the Hound 2
Dodger – Oliver & Company
Duckworth –McDuck's butler
Einstein –Oliver & Company
Fifi – Pluto's girlfriend
Francis –Oliver & Company
Georgette – Oliver & Company
Goofy – Donald's best friend
Jock – Lady & The Tramp
Lady –Lady and the Tramp
Lafayette – The Aristocats
Little Brother – Mulan's pup
Max – The Little Mermaid
Nana – Peter Pan
Napoleon – The Aristocats
Otis – Lady and the Tramp II
Otto – Robin Hood
Toby – The Great Mouse Detective
Toliver – St. Bernard
Tramp – Lady & The Tramp
Trusty – Lady and the Tramp
Zero – The Nightmare Before Christmas
101 Dalmatians Dog Names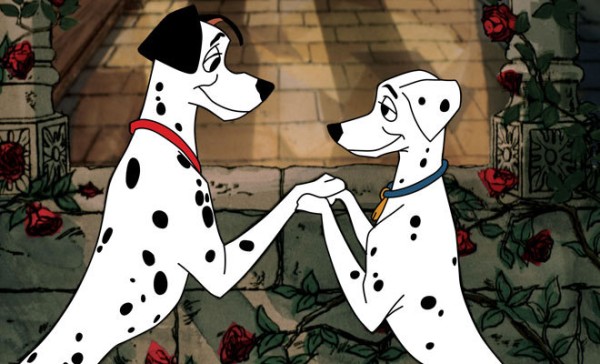 Do you remember the 101 Dalmatians movie? Probably you will, being a Disney fan. But do you remember their names? Definitely, You wouldn't. So here are the Disney dog names from the movie 101 Dalmatians.
Pongo – Protective father of the 101 Dalmatians.
Perdita – Mom for the Dalmatian puppies.
Patch
Lucky
Rolly
Blob
Blot
Dot
Blackie
Whitie
Tiger
Spark
Wags
Nosey
Sleepy
Speedy
Swifty
Sport
Yoyo
Corky
Spanky
Penny
Freckles
Pepper
Latch
Jolly
Lenny
Salter
Dipper
Smokey
Bravo
Flapper
Puddles
Bulgey
Pokey
Live Action Movies Inspired Names
The names mentioned below are featured in some of the Disney live-action movies:
Scooper – Snow Dogs
Shadow – Homeward Bound
Shasta – Snow Buddies
Turk –Swiss Family Robinson
White Fang – White Fang
Wilhelmina – The Ugly Dachshund
Yeller – Old Yeller
Beethoven – The Beethoven series
Bielle –Tim Burton's Alice in Wonderland
Buddah – Air Buddies film series
Chance –Homeward Bound
Chloe – Beverly Hills Chihuahua
Danke – The Ugly Dachshund
Delgado – Beverly Hills Chihuahua
Delilah – Homeward Bound II
Demon – Snow Dogs
Nikki –Wild Dog of the North
Papi – Beverly Hills Chihuahua
Pedro -Beverly Hills Chihuahua 2 & 3
Quark – Honey, I Shrunk the Kids
Riley –Homeward Bound II
Rosa – Beverly Hills Chihuahua 2 & 3
RoseBud – Air Buddies film series
Dolly – Beethoven & Missy
Duke – Swiss Family Robinson
Duchess – Snow Dogs
Heidi –The Ugly Dachshund
Maya – Eight Below
Missy – Beethoven's girlfriend
Molly –Air Bud
Nana –Snow Dogs
Disney Princess Dog Names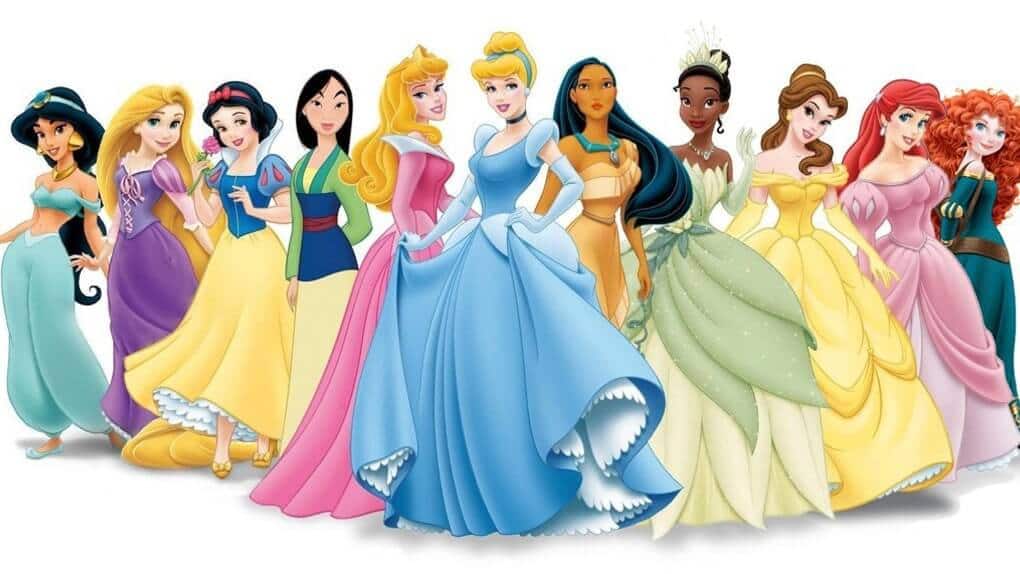 A list of great names for your little female.  Yes, why not! You can choose these Disney Princess names too.
Jasmine – Aladdin's Princess
Megara – Hercules
Merida – Brave
Moana – Moana
Rapunzel – Tangled
Tiana – The Princess and the Frog
Belle – Beauty and the Beast
Briar Rose – Sleeping Beauty
Cinderella – Cinderella movie
Elsa – The Snow Queen -Frozen
Elena – Elena of Avalor
Anna – Frozen
Ariel – The Little Mermaid
Aurora – Sleeping Beauty
Disney Dog Names for Male Dogs
Abu – Aladdin's monkey
Louie – Donald Ducks' nephew
Merlin – Sword in the Stone
Mickey – The mouse
Minnie – The mouse
Aladdin – Protagonist in Aladdin
Archimedes –Merlin in The Sorcerer & The Stone
Ares – Hercules
Baloo –The Jungle Book
Beast – Beauty and the Beast
Chip – Chip 'n Dale series
Clayton – Tarzan
Cleo – Pinocchio
Cody – The Rescuers
Cruella -101 Dalmatians
Daisy – Donald Duck's friend
Dewey –Donald Duck's nephew
Digger – Mickey mouse series
Doc –Snow White
Flora – Sleeping Beauty
Gaston -Beauty and the Beast
Geppetto – Pinocchio
Gus – Cinderella series
Hades -Hercules
Huey – Donald Duck's nephew
Jafar – Aladdin
Tigger –Winnie the Pooh
Tink – Peter Pan
Ursula – Little Mermaid
Walt – Disney founder
Willow – Pocahontas
Winnie – Winnie the Pooh
Khan – Jungle Book
Lilo – Lilo and Stitch
Morty – Mickey Mouse
Mowgli – The Jungle Book
Olaf – Frozen
Roo – Winnie the Poo
Tigger – Winnie the Pooh
Disney Pixar Dog Names For Male
A list of Dog Names from Pixar movies.
Buzz – Toy Story
Celia –Monsters Inc
Django –Ratatouille
Dory –Finding Nemo
Dot –A Bug's Life
Emile –Ratatouille
EVE – Wall-E
Alpha – Up the series
Beta – Up the series
Buster – Toy Story
Dante – Coco
Dug – Up the series
Gamma – Up the series
Scud –Toy Story
Slinky Dog –Toy Story
Angus -Brave
Luigi – Cars
Nash – The Good Dinosaur
Nemo – Finding Nemo
Nigel –Finding Nemo
Ramsey -The Good Dinosaur
Roz – Monsters Inc
Sheldon –Finding Nemo
Sulley – Monsters Inc
Woody – Toy Story
Arlo –The Good Dinosaur
Bailey –Finding Dory
Boo – Monsters Inc
Buttercup –Toy Story
Flo – Cars
Guido – Cars
Interesting Disney Character Names
Arthur
Basil
Berlioz
Bert
Buzz
Charming
Dodger
Eric
Flynn
Hercules
Kristoff
Li Shang
Little John
Marlin
Maui
Naveen
Oliver
Prince
Robin Hood
Simba
Spot
Stitch
Tarzan
Thomas O'Malley
Toulouse
Tramp
Woody
Captain Hook
Cruella De Vil
Edgar
Frollo
Gaston
Gothel
Hades
Jafar
Kaa
Maleficent
Medusa
Ratcliffe
Ratigan
Scar
Shere Khan
Stromboli
Yzma
Bagheera
Baloo
Dory
Flit
Flounder
Genie
Gus
Jaq
Jiminy
Kronk
Maximus
Meeko
Mushu
Olaf
Pacha
Pascal
Pegasus
Phil
Pumbaa
Sebastian
Sven
Thumper
Timon
Rex
Hamm
Kermit
Fozzie
Gonzo
Rowlf
Rizzo
Beaker
Statler and Waldorf
Animal
Teeth
Zoot
Quasi
Phoebus
Clopin
Victor
Hugo
Milo
Vinny
Mole
Cookie
Strongbear
Remy
Emile
Maximus
Gusteau
Flynn
Rider
Baymax
Hero
Wasabi
Tadashi
Thumper
Go Go
Honey Lemon
And now you can choose from all these to name your lovely pup. Well, that's not over. For all the Disney fanatics, we are here with some less known facts about the Disney world.
Interesting Facts about Disney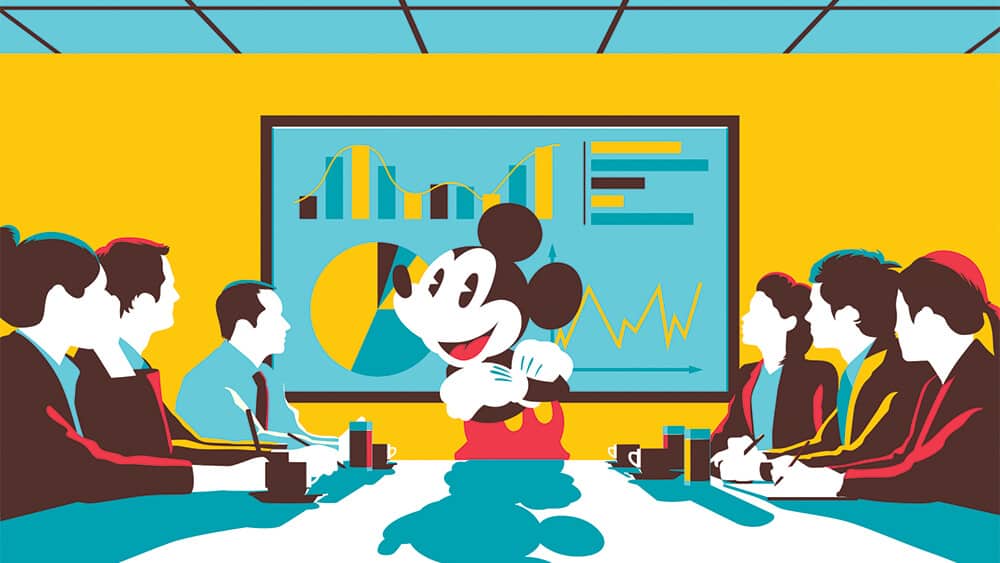 Mickey Mouse was originally named as Mortimer, however, after his wife's suggestion, Walt Disney has changed it to Mickey Mouse. However later he has used the same name for Mickey's nemesis.
Sulley is a hairy man. Uh-huh, hairy monster. The protagonist of Monsters.Inc has more than 2.3 million individual hair follicles. Hence it took 12 hours to animate and produce in a single frame.
The crab from Little Mermaid isn't his actual name is Horatio Thelonious Ignacious Crustaceous Sebastian. Well, now you know why it is shortened.
Princess Aurora has the least dialogues among all the Princesses, with a total of 18 lines.
The first-ever Disney character to fart is Pumbaa.
The dubbing artist who voiced Minnie and Mickey Mouse is a real-life couple.
In the dog movie 101 Dalmatians, the mother and father dog Pongo and Perdita had 72 and 68 spots.
Walt Disney's first animated sequel was The Rescuer's Down Under.
Disney's first animated feature to use the CGI was the Black Cauldron.
The voice for Thomas in Pocahontas was given by Christian Bale.
The Disney World Resort in Florida is the size of two Manhattan islands.
The production of the movie Tangled has even exceeded the Avatar movie's production.
8 million Churros are served at Disneyland every year.
Ursula, the sea witch in little mermaid is actually based on a drag queen.
The designer of the iPod was the one to create Eve, Wall-E's girlfriend.
A secret code appears in most of the Disney and Pixar movies, which is A113.
It is a room number at the University of Arts, California, where all the animators learned most of their acclaimed work.
The Character Aladdin was designed by a real-life actor Tom Cruise.
Wall-E was the named picked up from its creator's name Walter Elias Disney.
Walt Disney was sued by a biologist for his portrayal of Hyenas in The Lion King.
The Sleeping Beauty Queen was never given a name actually.
The only Disney Princess with a tattoo is Pocahontas.
The only Disney Princess with dimples is Tiana from The Princess and the Frog.
The youngest Disney Villain is Hand from Frozen, his age was 23.
Aladdin's appearance was originally supposed to be modeled by Michael J.Fox
The only Disney Princess to have a child is Ariel.
Ariel was modeled from Alyssa Milano.
Walt Disney's last animated film was The Jungle Book, which was released after 10 months of his death.
We hope you liked these Disney dog names inspired by our beloved, Disney world!
Check out more dog names: