So are you wondering why we should go for Irish names for our loved ones when there are many more names out there? Well…
Irish dog names are definitely the coolest. We can always use them to show off the Irish heritage. Ireland has a vibrant landscape and rich cultural heritage that reflects in today's modern world.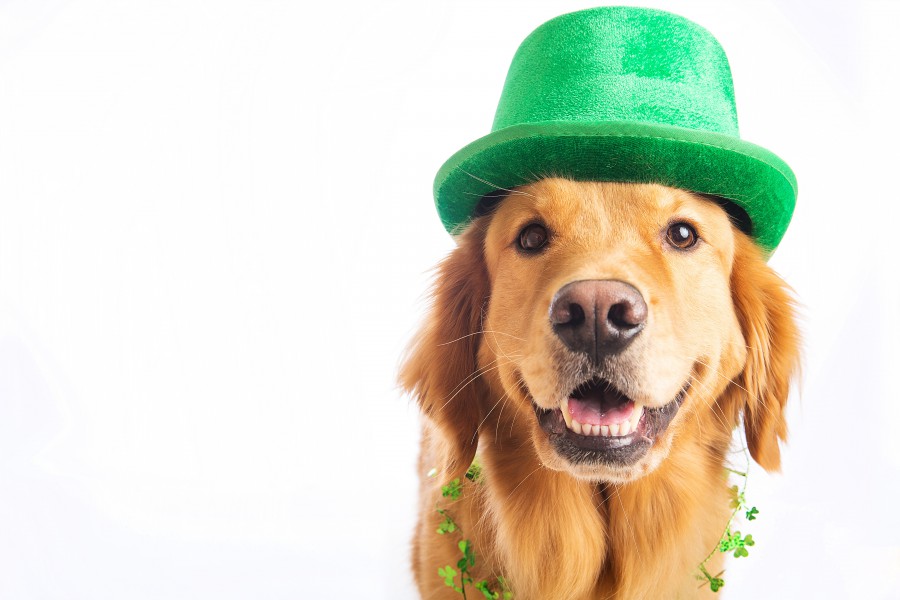 So without any delay,  let's dive into the different Irish dog names that can help you find the right option for your lovely dog.
Whiskey – Irish whiskey is quite popular.
Patrick – The famous Irish holiday celebrated around the world is St. Patrick's Day.
Leprechaun – A mythical creature in Irish folklore,
Charm – Irish people cherish their good luck charms, and this name sounds charming.
Emerald – A beautiful, green-colored stone that is usually often associated with Ireland.
Bailey – Baileys Irish Cream
Shandy – Shandy, a beer
Cabbage – This leafy vegetable makes a funny dog name.
Boxty – A traditional Irish pancake
Celt – Celts are an ancient tribal society of Ireland.
Gael – Gaelic language of Irish
Puca – A creature of Irish folklore
Clover – A pretty green plant.
Shamrock – The national emblem of Ireland.
Conan: This means little wolf.
Sheena: This means God is gracious.
Cormac: This name means charioteer.
Muriel: This pretty name means of the bright sea.
Emerald: Precious jewelry.
Finnegan: This name means fair or white. You can shorten it to the name  Finn.
Aoife: You pronounce this name like EE-fa. It means radiant or beautiful.
Murphy: This Irish name means sea warrior.
Glenda: It is said to mean fair and right.
Gallagher: It is a fairly common Irish name for guys or as a surname
Cashel: This name is said to mean a stone fort or castle.
Clodagh: This is the name of a river in Ireland.
Bono: One of the most famous Irish people of all.
Beacan: This is a cute Irish dog name and means a tiny one.
Eimear: It means swift.
Orla: This name means golden princess
Keegan: This adorable Irish name actually means son of Egan.
Potato: This silly-sounding name is inspired by one of Ireland's most famous foods.
Cadie: This name means pure.
Sinead: This name means God's gracious gift.
Donovan: This Irish name means dark.
Enya: it is the name of famous music artists from Ireland.
Rosalyn: This lovely name means pretty rose.
Breana: This name means virtuous or honorable.
Some more cute Irish dog names…
Connor: This Irish name means a lover of hounds.
Maureen O'Hara: Well, it might be long.
Erin: This means from the island to the west.
Deirdre: This name means sorrowful.
Brennan: This Irish name means a descendant of a sad one. Interesting, right!
Lia: This adorable name actually means weary.
Finley: This name is said to mean a fair-haired hero.
Van Morrison: Van for short, maybe.
Maeve: This name means she who intoxicates. Old fashioned, isn't it?
Sybil: This pretty name means prophetess.
Aidan: This name means little and fiery.
Colin Farrell: A name of an Irish actor.
Aisling: This means a dream.
Bran: A raven
Cae: slender
Conan: A hound
Conry: The king of the hounds
Phelan: A wolf.
Keeva: This means gentle.
Lorcan: A little wild one.
Madigan: This means little dog.
Murphy: The hound of the sea.
Rogan: This means red-haired
Saoirse: This means freedom.
Niall: This name means cloud.
Ronan: This name means little seal.
Liam Neeson: A name of an Irish actor.
Cian: This name means ancient.
Finonnula Flanagan: Naming your dog after famous Irish individuals is always a fun choice.
Eamon: This name is said to mean a wealthy protector.
Flynn: This name actually means son of the red-haired one.
Sullivan: This means black-eyed one.
Donnelly: This actually means the dark or brave one.
Cillian Murphy: This would be a great person to name your dog after.
Grady: It is said to mean noble or illustrious.
Damien Rice: This would be another great personality that you could name your puppy after.
Seamus: It means supplanter.
Fin MacCool
Paddy
Declan
Kieran
Dermot
Rainbow
Goldy
Dagda
Lucky.
Location-Inspired Irish Dog Names
The below Dog names are inspired by the locations of Ireland. If you are on the lookout for unique Irish names,  then this list is definitely the best.
Wexford – It is located in the southeast corner of Ireland.
Dublin – It is the capital city in Ireland.
Galway – A city in the Western region of Ireland.
Kilkenny – A popular tourist destination.
Limerick- It is a charming town in the West portion of the country.
Cork – A populous city, Cork is located near the bottom of the island.
Blarney – This town is home to Blarney Castle.
Moher – A natural attraction with amazing views.
Killarney – The home to a spectacular national park.
Ennis – This Irish town could also serve as a unique male dog name.
Connemara – It is in the northern area of County Galway.
Burren – A beautiful landscape in County Clare.
Donegal – A historic city in the northern part of Ireland.
Irish Dog Names Inspired by Famous Irish People
Ireland has its prominent personalities,  whose names you can use for your dogs.
Bono
Liam Neeson
Colin Farrell
Sinead O'Connor
Pierce Brosnan
Saoirse Ronan
Gabriel Byrne
Enya
Van Morrison
Jonathan Rhys Meyers
Cillian Murphy
Michael Fassbender
Maureen O'Hara
Fionnula Flanagan
Damien Rice
Chris O'Dowd

Irish dog names for both Male and Female Dogs
The below list has some unique and cool Irish names. Pick the right one for your dog.
Anluan: Champion
Anntoin: Priceless
Ardal: High honor
Abban: Abbot
Brenn: Little raven
Brody: A ditch
Bryan: Honorable
Brennan: Little raven
Berkley: From the birch tree meadow
Caith: From the battlefield
Codey: Cushion
Cullen: Handsome
Cornelius: Ivory colored
Channing: Young wolf
Darrick: Ruler of the people
Declan: Man of Prayer
Delaney: Son of the challenger
Dwayne: Dark
Eman: Serious
Evin: Young warrior
Eoin: God is gracious
Elroy: Red-haired youth
Fallon: Descendant of the ruler
Farrell: Heroic
Fineas: Oracle
Forbes: Prosperous
Garvey: Rough peace
Genty: Snow
Gildea: Serves God
Grady: Noble
Gilley: Serves Christ
Hurley: Sea tide
Hagan: Youthful
Haley: Ingenious
Harrington: Surname
Hennessy: Surname
Inys: Island
Innes: Island
Inerney: Steward of church lands
Justin: Just
Jarlath: Tributary lord
Kallen: Mighty warrior
Kevan: Handsome
Keegan: Little fire
Kelly: Warrior
Kylar: Land where cattle graze
Lakeland: Home of the Norse
Lennon: Small cloak or cape
Leary: Cattle keeper
Maclean: Son of Leander
Kyrell: Land where cattle graze
Mervin: Lover of the sea
Kienan: Ancient
Melvyn: Armored chief
Killian: Little Kelly
Nessan: Name of a saint
Noland: Noble
Neason: Name of a saint
Neill: Champion
Miles: Merciful
Oran: Pale green
Odell: Otter
Odhran: Pale green
Oistin: Majestic
Odanodan: Of the red earth
Padraig: Nobleman
Piran: Prayer
Peyton: Warrior's town
Padric: Nobleman
Pierce: Rock
Quinn: Fifth
Quinlan: Graceful
Quillan: Cub
Quigley: Unruly hair
Queran: Dark
Quaid: Irish form of Walter
Regan: Little king
Rian: Little king
Riddock: From the smooth field
Rooney: Redhead
Ryon: Little king
Rourke: Famous rule
Scanlan: Scandal
Shannon: Small and wise
Tyrone: A county in northern Ireland
Trevor: Prudent
Taber: Well
Torrence: Watchtower
Wise: Ardent
Uistean: Intelligent
Uilliam: Resolute protector
Uaid: Army general
Ungus: One vigor
Over to you…
Some of Ireland's breeds include the Irish Setter, Irish Terrier, Irish Wolfhound, Kerry Beagle, Kerry Blue Terrier, and the Wheaten Terrier.
A surprising fact is that the dog breed Irish Wolfhound came to Ireland more than 5,000 years ago. These dogs were initially used for hunting wolves, which is how they got their name.
No matter what dog breed you possess, you should definitely consider an Irish name. After all, Irish dog names are high spirited, charming, and fun-loving with a bit of mischievous mixed in them.
Some more dog names you'll love to know about:
160+ Badass Dog Names for Your Gangsta Fur Baby
135+ Korean Dog Names that are Popular and Trendy
200 Powerful Greek Dog Names for Your Cute Pooch